Of all the neighbourhoods our city has to offer, there's something truly unique about Cabbagetown Toronto. The words whimsical and charming come to mind but it's so much more than that. The rich history and the beautiful hodgepodge of shops and restaurants makes for something one-of-a-kind. And despite what you think, there's no cabbage to be found.
CABBAGETOWN TORONTO HISTORY
Let's cut to the chase because we know you want to know where the name Cabbagetown originated. Largely inhabited by Irish immigrants as early as the 1840s, the story goes that the community was so poor that many of the residents relied on cabbage they grew in their front yards.
The area was mostly farm land and small cottages but construction of brick Victorian style row houses emerged in the late 19th century and on through the early 20th century. These types of homes are still prevalent in the neighbourhood. In fact, many of the driveways that exist alongside homes in Cabbagetown South are far narrower than today's cars will allow. An indication of how small cars in the 1920s once were.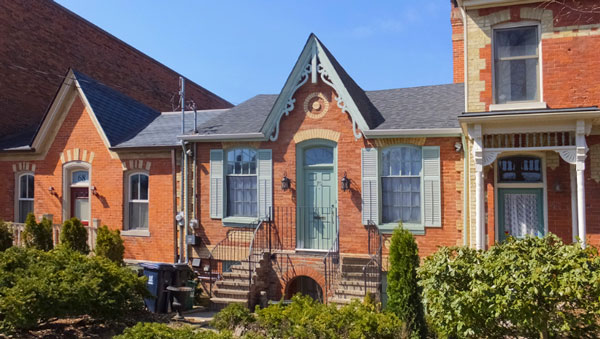 CABBAGETOWN GENTRIFICATION
The majority of this working class neighbourhood managed to avoid being redeveloped as a housing project, as was the case for Regent Park to the south. Instead, in the 1970s the large Victorian homes that exist throughout Cabbagetown Toronto became very appealing to the city's more affluent residents.
It was around this time that the neighbourhood began to see gentrification as many of the homes in Cabbagetown were restored to their former glory and the real estate of Cabbagetown became a hot commodity.
As more residents moved to the area, the main street of Cabbagetown, Parliament Street, saw an increase in small shops and cafes.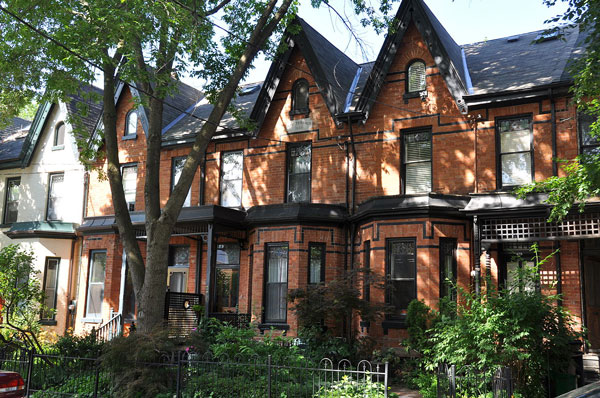 CABBAGETOWN TORONTO REAL ESTATE
Today, the tree-lined streets that weave throughout Cabbagetown between Wellesley Street and Gerrard Street East are picturesque. Believe it or not, Cabbagetown real estate is "the largest continuous area of preserved Victorian housing in all of North America." [1]
The city of Toronto approved a by-law that would limit any building in Cabbagetown from being higher than four storeys which has managed to maintain the historic charm of the neighbourhood. Even the Tim Horton's exists in the old Winchester Hotel which was built in 1888 and is one of Toronto's oldest surviving buildings.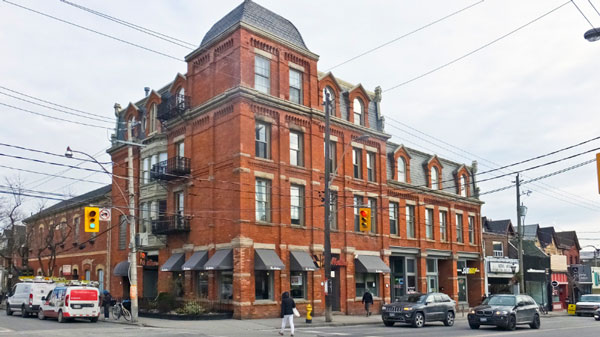 With its close proximity to the Gay Village, Cabbagetown is known to be one of Toronto's gay-friendly neighbourhoods and has attracted many buyers from the LGBTQ community over the years.
The most recent TREB stats for Cabbagetown Toronto (Q2 2019) had the average price of detached homes at $1,813,900; semi-detached homes at $1,578,900; and freehold at $1,302,997.
THINGS TO DO IN CABBAGETOWN TORONTO
Now for the fun stuff. Cabbagetown Toronto today is full of life and is the perfect place to shop, eat, and just stroll the streets. The Cabbagetown BIA put it best "from enchanting streets to incredible eats."
Shop
It's here centred around Parliament Street that you'll find an abundance of boutique retailers and design shops like Labour of Love and Spruce to name a few. After shopping you'll want to indulge in something delicious. Deciding what you want is the hard part.
Eat
Cabbagetown Toronto is quite diverse with over 120 countries represented by its residents. When it comes to Cabbagetown restaurants, you'll find an array of global foods from Thai and Japanese cuisine, to traditional Irish pubs and Indian food. Some neighbourhood favourites are House on Parliament, Kanpai Snack Bar, Salt and Tobacco, and the Butter Chicken Factory. You'll have to return a few times to taste it all.
Play
Better yet, attend the Cabbagetown Festival that takes place along Parliament Street each year in September. The Cabbagetown Festival 2019 takes place September 7th and 8th and showcases the neighbourhood's best. Local food vendors showcase their global dishes, local craftspeople showcase their handmade goods in the "Made in Canada" area, along with live music, extended patios, and even walking tours of the old Cabbagetown Victorian houses.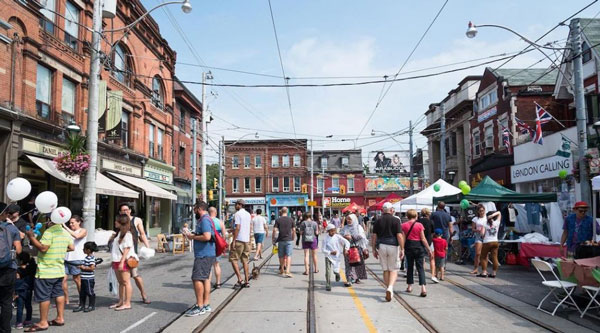 CABBAGETOWN TORONTO SECRET GEMS
When you want to escape the dreadful winters Toronto experiences, you're only a short stroll from Allan Gardens in Toronto's Garden District. It's here that you can walk through six greenhouses and transport yourself from the cold of winter to somewhere more tropical.
On the east side of Cabbagetown through the gorgeous row houses, you'll come across Riverdale Farm. Yup, right in the middle of the city you'll find yourself amongst the very best barn yard animals. I highly encourage visiting in the spring when all the baby animals make their debut.
If you're looking for a neighbourhood that is close to the downtown core but still has that small town feel, then Cabbagetown Toronto may be the place for you. Make a point to stroll through the neighbourhood and you'll quickly discover its unique charm for yourself.