The St. Lawrence neighbourhood in Toronto is one of the city's oldest. Spanning from Yonge Street to Parliament Street and south of Queen Street, it's also the largest neighbourhood of six that make up Old Town Toronto. As more baby boomers begin looking for places to downsize, we thought we'd put the spotlight on this cherished Toronto neighbourhood and why it may just be the perfect place to do so.
Benefits of Living in the St. Lawrence Market
Five St. Lawrence Market Condos to Downsize
Tips for Downsizing
BENEFITS OF LIVING IN THE ST. LAWRENCE MARKET
Walking through the St. Lawrence neighbourhood, you're constantly reminded of the rich history that exists here. A stone's throw from each other are the iconic Gooderham Flatiron Building, completed in 1882, and the famous St. Lawrence Market itself, which once served, in part, as Toronto's first city hall. 
The streets here are lined with old-world architecture: from historic storefronts with modern embellishments to grand cathedrals.
St. James Cathedral is a historic site that holds the title for the tallest spire in Canada. Alongside the cathedral is its park of the same name. This Victorian-style garden with a central fountain and grand gazebo is a perfect escape in the middle of Toronto's downtown east.
The St. Lawrence market has an industrious theatre scene and is home to two theatres: the St. Lawrence Centre for the Performing Arts and Toronto's Sony Centre for the Performing Arts. Both theatres are beside each others where you can see A-list musicians, comedians, and entertainers of all kinds.
For the hockey fans, spend the day at the Hockey Hall of Fame and encounter the world's largest collection of hockey memorabilia. Depending on the season, catch a Toronto Maple Leaf's game at the Scotiabank Centre down the street.
To be able to live within walking distance of the famous St. Lawrence Market is something any food-lover would dream of. Ranked the world's best food market by National Geographic, this slice of history is filled with more than 120 retailers selling some of the best meats, seafood, produce, coffee….. the list goes on and on.
If you prefer spending your evenings dining out, you'll be thrilled at the selection of restaurants available to you in the St. Lawrence neighbourhood. Treat yourself to an afternoon of high tea at the King Edward Hotel or enjoy exquisite dishes from celebrity chef Claudio Aprile's restaurant, Copetin.
For something a bit more cozy, the Hot House, is a neighbourhood staple. Featuring a fantastic menu with something for everyone with a weekend brunch to die for. And that's just the tip of the iceberg. There are restaurants, pubs, and bars offering nearly every cuisine you could possibly crave.
When you live in the St. Lawrence Market you're very close to Toronto's beautiful waterfront.
Sugar Beach, Sherbourne Commons, and soon a brand new Toronto island. There are trails-a-plenty for you to stay active and be reminded how fortunate we are to live in a city with a waterfront.
Leave your car keys at home. One of the many benefits to downsizing and living in a downtown neighbourhood is accessibility. The TTC is a wonderful resource to get you around the city—though within this neighbourhood, many of the attractions are walkable.
The St. Lawrence Market has three major streetcar lines (501-Queen, 504-King, 514-Cherry) that take you across the city. The Queen streetcar alone spans 24 kilometres across the city, all the way from Etobicoke to the eastern-most end of the Beaches.
Both the Sherbourne and Parliament bus routes will take you north to Bloor Street and Line Two of the subway. Additionally, you're in close proximity to several access points of the subway's Line One, including Union Station, where you can access GO Transit and the Union-Pearson Express.
FIVE ST. LAWRENCE MARKET CONDOS TO DOWNSIZE
The older the condo, the larger the floor plan. This is true, more often than not, across the city. Being one of Toronto's oldest neighbourhoods the condos in the St. Lawrence Market tend to offer more square footage than their younger brethren.
Those looking to downsize are unlikely to gravitate towards a 600 square foot condo. While there are condos of all sizes available in the neighbourhood, here are five of the neighbourhood's addresses that offer generous layouts, ideal for those looking to downsize.
Built in 1981, this 9-storey condo building only has 52 suites. Boutique condos like this are great for those looking for a low-key residence downtown. Despite being 37 years old, most of the suites here have been updated and are as attractive as they are grand. The suites you'll find here are all in and around 1,550 square feet.
Gooderham Court is also a stone's throw away from both the St. Lawrence Market and the flat iron building, not to mention the array of shops and restaurants along Front Street.
Coming in at the same height as Gooderham Court, Olde Yorke Place is a modest 9-storey building with suites no smaller than two-bedrooms. These house-sized suites offer 2,100 square feet and feature beautiful hardwood flooring, spacious kitchens and big bay windows for lots of light.
Inside they offer a great selection of amenities including a gym, party room, games room, pool, outdoor terrace and even squash courts. Bonus: There's a Starbucks and a Bulk Barn downstairs.
This boutique heritage-inspired condo at the corner of Jarvis and King East is the epicentre of The St. Lawrence Market neighbourhood and only steps to the market itself.
The St. James offers suites of all types and sizes but it's the two and three bedroom suites that you'll want. They range from 1,200 to 2,400 square feet. If you're seeking a condo to downsize that still feels like a house, some of these larger suites have two-storey floor plans with private rooftop terraces.
A downsizer's dream: if you're looking for big, the Frederick House has more space than you may know what to do with. The smallest suite here is 2,624 square feet with the largest suites as big as 3,333 square feet! This 8-storey beauty was built in 1993 and only has 16 units — that's right, two per floor.
Suites here feature fireplaces, hardwood floors, massive kitchens, expansive views and each come with four balconies. That's right — four! But if you're looking for fewer neighbours and tons of space, Frederick House may be the one for you. With only 16 units, you never know when one of these gems will hit the market.
This exclusive address does come at a price however, as the maintenance fees are around $2,000 per month and a generally higher price tag. If you're selling your home to downsize, you'll want to crunch the numbers on this one first.
This award winning condo stands tall at 45-storeys and is neighbour to the magnificent St. James Cathedral. Not only does this address offer spectacular views of the cathedral's spire and downtown core, but it offers magnificent layouts and lots of space.
Spire Condos has suites of all types and sizes, some as large as 2,700 square feet. With floor-to-ceiling 9 foot windows, all suites feel even bigger than they are. Let's not forget the large terraces some suites have. With 353 units in total, those looking to downsize should keep their eye on the Spire Condo's listings.
Located on the cusp of the St. Lawrence Market and the Downtown Core, you're close to everything you could possibly need.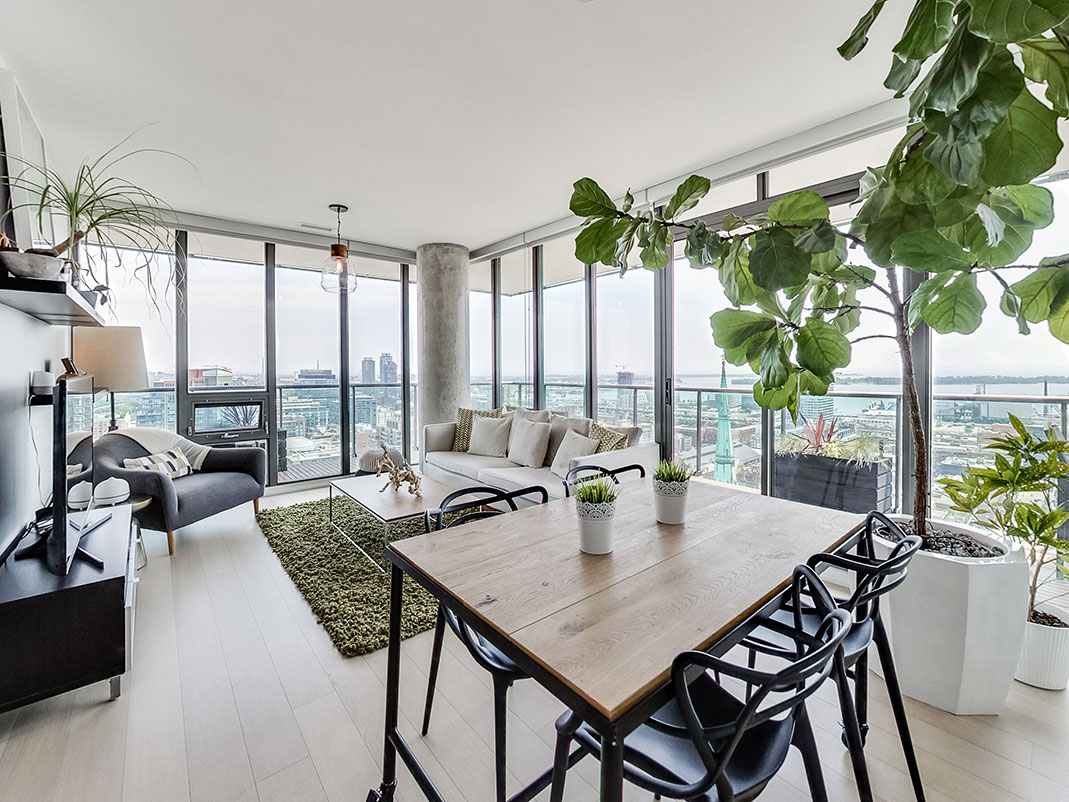 Two bedroom suite at Spire Condos
TIPS FOR DOWNSIZING
When you downsize to a condo, there are a lot of things — big and small — that you need to decide what to do with. To make the transition easier and five yourself more time to decide what must stay and what must go, consider Second Closet.
This low-cost, easy-to-use service will allow you to store individual items or rent storage space — some spaces as small as 40 square feet — depending on your individual needs. They'll even  pick up and drop off your items whenever you need them.
Choosing to downsize doesn't need to be stressful. In fact, it should be an exciting next phase of your life. To help you get in the right mindset for downsizing, read "Downsizing: A Buyer's Guide to Condo Living."
CONSIDER A PRE-CONSTRUCTION CONDO
If you're not yet ready to downsize but know it's in your future, one way to leverage your current home equity is to invest in a pre-construction condo. You can purchase a pre-construction condo with as little as 15% down while also building equity as it's built.
This past month, Home on Power, situated on the edge of the St. Lawrence Market and Corktown, still had large units (2 bedrooms, 2 bedrooms plus den and 3 bedrooms) available that had profit built-in on signing. These size units are ideal for those looking to downsize.
Alas, it's clear we love the St. Lawrence Market. And what's not to love? This charming historic neighbourhood is a breath of fresh air in the middle of the city's downtown. With so much rich history, an endless list of things to do and see, and transit at your doorstep, this may just be the perfect neighbourhood to relocate.
If you need help finding a condo to downsize that suits your needs, give us a call, we'd be happy to help.