Finding a rental in Toronto is a lot like buying a home these days. With the vacancy rate at an all time low and rental prices at an all time high, the competition is fiercer than Meryl Streep's side-eye in The Devil Wears Prada. To ensure you're fully prepared when hunting for that perfect rental, we're offering insight into the dos and don'ts of applying for a Toronto rental property.
Set Your Expectations
Having a Credit Report is Essential
What to do if You Have Bad Credit or No Credit
Be Prepared to Present Your Financial Situation
What to Include in Your Rental Application
Tips to Beat Out the Competition
Do I Need to Offer More Money?
SET YOUR EXPECTATIONS
If you're new to the Toronto rental market or are seeking a new place for the first time in more than three years, be ready for a bit of a wake-up call. Rental prices in Toronto have increased significantly over the last few years.
It's important to set your expectations with what you'll be able to get within your budget. Below are the average monthly rental prices from 2018's second quarter across Toronto's downtown core.

HAVING A CREDIT REPORT IS ESSENTIAL
One thing that you must have when looking for a Toronto rental is a credit report. This should be one of the first things to take care of prior to apartment hunting as credit reports can take anywhere from one day to a week or more to process.
Most agents and/or landlords will only take credit reports from Transunion or Equifax. Stay clear of websites like Credit Karma as they are not a reputable resource when applying for a rental.
WHAT TO DO IF YOU HAVE BAD CREDIT OR NO CREDIT
If you have bad credit, you'll have a hard time getting a landlord to take you on. If your bad credit score is due to something like a Highway 407 bill you forgot to pay, you can certainly try and explain this. Alternatively, you can offer to pay several months upfront as a tactic to deal with your bad credit.
If you don't yet have any credit, it's important to prove that your lack of credit, otherwise landlords may assume you're trying to hide bad credit. This could be as simple as a screenshot of your credit report saying no credit was found.
If you don't have credit or make less than $45,000 a year you will need a guarantor when applying for a rental. Your guarantor will need to provide their own credit report as well as employment information. You may even be asked to provide a bank statement as a means of showing you have enough money to afford the rent for a few months.
BE PREPARED TO PRESENT YOUR FINANCIAL SITUATION
You will need to provide a letter of employment that states your annual income. This, along with your credit report, is mandatory when applying for any rental apartment.
As part of the standard Rental Application, you will also be asked about other financial obligations you have to get an idea of your monthly expenses. Things like car payments or student loans will need to be included here.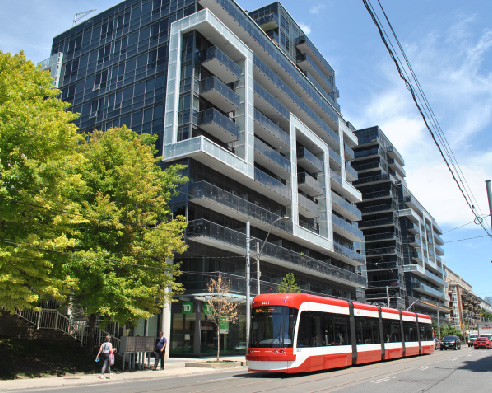 WHAT TO INCLUDE WITH YOUR RENTAL APPLICATION
A credit report and employment letter are mandatory. If you're serious about landing that rental, you'll also want to include these other components:
COVER LETTER
First on the list is a cover letter. This is a great opportunity to introduce yourself, tell your story and essentially sell yourself as the perfect tenant. We've even had couples include a picture of themselves along with their cover letter to make it more personal.
LANDLORD REFERENCE LETTER
Including a reference letter from your previous landlord(s) is a great way to make your application stand-out. Know that the agent and/or landlord will check your references so having that letter included will help keep your application on top of the pile. Ensure any other references you include are notified so they're not caught off-guard.
PHOTO I.D.
Along with your rental application, you'll need to include a copy of your photo ID to confirm your identity.
CERTIFIED CHEQUE
Finally, be ready with a certified cheque for first and last month's rent. Having this ready to go with your application proves you mean business. Regardless of how attractive your application is, if you don't have your funds ready to go it could mean losing the apartment to an applicant who does.
It may seem like a lot but it's the name of the game these days. Remember, competition in the rental market is crazy, so make sure you have all of these documents ready to go. The more organized and prepared you are, the better. Download our rental checklist to get organized.
TIPS TO BEAT OUT THE COMPETITION
ENSURE YOUR AGENT KNOWS YOUR STORY
If you're using a real estate agent to help you find that perfect rental property, make sure your agent knows your story. They are your advocate to the other agent or landlord so tell them about yourself, why you want to live there, your relationship status, hobbies and any other information you think will be helpful.
BE FLEXIBLE WITH DATES
Having flexible move-in dates can be very beneficial. If the rental property you're applying for is already vacant and you can move in ASAP, that will be attractive to landlords who are eager to fill their unit.
DON'T MAKE ANY SPECIAL REQUESTS
Landlords really hold all of the cards when vetting tenants. Try to avoid requests for any immediate repairs or favours when applying for your rental (i.e. patching up walls, requesting curtains, etc). Unless the rental has been on the market for 30+ days, you'll want to hold-off on these special requests.
DO I NEED TO OFFER MORE MONEY?
Renters shouldn't expect to have to offer more than what's listed when applying for a Toronto rental property. If you've found a rental property that you really want and know the competition for that unit is high, you may consider offering a bit more.
For instance, this rental we had last winter had a ton of interested renters, so much so that there was a line-up out the door for booked showings. In this case, the competition was apparent to anyone that went to see it and there were several offers for more than the listed rental price. This is something your agent can help advise you on.
The rental competition in Toronto is wild, so going in armed with a professional rental application package will increase your odds of scoring that perfect rental when it hits the market. Download our rental application checklist for free here, it also includes tips on how to write a good cover letter and more!
If you're looking for a Toronto rental or know you'll be moving soon, it's a good idea to start preparing your application sooner than later. If you need help finding that perfect property, contact our agent Rebecca to get started!