There's never more support for a downtown development than when it comes with a rooftop patio. The 123 year old heritage Philip Jamieson Building at the north-west corner of Yonge and Queen Street will finally be restored to its original glory along with a few new additions and some modern updates.
Since 2010, Cadillac Fairview has been renovating the Toronto Eaton Centre and we've seen some great improvements. The most recent renovation being the dazzling new pedestrian bridge that replaced the previous one which had been built 40 years ago.
Cadillac Fairview's next proposal is the restoration and modernization of 2 Queen West, the Philip Jamieson Building. The property has seen many different tenants over the years and even a few proposals for how to improve it. In 2013, city council rejected the proposal for a 65-storey rental tower that would have added 580 units to the rental market — a project, in retrospect, that we certainly could have used today.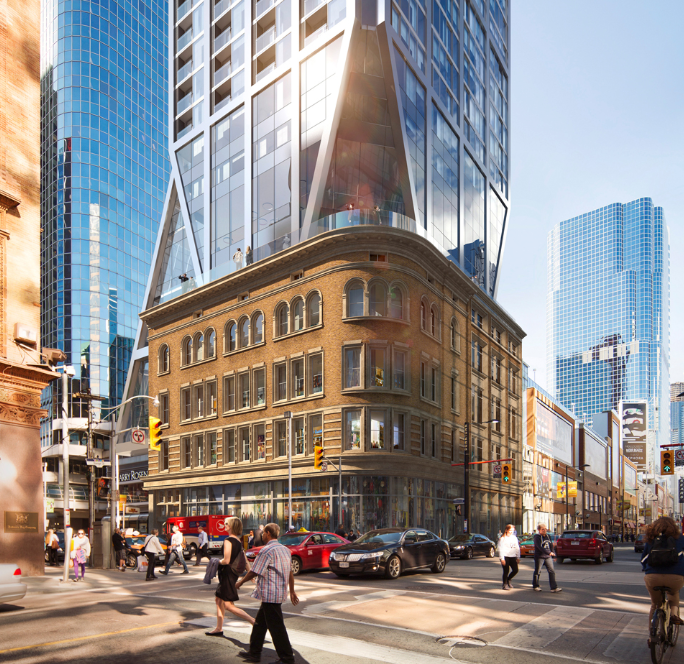 The new proposal will fully restore the 1895-built heritage site to its original facade, add three storeys of office space, a terraced top floor with a huge first-class restaurant and a green roof. ERA Architects are responsible for the heritage aspects of the project and are well known for their work in heritage conversions, having also worked on notable Toronto restorations like Maple Leaf Gardens and much of the Distillery District.
Currently, half of the original facade of 2 Queen West is covered by aluminum panels from a previous restoration attempt in the 1980s. The panels are also hiding a lot of damaged brick beneath, something that ERA will fully restore to its former glory.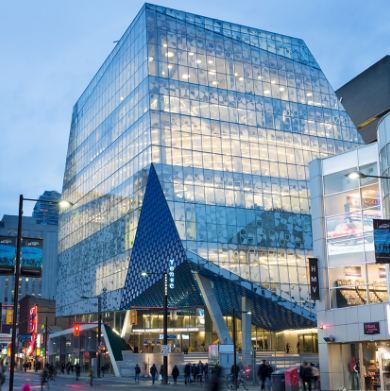 Zeidler Partnership Architects are responsible for the modern aspects of the project. They are the same team behind the new pedestrian bridge, the Union Station train shed and Ryerson Student Learning Centre — their work with glass is extraordinary. Their design for the three new levels atop the Philip Jamieson Building will be framed in a sleek glass exterior and have 23,150 square feet of office space, which is in extremely high demand in downtown Toronto.
Inside, the original four-storeys will be modernized and continue to serve as retail space — 22,011 square feet of it. There will also be many internal upgrades with respect to electrical and structural components. On the 7th and highest floor will be 7,756 square feet of restaurant space accompanied by a large outdoor terrace. No word yet on who will occupy the future restaurant space but there's no doubt you'll need to make a reservation for a seat on the coveted rooftop when the time comes.