Do you want to redesign your garage? Then you must take a look at our picks for the best garage design ideas. Whether you are looking to extend the interior of your home, add a bit of function or show off your car, we've got you covered.
–       Turn your garage into a showroom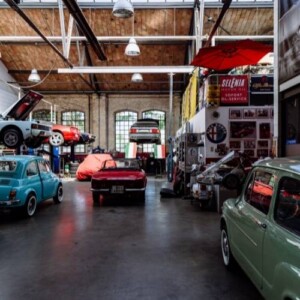 When it comes to creating a showroom within your garage, lighting is crucial. Add bright overhead lights or better yet install a glass door to let that light shine on your 'showpiece'.
Lighting, positioning, and flooring all play a role in achieving that wow factor in your garage area. Bright lights will complement polished floors and walls and they are ideal for showcase garage design ideas. You may choose your flooring, but if you want a gleaming finish, polished epoxy flooring is a great option.
Showroom garage designs are particularly well-organized, with matching light fixtures and wall paint. For your showroom garage design, stick to neutral hues like grey or beige. Because the glass garage door will be the focal point of your interior design, it should be attractive. Choose a color for your casing and use steel panels to frame the glass garage door. Chrome looks great with glass, particularly if the rest of your garage is painted in grey tones.
–       Keep your garage streamlined
Some individuals use their garage as a workshop for vehicle maintenance or arts and crafts, which may leave your garage in a state of disarray. If you want to keep your garage looking nice, it has to be neatly organized. Choosing easy access storage is the greatest method to keep your garage organized. Take a look at some garage storage solutions to keep your garage organized.
You'll need a garage layout that will enable you to put these little goods out of the way. Install pegboards or slat walls in the garage to hang products and accessories so they're always neatly in place.
One of the options available for you to consider in here is pegboards. Pegboards are wooden sheets with holes in which pegs may be inserted. These pegs may be used to hang everything from portraits to tools and equipment in the garage.
You may also think about getting a slat wall. Slat walls are more attractive than pegboards since they allow you to hang hooks or baskets to store paints, gloves, gardening equipment, and even potted plants.
Drawers can help you to organize your stuff in a better way as well. You may transform your bedroom chest of drawers into garage storage compartments by refurbishing it. To keep your garage design ideas and style constant, paint the drawers black and insert chrome knobs for a classy effect.
There are steel lockers that you can buy to hold your car accessories. Install steel lockers to store garden equipment and automobile accessories for rustic garage design ideas. Because these storage cabinets are large, you can easily store a large number of objects out of sight. Larger power tools, as well as overalls and jackets, may be hung on hooks installed in the steel lockers.
–       Creating An Entertainment Area Out of Your Garage
A garage is the ideal size for creating an entertainment room for you and your family to enjoy. Whenever you want to invite your friends and have a good time, you may think about creating an entertainment area. Be wary of those Canadian winter months though, make sure that whatever you put out in your garage can stand the temperatures.
–       Create a gaming room
Have you ever dreamed about opening your own arcade? Your garage will be the ideal size for creating your own gaming den. For your entertainment section, add pinball machines, old-school gaming boxes, pool tables, and a foosball table. Use polished tiled flooring and walls, as well as neon signs lighting for a vibrant glow, to create the feel of an old school gaming area.
–       Transform your garage into a mancave / shehouse / kids zone
If you know what you want to accomplish with the space, drawing out garage designs is simple. Why not create a little escape for someone in your family?
Thinking about a mancave? Install a wooden bar with red chairs, as well as a large screen TV to watch your favorite sporting events. Use dark lighting and rugs that complement your interior decor if you want to emulate the look of a bar. Every man cave should include sports memorabilia and national flags. Flags flutter from the ceiling, and framed photographs of sports legends adorn the walls.
Thinking about a shehouse? Some of our favourite spaces we've seen included a meditation / yoga space!
Thinking about a kids zone? Slides, ball pits and climbing walls… we love any version that gets those kiddos active and smiling!