For those who have long been wanting to buy their first home but buying a house in Toronto is out of their price range, the condo market is the go-to alternative. The key to navigating the Toronto real estate market is buying something you can afford today so you can get your money to start working for you. While not everyone loves the idea of putting their hard-earned savings into a condo, there are actually many advantages of living in a condo.
No 1. IT'S WITHIN YOUR BUDGET AND GETS YOUR FOOT IN THE DOOR
With the cost of a semi or detached home hovering around the million dollar price point, the condo market continues to be the best option for first time buyers. The demand for properties under $500,000 continues to be very competitive.
We always say, the best time to buy real estate was yesterday. The reason being, real estate prices always go up. The longer you wait to buy, the less your money is actually worth. The key is to get into the market and let the market work its magic.
No 2. YOU MAKE MONEY JUST BY LIVING THERE
As we mentioned before, one of the biggest advantages of living in a condo are the equity gains you earn just by living there. While you may feel like your mortgage and condo fees are draining your bank account — though really not much more than renting in Toronto — you are actually earning this invisible income called equity. Think of your condo as an investment, one that will help you build wealth and get you closer to that house in the future.
Toronto's condo market has seen incredible equity gains year-over-year, especially those in and around the downtown core. There are, however, many neighbourhoods on the rise with affordable prices that are expected to see big gains for those who live there. Looking to gentrifying neighbourhoods is a great way to buy within your budget and earn significant equity in the years to come.
Related: First Time Home Buyer Rebates
No 3. IT'S A LOW MAINTENANCE LIFESTYLE
When you live in a condo, you get all of the perks of homeownership without needing to worry about all of the extra upkeep. No need to shovel your driveway in winter or, better yet, no need to own a lawnmower.
While you do pay maintenance fees to live in a condo, you would still be putting a similar sum aside each month for home maintenance costs. Or at least you should be paying into, what we like to call, an Oh Sh*t Fund.
No 4. TAKE ADVANTAGE OF DESIGNER AMENITIES
One of the advantages of living in a condo are the amenities. Most condos come with a gym or fitness facility which means you can actually save on that costly gym membership. While you may not have your own backyard, you'll likely have access to a rooftop terrace and these outdoor common areas are often equipped with BBQs, lounge space. Hosting a party has never been easier.
For those of us who do a lot of online shopping, rest assured your packages will always be safely held by your concierge.
For those who work from home, we're also seeing more and more condos developers designing amenities with co-working spaces so you can separate your work and home life a bit more conveniently.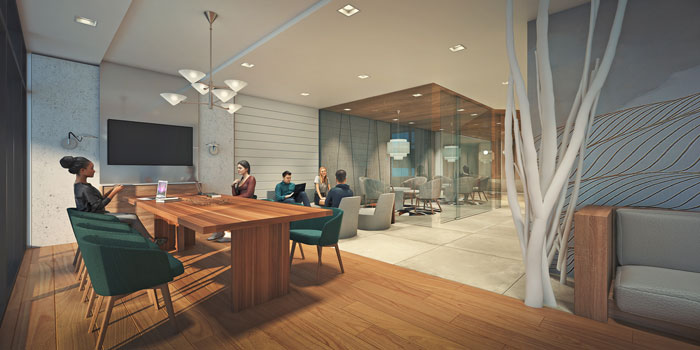 No 5. YOU'RE CONNECTED TO IT ALL
Another advantage of living in a condo is how closely connected you are with the city. Depending on the type of condo you buy, it's likely you will have a grocery store or other similar retailers connected to your building. From local restaurants to entertainment, look for condos for sale in neighbourhoods that suit your lifestyle.
This past month in the pre-construction condo market we've had two condo launches that are connected to transit. Linx Condominiums on the Danforth is nestled between the GO and TTC stations. The Forest Hill Condominiums will be directly connected to the new Forest Hill Subway Station through the lobby!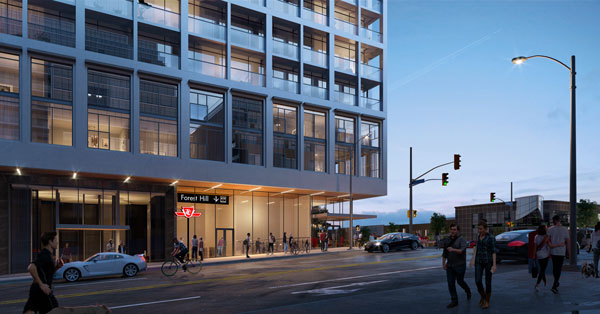 SO, IS A CONDO A GOOD FIRST HOME?
The short answer is yes. Living in a condo that you've managed to buy yourself, provides a great sense of pride. If being a homeowner is one of your goals, buying a condo today is the best way to make those dreams of owning a house a reality tomorrow.
Start small if you have to and allow yourself to adjust to the new financial responsibilities of being a homeowner. Who knows, maybe you're surprised by how much you love living in a condo, and perhaps your move-up home isn't a house but rather a larger condo, a loft, or townhome.
The main thing to keep in mind is that as soon as you get your foot into the real estate market, the faster you'll be able to earn equity and take advantage of our thriving real estate market. Plus, did you know all of the profits you earn when you sell your principal residence are TAX-FREE? That's right, buying and living in a condo is a great way to get ahead financially. Book a call with us to get started on your home buying journey!