(Edited Sept 19, 2022 with latest Toronto real estate market prices)
If you've been seriously looking to buy a condo in Toronto you're probably asking yourself, how much does a condo cost in Toronto? If you're overwhelmed by everything you need to know, take the next 5 minutes to read this article on buying condos in Toronto. We are educators and experts in real estate and we believe that smart real estate decisions have the power to transform lives. Stick with us as we show you: 
The average cost to buy a condo in Toronto by neighbourhood

How much you need to buy a resale condo

How much you need to buy a pre-construction condo

How much to budget for condo closing costs

Tips on getting the best mortgage rate

The hidden expenses of buying a condo in Toronto
THE AVERAGE COST TO BUY A CONDO IN TORONTO BY NEIGHBOURHOOD
"How much does a condo cost in Toronto?" This can be a bit of a loaded question when prices vary in each Toronto neighbourhood. I think the best place to start, especially if you're new to the Toronto condo market, is to show you what condos for sale in Toronto are going for these days. Below you'll find the average cost of a condo for 2022 from most affordable to least affordable neighbourhood.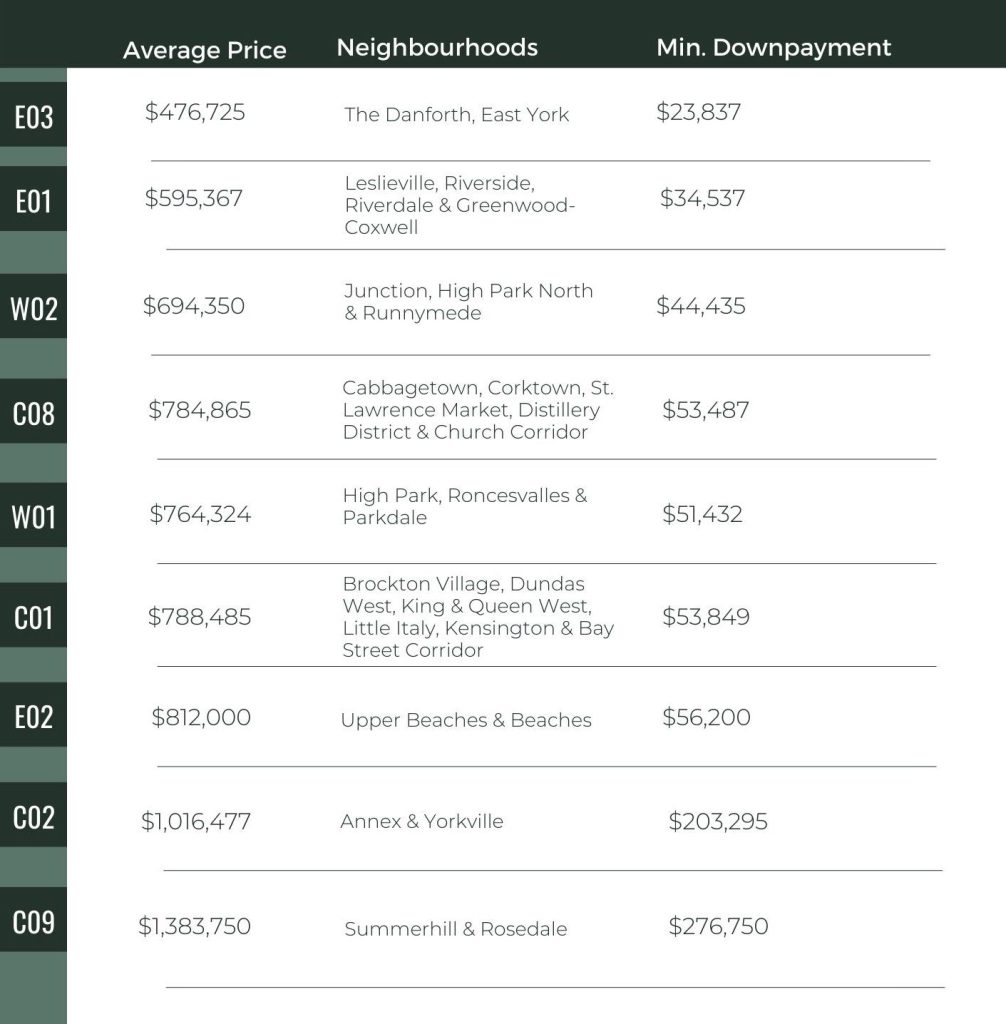 Best Area to Buy a Condo in Toronto
If you're wondering what the best area to buy a condo in Toronto is, it depends on a lot of different variables but looking at the different price points across the city is a good place to start.
You can easily tell that the Annex and Rosedale neighbourhoods are probably not the best place to buy your first condo — unless you're rolling in the dough. Keep in mind, these are the average condo prices as of August 2022 in Toronto. As you continue to track the Toronto condo market in 2022, keep your eye on our monthly real estate market reports for updated TREB prices and a more accurate indication on neighbourhood sale prices.
The takeaway here: if you can be flexible on the neighbourhood, you may save some serious cash. As the average condo price in Toronto continues to rise, the demand for condos for sale in Toronto under $550K increases. It may be worth keeping your eye on condos for sale in High Park, Roncesvalles, and along the Danforth where prices are low.
We've seen condo prices in neighbourhoods like Leslieville and Riverside see tremendous price growth over the last few years due to gentrification and affordability (+50% since 2014!*), so if you're wondering if you should buy a condo in Toronto, look to neighbourhoods that are up-and-coming. Your realtor is the best person to ask for advice on this.
Related: From East to West – Toronto Neighbourhoods to Watch
HOW MUCH DO YOU NEED TO BUY A RESALE CONDO IN TORONTO?
The Deposit
When you're looking for information on how much a condo costs in Toronto it's important (especially if you're seriously looking at properties) to consider that you'll need to have your deposit funds readily available. When it comes to condos for sale in Toronto the typical deposit is 5% of the overall purchase price and it goes towards your down payment. If you're buying a $500K condo, your deposit needed would be $25K and is usually made 24 hours after an accepted offer or with your offer if you were in competition for the property (bidding war).
How Much Do I Need for a Down Payment When Buying a Condo?

The minimum down payment you can make depends on the purchase price of the condo. When purchasing condos for sale in Toronto any down payment that is less than 20% will require you to pay CMHC mortgage insurance.
COMPARING DOWN PAYMENTS ON A $500,000 CONDO
Don't let this added mortgage insurance phase you. Depending on the individual, paying the slight premium in mortgage insurance in order to start earning equity in the real estate market can sometimes be better than waiting to save for the full 20% down payment. We explain why in our blog "Why 5% Down Today is Better than 20% Down Tomorrow."
As a quick example of what your different monthly mortgage costs would be with different down payments when buying condos for sale in Toronto. This is based on a 5-year fixed rate of 3.39% over 25-year amortization. If you put this example into the mortgage calculator you can see that paying $100K down only saves you $464 per month. Ask yourself, is it easier to save an extra $464 per month or another $75K for a down payment?
DIFFERENCE IN MONTHLY MORTGAGE PAYMENTS
As you search condos for sale in Toronto, use our easy-to-use mortgage calculator to see the full breakdown of costs affiliated with the different MLS listings you see. By simply entering the condo price this tool will tell you:
The minimum down payment required

How much mortgage insurance, if any, is required

Your total mortgage

Your monthly mortgage payments

How much land transfer tax is due
HOW MUCH SHOULD I BUDGET FOR CONDO CLOSING COSTS WHEN BUYING A CONDO IN TORONTO?
The amount you will owe in closing expenses will vary depending on the purchase price of the condo. It's important to account for these condo closing costs expenses when you're budgeting to buy a condo in Toronto.
Along with your down payment on that $500,000 condo, your condo closing costs need to be paid for in cash and these include: Land Transfer Tax, Title Insurance, Legal Fees , Property Tax Adjustment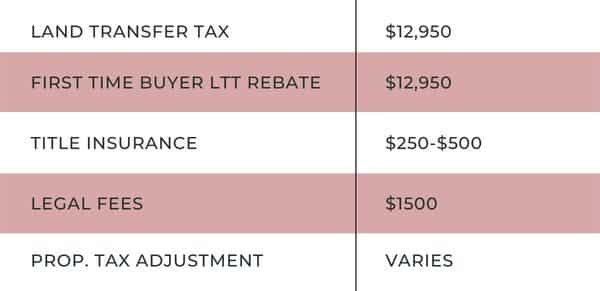 Land Transfer Tax
Land Transfer Tax (LTT) is charged to anyone buying real estate. In Toronto, you pay both a municipal LTT and a provincial LTT. The total amount owed will depend on the purchase price of the property.
As an example, when buying a condo in Toronto that costs $500K, you'll pay a total of $12,950 in Land Transfer Tax ($6,475 both provincially and municipally) is owed. However, if you are a first-time buyer, you may be eligible for a Land Transfer Tax Rebate. On a $500K condo, that would save you $8,475! More on first time buyer rebates later.
Title Insurance & Legal Fees
These typically get lumped together at closing. The cost to have the title of the property changed from the seller's name to yours can range from $250-$500. Most real estate lawyers will include this fee in their fees. It's wise to budget $1,500 to $2,000 in legal fees.
Property Tax Adjustment
In some cases, the seller has already paid for property taxes beyond the property's closing date. If so, the buyer will need to reimburse the seller the difference.
Read: Understanding Closing Costs Before You Purchase that Property
HOW MUCH DOES IT COST TO BUY A PRE-CONSTRUCTION CONDO IN TORONTO?
The Deposit
The deposit structure on a pre-construction condo will vary depending on the builder and the project, but it is usually 15% over the first year and 5% on occupancy which is three to four years later.
For a $500,000 pre-construction condo your typical deposit structure will resemble this:
$5,000 on signing

Balance of 5% in 30 days ($20,000)

5% in 90 days ($25,000)

5% in 270 days ($25,000)

5% on occupancy in 3-4 years ($25,000)
HOW MUCH SHOULD I BUDGET FOR CONDO CLOSING COSTS WHEN BUYING A PRE-CONSTRUCTION CONDO IN TORONTO?
Both the Land Transfer Tax and your legal expenses outlined above are the same when you buy a pre-construction condo. However, there are a few additional expenses to budget for when buying a pre-construction condo. Luckily, you have a three to four year build time to save the funds.
Development Charges & Tarion Home Warranty
Both the Tarion Home Warranty and Development Charges are specific to newly built properties and are due at closing. Development charges are taxes imposed by the city of Toronto and passed on to purchasers of newly built property and are used to help the development of the city, such as park levies, education levies, water and sewer levies.
On a $500K pre-construction condo you can expect to pay about $1,100 for The Tarion Home Warranty and anywhere from $8K to $10K in development charges.
HST
Purchasers who plan on living in their pre-construction condo will have the HST portion of their purchase tied into their mortgage and will not have to have to worry about this at closing.
Purchasers who are using their pre-construction condos as investments will need to pay HST upfront to a maximum of $24,000, but are eligible for a full rebate provided they have a one year lease in place.
Read more on this in FAQs When Buying a Pre-Construction Condo.
HOW TO BUY A CONDO IN TORONTO
When it comes to buying a condo in Toronto, the first thing you absolutely must do is get a mortgage pre-approval. This helps you to truly see what your personal finances will allow for when you do need to qualify for your mortgage. Here are things you should know about mortgages:
You will need to pass the Stress Test
This means that you now need to qualify for a mortgage based on the Bank of Canada's (BoC) benchmark rate (currently 7.25%) or 2% higher than the negotiated rate (whichever is larger) to ensure that you are able to handle your mortgage payments should interest rates rise.
If you have an insured mortgage (less than a 20% down payment) you only need to qualify at the BoC's benchmark rate or the actual rate offered by your lender. Read more on the Stress Test here.
Do your homework on mortgage rates
When it comes to getting a good mortgage rate, do your homework. In doesn't take more than a few minutes to do a quick search online. Websites like RateHub and RateSpy will list the best comparable rates for different banks and lenders.
Don't be afraid to negotiate
Once you know what the best rates are, approach your own financial institution first. Many banks will give their own customers a better deal for their loyalty. If you've done your homework, you'll know if they're offering you a good rate or not. Don't to be afraid to negotiate a better rate. The worst they can do is say no.
THE HIDDEN EXPENSES OF BUYING A CONDO IN TORONTO
Beyond the down payment and condo closing costs you need to buy a condo in Toronto, it's important to outline the "hidden" expenses that come with buying a condo. Keep these extra costs in mind when it comes to your budget.
Movers (~ $1000)

Locksmith ($50-$100)

Utility Set Up Fees (costs will vary)

Elevator Bookings – this is a refundable deposit ($250-$500)

Cleaning Services ($150-$300)

Furniture for your new space (costs will vary)

Repairs and improvements (small or large, these costs will vary)
Your New Monthly Expenses
Beyond your mortgage payments, your new monthly carrying costs with owning a condo also include:
Condo fees ($0.55psf – $0.80psf)

Property Tax (2019 rate of 0.614770%)

Property Insurance ($50)
Read "First Time Buyer Finances: Life After the Purchase" for tips on budgeting as a Toronto condo owner
FIRST TIME BUYER REBATES
The government of Canada grants first time buyer rebates to help alleviate the harrowing costs involved with buying your first home. These include a $750 First Time Buyer Tax Credit and a full or partial Land Transfer Tax Rebate. Click here to find out if you're eligible for the First Time Buyer Rebates and how to get them.
Not only are you now equipped with the full list of costs you need to be aware of when you buy a condo in Toronto, but you also have the tools and tips to decide: should I buy a condo in Toronto? Start searching condos for sale under $500K here or book a call with us to discuss your financial situation and get started on a custom action plan for you!
*Based on E01 average condo price for 2018 compared to 2014.