Toronto has one of the fastest growing residential condo markets in the country — you can tell by the number of cranes rising from our skyline. With Toronto's growing popularity putting a demand on the condo market, we thought we'd put the spotlight on five architecture firms that are designing the condos so many of us call home.
Many of the condos in Toronto's east end neighbourhoods like the Distillery District and the St. Lawrence Market involve architectsAlliance. Of the six condos in the Distillery District, architectsAlliance has built the most recent three: Pure Spirit, Clear Spirit, and the Gooderham.
This Toronto based architecture firm has projects all over Canada, the United States, and Europe. While they don't just focus on residential architecture — they sure have mastered it.
"Through each project we articulate a compelling and appropriate response to context, and an urbane response to density that enriches the public realm and the experience of city life." [1]
CORE Architects have been responsible for the execution of some Toronto's most sought after condos. If you want a glimpse of their portfolio in person, take a stroll around the block of King, Bathurst, Wellington and Portland Street and you'll come across many of their projects such as Seventy5 Portland, OneEleven Condos, Six50 King, and The Fashion House Condos — to name a few.
Their condos succeed in creating dynamic facades that are both functional and inherent of their surroundings. You can see their "building block" design approach reinvented in The King East, OneEleven Condos, and 12 Degrees to name a few.
12 Degrees at 15 Beverley Street earned CORE Architects two awards in 2016 for its unique design. Reminiscent of a Rubik's Cube, the three upper blocks of floors skew 12 degrees from one another.
One of their latest projects is Home on Power in Corktown. Slated for occupancy in 2021 and with a few remaining suites left for pre-sales, Home on Power has proved to be a desirable pre-construction condo for investors and end-users alike.
For more info on Home on Power or to inquire about remaining inventory, click here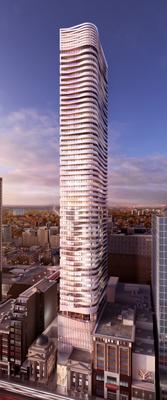 One of Toronto's larger architecture firms, Hariri Pontarini have been changing our skyline since 1994. Along with architectsAlliance, Hariri Pontarini is also one of the architects behind The Well.
One of their most recent claims to fame is One Bloor East, taking second place for Toronto's tallest residential tower at 76 storeys. Located at the prominent intersection of Yonge and Bloor, this beautiful condo stands tall on the city skyline and is undeniably attractive with its undulating design, bringing a breath of fresh air to the often wild and frantic world below.
Following a similar flowing facade design style is Massey Tower, a heritage conversion that rises 60-storeys from the historic Canadian Bank of Commerce on Yonge Street. Between this and One Bloor East, the elegance and caliber of which Hariri Pontarini are known for quite literally stands out from the crowd.
Some of our top selling pre-construction condos as of late have been built by RAW Design. Many of the Toronto condos in their portfolio are boutique style condos, which we love and always try to sell to our clients.
With just over ten years in operation, and the recipient of the OAA award for Best Emerging Practice in 2009, they've launched some very noteworthy condos and have no signs of slowing down.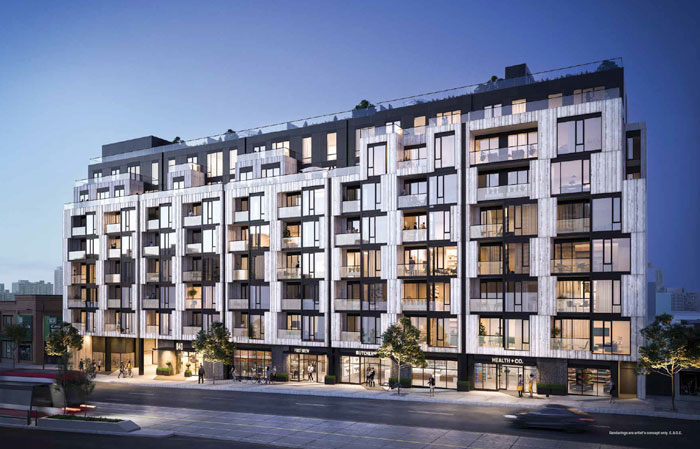 This year alone we've sold The Cardiff, Eight Forty, The George and 57 Brock — all pre-construction condo projects by RAW Design. Nearing completion is the first phase of Riverside Square, a highly anticipated mixed-use development coming to Leslieville.
Click here to get floor plans and pricing at RAW Design's 57 Brock in Queen West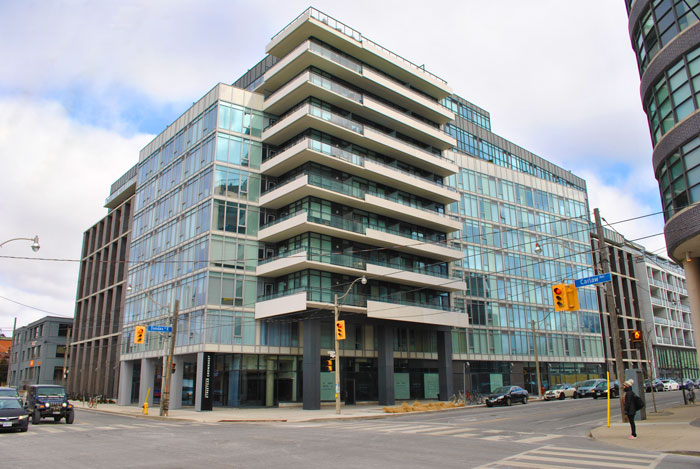 TACT began as TACT Development Inc in 1997 while the now principal architects were apprenticing at KPMB Architects. Today, TACT is a development, architecture, and design firm and they've become one of Toronto's leading residential architectural practices.
Southwood Condos, Taylor Lofts, and The Carlaw are some of our favourite east end condos and are all projects from the brilliant minds of TACT architecture. Adding to their Leslieville portfolio is the charming boutique residence, Poet Condominiums. With only 66 suites and three townhomes available, this idealistic condominium features refined designer finishes and amenities.
For those looking to buy a condo in desirable Leslieville, The Poet Condominiums offer many two-bedroom and three-bedroom layouts, many with generous private outdoor space. If you want to own a condo designed by award-winning TACT Architecture Inc., register for The Poet Condominiums today