If you're looking to buy a home or invest in a rental property, one segment of the market that we want to highlight are pre-construction Toronto townhomes. With so many condos being built throughout the city, a Toronto townhome can be a great condo alternative, one that feels more like a house but not with the same price tag. Consider pre-construction Toronto townhomes for your home or as a profitable investment.
THE PRICE IS RIGHT FOR PRE-CONSTRUCTION TORONTO TOWNHOMES 2020
It was this time last year when we wrote Why $1000psf is Toronto's New Real Estate Norm. This is true for pre-construction and increasingly true for the resale market. While we, as realtors, have adjusted to this standard price point, it can sometimes be a hard pill to swallow for those just starting their real estate journey.
If you're looking for value, there are a few Toronto pre-construction townhomes that are for sale for a fraction of the price of today's new standard.
Pre-Construction Townhomes Toronto 2020 – Clonmore Urban Towns
Clonmore Urban Towns in Birch Cliff is one such project with a price point that is very hard to come by. With three bedroom pre-construction townhomes as low as $618 per square foot, that's about half the price of most standard condo launches. It's a no brainer — you can buy a large three bedroom townhome for the same cost as a small one bedroom condo downtown. Not to mention these come with large private terraces and you don't have to wait for an elevator to get home.
Unlike living in a semi-detached or detached home, you do have to budget a bit extra for monthly maintenance fees — though realistically, you will need to budget for maintenance of Toronto's old homes just the same. The maintenance fees at Clonmore are very low, only $0.29 per square foot. Even on a large 1,359 square foot townhome you're still pay under $400 per month — considerably less than many new Toronto condos.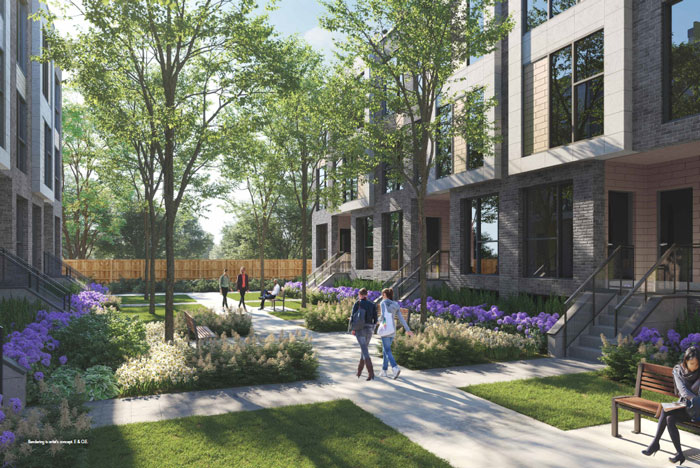 Register for live inventory, pricing and floor plans for Clonmore Urban Towns! Move in 2021.
Pre-Construction Townhomes Toronto 2020 – Reunion Crossing Condos and Towns
Another similarly priced project is Reunion Crossing just east of the Stockyards. This pre-construction condo project also features pre-construction townhomes for sale. Prices are more affordable among the townhomes, starting at $632 per square foot — compare that to the condos, which are still very well priced but start at just over $800 per square foot price.
The townhomes for sale at Reunion Crossing are much larger too, ranging from 953 square feet to over 1,300 square feet. The stylish family-sized urban townhomes are open-concept 2-storey designs with expansive rooftop patios or sunken terraces.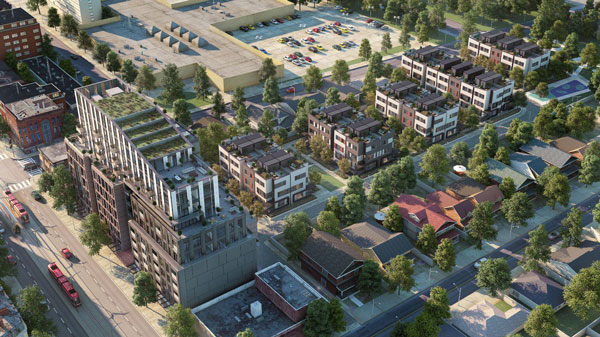 Register for live inventory, pricing and floor plans for Reunion Crossing Condos and Towns. Move in 2022.
INVESTING IN PRE-CONSTRUCTION TORONTO TOWNHOMES FOR RENT
The low price per square foot doesn't just benefit end-users, investors can also take advantage of the low cost of these Toronto townhomes. Toronto's rental market shows no sign of slowing down and more and more urban families are in need of family-sized rentals.
Looking at TREB's Q3 Rental Report, two bedroom townhouses saw a jump of 36.6% in number of leases compared to Q3 of 2018, proving there's a steady demand for these types of rentals. It's also worth noting that Toronto townhouses for rent have seen a rental price jump of 10% year-over-year on one bedroom, two bedroom and three bedroom townhomes.
The demand for new rental inventory is still very high. In this recent Globe and Mail article they said "The Toronto region is facing the largest apartment rental shortage of any major city in Canada as inadequate new construction and soaring population growth are expected to worsen an existing shortfall and push rents even higher."
Another benefit for investors looking to investing in pre-construction Toronto townhomes 2020 is that any new units are exempt from rent control. Not only are you able to buy an investment that has a low price per square foot, but you are able to charge a competitive rental rate.
The market has been favouring the price of townhomes too. In W03 where Reunion Crossing Towns will be built, the average price saw a 48% year-over-year jump in August 2019 with no sales in September for lack of inventory.
In the market as a whole, condo townhouses have seen steady gains each month across the 416:
September 5.7% y-o-y
August 4.1% y-o-y
July 5.5% y-o-y
June 9.2% y-o-y
If you're looking for good value in your home or investment, book a call with us to discuss current and upcoming opportunities that will meet your criteria. Register as an Insider today to get all of the best pre-construction opportunities sent right to your inbox.