THE AVERAGE PRICE PER SQUARE FOOT TORONTO CONDO 2019 IS $1000
It's no secret that the Downtown Toronto condo market has experienced incredible gains over the last few years, but what people seem to be less familiar with is the reality of trading prices across the city. With both pre-construction condos and their resale counterparts trading around the $1,000 price per square foot Toronto average, we want to take the opportunity to educate buyers and investors as to why the $1,000 price per square foot is Downtown Toronto's new norm.
It was actually this time last year that we wrote about this very topic after Urbanation reported that new builds had set a new record of $1,000 as Toronto's price per square foot. So while this average price per square foot in Toronto has existed in the market for over a year now, it has become the new normal for many pre-construction launches and increasingly so for resale.
GET ACCESS TO THE BEST PRICED PRE-CONSTRUCTION CONDOS IN TORONTO
THE COST TO BUILD IN 2019 HAS RAISED THE AVERAGE TORONTO PRICE PER SQUARE FOOT
When it comes to pre-construction condos, the cost to build is more expensive than ever. Labour costs, material costs, city-imposed development charges, and land prices are all driving up the average condo price in Toronto.
But material costs aren't the only thing driving up the average price per square foot in Toronto. Material Babak Eslahjoub of Core Architects said to the Globe and Mail that "construction costs are going up as a result of the demand being quite high; we're the victim of our own success."
In Toronto specifically, there's not a whole lot of land left to develop. Parking lots around the city are quickly transforming into condo developments. In the past five years, according to Bloomberg, the cost of land for developers to build has nearly tripled. With each parcel of land that is sold, it sets the benchmark price for the next development.
THE PRICE PER SQUARE FOOT TORONTO CYCLE
Once a benchmark price to build has been set, it's impossible for developers to sell their projects for less going forward. It's irreversible and so each condo development will typically launch at a higher price point.
If the price point is perceived as too high for buyers, the developer will simply wait to launch until they can attain the price they need to be profitable. And so the cycle goes as such:
As developers hold back from building, the lack of new inventory forces buyers to turn to the resale market. As the resale market absorbs the demand for inventory, their prices will begin to increase and it's at this point where pre-construction developers will choose to launch. As we head into early 2020 this price per square foot Toronto cycle has pushed many developers to release their new builds above $1200 cost per square foot.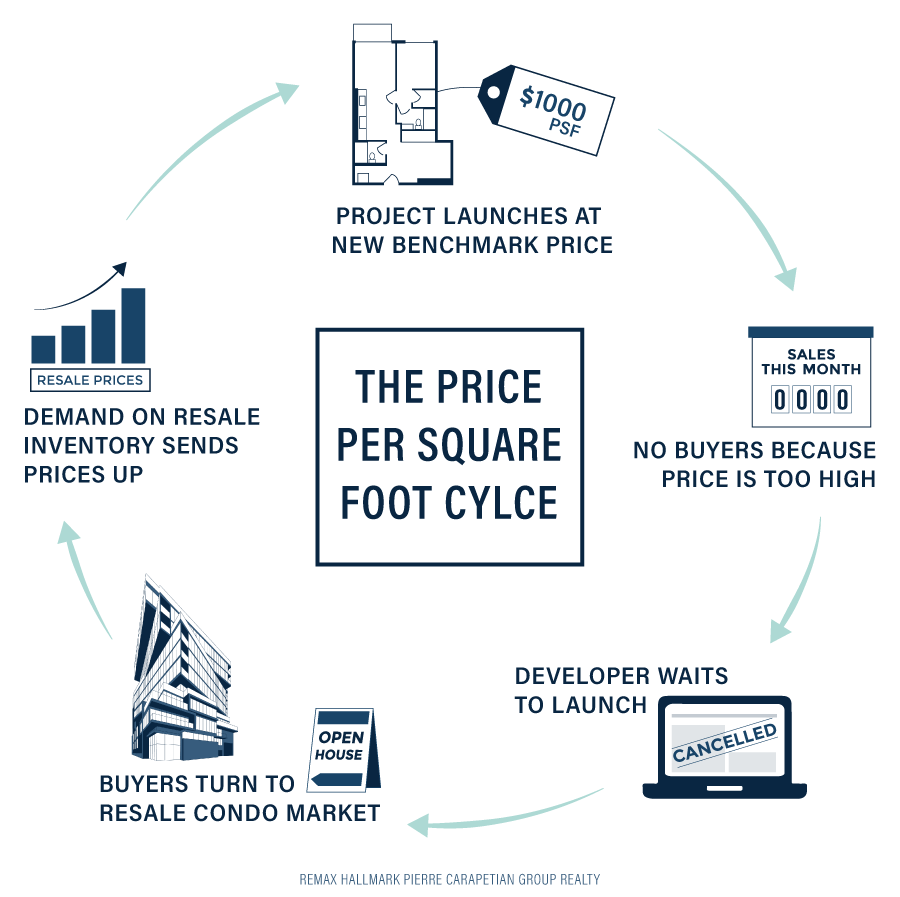 WHY $1,000 PER SQUARE FOOT IN TORONTO IS THE NEW AVERAGE
Throughout the city, there are many resale condos that are commanding $1,000 price per square foot. Notable condos that have been trading at over $1,000 per square foot this fall are Victory Lofts (King West), Clear Spirit (Distillery District), Bisha Residences and Theatre Park (Entertainment District), as well as The Berczy and 88 Scott (St. Lawrence Market).
Downtown Toronto resale prices are trading, on average, around $965 per foot*. So if you're waiting for Toronto condo prices to drop significantly, the odds aren't in your favour.
Canada's conservative lending guidelines means those who aren't well-funded won't easily get a mortgage. This is what makes Canada's real estate market and economy so stable and why you won't see any drastic downturn in the market anytime soon.
The average condo price in some Downtown Toronto neighbourhoods have increased 20% in two years. So even if the market were to dip 5-10%, you're still losing out by waiting. Two steps forward, one step back.
It's time to accept that $1,000 per square foot is the new norm in Toronto. This is why working with a Platinum Agent, like ourselves, is crucial to getting you the best deals. Pierre is one of the top agents in Toronto and a Platinum Broker for many of the city's top developers.
Getting into a pre-construction launch at the Platinum price-point means you can save thousands of dollars and are privy to some of the best pre-construction deals in Toronto plus it's always nice to get first-dibs on the best floor plans too.
*Based on 30 recent sales from top condos in Leslieville, King West, Queen West, Distillery District, St. Lawrence Market and the Entertainment District between August 2018 to October 16, 2018.