When it comes to investing, whether it's stocks or real estate, understanding how your investment will perform is the best way to calculate your investments long-term success. In Toronto's real estate market, condo investment properties are a lucrative way to build wealth. Looking at Toronto's average condo price and the average condo increase Toronto's market provides is the first step to gaging your return on investment.
THE HISTORIC AVERAGE CONDO PRICE INCREASE TORONTO
Historically, the average condo price increase per year in Toronto grows by 4–5% per year. However, if you look at how the average condo price in Toronto has performed year-over-year, you'll see that over the last six years the condo market has outperformed this historical average time and time again. Those investors who have invested in the last few years have made significant gains in their equity.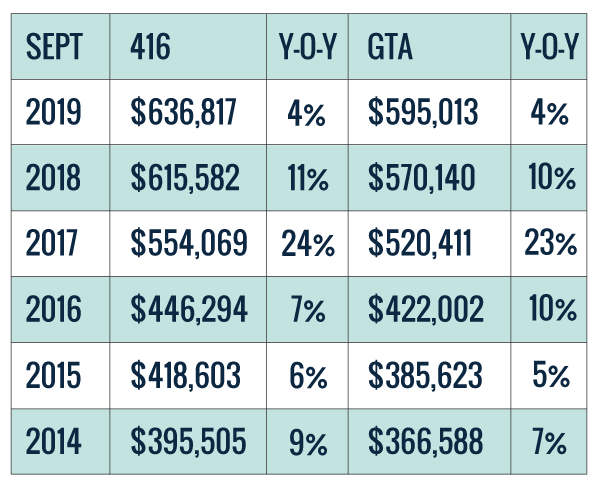 RELATED: Toronto Condo Market: Why Now's [Actually] A Great Time To Invest
In our How To Retire on $10M Through Real Estate Guide, we use this basic equation as an example of how you can make a million dollars by the time you retire. If you buy a $500,000 condo and the property value increases at a minimum of 4% per year for 25 years, that's 100% growth by the time you retire.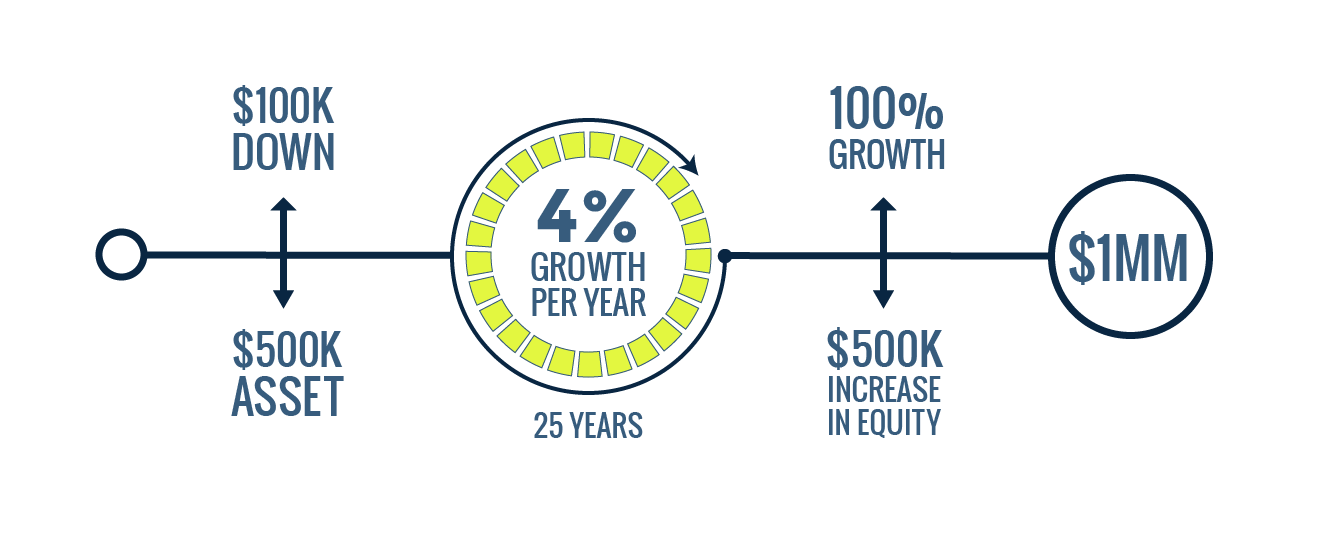 Admittedly, this is a simplified equation, but in the same light, to assume the Toronto housing market will only increase 4% per year is a conservative projection when you look at the Toronto condo market stats above. You'll see below in our case study that we were able to generate an 83% return for a client in just six years!
Download our free guide to learn how you can retire on $10,000,000
FACTORING IN THE AVERAGE CONDO PRICE INCREASE
When calculating the projected return on investment for our investor clients, we use a 5% per year average condo price increase. Our rule of thumb for investing in Toronto condos is to hold your investment for at least six years.
For pre-construction condos, the six year investment window takes into account the four years it takes to typically build the condo property, followed by two years of renting out the property.
The reason we recommend renting out your investment property for two years is three-fold:
Renting out your investment for the minimum of one year allows you to get an

HST rebate

of up to $24,000. However, as many properties have the right to lease before the building's registration date, you are better to lease for two years.

You avoid being taxed as a trader, rather than an investor.

You are able to use Toronto's high rental rate to help pay down your mortgage.

Read more on the risks of flipping pre-construction condos here .
HOLDING YOUR INVESTMENT FOR SIX YEARS: A CASE STUDY
Now let's look at a proven case study with one of our investor clients. Earlier this year we helped one of our investors sell their investment property at Musee Condos within the six year timeframe.
2013: They purchased a one bedroom plus den condo at the pre-construction phase in November 2013 for $385,000
2017: The building takes occupancy and they were able to lease their property for the first time
2019: After original tenants left, they decided to sell their investment condo and did so in one day for $705,000. That's an 83% return in just under six years.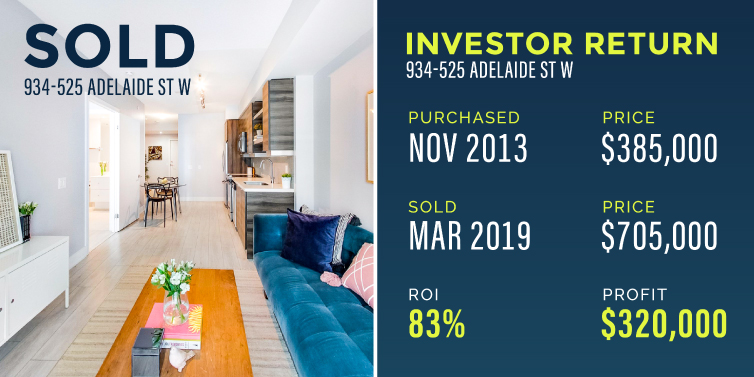 Now imagine they decided to hold their investment longer, as your initial investment builds equity, you're able to borrow that equity for a low interest rate. This allows you to borrow and then leverage that money into additional properties. The beauty of investing in pre-construction is that it requires very little up front so you're building more equity with very minimal initial cost.
Learn more about our leveraging strategy and the difference between good and bad debt.
THE AVERAGE CONDO PRICE TORONTO 2020
After the Fair Housing Act was implemented in 2017 the average condo price increase Toronto saw spiked dramatically from $446,294 to $554,069*. And while the year-over-year price increases have levelled out a bit they are still on the rise.
The average condo price in Toronto 2019 as of September was $636,817 and was up 4% year-over-year.
The Toronto Star recently published this article, Toronto home prices soar by 6.2% — and they are forecast to keep rising. While it's true that Toronto condo prices are high and one would suppose there's some sort of ceiling — think again. It's a simple case of supply and demand.
Toronto, as a world-class city, is growing quickly. Beyond consistently ranking on The Economist's Most Liveable Cities in the World list, more and more people — both Canadians from other provinces as well as immigration — are coming to Toronto for employment and opportunity, putting a demand on our need for housing.
The average condo price in Toronto currently sits at $636,817, and with all that's on the horizon for Toronto, one can expect the average condo price in Toronto 2020 to reach at least $668,650 if we use our 5% per year average projection.
As always, the best day to buy real estate was yesterday, so if you're waiting for the right time to invest, the time is now. If you're waiting for the Toronto condo market crash you'll want to read our article, Is Timing The Real Estate Market A Good Investment Strategy?
Book a call with us to get started on your real estate investment journey.
*Average condo price for the 416 in September 2016 compared to September 2017.