Toronto is currently experiencing a boom in new condominium developments, leading many potential buyers to ask the question, "How do I know if the developer is reputable?" In 2023, the Greater Toronto Area expects to see 25,000 new condo units hit the market – nearly 40% higher than in 2020, the previous record. 
Choosing the right investment in Toronto real estate market requires thorough research on the developer's track record. We have worked with multiple developers and projects and provide valuable insights to help you make an informed decision as a buyer.
If you're looking for the best condo developers in Toronto, it's essential to partner with a trusted realtor who can offer expert guidance. Because only they know what separates the good from the best – and I'm going to let all of you in on this very secret! 
Identifying the Best Condo Developers In Toronto
To find the best real estate developer or condo developer in Toronto, you first have to understand what makes a good developer. In short – a good developer is known for their reputation, history, and track record in the industry. I elaborate on some of this below. 
What Defines The Best Condo Developers In Toronto?
Excellent customer service: The top condo developers prioritize providing impeccable customer service from start to finish, regardless of the building's size. This instills confidence in clients throughout the transaction process.

Proven track record: A successful history and reputation of delivering projects as promised, registering buildings in a timely manner, and guaranteeing reasonable closing costs to clients are critical indicators of a top condo developer in Toronto.

Positive resale market: The resale market's reaction to a developer's previous projects is a crucial factor to consider. If units were sold at a higher price point, it's likely that you can expect a similar experience with their newly launched projects.
If you've found a building that you like but aren't sure about the developer – you can use the services of a real estate agent and benefit from their years of experience in the industry. Most agents study condo developers: their history, neighbourhood success, specialty, etc., and use some of that information to inform their purchase decision.
My Top 9 Condo Developers In Toronto!
Here is a list of some of my picks for the top condo developers in Toronto: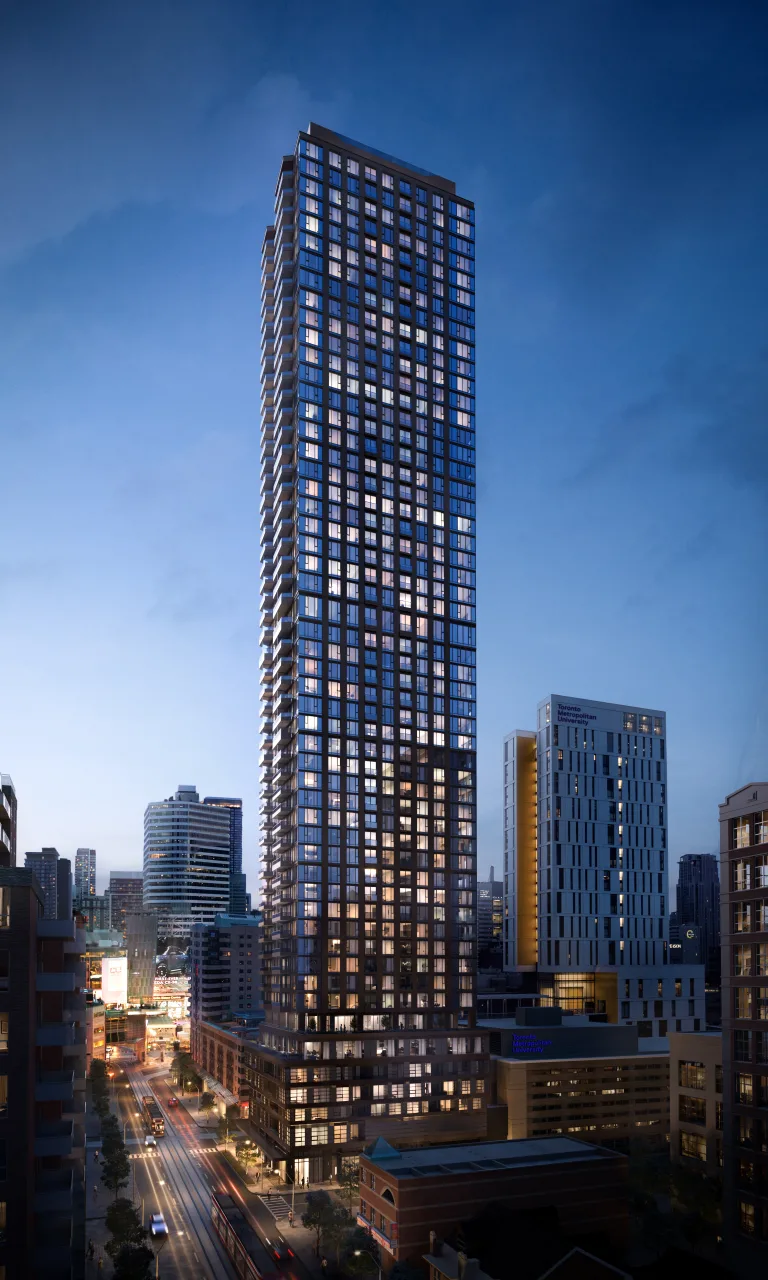 As one of my favourite builders on the list of top condo developers in Toronto, Graywood Developments has impressed me with their significant and prominent projects in the city. What sets them apart is their exceptional customer service, leaving clients satisfied and confident that their investments are in good hands. Graywood Developments truly practices what they preach by delivering on its promised completion dates and ensuring that the end product is of the highest quality.
One of their most notable projects is the Ritz-Carlton, Toronto. This luxury hotel and residence was completed in 2011 and stands as a worldwide symbol of luxury design. Located just steps away from the city's most notable cultural, sports, and entertainment venues, it is a destination and landmark within Toronto's skyline, setting the standard for luxury real estate and hospitality in the GTA. The striking architecture and street presence of the Ritz-Carlton make it a sight to behold, and I highly recommend it as a remarkable example of Graywood Developments' exceptional work.
Like Graywood Development says, "Made to impress. And made to last".
BECOME AN INSIDER: Get the hottest pre-construction investment opportunities right to your inbox.
Streetcar Developments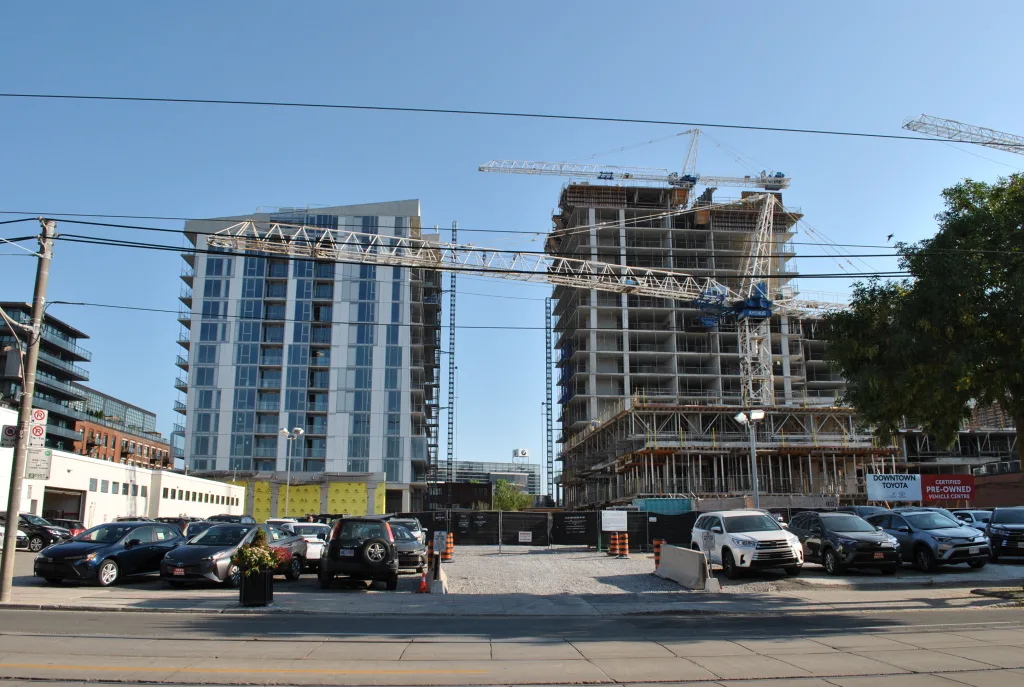 I strongly recommend Streetcar Developments as one of the best condo developers in Toronto. I own multiple condos from them and firmly believe in their ability to design and develop impressive urban homes in some of Toronto's most treasured neighbourhoods. Streetcar Developments began with smaller boutique buildings and expanded their business into high-rise condominiums. They specialize in contemporary design and deliver fresh, inventive, and efficient design choices with meticulous attention to detail. Their track record proves that the resale market reacts positively by selling units at a higher price point.
Harhay Developments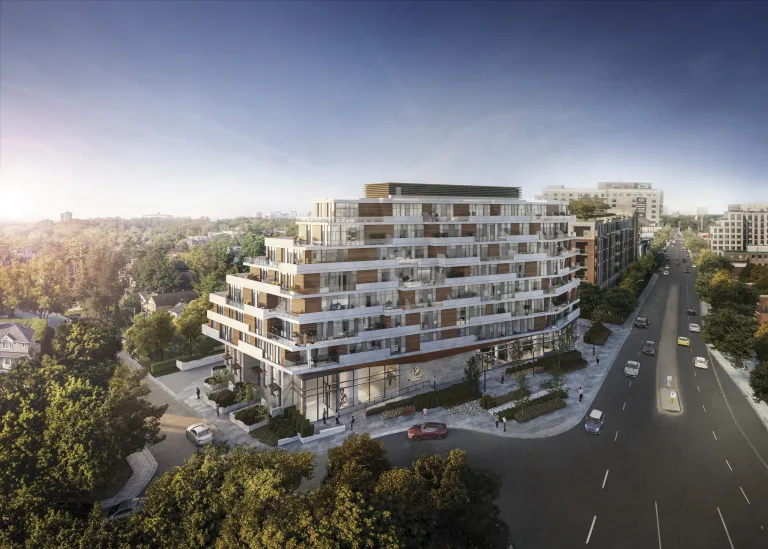 I've always been impressed with the work of Harhay Developments and I believe they belong on any list of the top condo developers in Toronto. For more than 25 years, this developer has focused on constructing boutique residential and mixed-use buildings in downtown Toronto. Their architects design unique buildings and the finishes and architectural details are modern and impressive. Like other top developers in the city, Harhay has a great reputation for delivering high-quality projects that sell well in the resale market.
Harhay Developments has completed two luxury condominium projects in Toronto. The first, 75 On The Esplanade, is a 34-story tower with 350 units, featuring one to three-bedroom layouts in the downtown area. The second project, 875 Queen East, is in the desirable Leslieville neighborhood of Toronto. The seven-story building consists of 122 units with one to three-bedroom layouts, featuring a modern design with exposed concrete ceilings and floor-to-ceiling windows. Its prime location offers easy access to downtown and the area's cultural and nightlife attractions.
RELATED: Why It's Actually A Great Time to Invest in the Toronto Condo Market
Lifetime Developments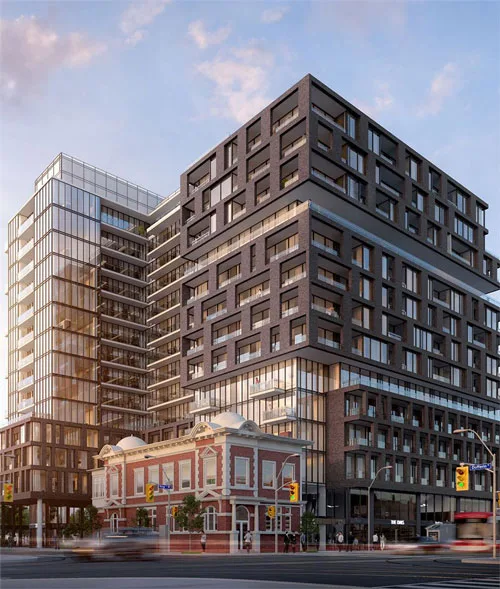 As a Toronto real estate enthusiast, I've come across many developers in the city, and one of my favourites is Lifetime Developments. With numerous projects under their belt, they have earned a reputation for creating exceptional residential neighbourhoods that consistently set the bar high in the real estate industry. What impresses me most about Lifetime is its ability to identify prime locations in the city that lead to the growth of vibrant urban communities. Their projects are always well-funded and completed on time, demonstrating their commitment to delivering quality work.
Some of Lifetime's most noteworthy projects include Whitehaus Condominiums, Panda Condominiums, The Bond & The Saint.
White Condominiums is a 29-story building located in Midtown Toronto with 366 units, offering a mix of studio, one to three-bedroom layouts. Panda Condos, a high-end condominium project, is launching in Toronto's vibrant Yonge-Dundas neighborhood. The 30-story tower will feature 555 units, including studio, one-bedroom, and two-bedroom layouts. The building design will be modern and sleek, with a glass and steel facade. The Bond is a 41-story tower with 393 units, located in the Entertainment District of Toronto, featuring one to three-bedroom layouts. The Saint is a 47-story tower with 416 units located in the downtown area. All developments offer luxurious finishes, exceptional design, and amenities that promise a sophisticated urban living experience for residents.
Needless to say, Lifetime Developments delivers in every way possible as a top condo developer in Toronto.
Alterra Developments
Over 40 years ago, Alterra Developments had the vision to create urban neighbourhoods that offered a perfect balance of location and lifestyle. As a top condo developer in Toronto, Alterra has built some masterfully crafted buildings that are considered "under-the-radar hits".
Alterra has become the go-to condominium builder for homebuyers seeking quality and value. They understand what it takes to create a comfortable and stylish living space, and we trust Alterra's definition of "home". Although all of Alterra's projects sell well, my favourite ones are Post House and 36 Hazelton.
Post House is a unique boutique condo located right next to Toronto's very first post office in the Old Town heritage neighbourhood. This 21-storey tower is made of modern glass and steel, showcasing stylish and contemporary residences with energy-efficient features. The polished and city-cool vibes make it an impressive sight to see.
Nestled in the heart of Yorkville, 36 Hazelton is a 7-storey boutique building that was built on a former school site, keeping its original gothic architecture, and boasts 20 private residences with in-suite elevators. One of the most exclusive and luxurious condominium properties in the city of Toronto, this building features an array of state-of-the-art amenities and is located just steps from the heart of Yorkville and its vast collection of trendy shops and restaurants.
RELATED: The Best Pre-Construction Condos In Toronto Launching in 2023
Tribute Communities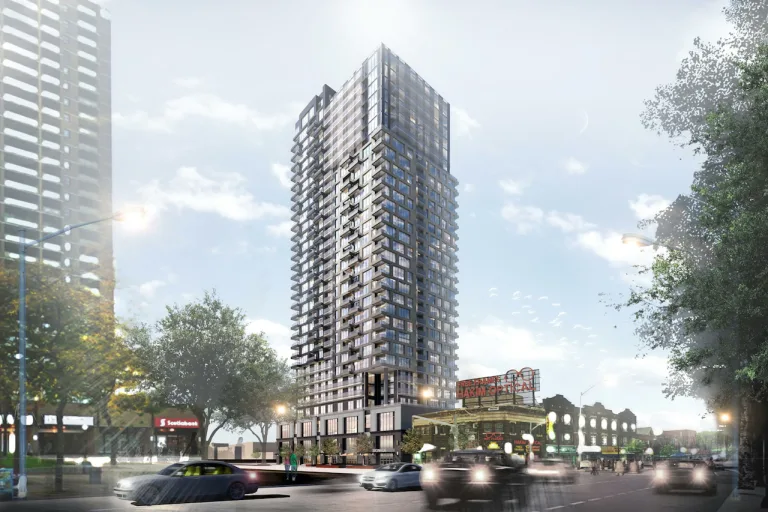 As one of the top condo developers in Toronto, Tribute Communities has secured some of the most sought-after sites in the city. With over 35 years of experience, they are well-funded and organized, making them one of the most respected builders in the GTA. Their outstanding service and commitment to superior quality have earned them a spot on our list of the best condo developers in Toronto.
One exceptional project by the Tribe Communities that I particularly admire is The College. Located on the corner of College St and Spadina Ave, this 15-storey building is situated in the heart of one of Toronto's most vibrant and desirable neighbourhoods. The University of Toronto, Kensington Market's charming shops, and the world-class restaurants, bars, and nightclubs of Little Italy are all just steps away from this unbelievable urban location. With a great selection of stylish suite designs to choose from, homeowners are sure to find the lifestyle they've been dreaming of at The College.
Canderel Group
As someone who has been in the real estate industry for a while, I can say that the Canderel Group is up there with some of the best condo developers in Toronto. For over four decades, they have created exceptional residences with unique designs in prime locations. The end product of their projects is always superb and they have a track record of selling at a higher price point, which shows a positive reaction from the resale market.
A popular Canderel project – 900 St Clair West – is located between the upscale neighbourhoods of Corsa Italia and Forest Hill. It offers affordable luxury in spacious suites that cater to everyone's desires. Its location is convenient with dedicated streetcar lines and is just steps away from some of the most expensive neighbourhoods in Toronto.
Another one of my favourite Canderel projects is College Park 2. It's the second phase of the two-tower College Park development, soaring 45 storeys high and offering stunning views of the city skyline. The suites have top-notch finishes and spa-inspired bathrooms. There are endless amenities for residents to enjoy, including the Parkview Club and direct underground access to the College Park subway station, shops, and restaurants. Residents can also take advantage of the three-acre landscaped park at the back of the residences, the largest green space in downtown Toronto.
Marlin Spring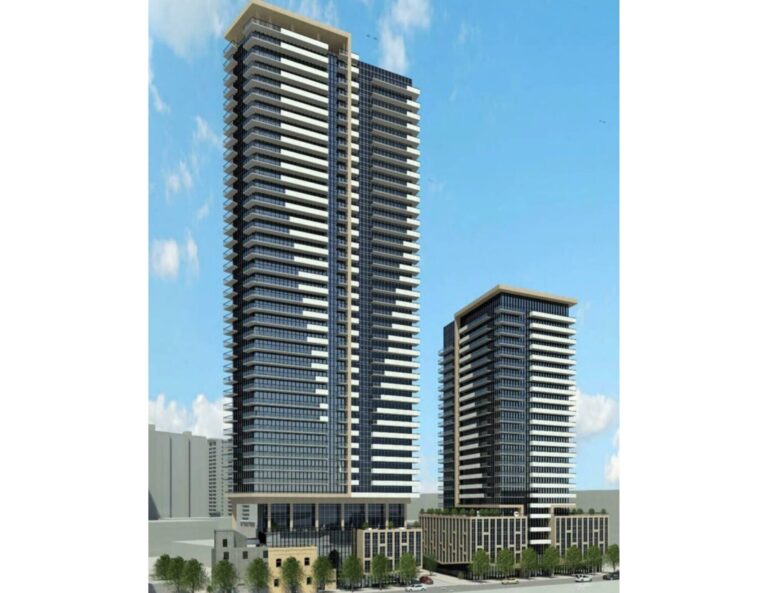 As a real estate professional, I have been impressed by Marlin Spring's unique approach to the market since its launch in 2014. They specialize in boutique condominium projects that prioritize community engagement and involvement. They prioritize customer satisfaction by listening to and collaborating with clients to create tailored spaces.
Marlin Spring's strong financial foundation allows them to pursue large-scale projects and invest in the latest technology and design trends. Their dedication to exceptional design, customer satisfaction, and financial stability sets them apart in the industry
 Marlin Spring's Dawes Condos is an exciting new development in Toronto that offers a great opportunity for potential investors. As a first-time homebuyer project, Dawes Condos is designed to offer affordable and stylish living options. The units are modern, with high-quality finishes and energy-efficient appliances, making them attractive to a wide range of renters.
316 Junction Condos is another exciting development by Marlin Spring in Toronto's Junction Triangle neighbourhood. The project offers modern units with high-quality finishes and efficient appliances, making it a convenient and attractive option for renters. The development's amenities, such as the fitness center and outdoor terrace, provide residents with a comfortable living experience
Register For Dawes Condos & 316 Junction Condos Now!
Daniels' Corporation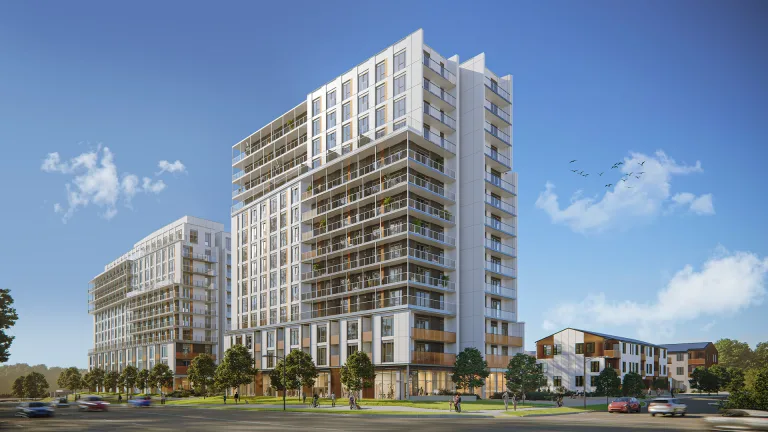 Daniels Corporation is a reputable real estate developer in Toronto with a rich history of successful projects since 1983. They are known for their community development, sustainable living, and functional architecture, which have earned them over 35,000 awards. Daniels prioritizes energy efficiency and sustainable building practices, creating vibrant and sustainable communities that enhance the surrounding neighbourhoods. Their reputation for quality and innovation in real estate development in Toronto makes them an attractive choice for homebuyers and investors alike.
MPV2 Condos in Brampton's Mount Pleasant Village is a mixed-use development by Daniels Corporation. With modern design and sustainable living, it features a variety of functional floor plans and energy-efficient building practices. The prime location is surrounded by amenities, including parks, shops, and restaurants, making it an excellent investment opportunity for those looking for a reputable and sustainable development in Brampton.
Register for Daniels MPV2 Condos Now!
Final Words 
In conclusion, finding the best condo developers in Toronto requires extensive research, knowledge, and experience in the real estate market. It is critical to consider a developer's customer service, track record, and positive resale market when choosing to invest in a new condominium.
Trusted real estate agents – like myself and my team – can offer invaluable guidance and insights to help you make an informed decision. With Toronto's real estate market slowly picking up again – now's the right time to work with a trusted, experienced real estate agent who can help you take advantage of the current market conditions.