"Do falling Toronto housing prices really improve affordability today?"
Today we are answering a few of our favourite questions, all with the same theme, "Is there a Toronto Housing Bubble?" and, if prices are going to drop will it improve buyer affordability?
When it comes to Real Estate in Toronto, everyone is always talking about prices, but what they really mean is affordability. What you can afford is equal to how much mortgage you can safely carry. Unfortunately though, as Toronto prices fall, interest rates rise. This actually does nothing to improve how much you can afford monthly.
Let's assume that for every 1% increase in interest rates that the market has a 10% correction in prices. Now, this is extreme, especially for the Toronto Real Estate market which tends to be less volatile than the GTA or surrounding suburbs. As of the latest data from June, the Toronto Real Estate market has seen an 11% decrease in prices since February's peak according to TRREB. However, of more importance is that this is still 5.3% above June 2021. So, if you've been waiting for the market to crash you should know you're still in a worse position than last year at this time as it specifically pertains to purchase price.
Now, let's talk about interest rates and affordability. As I mentioned above, affordability is equal to how much mortgage you can safely carry. Unfortunately for buyers who have been waiting, affordability is actually falling along with Toronto Real Estate prices.
Check out this chart below which maps out the total monthly payment, the amount paid to interest, and the amount paid to the principal as interest rates rise.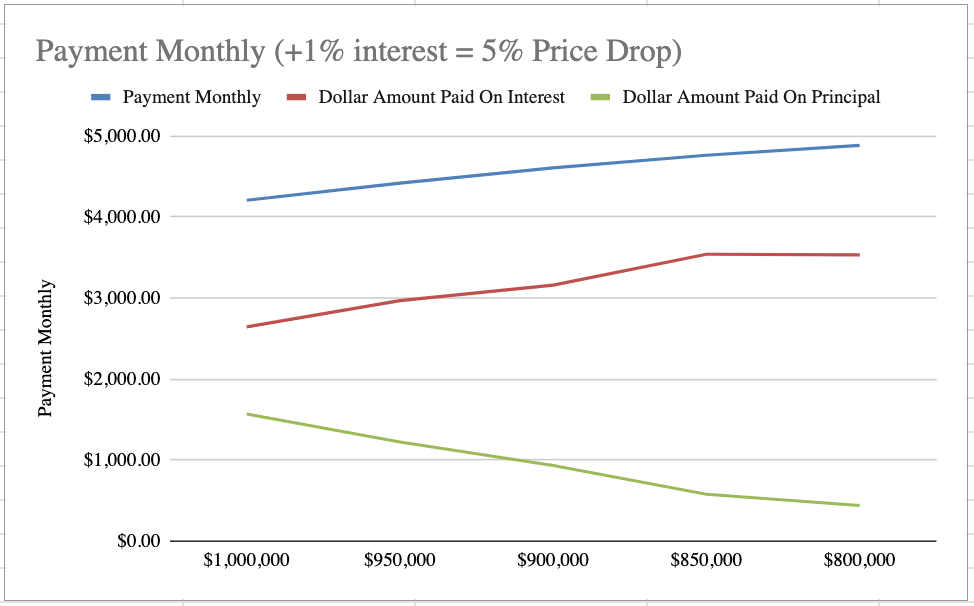 What is of major significance here is that even if prices fall 40%, your monthly payments hardly budge. What you will be doing however is paying less on principal and more on interest.
Should I Wait For Prices To Fall Before Buying Real Estate In Toronto?
Let's answer the question we always get, when will housing prices drop, and should you wait? Well, that really depends on who you are and your financial position. Anyone who is intending on purchasing and can afford to buy today, should. When you look at the numbers, if you are going to buy at some time in the near future prices would have to decrease drastically for your overall position to improve. So, while prices have already begun to drop, even if they continue to do so, most buyers are still in a better position month-to-month by purchasing today.
However, for some who may not have the full downpayment today, but have the ability to carry a higher mortgage going forward. You should only wait to purchase until a) prices fall enough for you to have the downpayment, or b) you save enough to afford the downpayment.
"Is The Toronto Real Estate Bubble Going To Burst?"
When we talk about the Toronto Housing Bubble, you'd expect large decreases if it did in fact, 'burst'. While I do anticipate housing prices in Toronto to be impacted, I don't believe we will see the Toronto Downtown market drop this drastically to 40%. As I mentioned earlier, Toronto is still up 5% over last year's prices while the interest rate has already realized +2% increases. It's much more likely to see small decreases in prices along with these interest rate hikes.
I've mapped out a more reasonable total monthly payment based on a 5% price decrease for every 1% increase, check out the chart below. If the market drops 5% for every 1% increase in rates your payment actually increases, essentially making it less affordable.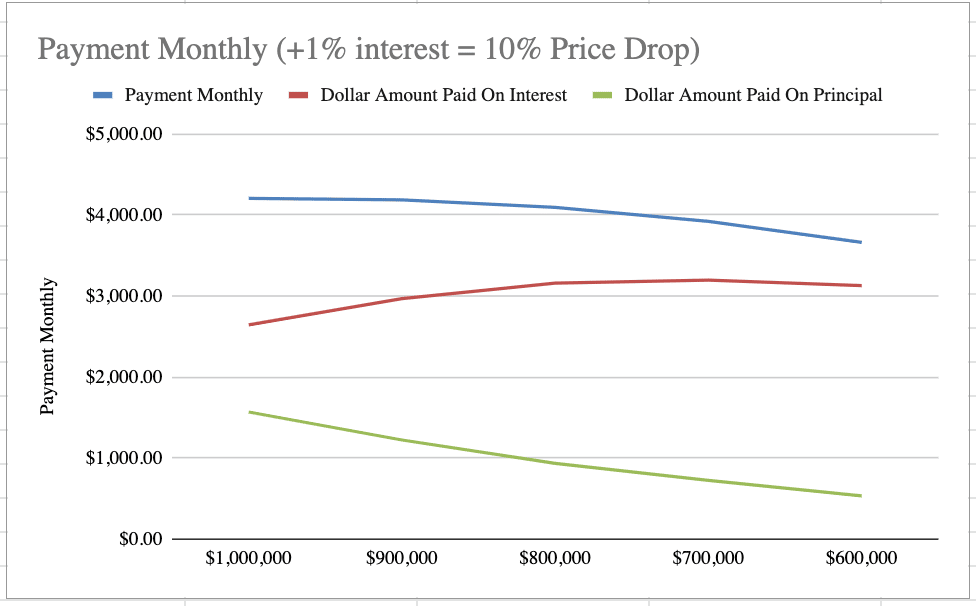 (Most People) Can't Time The Downtown Toronto Real Estate Market
The biggest takeaway is that most individuals can't time the Downtown Toronto Real Estate market. Only those with a ton of cash and hefty down payments can truly take advantage of Toronto's shifting market. Most buyers who are looking to purchase a home in Toronto, don't have this option and will be highly impacted by rising interest rates. If you are looking to buy Real Estate in Downtown Toronto, don't wait. Get into the market at your earliest opportunity, lock into a mortgage you can afford, and start building equity today. 
Who Can Benefit From Housing Prices Dropping In Toronto?
We regularly get asked, "Will Toronto Condo Prices Drop?" And, while the general answer is yes, there are really only a couple of types of buyers who can benefit from rising interest rates and lower purchase prices, the GTA buyer and the cash buyer.
If you are able to put down more money upfront with a larger downpayment you can take advantage of decreasing prices with less impact from the rising interest rates. In addition, those looking to buy outside of Downtown Toronto in the surrounding GTA can benefit from greater price variances.
In a bit of a hybrid example, I have a client looking to buy in the GTA, she had intended on putting down nearly 60% on her down payment. That neighbourhood has fluctuated quite dramatically. She can now increase her downpayment so much so that she will hardly even have a mortgage. For those with cash, if you can increase your down payment dramatically, you certainly won't be as impacted by the increasing interest rates and can simultaneously take advantage of decreasing prices.
I have many savvy buyers on the sidelines waiting for their time to double down on the Toronto Real Estate market. If you want a deal and you have the cash (and the balls), this is the third time in 15 years that investors can truly take advantage of falling Toronto Real Estate prices.
If you are looking for a deal on Toronto Real Estate, whether you are looking to buy a pre-construction condo or jump into the re-sale market we can help. Book a call with me here, and ask me about my off-book discount, available incentives for pre-construction and great rental condos that are available for purchase today.
Investing In The Downtown Toronto Real Estate Market
"Will Toronto condo prices drop because of a Toronto housing crash?" My personal thoughts are yes prices will drop but no, I don't believe the Downtown Toronto Real Estate market will "crash".
One of the reasons why we often suggest investing in the Downtown Toronto Real Estate market is because it has greater insulation from the price variances caused by the economy. While Toronto is not devoid of impact, there are a number of reasons why it doesn't get hit as hard, we explain more in this article on why we prefer Toronto's Downtown Real Estate market.
Downtown Toronto Homeowners Are Choosing To Rent
It's important to mention that Downtown Toronto sellers are typically well funded. They do not need to fire-sale or drop their pants if they don't receive an offer. Many sellers will simply take their property off-market, choosing to live there longer or rent their property out. If you have owned for a number of years, it's actually possible to have a cash-flow positive property with Downtown Toronto rental prices on the rise.
And on the rise, they are, and quickly at that! The Toronto Star reported that one-bedroom rental prices are actually up 19% over last year. Many buyers have been priced out and are turning to rentals which have driven demand up drastically. Anecdotally we are seeing multiple offers on rental properties into the double digits and I've personally watched 100 listings this past week, many of those that didn't sell opted immediately for renting instead.
As competition continues to heat up in the rental market, rental prices will continue to rise. As the delta between renting vs owning shrinks, it will push buyers back into the market. Personally, I consider the rental market as an indicator that the downturn in the Toronto real estate market won't be drastic, at least not for long.
Interest Rates Will Continue Rising
We expect there to be continued interest rate hikes over the next year. If you are looking to buy Toronto Real Estate, today is always better than tomorrow. The longer you wait, the less your money is worth — unless, as we learned above you've got lots of cash that is!
If You Are Considering Selling
When it comes to selling in a changing real estate market, it's important to know whether you are willing to hold and wait out the market or if you'd prefer cash on hand today. I do believe that holding long-term is always a wise strategy and that many Toronto investors are well-funded and if they can't get the price they want, then opt to hold and rent instead. There is nothing wrong with waiting out the market while having someone else pay down your mortgage.
However, there are many people who may prefer to liquidate and hold those funds for a rainy day or reallocate that capital elsewhere. We don't believe the market is going to appreciate in the next year – so if you have plans to allocate that capital to something else that can make you a better return, or you'd like to build up an O sh*it fund, then selling now might just be the right option.
If you're getting ready to sell make sure you do your homework and choose the right and best Toronto Real Estate Agent for you. You might also want to download our Seller's Guide to get a head start on the planning!