It was around this time last year that we made our predictions for Toronto neighbourhoods to watch in 2019. One of the east end areas we knew would see change is East Danforth. Already since we published that article we've seen signs of gentrification. The latest development in the news for the area is the proposal for 6 Dawes, a mixed-use development at Main and Danforth.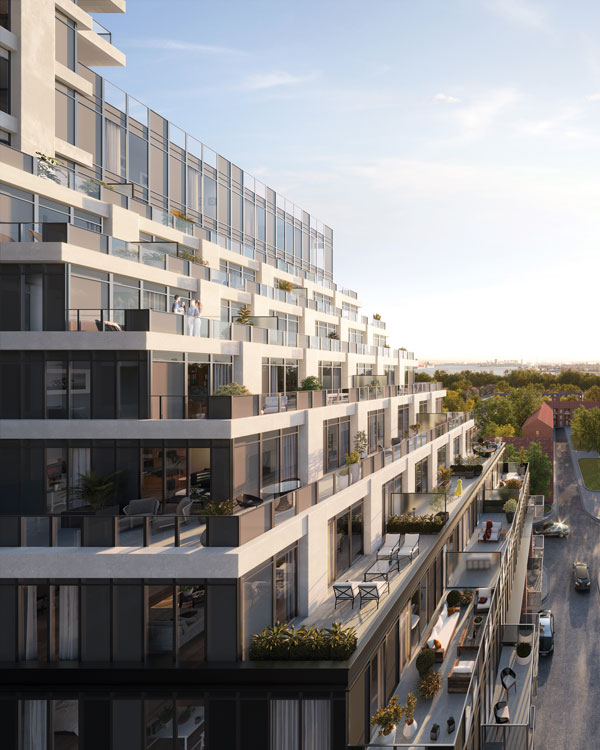 WHY MAIN AND DANFORTH?
First, let's recap why we saw promise in the East Danforth area. The primary reason being the Danforth's direct connection to the subway line. Areas along transit lines are always bound to bring new development and much of the subway's east end is still untapped.
Currently, with respect to condo inventory, there is slim to none along the Danforth. This past summer, Tribute Communities launched Linx Condominiums at Main Street and Danforth Avenue. This 27-storey condo is one of the first of its kind for the area and has been a huge success among buyers and investors. And we know that when condos start arriving on scene, new retail, new business and more residential opportunities are quick to follow.
Related: The Starbucks Effect: Gentrification and the Best Investments
IMPROVEMENTS PROPOSED FOR MAIN AND DANFORTH NEIGHBOURHOOD
Developers Carlyle Communities and Slate Asset Management have proposed a new mixed-use development for the south-east corner of Main and Danforth Avenue. The proposal would replace the current Main Square Community Centre with a new and improved 6-storey community centre of the same name.
The community centre, which would be run by the City of Toronto, would have an array of new amenities including a pool, fitness centre, gymnasium with basketball courts, activity rooms, and much more.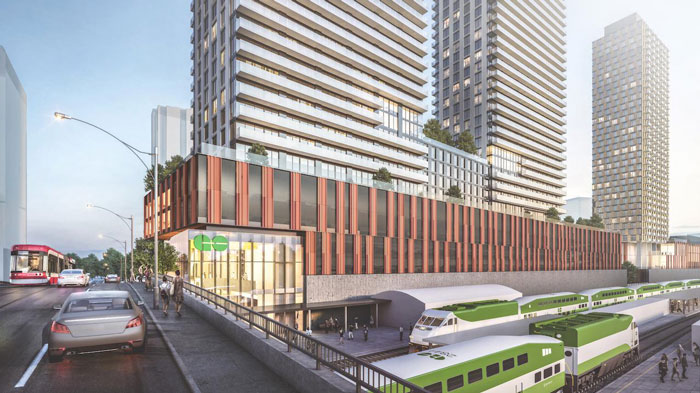 The proposal also includes three residential towers that would house purpose-built rentals as well as new condos for sale. The residential towers would be 40, 46, and 49 storeys respectively. In total, the proposal aims to offer 1,033 condos for sale and 392 Main and Danforth apartments for rent.
The architects on board for the proposed development are Quadrangle Architects Ltd., the same team behind the recent condo launch for Forest Hill Condominiums, which will have direct access to the subway through its condo lobby.
The launch for Forest Hill Condominiums came shortly after the launch of LINX Condos Main and Danforth's newest pre-construction condo.
LINX CONDOMINIUMS AT MAIN AND DANFORTH
Tribute Communities launched LINX Condos this fall and it has been a tremendous success. The newest Main and Danforth condos will be built at 286 Main Street, just across from the Main and Danforth mixed-use development and is estimated to be move-in ready by 2023.
Those that have purchased pre-construction condos at LINX can already feel good about their purchase. LINX Condos was the first condo launch in the Main and Danforth neighbourhood, but we now know for sure that there is big interest from developers to start building along this part of East Danforth.
These signs of gentrification, coupled with the proximity to two major transit systems, is a recipe for success in buyer and investor equity gains.
Related: Why You Should Invest in Toronto Real Estate: The 20 Year Transit Plan
DANFORTH VILLAGE TO DOWNTOWN TORONTO IN UNDER 10 MINUTES
Despite being "far east" for those who think anything east of the Don Valley is too far east… the location of both LINX Condominiums and the proposed mixed-use development at 6 Dawes Road, means residents here can be downtown to Union Station in less than ten minutes.
Both developments are centrally located between the subway's Main Station and GO Transit's Danforth Station making these developments very appealing for both buyers and investors. What the developers of Linx Condominiums recognized was the value in new residential opportunities where the subway, streetcar, and GO Transit are at your door.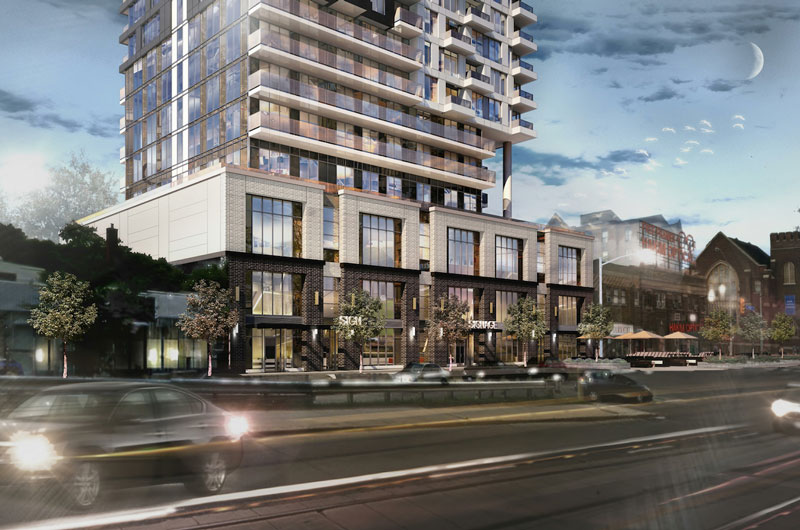 The signs of change are in full swing at Main and Danforth. While the proposal for the new mixed-use development is still awaiting rezoning approval to move forward,  you can register as an Insider to ensure you always get the latest Toronto condo news sent right to your inbox.
LINX Condominiums has been selling rather quickly since its initial launch. Register here for floor plans and live inventory for LINX Condos.