Toronto has been making quite the name for itself on the world stage. Earning more and more accolades each year, it's no wonder Toronto has been attracting business from companies across the globe. With the recent boom in the tech and e-commerce sectors, the demand for commercial real estate in Toronto is as hot as a new iPhone launch. Toronto's future as a major tech hub is a reality, but what does this mean for the commercial real estate market?
TECH INDUSTRY BOOM IMPACTS COMMERCIAL AND INDUSTRIAL MARKET DEMAND
There's been a shift in the way we do business and it seems as though the e-commerce and tech industries are taking over. Toronto's downtown core used to be dominated by the finance and insurance industries but today more than a third of the commercial spaces downtown are occupied by tech companies and tech startups.
According to Robert Half Technology, the tech employment rate is growing four times faster than the overall employment rate in Canada. This tech job growth is most prevalent here in Toronto which recently ranked highest in Canada for tech jobs and fourth among Canada and the U.S., solidifying our title as the 'Silicon Valley of the North.'
But the issue remains, there simply isn't enough commercial and industrial space available in Toronto to accommodate this rapid boom. According to the CBRE Canada Real Estate Market Outlook, despite industrial rents in Toronto growing 18.7% since 2015, they lag "significantly behind the almost 50% growth in sale price achieved over this same period."
These comparatively low rents are one of the many contributing factors for the high demand and lack of supply in Toronto's commercial real estate sector, which is the lowest in North America at a 2.2% vacancy rate. But there's relief on the way. This demand for commercial space has prompted a series of major commercial developments, many of which are underway.
COMMERCIAL DEVELOPMENTS BRINGING SOME RELIEF
With roughly 14 million square feet of office space between them, there are three major commercial and mixed-use developments currently in the works for Toronto's downtown core.
The first is CIBC Square, which started construction last summer. This two-tower commercial space will straddle the rail corridor at Bay Street and add nearly three million square feet of office space to the market. The first tower, currently under construction, is 49-storeys and is expected for completion by 2020. The second tower will rise 54-storeys high and should be complete by 2023.
The Well is another highly anticipated development coming to Front and Spadina. This multi-faceted development will be adding just over one million square feet of office space but this space is going fast.
It was announced earlier this month that there are already two major office tenants on board and two more in the works. If the latter two sign, 80% of The Well's office space will be leased before the walls are even built. They are aiming for office occupancy by 2022.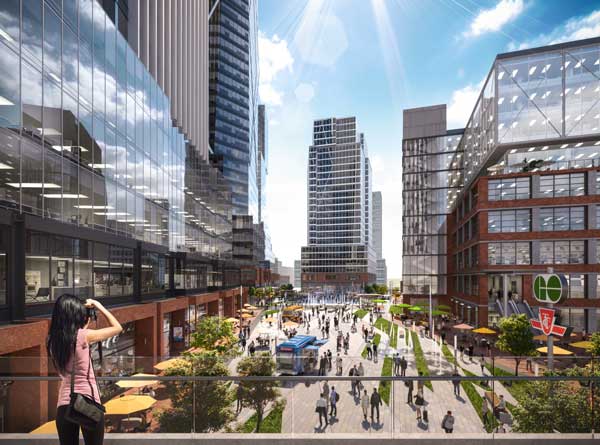 Saving the best for last, East Harbour is currently the largest commercial development in Canada. First Gulf has big plans for the former Unilever site in Toronto's east harbourfront. This massive development — 60 acres to be exact — will bring 12 million square feet of commercial space, 50,000 new jobs and a new major transit hub.
Part of the East Harbour development was originally proposed for Amazon's HQ2. While the location for Amazon's HQ2 has yet to be decided there's real value for global companies like Amazon to locate their offices in Toronto.
WHY TORONTO IS ATTRACTING GLOBAL COMPANIES
Toronto has a lot of value for international companies to set up shop. Our lower dollar equals savings and lower wages for highly skilled workers. According to Workopolis the average tech wage in Toronto is $62,400 compared to the $123,200 salary of those working in Silicon Valley. Companies that set up shop in Toronto could save close to 50% on wages.
It's important to note that these lower wages are not an indication of our subsidiary talent. Quite the opposite, Toronto is attracting global tech companies because we have lots of people with extraordinary talent.
"Toronto has done a good job in attracting talented people and that attracts fast-growing creative, tech and financial service industries. Canada's immigration policies and affordable dollar are other factors that have global companies thinking of expanding here." [1]
In fact, The Toronto region's population base is one of the fastest growing in Canada. Toronto has more than twice the proportion of recent immigrants (8.4%) as Canada (3.5%) with approximately two million more expected by 2023 and their timing couldn't be more fitting.
With these three major commercial developments slated for completion by 2023, there's relief on the way for Toronto's commercial real estate market. One thing to remember is that the real estate market is cyclical. The demand for commercial real estate means more jobs are being created, which drives demand for more residential real estate, and so forth.