Gusto is a Southern Italian restaurant located at 101 Portland Street. "Gusto" means tasty in Italian and we agree that the quality of their food lives up to that name. Gusto opened their doors in 2012 and they serve a fresh modern take on Southern Italian classics. Janet Zuccarini, judge on Top Chef Canada, is the founder of this restaurant and she has a true passion for creating memorable and soulful food as well as providing an incredible dining experience with carefully considered architecture and design. Gusto has a beautiful two storey outdoor patio and is a very welcoming space to enjoy food from their wood-fired grill and their own wine on tap at one dollar per ounce on a summer day.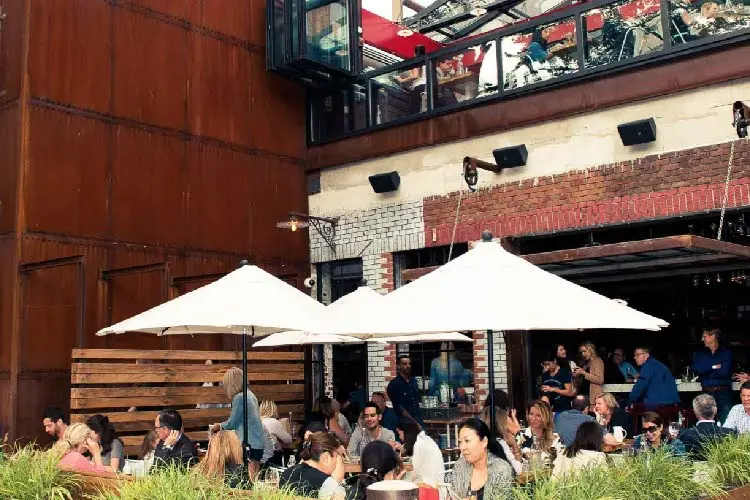 OUR FAVOURITE MENU ITEM: Margherita Pizza – Tomato sauce, fior di latte, basil
Cactus club is a very well-known restaurant located in the heart of downtown Toronto at 77 Adelaide West.  Richard Jaffrey, a former waiter, opened the first Cactus Club in North Vancouver, British Columbia and it has since grown to include 25 locations. First Iron Chef Champion Rob Feenie creates elegant, globally inspired dishes and source their ingredients in an environmentally and socially responsible way. They are supporters of local Canadian farms and also partner with Ocean Wise™ to provide the finest ingredients possible. Cactus Club Toronto has many different levels to suit every occasion whether you are looking to be intimate, social or want to soak up the sun on their outdoor patio.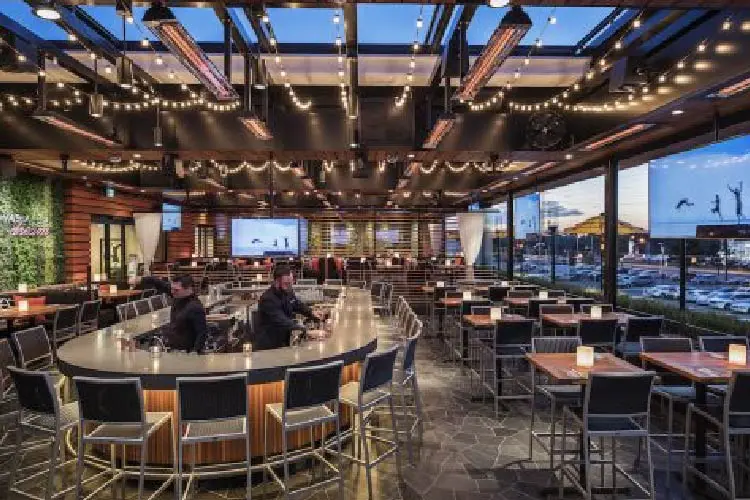 OUR FAVOURITE MENU ITEM: Szechuan Chicken Lettuce Wraps, Butternut Squash Ravioli with Prawns
Lavelle is a rooftop pool, patio and bar located at 627 King Street West. The venue sits 16 stories above the city offering unobstructed 360-degree views of the city. Chef Daniel Ken creates unique dishes inspired by Brazilian and Japanese cuisine with a contemporary twist. When the temperatures drop, guests can still enjoy the pool oasis as the entire restaurant is enclosed with sliding doors and slats placed over the pool.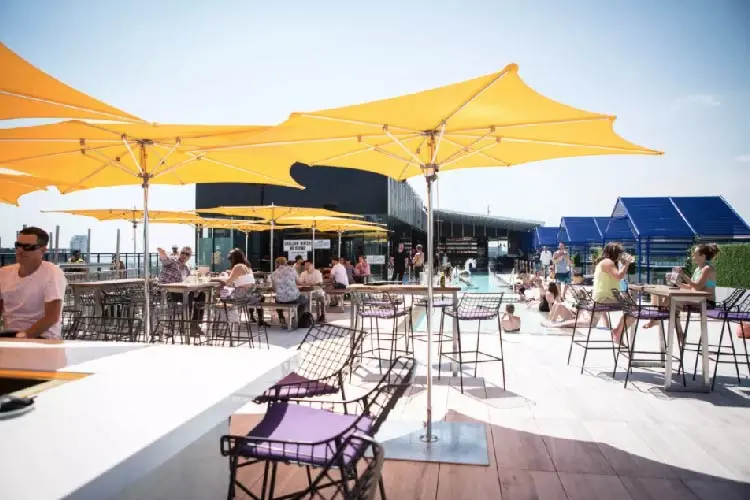 OUR FAVOURITE MENU ITEM: Tuna Tartare 
Orretta is an authentic Italian experience from the second you walk in the doors. Oretta's main dining area offers a chic-casual architecture providing a unique dining experience that cannot be replicated. Oretta first opened its doors at 633 King Street West in 2017, and since then has been providing an Italian culinary experience any-time of day 7 days a week. The menu consists of authentic Italian classics representing various regions using the finest ingredients with a modern flare. Oretta also has a café with a patio that offers Italian-style espresso coffees, artisanal style baked goods, pizzette, and house made focaccia.
OUR FAVOURITE MENU ITEM: Cavatelli Alle Cime Di Rapa – Pork sausage, rapini, parmigiano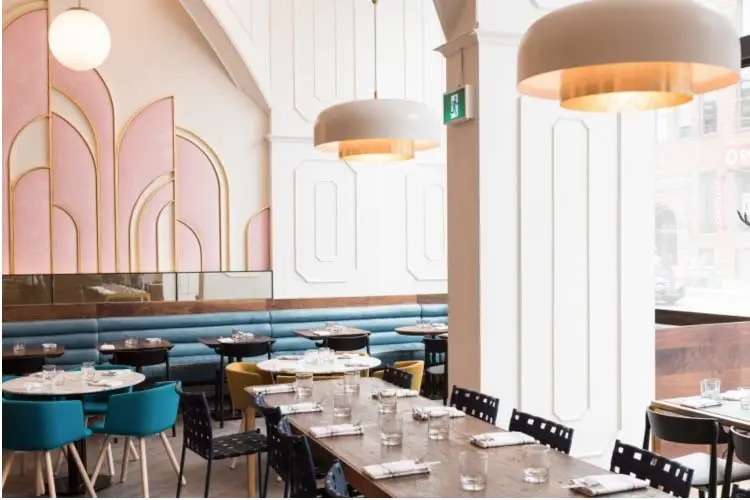 RELATED: THE BEST DOG-FRIENDLY CAFES, BREWERIES AND PATIOS IN LESLIEVILLE
Kōst is a Baja Peninsula inspired restaurant that sits on the 44th floor of the Bisha Hotel located at 80 Blue Jays way. This patio has unmatchable views of the CN tower and the entire city. The patio also includes an oblong infinity pool, reclining pool chairs and an overall design that are reminiscent of the California coastline. Executive Chef Morgan Bellis unites bright, fresh and lively flavours to create refreshing dishes and cocktails.
OUR FAVOURITE MENU ITEM: Eggs Benedict 
Patria is an authentic Spanish tapas eatery located at 478 King Street West. Executive Chef Ben Heaton features seafood dishes (a staple in Spanish cuisine) and showcases an ever-changing selection of the freshest fish, octopus and shrimp sourced daily. The extensive Spanish wine menu is curated to specifically pair with every item on the menu. Patria has a large courtyard patio, dining area and offers Sunday brunch. When you walk inside the restaurant, house baked breads, cheeses, wines and beers are displayed and the Spanish theme is emulated by rich colours, painted antiques and an embroidered mosaic of Marlo Onilla.
OUR FAVOURITE MENU ITEM: Chuletón Asado
Piano Piano is an extremely unique Italian restaurant located at 88 Harbord St with a second location at 623 Mount Pleasant ave. The whimsically decorated space and well-crafted menu brings a warm, welcoming and fun environment. The owners of Piano Piano pride themselves on having a passion for "Tasty & f*#kn delicious!" food and hospitality and that is exactly our experience when we visit their restaurants. The combination of the design by Tiffany Pratt and Claire Gilbert, build design by Ernest Wallner, graffiti rose murals by Alexander Bacon, original artwork and carefully curated menu has us coming back again and again.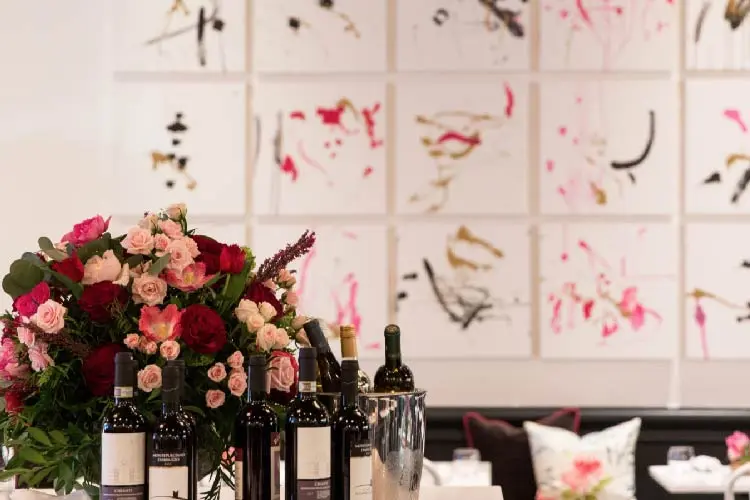 OUR FAVOURITE MENU ITEM: Egg Yolk Raviolo
La Palma was founded by creative duo executive chef Craig Harding and Creative Director Alexandra Hutchson. The location of the restaurant is 849 Dundas Street W in Trinity Bellwoods which they have nicknamed "Bellwoods beach" where they have lived for over a decade. The aesthetic and atmosphere was inspired by a trip that Alexandra took to California when she noticed that Venice Beach and Trinity Bellwoods share a similar art-centric vibe. The restaurant gives off cafe vibes during the day serving breakfast and brunch. By night, La Palma turns into an elegant and sexy space serving a variety of Italian inspired dishes and unique cocktails.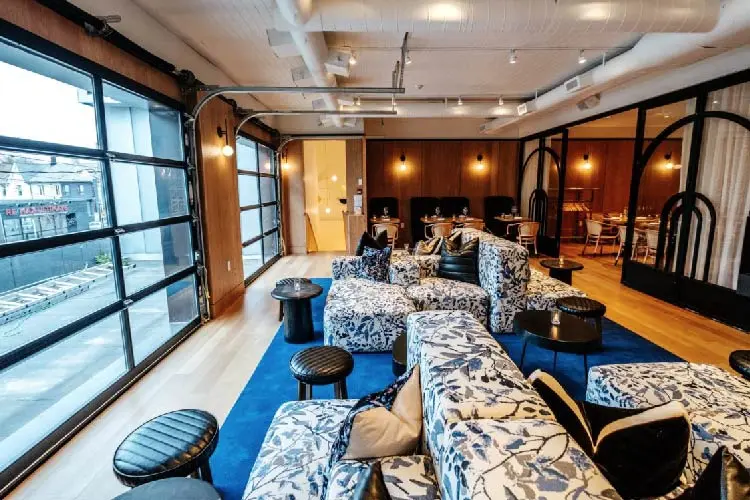 OUR FAVOURITE MENU ITEM: 100 Layer Lasagna 
Union is a restaurant inspired by fresh ingredients and simplicity located at 72 Ossington Ave. The menu is inspired by French and Canadian cuisine as Executive Chef Teo Paul was a chef in Paris for many years. He is passionate about using locally and regionally grown vegetables and incorporates his deep connection with the land into his creations. The ever-evolving wine menu includes local, old and new classics without breaking the bank.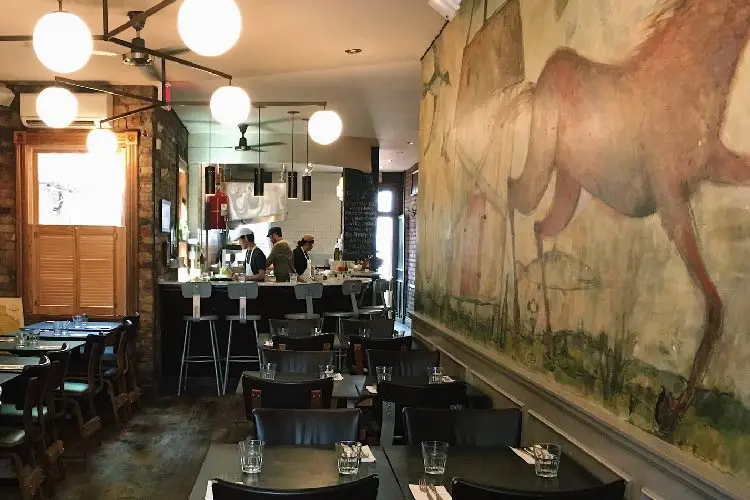 OUR FAVOURITE MENU ITEM: Elk Sliders