There are so many options when it comes to investing in real estate but one of the questions we get asked the most is, "Pre construction vs resale condos in Toronto: What's the better investment choice?"
The real estate market in Toronto is always in flux and this can make investing exciting, but it can also make it extremely difficult for investors. The market can change week to week as much as it can change year-over-year and the resale or pre-construction Toronto condo market you are watching is probably in flux too. We all witnessed this first-hand at the beginning of 2022.
If you've been following us, you are probably aware that we are big on pre-construction. But what about resale properties? Well, there are a lot of untapped opportunities there. If you're looking for some investment property – we are here to help you maximize your ROI in current market conditions.
Investing In Pre Construction Condos: All You Need To Know
As both a Toronto pre-construction real estate agent and a re-sale agent I can help you prepare for every type of curveball the market sends our way.
As experts in our field, we're constantly tracking the active markets and are adjusting our strategies in order to make more money for our clients. By monitoring trends and pricing in all areas and on all products, we are able to find the best investment opportunities based on the market value at the time.
Who Should Invest In Pre-Construction Condos?
Below are factors that indicate if you are a good candidate for a pre-construction condo investment.
You have a 15% down payment available or you already have equity in a property

You can save enough over three years to qualify for a mortgage

You're willing to be a landlord when the building takes occupancy
Is It Cheaper To Buy Pre-Construction Condos?
You might be surprised to hear that presale is more expensive than resale as it was only a handful of years ago that your pre-construction condo investment was almost always priced below resale counterparts. This is why the pre-construction condo vs resale condo market earned such a good reputation among investors. But today, with a growing number of pre-construction investment condos being built—especially in Toronto—the cost to build is more expensive. It's a simple case of supply and demand and pre-construction pricing is fast out-pacing its re-sale counterpart.
Year-over-year growth in construction costs is up, especially post-pandemic. I even did a video recently on the topic of development charges levied by the government, which are set to increase by nearly 50% over the next two years. Toronto is a victim of its own success as the price of land, material, and labor have all increased for developers and they, too, need to make a profit from their investment and need to price projects accordingly.
Is Buying Pre-Construction A Good Idea?
It might be depending on the opportunity. Over the past few years we've been strong advocates for investing in Toronto's pre-construction condo market but as pre-construction prices creep up beyond their resale counterparts due to increased land, labour, and material costs — not all pre-construction developments in Toronto make for good investments. This doesn't mean there aren't great pre-construction investments in Toronto, there definitely are, it simply means that it's not the only option when it comes to making a good ROI when investing in Toronto real estate.
Is Buying Pre-Construction A Good Investment?
As we mentioned above, in the past, pre-construction investment condos have almost always been priced below their resale counterparts but as of late, these pre-sale condo prices have become, in many instances, too aggressive and many are unjustifiable in the current market. There are many pre-construction opportunities that are priced high because they're iconic and/or one-of-a-kind. We call these "status" condos, which is like buying a luxury brand name simply for the bragging rights. These do not make good investments.
If you're over-paying for the product you lose the inherent advantage that pre-construction offers: equity gained during the holding period. Your real estate broker should be your advisor in navigating the good investments from the bad.
This has become glaringly important as Toronto and Canada head into a very likely recession with a real estate market in turmoil. If you just bought any condo at a price above its counterparts with the assumption the price must go up, you are going to have to hold for a longer term than you may have expected.
Check Out: Real Returns From My Clients' Pre-Construction Condo Investment Portfolios
When Are Pre-Construction Condos A Good Investment?
Remember, real estate is a long-term investment, you should always try to hold your pre-construction condo investment. If your goal is equity gains — whether resale or pre-construction — expect to hold your property for at least six or seven years. This will protect your investment and allow enough time to generate a healthy return — especially in Toronto's high-performing condo market. Newly built condos boost the resale values of their neighbouring buildings, provided you buy the right product.
Having the foresight and ability to recognize which neighbourhoods are expected to take off over the next few years can help you to find opportunities that may even have profit built-in on signing. If a new condo is being added to an area where inventory is low and is expected to remain low, those deals hold promise as they're likely to be priced lower than those in areas with lots of inventory but will likely see quick market growth in the years to come.
If you're looking to make money quick and are thinking of flipping pre construction condos in Toronto you'll want to check out this article we wrote.
Pros & Cons Of Investing In Pre-Construction Condos
Pros
As the first owner, you get first dibs on nearly everything. Pick the floor plans you like, and add the interior that you prefer – you get to set up your unit for success the way you envisioned it!

Traditionally – pre-construction has been a cheaper, more affordable real estate investment option in Toronto. More often than not, the assignment price of a condo unit is lower than the final price of the same unit at closing.

Some investors find the payment structure appealing. You don't need to make any down payment upfront. That needs to be paid only on completion – giving you a lot more time to save up for it (at least 3 to 4 years on average). Instead, when you buy pre-construction, you are expected to make deposits at regular intervals (7 days, 6- days, 120 days etc.)

Property transfer tax exemption on pre-construction investments is available for a maximum purchase price of $750,000.
Cons
You're literally assuming that the project gets completed as 'promised'. When you invest in pre-construction, you're investing in the developers' plan – not the actual property as it's not yet constructed. Think of it like investing in an idea rather than an actual product.

The amicable payment terms for some investors become a hindrance to others. While the down payment for pre-construction is spread over a longer period of time (however long it takes to complete its construction), the initial deposits are extremely high and can account for 15%-20% of the final price.

Pre-construction investments are subject to 13% HST on completion. If you're buying a pre-construction condo to live in or in other words are the end user of the condo purchased, you don't need to worry about this. You will automatically get the reduced price. If you're an investor planning on renting out the unit, the HST levied on your investment will depend on its value. For any unit priced over $450,000, you should be taxed exactly $24,000; anything priced under that is taxed at 7.8%.
What Are Some Common Mistakes That Investors Make?
You need an honest Realtor as a partner in the process. One of the red flags when buying a condo is if your realtor will sell you anything… As builders continue to command high prices the trend will continue as there are always going to be buyers that will pay the price. This is specifically true for end-users who intend to live in the building long-term. This is why it's so important to work with a pre-construction real estate agent that you know is looking out for your best interests and who will tell you whether they believe in the project or not. Frankly, I won't sell anything I wouldn't buy myself.

Consumers are getting fooled by the hype around any hot new projects in a great location and are quick to pull the trigger by putting their money into them. Most new construction condo developments are actually charging more per square foot than resale is trading for in the same area. The lack of prior research & education for some investors could lead them to overpay.

Investing In Resale Condos: All You Need To Know
Who Should Invest In Resale Condos?
If you meet these three major qualifications you're likely a good candidate for resale investing.
You have a 20%+ down payment ready to go.

You can qualify for a mortgage today.

You don't mind being a landlord for an extended period of time.
What Makes Buying Resale Condos A Good Investment?
As it stands right now in the market, you may be able to make money faster in resale as the market adjusts. The key is finding the right price; ideally for properties that are equal or less than the pre-construction pricing in the same area. If you can buy a fairly new resale condo with a good floor plan, from a reputable builder, in an area where pre-construction is being built — that new build next door will float your resale investment price up when it comes time to sell.
Let's say you find a 700 sqft resale property that is going for $1000 per square foot compared to the same sized pre-construction property that's selling for $1300 per square foot.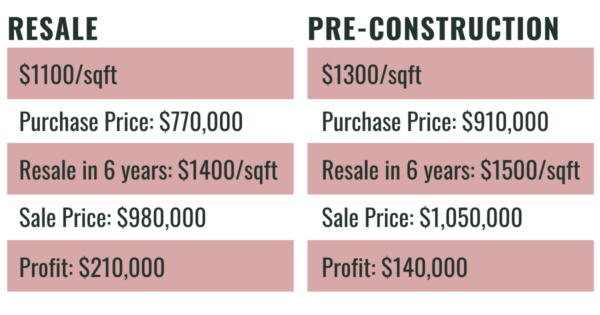 While you won't get the same price per square foot as a brand-new building when it comes time to sell, if you've bought in a reputable building that still sells very well, we can maximize your sale price and achieve a similar price per foot through things like staging. So not only have you purchased for less, but you get to boost your resale value because of the new buildings in the area — not to mention the extra income you've earned from renting it out for six years rather than just two.
How To Finance Your Resale Purchase?
The difference with resale is that you'll need to have your financing and deposit monies (20% down) ready on closing, which would be in two to four months rather than pre-construction's typical 15% down in the first year, followed by the remaining 5% three to four years later. But, if financing isn't a roadblock, you have the opportunity to start building equity and earning rental income from your investment right away. Meanwhile, your tenant begins to pay down your mortgage today.
Related: How To Use the Equity in Your Home to Invest in Real Estate
Pros & Cons Of Investing In Resale Condos
Pros
To investors, it offers great liquidity as you can immediately start earning rental income from resale condos. As rental rates go up, so does your income!

You are making an investment in tangible property. You can see the actual unit and visit it to cross-check for any false claims made by the seller.

Exempt from paying any HST or GST on resale.

Most resale condos are ready to move in – if not immediately within the next few weeks, within the next few months for sure.
Cons
You're buying a used property. It's a con because that often means you need to spend some money on repairs and maintenance issues. You may feel the unit needs to be renovated – all these costs add up.

Most investors need to take a mortgage to purchase a resale property due to high down payment. While the process is straightforward, you cannot overlook the financial liability.

You miss out on any 'early-bird offers' that offer some very favourable investment terms.

Low property transfer tax exemption set for a maximum purchase price of $500,000.
Investing In Pre Construction Or Resale: Finding the Right Option For You
There are a number of factors that come to play when deciding which investment is for you. If you meet the above qualifications resale might just be the right one. I say might because I always recommend that if you're thinking of investing that you book a call with me to discuss your unique situation and goals. The market is always changing and my recommendations will always change with it.
It's important to find a property that is priced well and in the right location with good market growth potential. This means it matters what you're buying as much as for what price. I'll discuss your options at hand and recommend a strategy that will maximize your return whether that's a pre-construction investment condo or a re-sale investment condo.
A lot more to this conversation and a lot of moving parts to consider. This is why we always recommend speaking to a Realtor who is well-versed in the Toronto market and who regularly invests their own money in real estate. If you'd like to discuss investment opportunities tailored to your unique situation, book a call today.