There is an abandoned brick warehouse at the corner of Eastern and Booth Avenue that has a story to tell. Most recently having operated as the Weston Bakery, this building is a significant historic Toronto landmark that served as an industrial bakery for over 120 years. What began as a small operation by baker Louis Brown out of his home on Booth Avenue in 1982, evolved into an impressive industrial scale baking facility until the doors finally closed in 2014.
The History
Over the years, the prominent bakery at Eastern and Booth Avenue changed hands many times. Originating as Brown's Bread Ltd., which later merged with Inter City Bakery before being acquired by General Bakeries Ltd. (also known as Wonder Bread) which was eventually purchased by George Weston Ltd. in 1985.
Still with me?
Brown's Bread was the first to spearhead the century-long would-be baking facility, formally building the initial facility in 1920. In order to keep up with the ever-changing industry technology and expand their operations, the building was continuously added to between 1920 and 1979 by an impressive list of architects and engineering firms. The building itself represents the quintessential early twentieth century industrial warehouse and the details within are impressive. From mushroom columns to Art Deco detailing, there's much worth preserving here.
While the aromas of freshly baked bread are long gone, the interior is still riddled with evidence of a once busy factory that served as the daily stomping grounds for many Torontonians. Pipes labeled white and whole wheat flour run along one wall, long lines of conveyors, vats, and an oven the length of an entire block all still sit inside the factory.
Check out the gallery of the Weston Bakery as it stands today.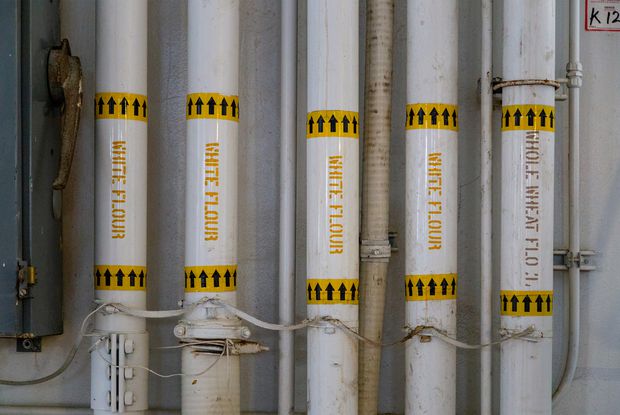 The Future
There are big plans for the old Weston Bakery though. Graywood Developments, along with Diamond Schmitt Architects, are turning this significant landmark into lofts, condos and townhomes. The name for this future residential complex? Wonder Condos.
This historic landmark will soon be Leslieville's landmark address. In fact, this is the first hard-loft conversion Toronto has seen in over a decade. The rich history of the building is reflected in the name, honouring its Wonder Bread years, but also in the preservation of many of the building's beautiful and iconic features that will be incorporated into the new residential development.
The facade is definitely staying, along with the mushroom columns and steel beam ceiling. Most of the large factory windows will stay — a must for any loft — and many of the loading doors will also remain. The complex baking equipment within however, has got to go!
Neil Pattinson of Graywood Developments said to the Globe and Mail that they're "probably going to take the roof off and just lift these things out," — which seems like a tough task, but if anyone can do it, it's them.
Currently, the existing building is 4-storeys at its peak. The early renderings for Wonder Condos indicates that there will be an addition of new glass-encased floors rising from the lower levels, presumably for the condo portion of units, reaching a height of 9-storeys total. This historical conversion will compliment many of the lofts that the area has become known for: Wrigley Lofts, Broadview Lofts and Garment Lofts to name a few.
I think it's safe to say that Leslieville is no longer up-and-coming but a well-established and highly desirable Toronto neighbourhood. If you're interested to learn more about Wonder Condos and other pre-construction developments coming to Toronto, sign up as an Insider to get all of the hottest investment opportunities as soon as they become available.
Read our choice for Toronto's Top 5 Heritage Conversions