Another year has come and gone and the Toronto real estate market continues to thrive. Our city's continued progress and world-wide stardom has led to a quickly growing population that is putting a demand on our need for more housing.
For the year ahead, TREB's Chief Market Analyst urges buyers to expect further price acceleration in 2020 if there is no relief on the supply front. And, quite honestly, I don't see this happening in the near future. Toronto is continuing to build and sell new condos at an all time rate but it doesn't match the need for supply or the future expected immigration that will continue to put pressure on Toronto housing.
2019 ended on a very strong note with an average selling price in December of $837,788 – up almost 12% year-over-year. With no further ado, let's dive in and look at the 2019 Toronto Real Estate Market Report.
JUMP TO:
Toronto Total Sales Volume by Home Type 2019
Toronto Average Home Prices for 2019
Toronto Year-over-Year Percent Change 2019
MLS Listings: Search Toronto Homes For Sale
If you follow our monthly Toronto real estate market news reports you'll know that we present the TREB MLS listing sales data for each home type for the downtown Toronto area by municipality. Refer to the map below to find your municipality.
TORONTO SALES VOLUME BY HOME TYPE 2019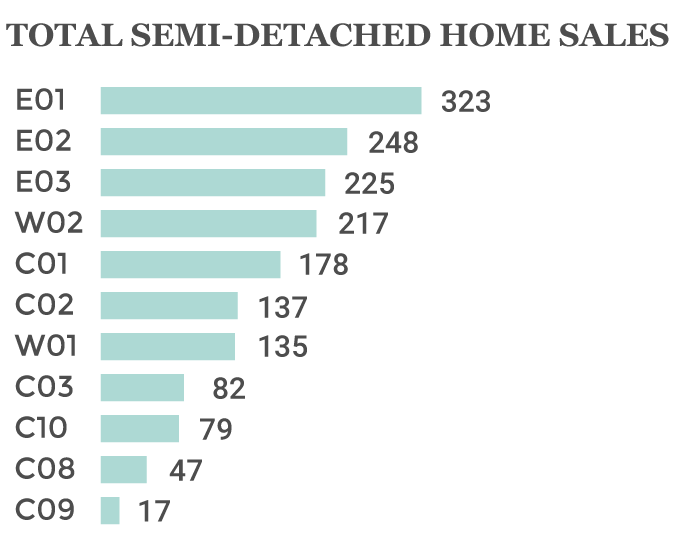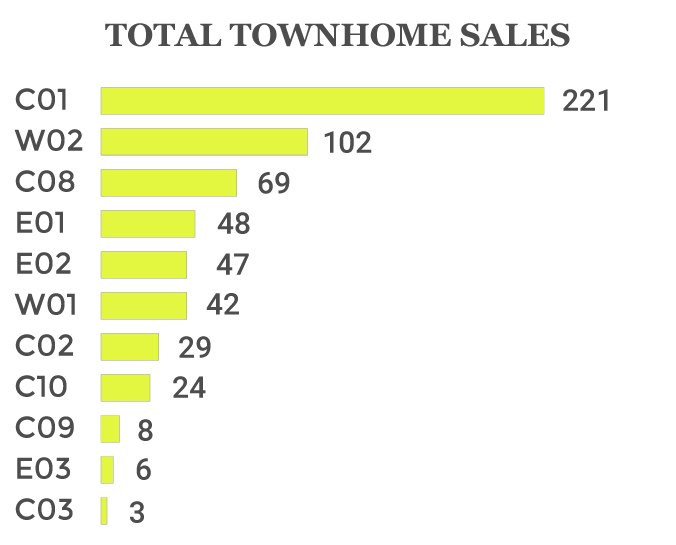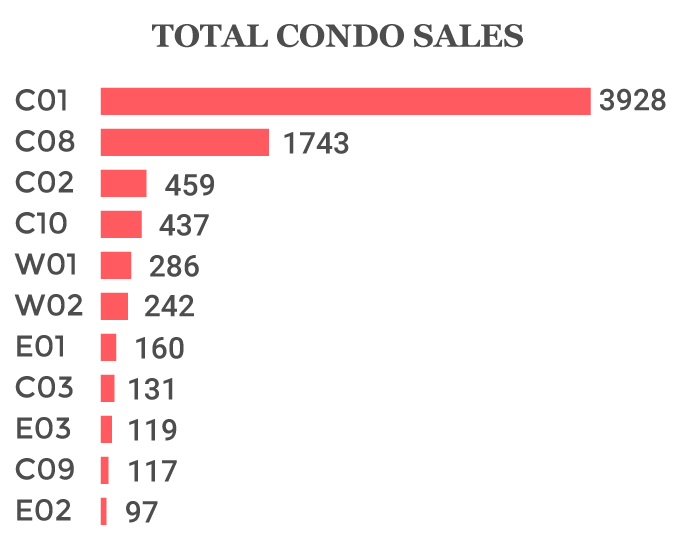 TORONTO AVERAGE HOME PRICES FOR 2019
Below we present you with the year's average home prices for each municipality. As always, pay attention to your neighbourhood or the areas you wish to buy in this year. Refer to the municipality map above to find your neighbourhood.
(Note: Dotted lines correspond to last available sale for that home type or represent no sales that month)

KEY TAKEAWAYS FROM 2019 TORONTO REAL ESTATE MARKET REPORT
Looking at each municipality's performance across the year here are a few key takeaways.
For detached homes, we saw the biggest gains in neighbourhoods north of Bloor in W02, C02, C03 with year-over-year increases between 53% and 73%. Similarly in Toronto's east end neighbourhoods, detached homes saw year-over-year gains between 6% and 19%.
The biggest price drop for detached homes was in C09 where prices started the year at $4.8M and fell to $2.3M by the end of 2019.
In the east end, the price gap between semi-detached and detached homes in E01 (Leslieville, Riverdale, and Greenwood-Coxwell) began to narrow in Q4 ending the year just $36,000 apart.
Looking across the year, semi-detached and detached homes in E02 (Beaches and Upper Beaches) followed a similar month-to-month pattern with semis lagging roughly $400K to $500K.
In the downtown core and east to Leslieville (C01, C08, E01) condos experienced positive price growth, seeing year-over-year gains between 6% and 28%. Average condo prices in the downtown core where condo supply is densest (C01 and C08) held steady across the year hovering in the low $700,000's.
Related: The Cost of Buying and Owning a Toronto House by Neighbourhood
TORONTO YEAR-OVER-YEAR PERCENT CHANGE 2019
Use the maps below to see how different Toronto home types across the city have performed year-over-year. These prices are generated by comparing the TREB sales from December 2018 and December 2019. Read more on our full December y-o-y stats in our monthly real estate news market report here.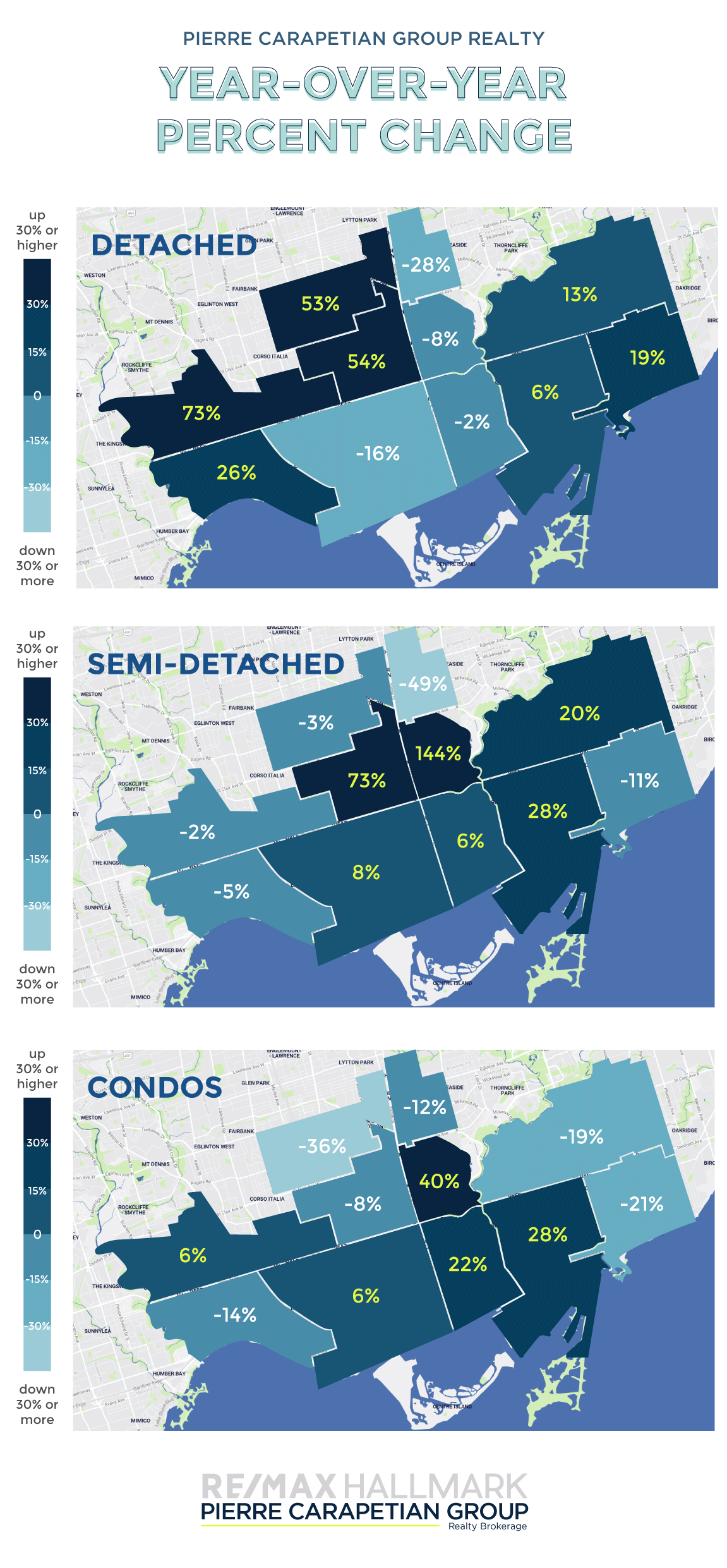 We specialize in Toronto, from east to west, north to south — there is a neighbourhood for everyone. Let us help you navigate the Toronto real estate market in a way that achieves your home-owning goals. Book a call with us here to take the next steps to making 2020 the year you stop renting and start owning a home in Toronto.