How long does it take to build a condo in Toronto? There are many phases that take place before a condo is ready for its residents. Let's delve into the phases of pre-construction condos from sales to occupancy.
The pre-construction condo scene is taking Toronto by storm. Of all the cranes you see rising from our city's skyline, 86% are attributed to residential towers and yet, it seems like we can't build these sky homes fast enough. There are many phases that take place before a condo is ready for its residents. To get a better understanding of how the pre-construction condo industry works, we're taking you through the many phases of pre-construction: from sales to occupancy.
Here are the typical phases of a pre-construction condo in Toronto:

1. PHASES OF PRE-CONSTRUCTION SALES
A pre-construction condo is pretty self explanatory: a condo developer needs funds to build so the units are sold before construction begins. Ideally, a developer will try and sell at least 70% revenue of the building — meaning they can't sell only small units. Lenders usually require 70% of the revenue of the entire building be sold prior to financing being approved. house interior.
The pre-construction sales occur in different phases. First and foremost, the developer will sell to their own friends and family first. Understandably so, everyone loves a friends and family discount and they get first dibs on the project.
The next phase is the Platinum Launch. Condo developers will reach out to a select group of preferred agents and offer them first access to all units that weren't purchased by the developer's friends or family. This phase offers the lowest prices the development will see.
Not only is this phase exclusive and highly secretive but it often has many buyer incentives that vary project to project. If you can buy with a Platinum Agent, not only will you save big but you get first access to the best units.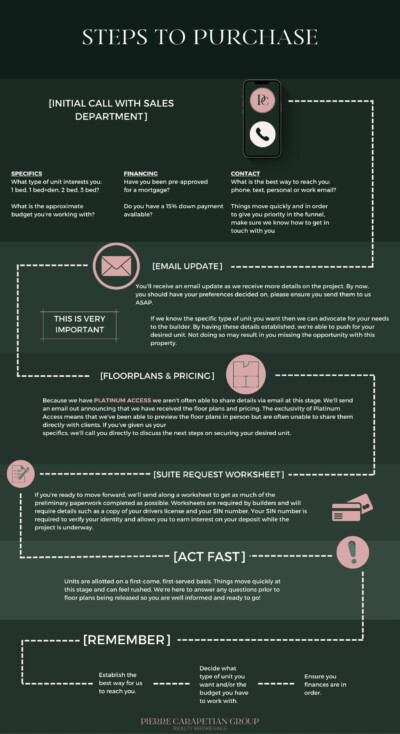 As a Platinum Agent, we always strive to get our clients the best possible units, whether they will serve as an investment or a future home. The phases of pre-construction move quite quickly and the Platinum Prices are for a limited time only.
Interested buyers are asked to submit a "wish list" of three to five floor plans to their agent.
Using the wish lists of our clients, we advocate for their preferred units.
The developer will allocate units to their Platinum Agents.
The faster we move, the better our chances are of getting our clients their preferred units. Check out our
Steps to Purchase infographic
for a full breakdown of this pre-construction phase.
Any units that were not purchased during the Platinum Launch, along with some suites the developer may have held back, are then made available to interested real estate agents and their clients. At this phase, the majority of the more desirable units have been allocated during the Platinum Launch and prices will have typically increased marginally.
This phase of a pre-construction launch is when interested buyers can buy directly from the developer's sales centre without needing a real estate agent. At this phase, prices have usually increased, sometimes substantially from the initial Platinum Launch. The Toronto Condo market has been so active, that many of the popular buildings can even sell out prior to the Public Launch.
DEPOSIT STRUCTURE
What's unique about buying pre construction is the deposit structure. In fact one of the major advantages of buying a pre construction condo is its deposit schedule that is spread over a course of time. The deposit is split over 3 installments, making it easy for buyers to cover the payments, as opposed to a 20-25% lump sum amount that needs more financial preparedness. The affordability and flexibility offered by a pre construction condo is incomparable.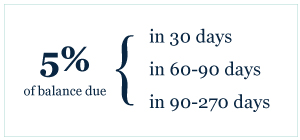 While deposit structures will vary project to project, you'll typically pay $5,000 when you sign your Agreement of Purchase and Sale. This is typically followed by three installments of 5% of your balance over the course of the first year with no more payments due until occupancy. Compare this to a resale condo where you'll need a 20% down payment. These days many developers are even offering "extended deposit structures" where instead of having three installments of 5% over the course of the first year, it can be spread out over the next 2-4 years until occupancy. These types of offers are available when you purchase a pre-construction unit with a Platinum Broker like myself. We've been working in the Real Estate industry for years now and have spent years building relationships with the region's top builders and developers. This means that our clients get to be the first in line to get promotional packages, floor plans and price lists.
While you wait for your condo to be built, you have time to budget and save money for when your mortgage kicks in three to four years later. Pre construction condos offer a great opportunity to an owner whose financial condition is not very sound but is likely to improve in the future. So while the condo is being readied, buyers can improve their economic situation. Once you've put your deposit down on a pre construction condo in Toronto, you will be given 10 days' time to rethink your decision. This is known as the "cooling off" period. You are given this time to get your finances in order and to make sure that you are 100% sure you are going through with this purchase. It's also important to get your Agreement of Purchase and Sale reviewed by your lawyer during this time.
During the second phase of pre-construction the developers build and you sit back, there is little work to be done during this phase of pre-construction except ensure your cheques cash.
As we mentioned, developers want to sell at least 70% of their units ahead of construction. So depending on how long it takes to sell the building, this may put a minor delay in the timeline between the sales and construction phases.
Your real estate agent will know which developers have better reputations for sticking to their projected timeline. Much of the delays today are due to red tape at the city level. It often takes much longer for a project to be fully approved, that it does to sell out.
Once the developer decides to break soil it takes about one full year to fully excavate the site. This takes roughly one third of the overall construction time and it's here that the foundation is laid and the underground parking is built.
Once the building reaches grade, the structural components are built floor by floor. This includes the frame, beams, columns and floor slabs. This process can climb at about one floor per week in most cases. By opting for pre construction condos, owners get to enjoy homes built according to the latest design concepts and cutting-edge construction techniques and elements.
As the upper floors continue to rise, the inner workings of the building's lower floors are being added. This includes the utilities from water to electricity. Once the inner services are good the drywall is added and they move on to the next floor.
The exterior finishes begin from the lower levels up. This includes the cladding, windows and balconies. It's when these finishes start to appear that you get a better sense of the overall look the condo will have.
About one year prior to occupancy the condo developer will reach out to their purchasers for colour and finish selection so they can start customizing the interior suites.

Each development will allow you to choose from a variety of colours and finishes offered. You can select your finishes and even upgrades, based on your taste and preferences. It will help avoid future revamping or remodeling projects that are not only expensive but also require a lot of time and attention. Besides, the customizations, if chosen properly, can further increase the value of your home.
Not sure what finishes you prefer or what choices would be best for resale on your investment? We can select them for you as a value-add service.

Toronto's condo market increases on average about 5% per year — though far more in recent years. While your condo is being built it is actually gaining significant equity. So the property begins to appreciate – significantly at that – even before you get possession or move in!
Another merit of opting for a pre construction condo is that for a relatively small down payment, you get to buy property that will significantly appreciate with time, right from its pre construction phase. So you get to not only pay a small down payment – in installments – but also buy property at existing rates while enjoying appreciated home value.


Read more about equity gains on our Stocks versus Real Estate blog

The third phase of pre-construction is interim occupancy. It's at interim occupancy that you are able to move in or begin leasing your condo. Keep in mind that interim occupancy on lower floors will begin sooner than those on higher floors as they are being completed. While the building is ready for occupants there are still areas of the building that are being completed such as amenities and common spaces.
INTERIM OCCUPANCY FINANCIALS
During the interim occupancy phase of pre-construction, you will begin paying occupancy fees because you haven't yet taken possession of the property but the builder is allowing you to occupy it. Occupancy fees include condo fees, property taxes, and the interest portion of your mortgage.
HST REBATE
Purchasers who are using their pre-construction condos as investments will need to pay HST upfront to a maximum of $24,000. Your HST is owed when the building registers with the city, typically three to eight months after interim occupancy. Your lawyer can file for a full HST rebate, refunded approximately 4 to 6 weeks later, provided you have a one year lease in place.
The fourth phase of pre-construction condos is registration. Typically three to eight months after interim occupancy (depending on the floor) the building is registered with the city and title is transferred to your name. It's at this phase that closing costs are due and will include Land Transfer Tax, development charges, legal expenses and HST, if owing.
FINANCIALS
It's at this phase that your mortgage kicks in so your occupancy fees now include the principal portion of your mortgage. The developer will provide minimum 21 days notice before registration so be sure to have all of your finances in order to cover your closing costs and mortgage payments.
While it may take three to four years for your pre-construction condo to complete, you'll have earned significant equity as it does. Ask your realtor for your new condo's current market value to see how much equity you've earned. It may not be long before you're able to start using that equity to purchase another pre-construction condo and start developing a Real Estate Investment Portfolio.