It's no secret that the Downtown Toronto condo market has experienced incredible gains over the last few years, but what people seem to be less familiar with is the reality of trading prices across the city. We wanted to take the opportunity to educate buyers and investors about the average cost per square foot for condo apartments in Toronto in 2022.

In the past, we covered similar newsworthy topics like: is investing in Toronto real estate worth it in 2023?. Urban Nation went on to report that new builds had set a new record of $1,400 as Toronto's price per square foot. This price has remained the average price per square foot in Toronto condo apartment listings for a couple of years now.For me, it's going to be interesting to see the new price point become the new normal for many pre-construction launches and increasingly so for resale.
What Is The Average Price Per Square Foot In Toronto In 2023?
The average price per square foot of a condo in Toronto in 2023 has surpassed $1400. At the time of writing this blog post, pre-construction condos in Toronto were trading at an average of around $1,429 per square foot.
What Was The Average Price of Condos In Toronto In 2022?
What Is The Average Square Footage Of A Condo In Toronto In 2022?
According to a study carried out by the Municipal Property Assessment Corporation in October 2022, the average square footage of high-rise & mid-rise condo units is around 754 square feet – falling 35% in the last 25 years.
Condominiums in Markham, Vaughan & Hamilton shrunk the most over 40%. Whereas the municipalities of Ottawa and Burlington were least affected by this trend in the real estate market – reporting an average fall in size of 19%.
Credits: MPAC
GET ACCESS TO THE BEST PRICED PRE-CONSTRUCTION CONDOS IN TORONTO
Why Are Condo Prices So High In Toronto?
The biggest factor influencing the condo prices i.e average price per square foot in Toronto is the 

cost to build.

 When it comes to pre-construction condos, the cost to build is more expensive than ever. Labour costs, material costs, city-imposed development charges, and land prices are all driving up the average condo price per square foot in Toronto.
Lumber prices have climbed since the start of the pandemic and show no signs of stopping, according to CTV News, mostly for reasons related to supply and demand.
People are staying home and saving their money instead of going out and spending it with family members and friends. This means they have more money to save toward building or buying a home, and many people have this idea in mind.
The number of people working from home on a consecutive basis or consistent schedule also realize they can move to a larger home, which is increasing the demand for larger homes.
But material costs aren't the only thing driving up the average price per square foot in Toronto. Material Babak Eslahjoub of Core Architects said to the Globe and Mail that "construction costs are going up as a result of the demand being quite high; we're the victim of our own success."
In Toronto specifically, there's not a whole lot of land left to develop. Parking lots around the city are quickly transforming into condo units. In the past five years, according to Bloomberg, the 

cost of land for developers to build has nearly tripled.

 With each parcel of land that is sold, it sets the benchmark price for the next development in the housing market.
The Condo Price Per Square Foot Cycle Toronto
Once a benchmark price to build has been set, it's impossible for developers to sell their projects for less in the following year. It's irreversible and so new listings will typically launch at a higher price point. If the price point is perceived as too high for buyers, the developer will simply wait to launch until they can attain the price they need to be profitable. And so the cycle goes as such: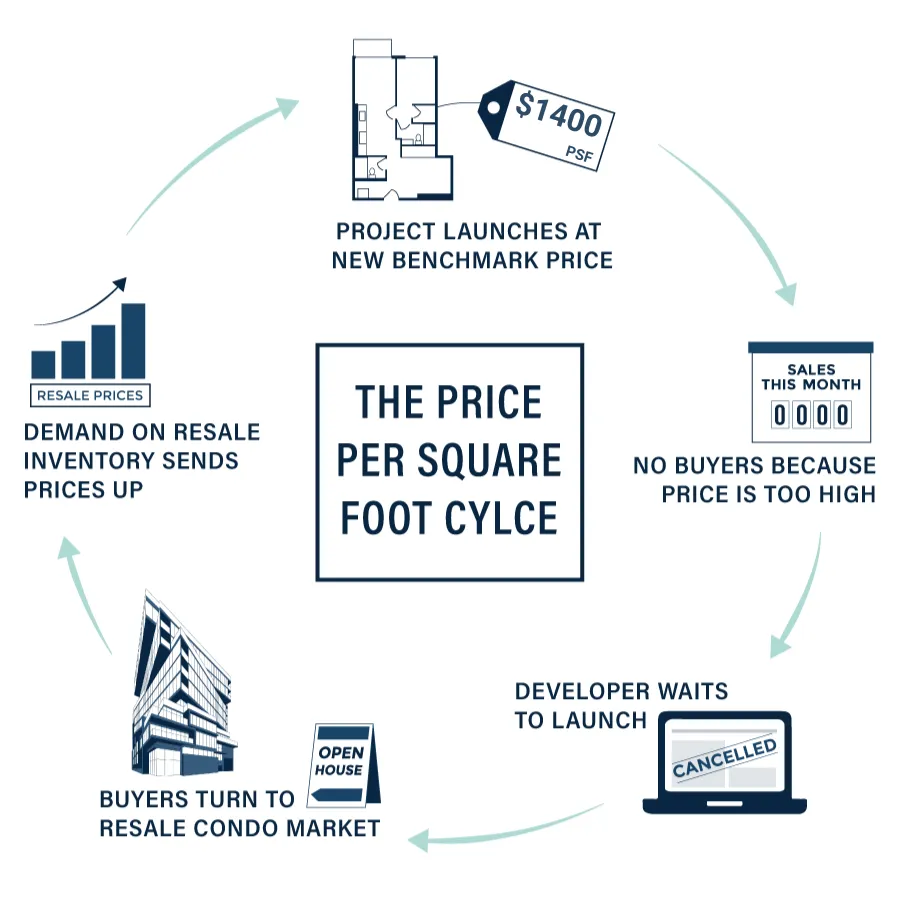 As developers hold back from building, the lack of new inventory forces buyers to turn to the resale market. As the resale market absorbs the demand for inventory, their prices will begin to increase and it's at this point where pre-construction developers will choose to launch.
Heading into 2022 the idea was that this price per square foot Toronto cycle would push many developers to release their new builds above $1400 cost per square foot. While we're not quite there just yet, the price per square foot is on the incline.
Is Toronto Housing Overpriced?
Throughout the city, there are many resale & pre-construction condos that are commanding $1,400 or more for price per square foot. But the price change hasn't pushed buyers away from considering condos. In a press release, TRREB President Kevin Crigger explained that the condominium apartment market remains strong.
"Increased borrowing costs represent a short-term shock to the housing market. Over the medium- to long-term, the demand for ownership housing will pick up strongly. This is because a huge share of record immigration will be pointed at the GTA and the Greater Golden Horseshoe (GGH) in the coming years, and all of these people will require a place to live, with the majority looking to buy."
Read "Why the Best Day to Buy is Yesterday" 
Canada's conservative lending guidelines mean those who aren't well-funded won't easily get a mortgage. This is what makes Canada's real estate market and economy so stable and why despite the drastic increase in interest rates we've seen a moderate decrease in prices, which have also started to level-off. 
The average condo price in some Downtown Toronto neighbourhoods has increased 17% over the last few years. So even though the market has dipped we're really only sitting at or just above 2021 prices.
We expect buyers and investors alike to jump back into buying once we see a few monthly stalls in the interest rate increases. At this point expect prices to start inclining and you'll be losing out by waiting. Two steps forward, one step back.
It's time to accept that $1,400 or more per square foot is the new norm in Toronto. This is why working with a Platinum Agent, like ourselves, is crucial to getting you the best deals. Pierre is one of the top agents in Toronto and a Platinum Broker for many of the city's top developers.
Pre-Construction VS Re-Sale Condos
Not ready to pay pre-construction prices? Looking for a really good deal? Consider purchasing re-sale. You won't be able to take advantage of extended deposit structures or a 4-year build time but you can take advantage of the market as it sits today.  Read the entire post on the debate here or watch the video on the topic on Youtube.
Getting into a pre-construction launch at the Platinum price-point means you can save thousands of dollars and are privy to some of the best pre-construction deals in Toronto plus it's always nice to get first dibs on the best floor plans too.