While Toronto might be known for its record construction of investor-driven condos there is one market segment that manages to stay under the radar and that is luxury condos in Toronto. Toronto has grown into one of the largest cities in North America and with it, so too has its real estate market. The city has something for everyone from small studios to large and impressive family-sized condos.
I'm constantly scouring the market for the best investments from investing in small pre-construction condos in Toronto to large luxury suites. Recently I wrote this article, breaking down all of the reasons why I'm investing in family-sized condos and the luxury market in Toronto.
Here's my list of the most impressive and luxurious condos in Toronto that you should know about whether you're an end-user or an investor alike.
Jump to: Best Luxury pre-construction condo launches
Jump to: Move-in soon pre-construction Luxury Toronto Condos
Jump to: Move-In Ready Luxury Condos In Toronto
Jump to: Luxury Hotel Residences
Download: Free Guide to Investing in Pre-Construction Condos Toronto
Register: Become a pre-construction condos Toronto Insider and never miss a launch
THE BEST LUXURY PRE-CONSTRUCTION CONDO LAUNCHES IN TORONTO
One Delisle Condos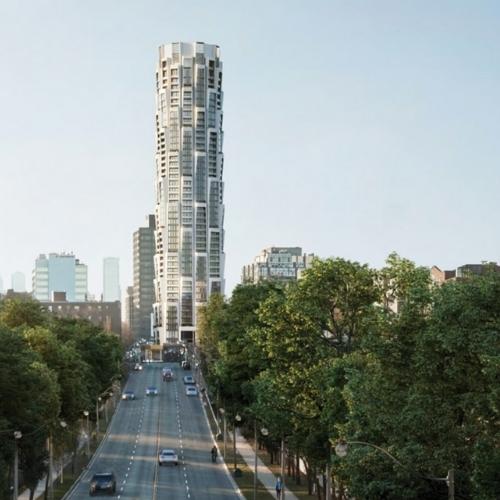 1 Delisle Ave, Toronto
Neighbourhood: Summerhill, Toronto
Completion: 2026
The residential condominium is in the heart of mid-town Toronto, in the neighbourhood of Yonge and St. Clair – surrounded by Canada's most luxurious neighbourhoods, renowned schools, shops, and restaurants.

The tower shape transforms from a square at its base to a rounded peak at its pinnacle providing panoramic views from all suites. Modules have been shaped to create a variety of unit types and balconies of different depth for wind and sun protection throughout the year.
One Delisle has 1,558 square metres of commercial space, 1,372 metres of indoor amenities, and 532 square metres of outdoor amenities
One Delisle is steps away from streetcar and bus routes as well as the St. Clair TTC Subway Station. It is also only 10 Minutes away from the DVP & the Allen Rd. Easy commute to some of the finest education institutions in Canada, including University of Toronto, Ryerson University, Upper Canada College, Montessori, and many more other private elementary schools and pre-schools.
Four different TTC streetcar routes conveniently run just a short walk away from home, three different TTC bus routes also run nearby, and Queen subway is also located within walking distance. The newly proposed Ontario Line subway will also run nearby.
One Delisle hosts a suite of amenities for the desires of its residents. For their wellbeing, residents can enjoy the comprehensive fitness centre, pool, and spa – including a dry sauna, salt room, and eucalyptus room. For social gatherings, there is a chef's kitchen and dining room, wine and cocktail lounge, and numerous thoughtfully designed areas to host and enjoy the company of friends and family.
No. 7 Dale Condos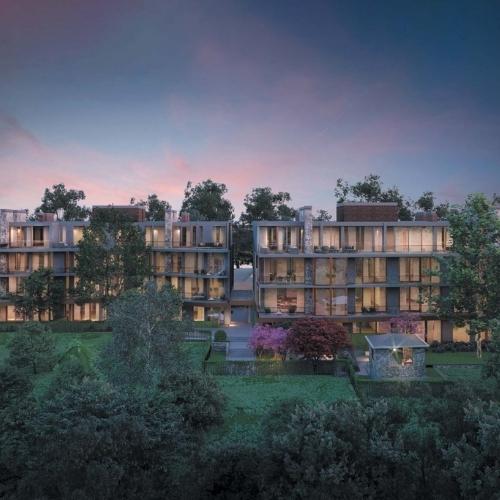 7 Dale Ave, Toronto.
Neighbourhood: Rosedale Community
Completion: 2022
7 Dale Avenue Condos are located in South Rosedale overlooking the Rosedale Valley. A rare condominium building that will provide 26 luxury condominium residences in Rosedale. This elegant contemporary structure designed by Hariri Pontarini Architects is nestled on the south side of Dale Avenue with south views overlooking the Rosedale Valley.
The front elevation of this luxurious condo building will be three storeys on the south side of Dale Avenue and in the rear, the structure will be four storeys over the Rosedale Valley to the south.
Essentially two structures will appear as one where the eastern section of the building will be set back further from the street. As an ode to the classical Edwardian historic homes in the area, the use of brick dividing walls will be incorporated into the design.
Travelling throughout the city when living at No 7 Rosedale Condos is a breeze. Several subway stations are within walking distance. TTC streetcar and bus routes are also easily accessible. Riders can commute into Union Station in just 20 minutes.
Each of the residences ranges from over 2,500 sq ft to over 5,000 sq ft. The luxurious aesthetic of the interiors has virtually no need for any upgrades. Thoughtfully designed Dada Kitchens from Italy and Molteni and custom millwork are tangible testaments of the refinement within. Enjoy the refinement of this limited collection of grand residences with oiled oak flooring, glass fireplaces, Dada Kitchens, sleek chrome fittings, luxury appliances and Molteni & C custom millwork walk-in closets.
Book a Call for No. 7 Dale Condos
10 Prince Arthur Condos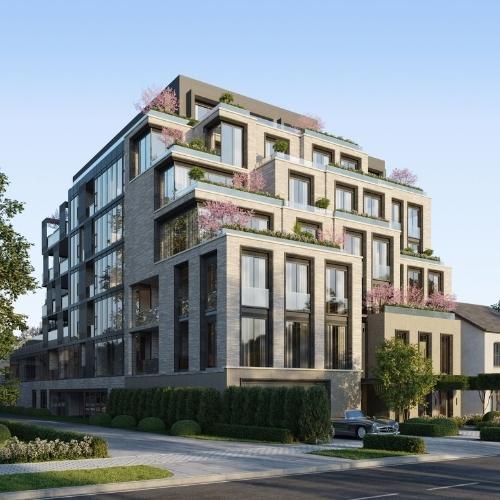 10 Prince Arthur, Toronto
Neighbourhood: Downtown, Toronto
Completion: 2026
REGISTER HERE
10 Prince Arthur is a collection of artfully composed terraced residences that offer a lifestyle of unrivalled elegance and exclusivity. Nestled in a coveted community that is synonymous with prestige, glamour, and opulence & luxury perfected. This luxury development will be located in the Yorkville neighborhood of downtown Toronto.
A collection of Artfully composed terraced residences starting from $2.5M. The project contains seven storeys-high with 28 luxury suites & townhomes.
It is only minutes walking distance to reach Bloor-Yonge subway Station, riders commuting into Union Station or the downtown core can do so in just 15 minutes. The surrounding area is home to many bike lanes, allowing residents to cycle safely throughout the neighbourhood
MOVE-IN SOON PRE-CONSTRUCTION LUXURY CONDOS TORONTO
The Capitol Residences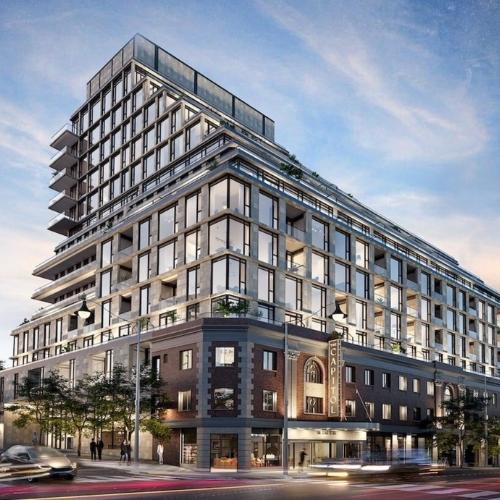 2500 Yonge St, Toronto
Neighbourhood: Yonge & Eglinton
REGISTER HERE
The Capitol Residences is a New Condo development by Madison Group located at Yonge St & Eglinton Ave W, Toronto.
Retaining the original marquee of The Capitol Theatre, this mid-rise condominium will rise 14 storeys and house 145 spacious and luxurious suites, offering residents beautifully landscaped terraces and an exclusive collection of indoor and outdoor building amenities.
Located at 2500 Yonge St. near Yonge and Capital minutes to Retaining the original marquee façade, this midtown Toronto landmark builds on its iconic heritage, stepping up its star power with ascending sun-steeped landscaped terraces and an estate-style garden boasting a greenhouse of delights.
Open the door to one, two and three-bedroom residences sized and designed for the grandness of life. Experience indoor and outdoor amenities that exceed your greatest expectations, including a speakeasy-inspired gold stimulator and a playroom for kids of every generation. Revel in an abundance of on-site parking, shopping and dining options.


The One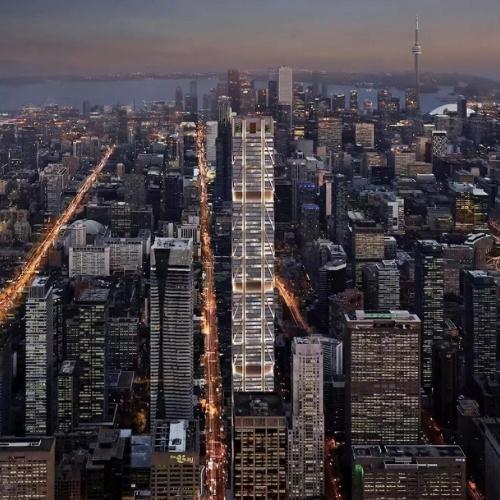 1 Bloor St W, Toronto
Neighbourhood: Downtown Toronto
REGISTER HERE
The One featuring 416 suites will become the heart and soul of the city. Sitting at a stunning 85 storeys tall, One Bloor St W will transform into a cultural hub bursting with street energy and endless opportunities for you to live, work, and play.
This building will become the second tallest in Canada next to the CN tower. There will be no share-walls meaning the consumer can customize and combine units so in the end there may be even less than 416 suites. Amenities include 24/7 cleaning services, valet services, theatre rooms and much more.
Expect high-level retail at The One Condos. World-class restaurants, fashion centres and other high-end retail tenants. The One will be a destination in the nexus of the city. The highest pedestrian count, vehicle count and the transit corner of Toronto, the One will be a destination in the public realm where all can congregate similar to the Rockefeller Centre.
The One is set to be one of the most spectacular and desirable condominiums in all of Canada. Its towering heights allow residents unprecedented views of the beautiful city of Toronto, while it's convenient location and luxurious design simply adds a decadent icing on the cake.
One Forest Hill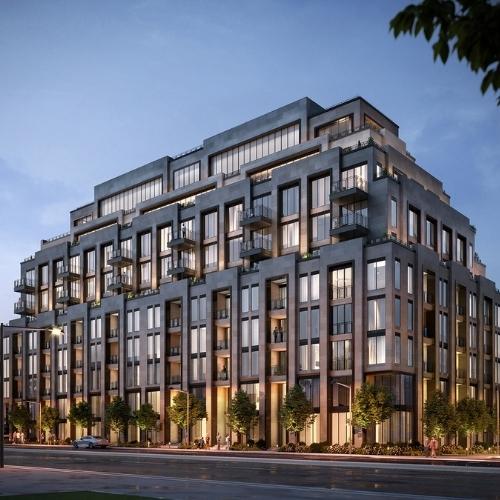 200 St Clair Ave W, Toronto
Neighbourhood: Forest Hill
REGISTER HERE
Desirably located on the hilly enclave of St. Clair Avenue and Avenue Road, One Forest Hill Condos is living in luxury.
One Forest Hill is destined to become iconic in its classic beauty and liveability. An architectural encapsulation of the aesthetics, values, and respect for heritage that make this neighbourhood unmistakably Forest Hill. A location set apart by its desirable hilltop position and its village ambience, yet close to the best of everything. When it all comes together in a way that you could once only hope for, step through the door and embrace the rare opportunity.
This Luxurious development is conveniently located between St. Clair West and St. Clair subway stations and just steps away from streetcar and 24-hour bus services. Skip rush hour traffic on the roads and commute into major downtown employment centres in less than 20 minutes.
Forest Hill is home to some of Canada's most prestigious public and private schools. Residents with children living at Forest Hill Private Residences will have access to Upper Canada College and St. Michael's College for boys and Bishop Strachan School for girls.
321 Davenport Condos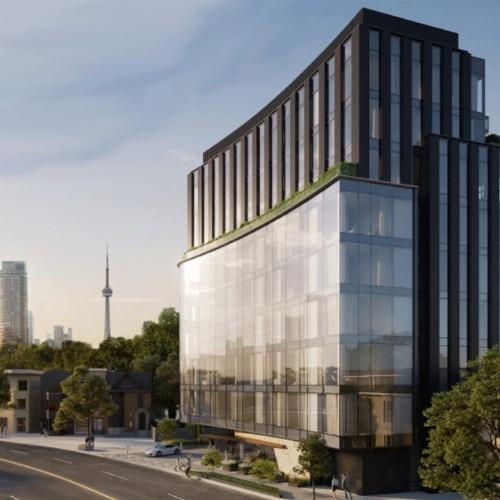 321 Davenport, Toronto
Neighbourhood: Annex
REGISTER HERE
321 Davenport Condos is a luxurious and intimate building, steps from some of the city's most glamorous neighbourhoods.
The developer has proposed two-bedroom and three-bedroom units with layout sizes ranging in size from 1,388 sq.ft to 3,620 sq.ft, each designed as an expansive penthouse that reflects the elegance of neighbourhood surroundings. Created with the most discerning style enthusiasts in mind, this glazed glass condo is set to push the limits of luxury, its dramatic shape becoming a true beacon of modern opulence within the Annex neighbourhood.
The building will feature recessed balconies on the third to sixth floors overlooking Davenport, with east-facing balconies projecting outwards. The building's rooftop will contain private terraces for units on the eighth floor. The lobby will be on the ground floor, accessed directly from Davenport.
If you're looking to live in "creme de la creme" luxury in something established and high-end, this part of the Annex is a great option. While we're not seeing the hyper-intensification and abundance of sleek high-rises that we do in other neighbourhoods closer to downtown, we're definitely seeing a number of high-end boutique buildings popping up in the area, transforming under-utilized sites.
MOVE-IN READY LUXURY CONDOS IN TORONTO
Museum House on Bloor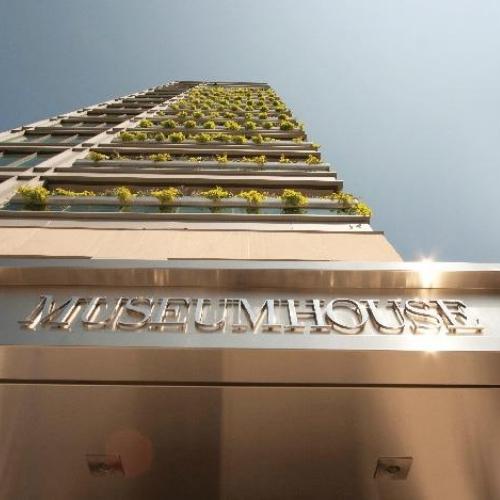 206 Bloor St W, Toronto
Neighbourhood: Downtown, Toronto
REGISTER HERE
Museum House is a new boutique style condo development located right at Bloor St W and Avenue Rd. This development will have 26 luxurious condo suites in a 19-storey tower.
Live in a neighbourhood that others can only visit. This prestigious Bloor Street property showcases a classic residential tower clad in rich limestone, metal and sparkling glass. Museum House defines exclusivity and privacy with just 27 discerning residences occupying full and half floors, each enjoying grand terraces and "unmatched panoramic views" of the city both north and south.
The key feature of this project is that in Museum House, you will find 2 types of suites. One covers a full floor and the other one is covering half of a floor. Both units are featuring large extended terraces which will give you stunning and picturesque views. Some of the Museum House suites have an area of 6,700 sq ft. as living space along with direct access to the elevator in each of the suites. The height of ceilings range from 10′ to 12′ with fireplaces, private large terraces, with high-end kitchens having custom cabinetry, large dining areas, as well as a luxurious spa-like bathroom, are there in every unit.
LUXURY CONDOS TORONTO: HOTEL RESIDENCES
The Residences of Shangri-La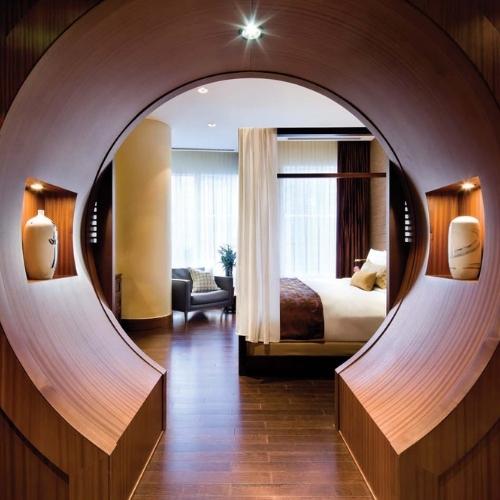 180 University Ave, Toronto
Neighbourhood: Downtown Toronto
Inside the condominium, every detail has been painstakingly reviewed and includes over-height ceilings, exclusive Italian kitchens, top-of-the-line appliances, closet organizers and automated blinds as standard. Residents access the 392 condominiums and suites via a high-speed elevator from a private lobby, and access to all the hotel's indulgent amenities is a part of ownership in the building.
Residents will be able to take advantage of the in-house spa, a fitness centre and such a la carte services as housekeeping and room service. There will be a concierge and doorman, and residents in the estate and penthouse suites will also have valet parking included. The hotel will feature restaurants and retail elements, the Four Seasons Centre for the Performing Arts is across the street, shopping and the services of downtown are close by.
Situated on University Avenue in the heart of downtown Toronto, Shangri-La is a beacon of luxury in Canada's largest city. This stunning glass tower shared with the 5-star Shangri-La Hotel arguably offers the pinnacle of Toronto condo living.
The St Regis Residences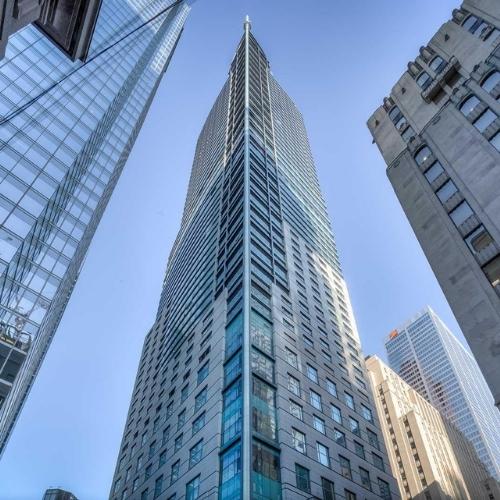 311 Bay St, Toronto

Neighbourhood: Downtown Toronto
Rising 58-floors at the Bay and Adelaide intersection the iconic limestone and glass building, the St Regis Residences provides the ultimate downtown location. It is one of the tallest buildings in the city and has become a highlight on the Toronto skyline. The front lobby welcomes residents and hotel guests with a warm and inviting atmosphere.
The St Regis Hotel, Toronto occupies the first thirty floors of the building with 211 hotel rooms and extensive conference facilities. The 31st-floor offers the fabulous Spa at St Regis where an extensive array of treatments are available as well the recently opened Louix Louis restaurant.
The 32nd-floor offers a private and tranquil resident only Sky-Lounge where there are dedicated residential concierge is available for The St Regis Residences, Toronto. The terrace on the 32nd floor offers residents gorgeous views over the Financial District and down Bay Street to Lake Ontario. Also on the 32nd floor are the fitness facilities and the indoor lap pool.
Living at The St Regis Residences is not only about the five-star services and amenities but also the exceptionally high-quality finish and design that can be found consistently through the suites. Throughout the building, suites feature soaring ten to twelve-foot ceilings, stunning Downsview designed kitchens, top-of-the-line Miele appliances, marble and granite flooring and countertops, spacious walk-in closets and so much more.
Residences of The Ritz Carlton
183 Wellington St W, Toronto
Neighbourhood: Downtown Toronto
The Ritz-Carlton Toronto represents the epitome of luxury living and set a new standard in Downtown Toronto. A private lobby for The Residences of The Ritz-Carlton Toronto is peacefully removed from the bustling hotel lobby and provides access directly to the 21st and 22nd floor sky lounge.
The residential elevators on the 22nd floor provide access to all residential levels with many of the suites offering direct elevator service.
Residents at the Ritz-Carlton have some of the highest levels of service offered in any Toronto Condominium building with twenty-four-hour concierge and security, doorman, valet parking and chauffeur services.
The Ritz-Carlton Toronto is positioned in the epicentre of Toronto's Entertainment District. Directly across the street from David Pecaut Square, home to Toronto Fashion Week and Roy Thompson Hall, steps to some of Toronto's renowned theatres such as the Royal Alexandra Theatre, The Princess of Wales Theatre as well as TIFF Bell Lightbox, headquarters and site of The Toronto International Film Festival.
Four Seasons Private Residences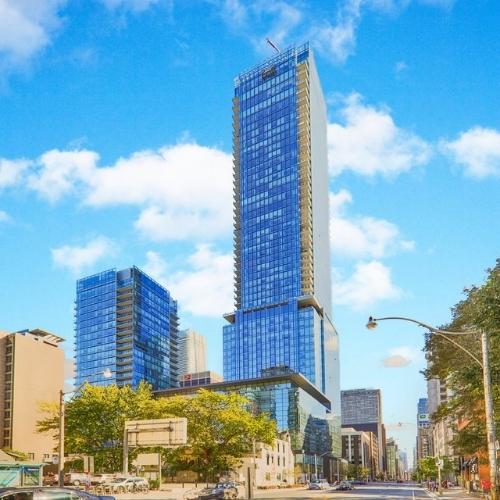 50 Yorkville Ave & 55 Scotllard St, Toronto

Neighbourhood: Yorkville
The Four Seasons Residences represents the very best in ultra-luxury living in the heart of Yorkville. The Four Seasons has became the brand's flagship location and has consistently ranked as one of the top luxury hotels in the city, renowned for the exceptionally high level of service and quality of finish. The Four Seasons brand has grown to be one of the most recognized hotel brands globally.
Perfectly positioned in Yorkville, The Four Seasons provides residents easy access to some of the city's best dining and shopping options within easy walking distance. Small boutiques line the charming streets of Yorkville and Cumberland while some of the most luxurious international brands taking prime location Bloor Street's "Mink Mile".
The Four Seasons Residences is home to some of the most luxurious real estate in Toronto. With just over 200 private condominium suites, residents have access to the full range of services and amenities of the five-star hotel to create a hotel-style living from the comfort and privacy of your own home The residences are split between the East and West Tower with separate addresses and unique features.
Both the towers share the fantastic service and amenities that the Four Seasons Hotel brand is renowned for. The ninth floor of the west tower is home to The Spa at The Four Seasons Toronto and encompasses nearly 30,000 square feet of space. The area includes an indoor pool, whirlpool, outdoor terrace, 17 treatment rooms, and a salon. The eighth floor offers a twenty-four-hour fitness centre with a yoga studio and dedicated cardio and strength training area.