Did you know that there are at least 8 different property types in Canada? Terraced homes, detached homes, semi-detached homes, townhouses etc –  the list can go on and on but no two property types are the same. Each has its own pros and cons – offering utility to a certain segment of the market. 
So yes, housing in Canada can be pretty complicated – especially if you're new to the market. But that's where we – as real estate agents – step in! In this blog post, I look at the most popular property type in Canada – detached homes and compare it with one of the least popular property types in Canada – semi-detached homes.
Whether you're in the housing market looking for a move-up home or a forever home, let's look at how detached and semi-detached homes compare to one another in Toronto.
Detached Vs Semi Detached Homes: Key Definitions
What Is A Detached House?
A detached house (also known as a detached residence, single family home, or single-detached dwelling) is a stand-alone house that does not share its walls with any other property. Most detached homes come with additional outdoor space – either as a front yard, back yard, or in some cases – both. 
It is arguably one of the most desirable property types in Canada. Looking at the latest 2021 Census data, we can see that nearly 52% of occupied private dwellings in Canada were single detached homes. Narrowing in on Ontario, we see that 46.4% of occupied private dwellings in Toronto were single detached homes. 
What Is The Average Selling Price Of A Detached House In Toronto?
As of January 2023,  the average selling price of detached homes in Toronto is $1.34 million – down 22.9% from January 2022. The month of January saw 1384 units sold – up 2.4% from December 2022 and down 38% from last year, January 2022. 
What Is A Semi-Detached House?
A semi-detached house is a house with one common wall or some other element (like a garage or fence) shared with the other half of the property i.e a different family. A semi-detached house is not as expensive as a detached house but more expensive than condos and townhouses. It's the perfect 'in-between' property for those who can't afford a detached home just yet. 
Semi-detached properties are amongst the least popular in Canada. Findings from the 2021 Census, share that only 5% of Canadians live in semi-detached properties. In Ontario, this number creeps up to 5.5% – making semi-detached homes the second least popular option in Ontario – only behind apartments or flats in a duplex.  
Related: Your A-Z Guide On Owning A Townhouse In Toronto
What Is The Average Selling Price Of A Semi Detached House In Toronto?
As of January 2023, the average selling price of a semi-detached house in Toronto was $1.09 million – down 22% from January 2022. The month of January 2023 saw 240 transactions – up 0.8% from December 2022 and down 46% from January 2022.
Detached Vs Semi Detached House: Pros & Cons
Detached Homes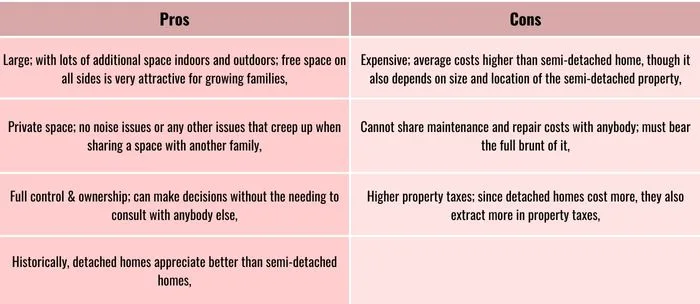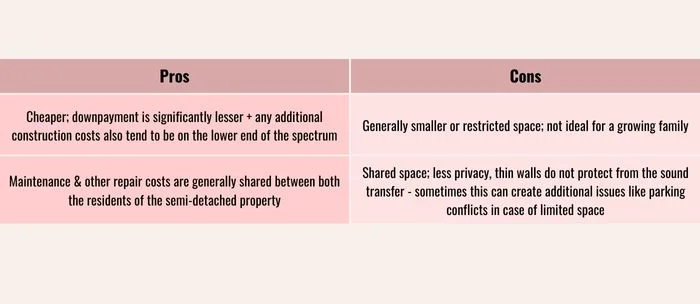 Detached Vs Semi Detached Home: The Better Move-Up Home
If you've been living the condo life too long and buying a bigger house is in the cards for you, I suppose you're wondering how to decide between a semi-detached and a detached home. If you're after more space and buying a larger semi-detached or detached home is what you need, be prepared to increase your expenses.
Generally, upsizing is going to cost you more to buy and own. But today's housing market is – for the lack of a better word – just crazy. I am seeing semi-detached homes fetch higher prices than some detached homes in certain neighbourhoods. Don't worry about your existing mortgage. In fact, depending on when you got a mortgage and at what rate – you may even end up saving some money. Such properties exist – you just need to do your research. Or, you could just book a call with us as I have done my research and would be happy to share it with you!
What Are Some Of The Reasons For Buying A Bigger Home?
Let's begin with establishing what your reasons are for upsizing your home. Are you just tired of living in a building with dozens of other residents waiting for the elevator that never comes?
Are you cramped for space?
Is it that you're looking to find a home with a backyard, one where you can raise a family?
Or is it that you're buying a bigger house as investment?
Establishing your reasons why will help guide your searching parameters greatly. Bear in mind, houses come with a bit more to consider than your average condo.
Buying Detached vs Semi-Detached Homes In Toronto: By Neighbourhood
What it costs to to buy a detached house in W01 (Junction/Brockton Village) will cost you about the same to buy a semi in C01 (Bellwoods/Little Italy), but fear not, there will still be homes for sale both below and above those averages.
Each Toronto neighbourhood will perform differently. If you have a preferred neighbourhood, start by looking at how much it costs to buy in that area. Look at the chart below to get a sense for the cost to buy a house in each municipality.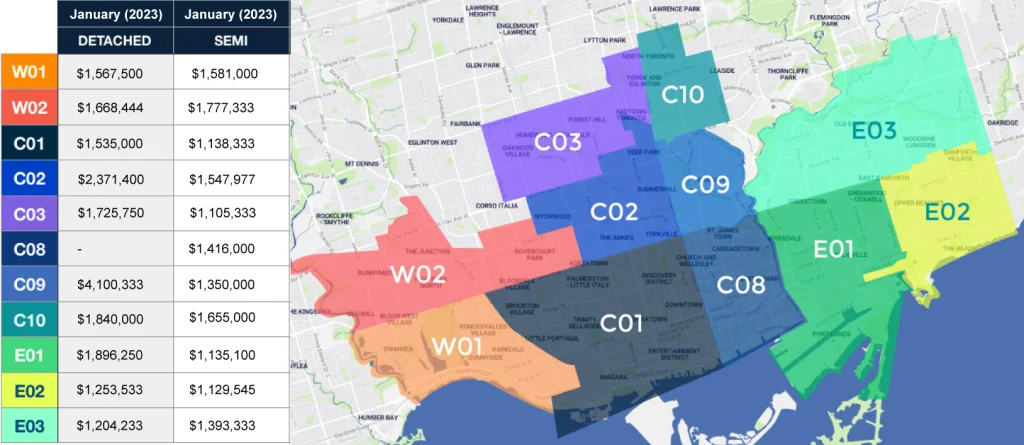 Related: The Cost to Buy a Semi-Detached Home by Toronto Neighbourhood
Buying Detached, Semi-Detached, Or Condo Alternatives: Investment Value
Whenever you're buying real estate, consider yourself an investor. Being a condo owner in the last several years has been advantageous as a means of getting ahead financially, and perhaps you've made some great equity by owning your own condo. Plus, did you know all of the profits you earn when you sell your principal residence are TAX-FREE?
If you're upsizing your home as a means of making some financial gains or ROI, be sure you're buying a home that will do just that. This is where your real estate agent's market experience is invaluable. If your reason for buying is for the gains, be mindful of where you buy and what you buy — and of course, make sure you love the property.
Detached Houses
Comparing January 2023 to January 2022, in Toronto's east end (E01, E02, & E03) detached homes have fallen 18.6% year-over-year — which is great news if you're looking to get into the market now! Similarly, when you look at the west end (W01, W02 & C01) detached homes have dropped 14% y-o-y.
Average Price In West End (W01, W02, C01) In 2022: 1,852,479
Average Price In West End (W01, W02, C01) In 2023: $1,590,314
Average Price In East End (E01, E02, E03) In 2022: $1,783,815
Average Price In East End (E01, E02, E03) In 2023: $1,451,338
When you're considering buying a bigger house as an investment it's so important to consider the local stats and have an understanding of that area in terms of future development or other factors that will influence property values. If the stats don't excite you, look at other neighbourhoods.
If you're buying a forever home or plan to live there long-term, don't let the year-over-year highs and lows that'll inevitably occur in the market concern you. It always levels out over the long term. In fact, the drops y-o-y may be a great opportunity for you as a move-up buyer to get into the market. Your realtor is your best advocate when navigating the changing Toronto real estate market.
Note: The figures shared should be read in context with what's happening in the housing market. Last spring, the market was at its peak. Since then, it has fallen and today the market is still rebounding from what happened in 2022. That's why when compared to 2022 – the average price of most asset classes in Toronto will still be down.
Related: From East to West – Toronto Neighbourhoods to Watch in 2019
Semi-Detached Houses
If we repeat this comparison in the semi-detached market, the average price on the east end has fallen by 14% y-o-y. The fall has been slightly more dramatic across the west end where average prices have fallen by nearly 28.7% y-o-y.
Average Price In West End (W01, W02, C01) In 2022: $1,823,138
Average Price In West End (W01, W02, C01) In 2023: $1,298,888
Average Price In East End (E01, E02, E03) In 2022: $1,470,800
Average Price In East End (E01, E02, E03) In 2023: $1,274,326
That's good news for home buyers but it does suggest that the east end (in both the semi and the detached markets) has more room to grow and may just be a more fruitful investment.
With that being said, you may consider buying a semi-detached home that needs some upgrades. If you're able to buy for less and add some value to it over time, your equity gains plus your renovations can help you add value when you decide it's time to sell.
The Condo Alternative
Even within the detached and semi-detached markets, you'll find a large price range. We've seen small "condo alternative" houses that have one or two bedrooms go for around:
West End: $800,000 to $950,000
East End: $900,000 to $1Million
Here's another example showcasing the potential of the 'condo alternative': looking at the sales history of one of my client's property via bungol.ca, it was bought in 2016 for $755,000. In 2022, it sold for $1,352,000 – which translates to an average increase of 13% each year.
Before the market crashed in 2022, semi-detached homes on the east end usually appreciated 12% y-o-y. On the west end, growth was slightly slower – at around 4% y-o-y. Once the market rebounds, I expect the market to stabilize which is why now might be a great opportunity to pick up a move-up home on the cheap!
Return On Investment On A Move-Up Home Costing Under $1 Million
For this example, let's say you purchased a condo alternative on the west end for $950,000 with a minimum down payment of $70,000 (or 7.37%) with a mortgage rate of 4.59%.
Let's say the housing market rebounds this year. The house continues to earn 12% per year in value. To be on the safe side – let's assume it doesn't grow in 2023 and all the growth starts from 2024, once the market stabilizes. At the end of your five-year mortgage term, your property's value would be around $1,500,000 (or +55%). If you were to sell that home at its fair market value of $1,150,000 you'd make a profit of $550,000 (minus fees).
Obviously there are property taxes and other living expenses that come with being a homeowner, but you can use our mortgage calculator to help you determine what your financial gains could be or just give us a call to discuss your options.
Final Words
Now that you know everything about detached homes and semi-detached homes – next step is to evaluate what you really want. What's your lifestyle like – what property type do you think fits your lifestyle? How are you positioned on the financial side of things? Below are some great resources to help you answer these questions and progress on your journey towards becoming a home-owner. If you need something more personalized, feel free to book a call and my team would be happy to help!
Reno vs Ready: Your New Home Purchase 
Cost to Buy and Own a Home by Toronto Neighbourhood 
Mortgage Calculator with Amortization Schedule