If you've been living the condo life too long and buying a bigger house is in the cards for you, I suppose you're wondering how to decide between a semi-detached and a detached home. Whether this is a move up home or a forever home, how do semi-detached and detached homes in Toronto compare? After reading this, you'll have a better grasp on the two home types and will feel confident in buying the home that's right for you.
REASONS TO BUY A BIGGER HOUSE
Let's begin with establishing what your reasons are for upsizing your home. Are you just tired of living in a building with dozens of other residents waiting for the elevator that never comes?
Are you cramped for space?
Is it that you're looking to find a home with a backyard, one where you can raise a family?
Or is it that you're buying a bigger house as investment?
Establishing your reasons why will help guide your searching parameters greatly. Bear in mind, houses come with a bit more to consider than your average condo. Are you willing to renovate or are you seeking a move-in ready property? Learn which is actually cheaper in Reno vs Ready: Your New Home Purchase.
SEMI VS. DETACHED — LOCATION DICTATES PRICE
What you can afford will certainly determine which home type you'll be able to buy and where. In our April Toronto Real Estate Market Report, you'll find the latest Toronto home prices.
To set the scene, in Toronto proper (416) the average price for a detached home in April reached $1,355,764 while the average semi-detached house costs $1,051,765. If you've got your heart set on buying that detached home in Toronto, it could cost you $70,000 more for a downpayment.
Keep in mind, this is the city average. If you have a preferred neighbourhood, start by looking at how much it costs to buy in that area. Each Toronto neighbourhood will perform differently. Look at the chart below to get a sense for the cost to buy a house in each municipality.
What it costs to to buy a detached house in W01 (Junction/Brockton Village) will cost you about the same to buy a semi in C01 (Bellwoods/Little Italy), but fear not, there will still be homes for sale both below and above those averages.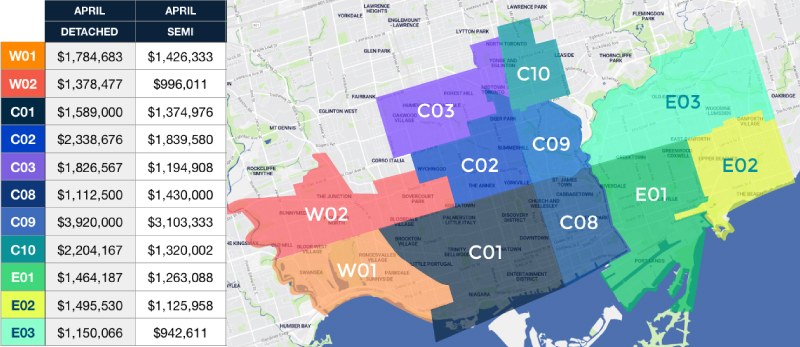 Related: The Cost to Buy a Semi-Detached Home by Toronto Neighbourhood
BUYING A BIGGER HOUSE AS INVESTMENT
Whenever you're buying real estate, consider yourself an investor. Being a condo owner in the last several years has been advantageous as a means of getting ahead financially, and perhaps you've made some great equity by owning your own condo. Plus, did you know all of the profits you earn when you sell your principal residence are TAX-FREE?
If you're upsizing your home as a means of making some financial gains or ROI, be sure you're buying a home that will do just that. This is where your real estate agent's market experience is invaluable. If your reason for buying is for the gains, be mindful of where you buy and what you buy — and of course, make sure you love the property.
Detached Houses
Comparing April 2019 to April 2018, in Toronto's east end (E01, E02, & E03) detached homes have increased 9% year-over-year — which is great growth! Comparatively, when you look at the west end (W01, W02 & C01) detached homes have dropped 16% y-o-y.
When buying a bigger house as investment it's so important to consider the local stats and have an understanding of that area in terms of future development or other factors that will influence property values.
If you're buying a forever home or plan to live there long-term, don't let the year-over-year highs and lows that'll inevitably occur in the market concern you. It always levels out over the long-term. In fact, that 16% drop y-o-y may be a great opportunity for you as a move-up buyer to get into the market. Your realtor is your best advocate when navigating the changing Toronto real estate market.
Related: From East to West – Toronto Neighbourhoods to Watch in 2019
Semi-Detached Houses
If we repeat this comparison in the semi-detached market, the east end has seen 12% y-o-y gains and the west end 4% y-o-y gains. Both positive, but it does suggest that the east end (in both the semi and the detached markets) has more room to grow and may be a more fruitful investment.
With that being said, you may consider buying a semi-detached home that needs some upgrades. If you're able to buy for less and add some value to it over time, your equity gains plus your renovations can help you add value when you decide it's time to sell.
BUYING A BIG HOUSE VS. SMALL HOUSE
The Condo Alternative
Even within the detached and semi-detached markets you'll find a large price range. We've seen small "condo alternative" houses that have one or two bedrooms for around $700,000 to $800,000.
There are advantages to a small house like this one that sold in Leslieville in the fall for $730,000. This one bedroom plus den semi-detached home is an example of a condo alternative within a more attainable price range that was move-in ready and allows you to move out of the condo market.
In fact, looking at the sales history for this property via bungol.ca, it previously sold in 2010 for $342,500 which translates to an average increase of 14% each year. That's exactly on par with the east end's 12% y-o-y increase we touched on earlier.
Let's continue to use this property example to illustrate your ROI on a property like this. Let's say you purchased this house for $730,000 with the minimum down payment of $48,000 (or 6.58%) with a mortgage rate of 3.04%.
Over five years, let's suppose the house continues to earn 12% per year in value. At the end of your five year mortgage term, your property's value would be $1,168,000 (or +60%).
Your mortgage balance after five years would still be $606,719 but if you were to sell your home at its fair market value of $1,168,000, you'd still make a profit of $561,281 (minus fees). The takeaway here is that it cost you $202,273 total to earn $561,281. That's a 124% ROI.
Obviously there are property taxes and other living expenses that come with being a homeowner, but you can use our mortgage calculator to help you determine what your financial gains could be or just give us a call to discuss your options.
The Move Up Home
If you're after more space and buying a larger semi-detached or detached home is what you need, be prepared to increase your expenses. Upsizing will cost you more to buy and more to own.
If you're looking for homes that are on the lower end that will need some TLC, you will need to reserve some funds that would otherwise go towards a downpayment for your renovation budget.
If you're able to buy a move-in ready home, the price point will be higher and therefore so will your carrying expenses. However, the extra $50K-$100K you would have spent on renovations can now be used towards a larger downpayment and hopefully get you that move-in ready home you want.
All of which is to say, evaluate what it is you really want, what your lifestyle and finances can withstand, and make buying a bigger home a reality. Here are some great resources that will help you further on this journey:
Reno vs Ready: Your New Home Purchase
Cost to Buy and Own a Home by Toronto Neighbourhood
Mortgage Calculator with Amortization Schedule