With spring less than a month away, the temperature is starting to rise and the number of new listings is growing. Spring market is the kick-off season for selling real estate. If you're getting ready to list your home, follow along and learn how to prepare your house for sale in Toronto.
When you're preparing your house for sale, when done properly, there are five key phases to the process:
Repairs

Decluttering

Landscaping

Staging

Deep clean
WHAT TO FIX UP WHEN SELLING A HOUSE
When selling your home, you'll want to ensure everything is in good working order. From loose banisters on the stairs to a screen door that doesn't shut properly — whatever is going to deter potential buyers should be addressed.
Some of the important repairs to make before selling include larger items like appliances down to the easier fixes like lighting. Do an audit of your home and put yourself in the shoes of a potential buyer. Afterwards, have a handyman come by to make the repairs. Use this opportunity to patch up any holes in the wall or caulk your bathtub. These little fixes will go a long way come showings.
READY TO SELL YOUR HOME? START DECLUTTERING
One of the items on the top of your preparing house for sale checklist should be decluttering. Depending on the size of your home, how long you've lived there, and how many things you've accumulated, you'll want to start this process as soon as the idea to sell occurs to you.
This is a great opportunity to get rid of many of the items you know you won't need in your new home. Need a bit of inspiration? Turn on Marie Kondo on Netflix and start going through your home looking for the items that don't spark joy. You'll definitely want to organize those closets too. Don't be tempted to hide everything away there, when buyers come to see your home they'll definitely be peeking in your closets.
Decluttering not only helps you get rid of items, making your move much lighter, but it will help when you get ready to list your home. Even if you aren't planning to stage your home — though you definitely should — it will help minimize the extra clutter and appeal to more buyers.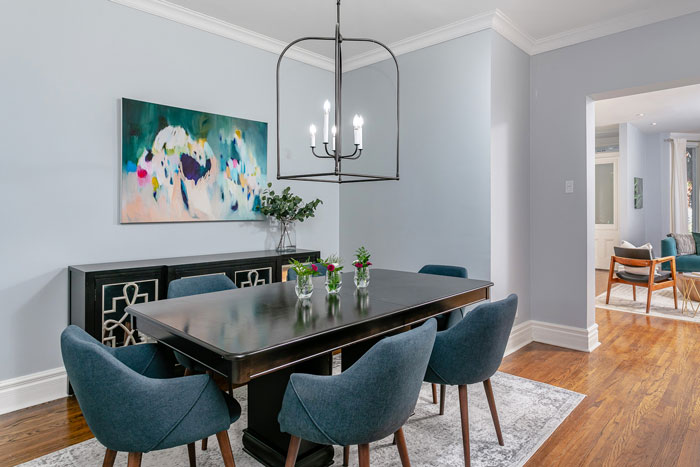 INCREASE YOUR HOME'S CURB APPEAL
One of the best ways to prepare your home for sale and attract buyers is to amp up your home's curb appeal. Once that for sale sign is in your front lawn, you'll want to ensure your property is looking its best.
Some key things to do to increase your curb appeal are:
Paint your front door

Fix and repaint your front porch

Tidy your lawn of debris and unnecessary clutter

Add new flowers or bushes to your gardens

Add fresh mulch to garden beds

Clean your gutters

STAGING YOUR HOME TO SELL
One of the best ways to sell your home for top dollar is to have it professionally staged. Staging your home will elevate your property's appeal, commanding attention and resonating with buyers beyond the front door.
Staging your property professionally allows your home to show its best attributes. Staging designers will bring in contemporary furniture and decor that will accentuate each room's best features and giving potential buyers a home they can envision themselves living in.
As part of the staging phase, you may also want to paint your walls to a more neutral colour. Not only does this give your walls a clean fresh coat of paint, but by choosing a neutral tone, you are more likely to appeal to a broader range of buyers.
Staging your home professionally will also make your listing photographs look magazine-worthy and draw in buyers from the minute they see your listing on MLS.
Pro-tip: Want to know how to prepare your house for sale in 2021? Work with a realtor who offers complimentary staging with their listing services. You can see some of our staged properties in our staging gallery.

Find out how much your home could sell for through professional staging
BEFORE YOU LIST YOU NEED TO DEEP CLEAN HOUSE TO SELL
Once you've repaired, decluttered, and even staged, call up your local cleaning service and give your home a deep cleaning. This is a very important part of the process that you do not want to overlook. You can do it yourself, but you've got too many other things on your mind when preparing your home to sell. Treat yourself and hire a professional.
HOW TO GET A HOUSE READY TO SELL QUICKLY
How long does it take to get a house ready to sell? There are many different elements that will factor in to a timeline to sell. This can range from the state of the market, the type of home you're selling, and how good your team is.
The best way to get a house ready to sell quickly is to do what you, as the homeowner, can as early as possible. If you're too overwhelmed by all of the things you need to organize, consider hiring a professional organizer to help make this stage more efficient.
Create a work-back schedule for your timeline to sell. This means, if you want to list your home for sale on March 31st, what are the things you need to do to make that achievable? Then start scheduling your handyman, get on the phone with your realtor, book your deep cleaning service.
While this is all very useful to get you in the right mindset when trying to figure out how to prepare your house to sell, the best first step to take is to call your real estate agent. They do this for a living and will be able to walk you through the best course of action to sell your home for top. Book a call with us to get started!