You're a prospective buyer of a property. You take time off to go and see this property for yourself. You walk into the living room of a house spick-and-span, not a rag where it shouldn't be, with artsy decor and lots of open space. 
What's your first impression? Do you like the house? Would you consider buying it? 
Well, in all likelihood, that property you were so wowed by was staged by a home staging professional. Staged homes give home sellers the leverage to command a higher price and more often than not, as the trend suggests, staged homes get sold much quicker too!*
*A staged home sells 5x – 11x faster than unstaged homes.
Naturally, a home stager does not do all this for free. Home staging is a service – and it costs. Nor do you have to employ a professional stager. Once you go through this blog and understand the essentials and importance of home staging, you may choose to do it by yourself – which is great! Another alternative is to check with your real estate agent. Some real estate agents even offer complimentary professional staging services – we do!
Ultimately, home staging costs depend on a number of factors:
"Are you looking for partial staging services or full staging services?"
"What's the size of your unit? How many rooms and what's the square footage?"
"How much time will the home stagers take to complete the job?"
"Does the existing furniture work or will you need to get something extra from a furniture rental?"
Your answer to these questions will to a large extent determine your home staging costs. In this blog, I'll give you a brief overview of what home staging encompasses followed by a detailed breakdown of all the costs associated with home staging. 
Related: Breaking Down The Cost Of Selling A House In Ontario [+Condos]
Detailed Breakdown Of All Home Staging Costs In Toronto
Who Pays For Staging A House?
Well, if you're listing your home with us – we pay as you get access to free home staging services worth over $5000! As a luxury real estate brokerage, we offer full concierge-level services and our goal is to allow our clients to sit back and relax – while we try to get the maximum value for their property. Historically, we have learned that staged homes sell faster and for more money: a win-win situation for everybody involved in the home-selling process.
If you're listing your house with another luxury broker – odds are that they have a package of some kind to help you with home staging. If you choose to go for a discount broker though – do not expect such complimentary services. High chance that you'll have to pay for the entire thing which can cost you about 0.3% to 1% of your sale proceeds.
How Much Does Home Staging Cost In Toronto?
On average, home staging costs in Toronto range between $2000 – $10,000. Ultimately though, the costs are variable and largely dependent on a number of factors. It's important to note that some of these costs are one-time, fixed expenses like the initial consultation with the home stager but there are other costs such as furniture rentals, and storage space rental fees – that are recurring in nature, charged on a monthly basis. If you're hiring a professional home stager, it's best to get their price list & package information during the initial consultation itself.
These are some of the factors that influence home staging costs in Toronto:
Size of your unit: The larger the unit the more expensive it's going to be. On average, home staging for 1,000-square-foot properties costs around $5000-$6000.

Decor expenses: How much you spend on redecorating your staged home will have a significant impact on the overall home staging costs. If your objective is to get this done on a budget, make the best of all things you already own.

Maintenance/repairs needed: If you've been taking care of your property, and doing regular maintenance on a yearly basis, you're probably good. But on the other hand, if there's a lot of maintenance work and repairs that need to be done when you're getting your house staged, it's going to cost. Remember: you have to pay for labour plus any additional materials required for the repairs.

Vacant home or occupied home: Home staging costs for vacant homes are generally higher than that for occupied homes. The logic dictating this is simple: a vacant home needs a lot more attention and resources compared to an occupied house.

Duration your unit remains unsold: Professional home stagers often rent interior decor items from furniture rentals to spruce up your space. Recurring costs like this add up and can eat into your budget. Every month your house goes unsold your carrying costs accumulate.
Below is a table with an estimated breakdown of all the costs associated with home staging in Toronto:
| Staging Action Item | Estimated Costs (CAD) |
| --- | --- |
| Initial home staging consultation | $300 - $500 |
| Storage space rental fee | $200 - $400 |
| Maintenance and rental overhead of staging furniture;artwork;lighting;upkeep | $200 - $1200 |
| Cost of movers for delivery | $750 - $3500 |
| Cleaning costs | $150 - $300 |
| Cost for any repairs in the unit | $100 - $1000 |
Why Should Home Sellers Care About Home Staging
Home Staging Statistics Canada
Let's look at the latest Home Staging Industry Statistics 2022 reports by the International Association Of Home Staging Professionals (IAHSP) to see what the numbers about home staging in Canada:
Luxury home staged sell 2x – 8x faster than unstaged luxury homes


On average, staged properties sell for 4% – 20% over list price when compared to unstaged homes

Most important rooms that need home staging services: living room, kitchen & master bedroom (in this order)
What Are The Steps Involved In Home Staging?
Home staging, like art, has no defined process or steps. The goal for stagers is to present the house in an agreeable fashion aligned with the lifestyle of a prospective buyer. How they go about doing this – is a completely personal choice and that's where the magic of a staging company or professional shines! 
For our clients, here's a simplified 6-step home staging process that we follow:
Conduct an initial in-home visit to evaluate the property and identify the client's needs.

Generate a comprehensive checklist for the client, encompassing recommended handyman repairs, "client to-do's" (such as decluttering and packing items for storage), and a list of items that will remain in the property versus those that will be relocated to storage.

Facilitate professional cleaning, painting, and/or handyman repairs on the client's behalf.

Use art, furniture, and other decor items to show the future potential of the property. The goal here is to enhance the property in the sellers eyes. We then move on to add plants and other foliage to accentuate visual appeal.

Explore opportunities to optimize the lighting in each room.

Rearrange layouts to create an open space and an ideal flow, highlighting features that the target market is seeking.

Capture preliminary photos to ensure optimal presentation of each room design before the professional photographer arrives.
Is Staging A House Worth The Cost?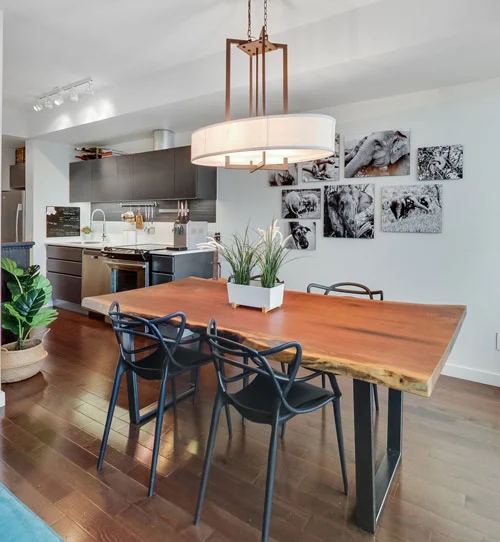 If you're selling your home in a competitive market such as Toronto, Canada, staging your home increases your property's appeal from the minute it's listed on MLS. Home staging is the hook to attract buyers to choose to see your home over the many other homes for sale in Toronto.
Ask any real estate agent in Toronto, I think you'll find they all agree, home staging increases the dollar value of your home and will reduce the number of days it spends on the market. According to stagedhomes.com, 88% of staged homes sell at or above the list price and, on average, sell in 10 days versus 85 days for non-staged houses.
A vacant home may offer a clean slate to potential buyers, but it neglects to fully create the space and present it in its best possible light. Not everyone can visualize a room's decor but by staging your home, you're providing potential buyers with a space that they can imagine living in.
Just look at these two identical condo units that were for sale in the same building. Ask yourself, if you were given these two options to buy, which option would you choose to buy? (Our staged property ended up selling for $87,500 more than the comparable unit!)

Home Staging Tips From A Professional Home Stager
 While you may love your design aesthetic, trust your Realtor to know what will and won't work when showing your property to potential buyers. 
 Less clutter = more space = more value: Swapping your very cozy, but very worn, sofa for something more contemporary can drastically improve your living room's appeal — and that's just the beginning. Think about it, the longer you live in a space, the more stuff you start to accumulate. One of the basic principles of effective home staging – "less is more". Reducing unnecessary clutter and selecting furniture that is sized for the space will make any room feel much larger. Declutter your kitchen counters for a less is more feel. 
Check out our Staging Before & Afters to experience the undeniable value of staging for yourself

2. Open, easy-to-navigate layout: Once you've decluttered and removed non-essentials, designing the space in a way that optimizes traffic flow is when the skilled eye of a staging designer comes in handy. Arranging furniture to designate spaces provides potential buyers with the best ways to maximize the layout of your home. For example, since the start of Covid-19, work-from-home office spaces have become an important feature for many prospective buyers.
3. Let there be light!: Buyers are drawn to properties with lots of natural light. Open all of the blinds, remove anything that may be obstructing the sun's rays, and add light to dim areas of your home. You won't believe how much bigger a space will feel when it's properly illuminated.
Home staging is more than just adding modern furniture to a space, it's a full undertaking and a chance to give your space a refresh. Home staging, when done well, should start with a deep clean of the property. From bathrooms to windows and everything in between, a deep clean of your lived-in home is one of the services that shouldn't be overlooked.
Recap: Benefits Of Home Staging
Let's recap the benefits you get by staging your home for sale in Toronto:
• Attract buyers through MLS with attractively staged listing photographs
• Maximize your home's layout through proper design
• Ability to enhance and highlight the best features of your home
• Allow you to illuminate areas that are otherwise dim
• Offer buyers a move-in ready home they can imagine living in
• Reduce the time it takes to sell your home
• Add value to your property and see high, competitive offers
Nearly every time we have the opportunity to stage a property for a client, we end up selling it for more than the last comparable sale. Our listing at Musee Condos was picked up by Toronto Life after we sold our client's condo for $32,000 over-asking in just one day!
Find out how much your Toronto home could sell for through professional staging here or book a call to discuss your options.