When it comes time to sell your Toronto home, what can you do to ensure you earn top dollar for your property? Aside from partnering with the best Toronto real estate agent, there are a number of simple home improvements you can do that will go a long way when you go to list. Whether you have a modest budget or a bit more to invest, refer to these five simple renovations to increase home value before selling your home in Toronto.
1. RE-CAULKING FOR THE WIN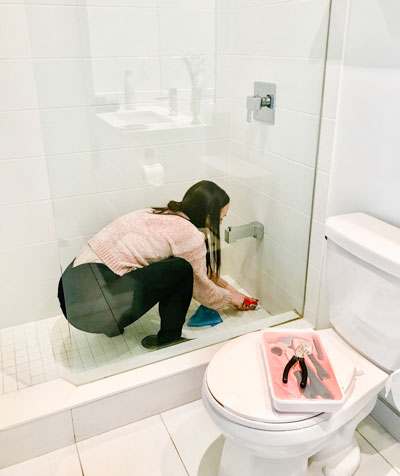 Some of the best home improvements to increase value before listing are quite simple and inexpensive. For under $5 you can buy a tube of caulk at your local hardware store that will do wonders to the look of your bathroom and even your kitchen.
For the bathroom, look for areas around your bathtub, shower, tiles, and sink. These areas are quick to deteriorate and even go moldy and you'll be surprised how much better your bathroom can look after spending some time re-caulking. Click here for an easy step-by-step tutorial.
Be mindful of the type of caulk you need, as there are different types for different areas of your home. If you're resealing the edges of your kitchen sink, you may want to go for a clear caulk depending on your countertops. Don't be afraid to ask questions at the store when you're buying products to make sure you do it right the first time.
2. PAINT MAKEOVER
The simplest way to add value to your home is the Paint Only Makeover. A fresh coat of paint throughout your home will make your home look bright, fresh, and clean. Say bye bye to the scuffs and scratches that you've accumulated over the years.
If you're tackling this yourself, don't underestimate the time and elbow grease involved, especially with larger homes. More importantly, before you grab your paint and supplies, ask yourself how qualified you are to tackle this yourself. Unless you're a pro at painting edges, you run the risk of making your new paint job look sloppy and doing more harm than good. You may want to hire a painting service like WOW 1 Day Painting which can save you time and hassle and I'm sure you would quickly agree that hiring a professional to paint your home is worth every penny.
When it comes to colour selection, the key is to avoid any dramatic colours. When you're selling your home, you want to appeal to the broadest number of potential buyers, so stick with neutral tones and avoid whatever the designer trend may be at the time.
Pro-Tip: After painting, fill shallow bowls with water and several lemon slices and place them around your home overnight to help absorb the paint odours.
3. DIY KITCHEN UPGRADE
The best home improvements to increase value in your home start in the kitchen. Just like the old adage says, the kitchen is the heart of the home. When it's time to sell, most buyers are heavily influenced by the quality of your kitchen when forming an opinion of your home.
You can add some serious value to your kitchen with a simple coat of paint on the cupboards and upgrading the hardware. You can never go wrong with a bright and white kitchen (unless perhaps, you have some very outdated black appliances). If you have simple wooden cupboards, adding a coat of bright white paint will elevate your kitchen dramatically.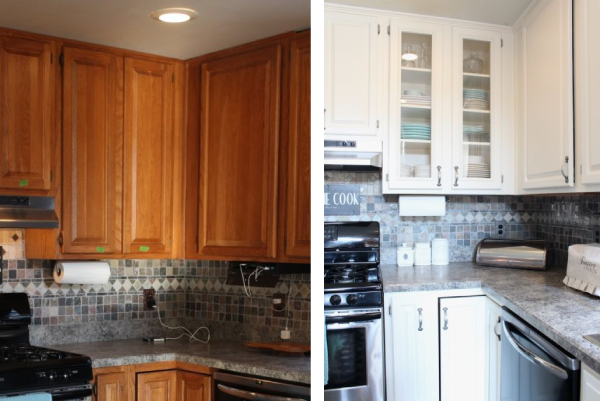 Looking at this kitchen cabinet makeover from Country Living, you can see the difference is night and day. For the cost of a gallon of paint, some tape and brushes, your kitchen can transform to have a more contemporary appeal in no time. The only challenge you have is deciding which of the 50+ shades of white you want to go for.
Since you'll be removing the hardware to paint the cupboards anyway, spend some money replacing the old with new. Whether you have a friend with an eye for design or you can spend some time online finding a look you love, this DIY kitchen upgrade will surely add value to your home's sale price.
4. UPGRADE YOUR COUNTERTOPS
If you're willing to invest a bit more upfront, replacing your kitchen countertops is a simple renovation that yields a good ROI. There are so many types of countertops to choose from: marble, quartz, granite, ceramic or porcelain — the list goes on and on.
In my personal opinion, you can't go wrong with marble but it will cost you. A marble countertop will start at about $3000 but the impact a slab of marble will have on your kitchen will surely lure the best buyers with the best offers.
Alternatively, quartz is a very popular choice among sellers looking to upgrade their kitchens before listing. The reason being is that quartz counters come in many different shades and designs, are quite resilient and more affordable, costing around $2000, depending on the size you need.
5. ELEVATE YOUR HOME CURB APPEAL
Your home's curb appeal is the first impression potential buyers will have with your home and can have a big influence on their opinion of your property. The curb appeal check list can range from a fresh coat of paint on the front door to adding a new mailbox or even repairing your porch.
If you have a front porch, ensure everything is in tip-top shape — no missing railings or loose steps. Take the time to have your porch sanded and/or painted, same goes for your back deck. Whether it needs a good power-wash to brighten the wood or you need to invest a little extra to replace the boards, showcasing the outdoor space's potential is a huge value-add when it comes time to sell.
Depending on the season, make sure your landscaping is looking fresh. If you're selling your home in the spring or summer, plant some flowers and add some top soil to your garden, trim any hedges and tidy the lawn of leaves and branches.
If you're selling your home in the winter, don't think you're off the hook for outdoor improvements. Read our Home Curb Appeal Winter Edition for simple tips to improve your home for sale during the winter.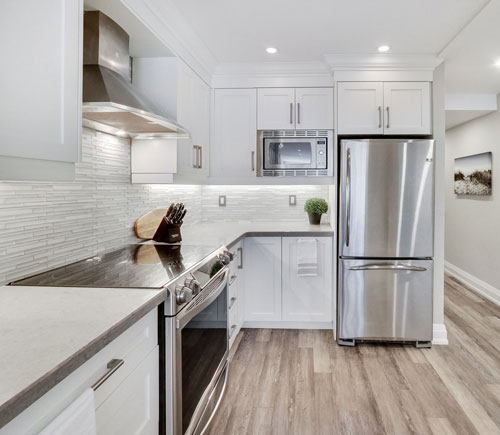 When you know you're ready to sell your home, make a list of the things you think need improvement. Your realtor will be a great resource when choosing the best home improvements to do before selling. Their experience in the industry is essential in recognizing what upgrades your home needs to sell for top dollar. Beyond your own pre-listing renos, have your home or condo professionally staged to increase your home's value when attracting prospective buyers.
If you're planning to sell your home, let's talk! We've been able to continuously break records previously held by other real estate agents with our market insight, pricing strategy, and complimentary staging. When you list with the Pierre Carapetian Group, you get the highest level of service. We do everything we can to make selling your home or condo a positive and hassle-free experience.