Don't believe the latest narrative in the news, despite the ever-alarming headlines the Toronto real estate market is healthy and poised for a strong spring market.
The media is the best at picking out alarming stats and painting one image with them, ignoring the big picture or all of the other signs that really show a completely different story.
We're here with the #HonestBroker truth and there are two major points we want you to understand. One: real estate stats should really be based on the local market and when the media lumps all areas into one location, such as the GTA or the 416, that data should't be applied locally. Two: when you read sales volumes are down this basically means nothing if inventory is also extremely low (as it is today).
Alright, let's start by getting down to the brass tacks, but make sure you read all the way through because, just as we said, headlines aren't everything.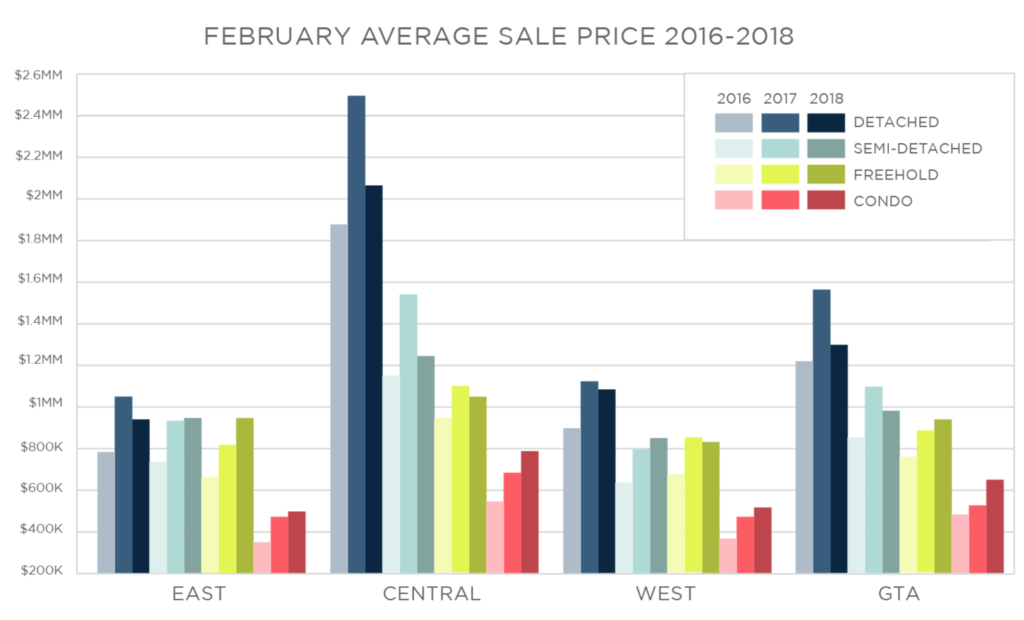 HEADLINES LIKE "TORONTO SALES DOWN 34.9%" ARE B.S. CLICK-BAIT
There were a reported 5,171 transactions in February of 2018, down 34.9% compared to the record sales reported in February of 2017. This has made major headlines in the news this past week, like this article from The Globe & Mail, "Inventory slump has real estate markets in a slumber across Ontario" or this one from The Financial Post titled, "Toronto home sales plummet 35% from a year ago as new mortgage rules bite" or this article written by MacLeans, "Real estate sales are cratering around the GTA. Is this a crash in the making?".
But let me just stop you right there cause the answer is NO! No, this is not a crash in the making. The multiple offers and sold above list price properties we've seen are just one of the reasons why we know this isn't the case. But the major reason sales are down is because inventory is down. It's simple: fewer units available means fewer purchases made, period.
TORONTO BUYERS STILL WARMING UP TO CHANGES
From the new Fair Housing Plan changes to the new lending guidelines and Stress Test, a number of prospective home buyers remain skeptical or side-lined. Anecdotally I'd say many are in for a surprise with the impending increases and competition expected for the spring housing market. While others are still coming to terms with the impact of the new lending guidelines and are finding that they are actually able to afford less and prices aren't dropping as dramatically as they had hoped.
STRONG PRICE GROWTH EXPECTED FOR 2018 TORONTO REAL ESTATE MARKET
February marked the strongest month-over-month price gain since September coming in at $767,818 in February, up 4.2% from January. If we take a look at the GTA detached home prices rose 3.1%, semis rose 5.7%, townhomes were up 4.1% and condos prices were up 4.4% to an average of $529,782.
Another stat mentioned in the news was the GTA's year-over-year average price dropping 12.4% from its peak prior to government intervention in May of last year. But the 416 or Toronto specific stats paint a much different picture. So, we re-iterate that you need to remember WE DON'T CARE ABOUT THE GTA!!! Okay, so maybe that's a stretch, but what we do care about is accurate data and in real estate what that means is LOCAL DATA.
So, Instead of taking a look at the entire GTA, we're going to dive into just the 416. These stats show that the Toronto market is either up or holding strong. Detached homes are pretty much even-keel down 0.14%, while semi-detached homes are up 5.3%, townhomes are up 9.1% and condo prices are up 5% from January of 2018. This price growth happened in less than 2 months! We've seen tons of growth in 416 and if these trends continue we're on track for a record year.
The anticipated forecast by TREB for 2018 predicted a slower start to the year as compared to 2017 but it seems as though the market has already begun to pick up in anticipation of a busy spring market. However, the market is still expected to remain competitive as TREB warns that, "listing supply will likely remain below average in many neighbourhoods." Adding that over the long-term this could further hamper affordability.
TORONTO REAL ESTATE INVENTORY LOW & EXPECTED TO REMAIN LOW
So far in 2018 we've seen record low inventory levels and sales are down because of it. You can't sell something that doesn't exist. Spring is on the horizon and the market is heating up but we expect the low inventory levels to continue and competition to remain high.
Although we've seen an increase in new listings with inventory up 7.3% from the extremely low levels of 2017, TREB warns that this is still a low level of new listings and is below the 10 year historical average for February. This means you should continue to expect a fairly competitive market, especially in the affordable townhome and condo market.
TORONTO CONDO AND TOWNHOME MARKET EXPECTED TO DRIVE FURTHER PRICE GROWTH
It's no secret that the Toronto (416) real estate market has moved into an unaffordable area for many would-be buyers. It's unlikely to find a two bedroom move-in ready freehold home below $800,000. For many a freehold home is an unaffordable option, especially as a first-time home buyer. But, if instead we looked at two bedroom condos and townhomes you'd be looking at something in the high $500,000s or mid $600,000s.
As condos and townhomes continue to be the affordable option and if inventory continues to remain low as predicted, we expect these affordable markets to drive Toronto price growth. This past week we've seen little inventory come to market and many properties have had multiple offers. We expect this trend to continue into the spring market.
Download our Complete Guide to Investing in Pre-Construction Toronto Condos→
GREATER TORONTO AREA PRICES UP 12% COMPARED TO 2016
But the year-over-year stats don't paint the whole picture. The average sale price may be lower than they were at the peak of the market in 2017 but TREB mentions that prices are sill up 12% compared to February of 2016, "which represents an annualized increase well above the rate of inflation for the past two years." This is also above the 5% year-over-year increase that we remind our clients is Toronto's historical average. Prices for all housing types are still higher than they were two years ago, while condo and townhome prices for Toronto (416) are steadily increasing and are above 2017 prices, up 10.7% and 15.5% respectively. This is a good sign of a healthy market simply finding balance after a number of government interventions.
Beyond that, it's also important to note that those who bought into the semi or detached market in 2017 will only feel the affects of these prices if they plan on flipping within a year or so of purchasing. They may feel as though they've "lost money" but let's be honest, the majority of these purchases were done as long-term residences, not as an investment or a flip. Most owners purchase with the expectation of living in the property for a number of years and will likely realize historical average gains if they continue to hold their property.
If you're thinking about jumping into the Toronto real estate market sooner is better than later! Start searching all Toronto properties under $500K to get started!
Click here for the February 2018 versus February 2017 market break down →