Toronto Real Estate News | Hover or click over a community to see the local sale prices this month.
April shows strongest annual rate of growth so far in 2019
The Toronto real estate market came out of the gates hot this spring. The April market stats are in and they paint to a picture of increasing sales, rising prices and tightened market conditions.
Although many Torontonians, especially those looking to finally break into the market, were hoping to see the market — and prices— settle this year, those who have been reading this blog know that we didn't predict any long-term market lulls. So to anyone who's been saying the market has "bounced back", we say, "Don't call it a comeback, we've been here for years!"
All kidding aside, this April we saw a substantial increase in home sales year-over-year. Transactions were up 16.8% and new listings were up 8%. However, with the growth rate of new listings much lower than sales, you can expect market conditions to continue to tighten and the housing supply issues to remain.
With the average sale price in April up by 1.1% compared to March 2019 and the benchmark price up by 3.2% — the largest rate of price growth in more than a year — the Toronto real estate market is poised for a promising 2019. The average sale price of a Toronto home increased year-over-year by 1.9 per cent to $820,148 from $804,926, the strongest annual rate of growth so far in 2019.
Toronto's average price growth continues to be driven by Toronto's condo and apartment market segment. Condos were up 5.8% year-over-year. While the average price for detached homes dips year-over-year in the GTA and remains neutral for 416 detached homes. Semi-detached homes in Toronto were up 2.9% while townhomes fell 4.7%.
TREB ends their monthly summary with a note on April sales: "While sales were up year-over-year in April, it is important to note that they remain well-below April levels for much of the past decade." TREB notes that many home buyers arguably remain on the sidelines due to the Stress Test and increased costs of borrowing. However, we'd also like to note the lack of inventory on the market. If there is nothing to sell, there really is nothing to buy. We've also anecdotally noticed that many buyers are choosing to hold off for the right purchase and are spending a bit more time in the 'search' phase of purchasing a new home.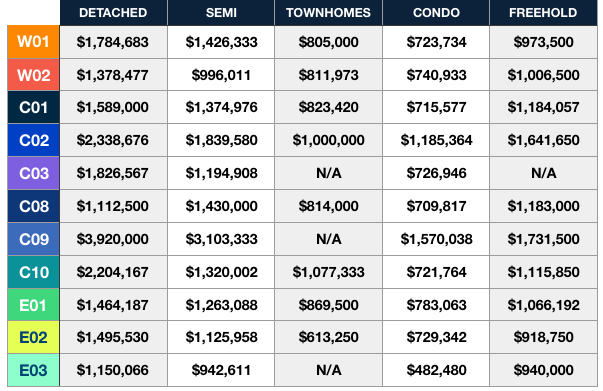 ARCHIVED TORONTO REAL ESTATE MARKET REPORTS