Toronto Real Estate News | Hover or click over a community to see the local sale prices this month.
Toronto Real Estate Sales Up 22%, Prices up 5.8% in September 2019 Y-O-Y
September is typically noted in the Toronto real estate market as the peak of the fall market and this year appears to be no different. Sales were up 22% from September of 2018.
Sales levels however continue to remain well below the record breaking September 2016 peak of more than 9,800 sales. With new listings down 1.9% from already previously low levels in 2018, and active listings down 14.1% y-o-y, lower sales levels are to be expected.
Despite lower sales levels, tighter inventory has led to continued annual price growth. The annual rate of price growth in September actually reached its highest point so far in 2019. The average sale price in Toronto rose 5.8% y-o-y to $843,115 from $796,782. On a preliminary seasonally adjusted basis, the September 2019 average selling price was up 1.2% compared to August 2019.
As always, please check your local Toronto neighbourhood and municipality in the map chart above or chart below to see how your neighbourhood is performing.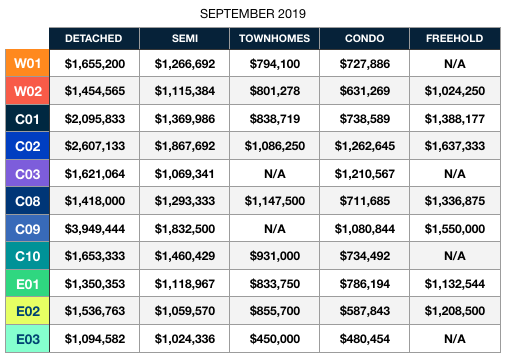 ARCHIVED TORONTO REAL ESTATE MARKET REPORTS