Toronto Real Estate News | Hover or click over a community to see the local sale prices this month.
As an experienced Broker who sells the city, I can tell you that currently condo prices are skyrocketing, many new records being achieved in east end, and tons of properties are still going for multiple offers.
Many recent reports have stated that the Toronto Real Estate remains hot but it starting to show its first signs of cooling. I personally believe that market is still trekking along well, and that what we are seeing is that people are buying more within the city itself rather than outside the city and in the Greater Toronto Area (GTA). A lot of the reports coming out are general overviews of statistics that are amalgamated from every district. It's not an accurate way to really determine what's going on as Real Estate is local market that needs to be looked at and compared through the specific area and type of property that you own or are looking for. As an experienced Broker who sells the city, I can tell you that currently condo prices are skyrocketing, many new records being achieved in east end, and tons of properties are still going for multiple offers. I very much believe that the Toronto Real Estate market is still going strong. I only see the market slowing down in December 2021, when majority of the population is vaccinated and Covid-19 travel restrictions are eased and places open up.
When we look at the report we see that home sales quadrupled that of April 2020 for the Greater Toronto Area (GTA) but we are starting to see sales drop 13% in April 2021, month-over-month.
Over the past few months, Toronto region's Real Estate market has been blazing in terms of price and pace. The TRREB board states that 13,663 homes were sold in the region in April 2021, which is a 362% increase from the 2,957 properties sold in April 2020 which was the first full month of the Covid-19 pandemic. Whereas home sales increases year-over-year, home sales were actually down 12.7% compared to March 2021. 
New listings also dropped this month by 8.4% compared to March 2021, and the average selling price amounted to $1,090,992 which is down by 0.6% from March 2021. With all these month-over-month decreases, it is a sign of a pullback in Real Estate market activity and indicates that the region may be depleting its pool of potential Buyers within the GTA population.  
"While sales remained very strong last month, many Realtors noted a marked slowing in both the number of transactions and the number of new listings. It makes sense that we had a pullback in market activity compared to March. We've expserienced a torrid pace of home sales since the summer of 2020 while seeing little in the way of population growth. We may be starting to exhaust the pool of potential buyers within the existing GTA population. Over the long term, sustained growth in sales requires sustained growth in population," said TRREB President Lisa Patel.
TRREB's chief market analyst, Jason Mercer, accredits the surging prices and consumer demand to low interest rates.
"While the pace of price growth could moderate in the coming months, home prices will likely continue on the upward trend. Renewed population growth over the next year, coupled with a persistent lack of new inventory, will underpin home price appreciation," he said.
The greatest average price gains were detached homes in the 905 area, as they experienced a 44% increase in average price. Detached homes in the city (416 area) did also experience a 36.8% increase  and puts the average price very close to $1.7 million. Condo prices climbed in both the 905 and 416 area (25.1% & 18.7% respectively) making the average condo price in the 905 areas come to $612,341 and 416 areas come to $727,137. 
As always, it's good to remember that real estate is local so check out our chart on the different municipalities across Toronto to see what is happening in your neighbourhood.
For TRREB's full Toronto Real Estate Market News Report continue reading below.
Home Sales and Listings
* Greater Toronto Area REALTORS® reported 13,663 residential transactions through TRREB's MLS® System. This result was up 362.1% increase over April 2020.
* New listings amounted to 20,825 in April 2021 – up on a year-over-year basis by 237%.
Home Prices
* The average selling price for April 2021 transactions was $1,090,992 – up by 33% compared to the average price of $820,226 reported for April 2020. Most housing types experienced annual average price growth in the 416 leading with detached homes up 36.8%, followed by townhomes up 20.1%, semi-detached homes up by 19.6%, and condos up by 18.7%.
* The MLS® Home Price Index Composite Benchmark was up by 17.8%. The overall average selling price was up by 33% year-over-year to $1,090,992.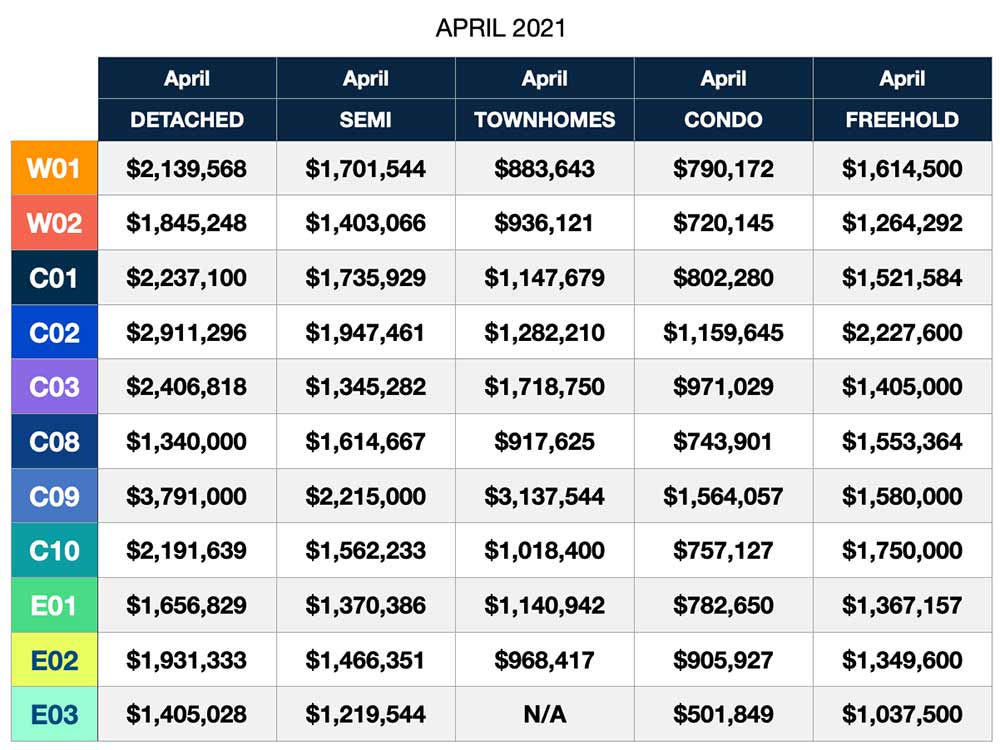 ARCHIVED TORONTO REAL ESTATE MARKET REPORTS