Toronto Real Estate News | Hover or click over a community to see the local sale prices this month.
Even though sales eased off over the last two months, market conditions remained tight enough to push the average selling price to a record in May. This is fuelled by the confidence in economic recovery and low borrowing costs.
If we look at the month of May from 2010 through 2019, May is often the strongest sales month in any given year. However, May 2021 results resisted this trend, with sales being below the 15,646 deals reported in March 2021. When comparing May 2021 to April 2021, sales dropped 12.5%, and if we look at May 2021 versus March 2021, sales dropped 23.6%. The market is slowing down, as we cannot continue growing without surplus of immigration and population growth. Currently borders are closed, no immigration is coming in, there is no foreign investment, no tourism, and therefore all this demand that was driven by domestic buyers is now slowing down. 
As for the average prices, they continue to remain high as listings started to drop after March 2021. When we compare the amount of new listings  in May 2021 compared to April 2021, there is a 10.7% decrease. May 2021 vs March 2021, there is a 18.1% decline in sales. Because we have less supply, and decent demand, prices will continue to rise. 
As for what the Real Estate market will bring in the future, now that we have new mortgage stress test rules, which boost the stress test rate to 5.25%, it will directly affect Buyers purchasing power. The market is currently slowing down, and the stress test will affect Buyers (especially first time home Buyers that are coming into transactions with no equity). As Buyers will need to qualify for more, it may keep people off the market for awhile. The province of Ontario is also slowly re-opening, which will affect the market. The prospects of the border opening sometime in the future is also another factor that will affect that market. It seems as though there is a general consensus that opening the borders will bring surge in the market as it will bring renewed immigration and foreign investors. 
"Despite a modest slowing in market activity in April compared to March, selling prices for all major home types remained very high. Low borrowing costs during COVID-19 clearly had an impact on the demand for and price of ownership housing. While the pace of price growth could moderate in the coming months, home prices will likely continue on the upward trend. Renewed population growth over the next year coupled with a persistent lack of new inventory will underpin home price appreciation," said TRREB Chief Market Analyst Jason Mercer.
As always, it's good to remember that real estate is local so check out our chart on the different municipalities across Toronto to see what is happening in your neighbourhood.
For TRREB's full Toronto Real Estate Market News Report continue reading below.
Home Sales and Listings
* Greater Toronto Area REALTORS® reported 11,951 residential transactions through TRREB's MLS® System. This result was up 160.1% increase over May 2020.
* New listings amounted to 18,586 in May 2021 – up on a year-over-year basis by 103.7%.
Home Prices
* The average selling price for May 2021 transactions was $1,108,453 – up by 28.4% compared to the average price of $863,563 reported for May 2020. Most housing types experienced annual average price growth in the 416 leading with detached homes up 20.5%, followed by townhomes up 19%, semi-detached homes up by 16%, and condos up by 6.3%.
* The MLS® Home Price Index Composite Benchmark was up by 19%. The overall average selling price was up by 28.4% year-over-year to $1,108,453.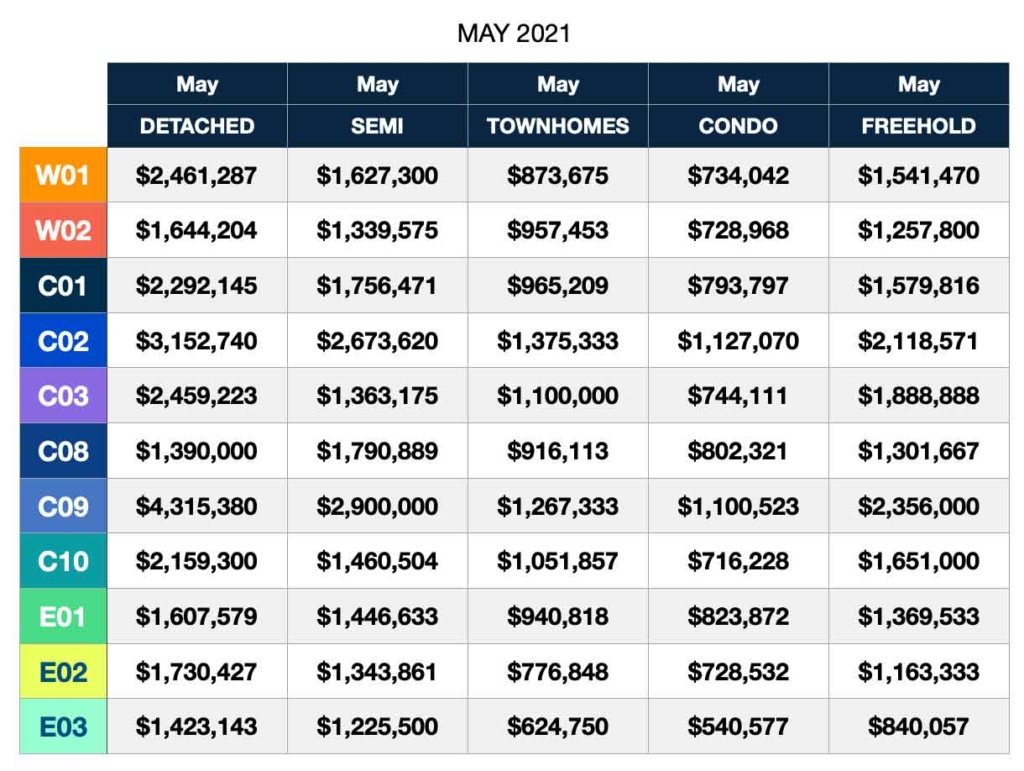 ARCHIVED TORONTO REAL ESTATE MARKET REPORTS