Toronto Real Estate News | Hover or click over a community to see the local sale prices this month.
Semi-Detached Homes Prices Up 10.5% Y-O-Y | February Market Stats
This February was a VERY busy one for our office. So it was surprising to read that sales were actually down 2.4% compared to this time last year. This is a symptom of the GTA market as a whole due to a decrease in listings and tighter market conditions. This lead to GTA price growth of 1.6% on average.
As always though, we're taking a look at the 416 or Toronto Proper. There is a similar picture with tight market conditions and slowing sales. Actually the only market segment that didn't have slowing sales was Toronto's semi-detached market. Sales were up 20% y-o-y which led to increasing prices up 10.5% y-o-y.
In comparison, Toronto detached homes, townhomes and condos have realized slowing sales. Down 9.6%, 12.6% and 6.7% respectively. Toronto's tight real estate conditions however have average prices up for all home types except townhomes. 
Leading Toronto's average price growth is the semi-detached market up 10.5% y-o-y followed by condos up 7.4%, detached up 0.8% and townhomes down 1.7%.
Making headlines this week are the comments made by Garry Bhaura, Toronto's Real Estate Board President as TREB released February's 2019 market stats. These remarks have definitely not gone unnoticed. Bhaura comments, "The OSFI mandated mortgage stress test has left some buyers on the sidelines who have struggled to qualify for the type of home they want to buy. The stress test should be reviewed and consideration should be given to bringing back 30 year amortizations for federally insured mortgages. There is a federal budget and election on the horizon. It will be interesting to see what policy measures are announced to help with home ownership affordability."
ARCHIVED TORONTO REAL ESTATE MARKET REPORTS
JANUARY 2019 MARKET REPORT
January's Toronto real estate news picture hasn't departed far from the script over the last few months. We've seen slow but stable price growth and this month appears to be no different.
The average price of GTA home is up 1.7% year-over-year to $748,328.
But what is of news is the moderate increase in transactions in January 2019 over December 2018. On a seasonally adjusted basis, sales were up 3.4% and TREB President Garry Bhaura sees this increase as, "…in line with TREB's forecast for higher sales in calendar year 2019."
Sticking to the script, condos continue to lead price growth in the GTA. However if we take a look at the 416, or Toronto Proper, townhomes lead price growth up 12.3% y-o-y. This is followed by condos up 8.8%, semi-detached homes up 6.1% and trailing behind are detached homes down 8.8%
Pro-Tip: If you're a move-up buyer, now is your time to take that leap!
As always, make sure you check out your neighbourhood in the local market stats below.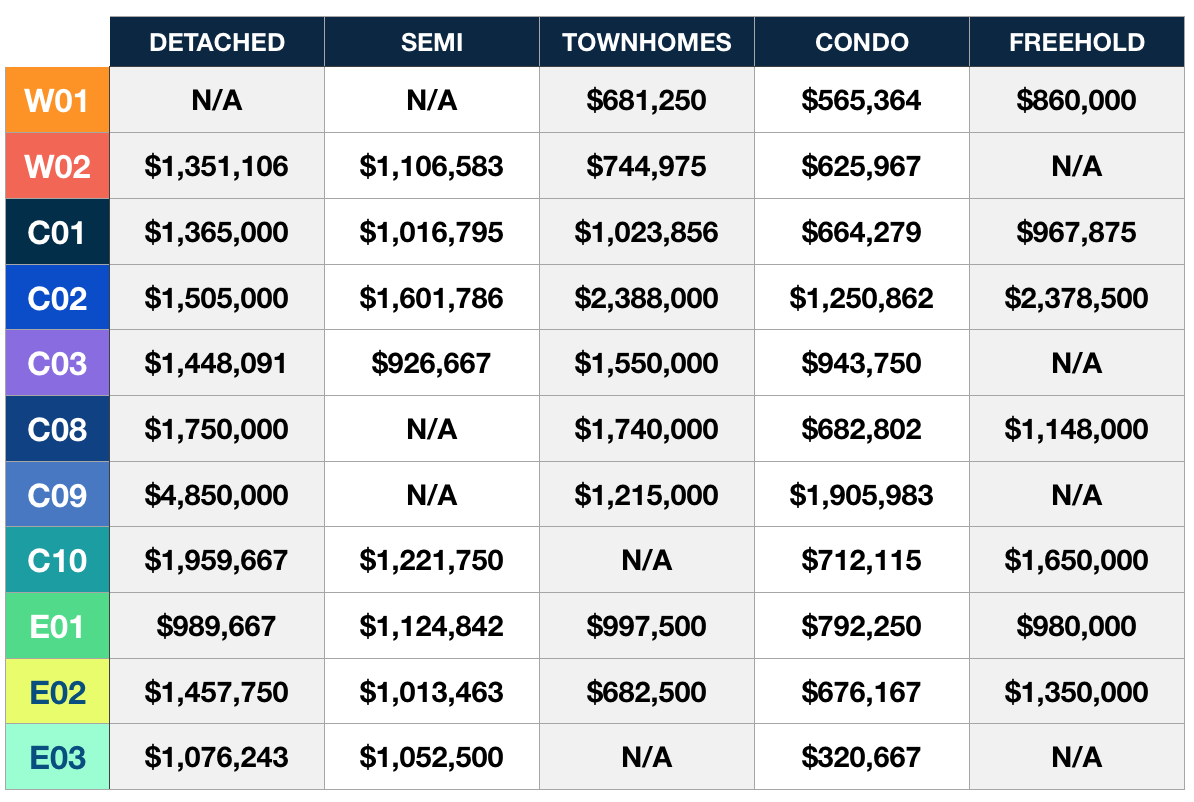 TORONTO CONDOS LEAD 2018 PRICE GROWTH UP 11.4% Y-O-Y
Making Toronto real estate news headlines this month are a few 'scary' stats. Sales may be down in the Toronto and GTA but so are listings. In 2018 total sales were down 16.1% from 2017. Leading to this decrease, however, is a decline in new listings entering the TREB MLS market. Total new listings were down 12.7% in 2018.
As a TREB MLS Realtor I noticed that fuelling these recent changes in the market were condominium apartment sales. Across the TREB market area (416 + 905), they are up 7.8% year-over-year. With overall sale prices down 4.3% y-o-y in the GTA.
Don't be fooled by the BS floating around Toronto real estate 'news' channels this past week. They are lumping GTA stats with Toronto Proper stats and making a few people cr*p their pants in fear in the process. Although home sales may have slowed and the entire market as a whole is down, these stats lump all home types together. What we really care about is our local market. The 416 or "Toronto Proper" has actually been mostly isolated from these declines.
Toronto Real Estate News December Market Stats
Let's break down the December Toronto real estate market stats for you.
When we lump all home types in the 416 together the average price is up 2.1% to $750,180 from $734,847 in 2018. Leading this trend is the least expensive Toronto real estate market type, condos. The Toronto condo market is up 11.4% followed by townhomes up 10% and semi-detached homes up 4% y-o-y.
The month of December continued to see slowing sales and decreasing inventory. Sales were down 22.5% with new listings down 31.5% compared to this time last year.
LEADING THE 2018 TORONTO REAL ESTATE MARKET TRENDS
High Borrowing Costs
Canada's new mortgage stress test coupled with rising interest rates moved many would-be buyers to the sidelines. The Toronto Star actually stated that interest rates have risen five times since July 2015 with two more hikes to be expected this year.
Lack of Inventory
After new listings spiked in 2017, we continued to see a shift in the Toronto real estate market. Inventory began to dry up and many would-be home buyers weren't finding homes that met their needs.
Toronto Condo Market Leads 2018 Price Growth
Jason Mercer of TREB MLS stated, "Price growth was strongest for less expensive home types, as many home buyers sought more affordable home ownership options"
As the least expensive Toronto real estate markets, condos, semi-detached homes and townhomes realized price growth gains in 2018. Toronto condos are up 11.4%, with townhomes up 10% and semi-detached homes up 4% year-over-year in the 416 (Toronto Proper).
Toronto Housing Market For Detached Homes Down 4%
Slowing sales and a decrease in prices contributed to the tampering of the overall market growth in Toronto and the GTA. Detached homes represent the top end of the Toronto real estate market and the hardest home type hit.
NEW CONSTRUCTION & PRE-CONSTRUCTION CONDO PRICES UP 12%
The greatest price growth this year can be seen in the new construction condo market. New construction condos are up 12% year-over-year with their re-sale counterpart following behind at 7.5% year-over-year.
PRE-CONSTRUCTION CONDO CONSTRUCTION COSTS UP 10%
Inflation of Toronto's pre-construction condo market was fuelled by the cost of construction and land, up 10% year-over-year. You can read more on pre-construction development costs in our blog "Why $1,000 psf is Toronto's new Real Estate Norm".
Low Vacancy, High Rental Prices
It's hard to keep up with the increasing demand for rental inventory. Without the help of investors there'd be even fewer units added to alleviate the strain on the rental market. According to a study by Ryerson last year, more than half of the 105,000 condos being developed in the GTA were investor-owned.
Home Affordability Expected to Continue Decline in 2019
According to a report from the Royal Bank of Canada and reported by CBC, home affordability is expected to decline in most Canadian cities. The report states, "[In Toronto] the cost of owning a home will take up 79 per cent of the median household income of $71,631 by the fourth quarter of this year, up from nearly 76 percent in 2018." Rising interest rates will also continue to make carrying a mortgage more expensive.
Growing Toronto Job Market Will Bring Long-Term Housing Shortage
Toronto is a World-Class city and job market. As such, it has seen consistent immigration with two million more immigrants expected by 2023. Toronto has more than twice the proportion of recent immigrants (8.4%) to Canada (3.5%).
First-Time Buyers Hardest Hit By Increasing Mortgage Rates
Interest rates have been raised five times since July 2015 with two more hikes to be expected this year. Hardest hit will be those on the lowest end of the Toronto housing market. Specifically first-time buyers looking to break into the Toronto real estate market. Adding to the difficulty of breaking into the market is Canada's Stress Test.
As a Toronto real estate agent one of the major things I've noticed this year—and it really was to be expected—is that condos have become the default choice for first-time home buyers, especially those looking to live in the Downtown core. Those looking to jump into the Toronto real estate market face increased competition and rising prices. The most affordable option — studio condos—increased 16.8% y-o-y with one bedroom condos increasing 10%, two beds up 7.5% and three beds up 3.3%.