In North America's fast-paced, new condo development market spotting the best pre-construction condos to invest in can be tough. Every year, developers announce new pre-construction units being developed in Greater Toronto Area (GTA) that are great for investment. But the problem is that all pre-construction project launches come with the same promise – "Register now before it's too late".
Amidst all this clutter, how do potential buyers or investors then identify a great pre-construction property? From my perspective, there are a number of other factors to consider when you're looking to buy a pre-construction condo: from builder reputation to location and most obviously, the prices of pre-construction units in Toronto!
Below, I share my 6 best pre-construction condo projects for 2023 and later on in the blog, I go on to cover some of the basics for anybody new to the world of real estate investment.
6 New Pre-Construction Condos Launching In Toronto In 2023
For 2023, these are my predictions for the best pre-construction condos launching in Toronto in 2023: 
Best Deal Pre-Construction Condo Development: Dawes Condos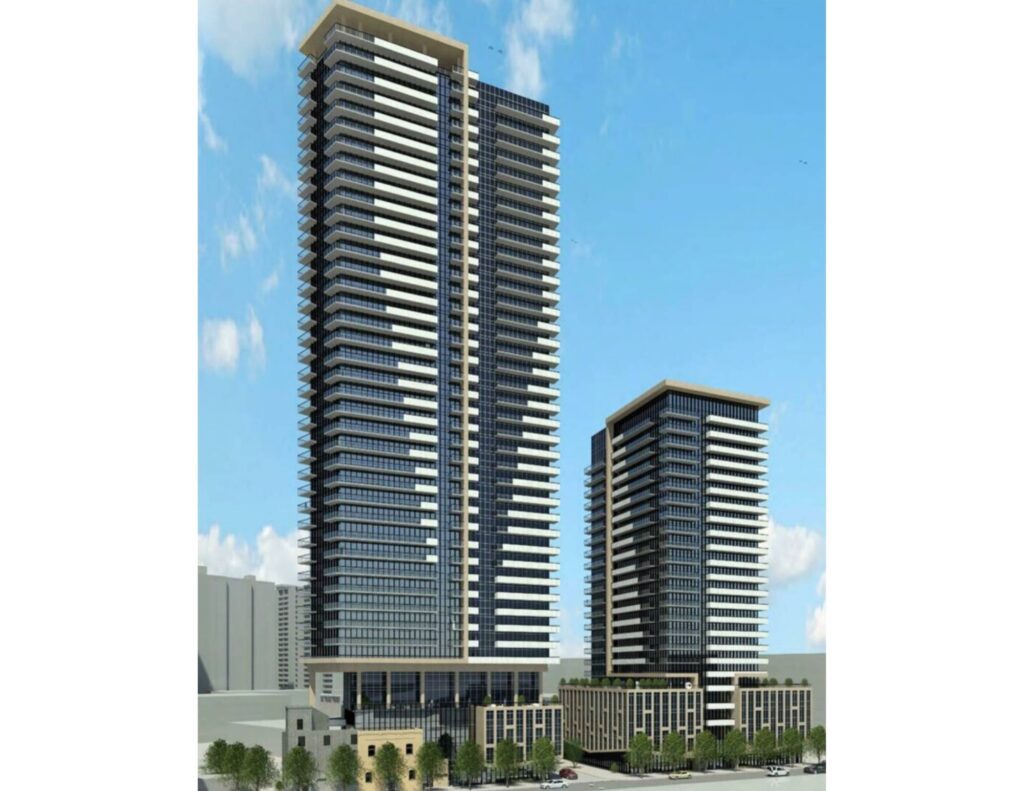 Project Address: 10 Dawes Rd, Toronto, ON M4C 5A7
Developers: Marlin Spring
Neighbourhood: Danforth Village
Launch Date: March 2022
Completion Date: 2023
Main and Danforth, also known as Danforth Village is one of our favourite up-and-coming neighbourhoods in Toronto! This area has seen great price growth in recent years and yet is still on the cusp of gentrification. Ask our investors – specifically those that invested in the Linx Condos and Danny Danforth projects. Not to mention that real estate values favor properties on transit lines and this is one of the very few projects launching this year within walking distance of a TTC Subway Station and GO Station. If you're thinking about investing in a pre-construction condo in Toronto in 2023, this is the project you won't want to miss out on. 
Limited-Time Investment Opportunity: Fantastic incentives coupled with an up-and-coming neighbourhood make this one of our favourite deals available today in Downtown Toronto. Only a 10% deposit until 2025 and up to $33,000 in off-book incentives will have your money working for you and have your returns on this project outperform other Downtown Toronto condos.
Offer available for a limited time only: speak to a member of my team or book a call now!
Project Update: The Main – Tower II At The Dawes [Dawes 2 Condos]
Good news! If you missed out on The Dawes, the heavens heard you. You now have another shot at securing a unit in this incredible project! The Main at The Dawes or the Dawes 2 Condos – is the second tower and newest phase of The Dawes pre-construction project. It offers its residents much of the same benefits as at The Dawes. VIP registration for the project launched in May 2023 and the entire project is expected to be complete by 2025.
At the risk of repetition, if you're looking for a pre-construction project on the east end of Toronto that's accessible and packed with luxurious amenities – you will not find a better deal than The Dawes!
Best Pre-Construction Condo In West End: 316 Junction Condos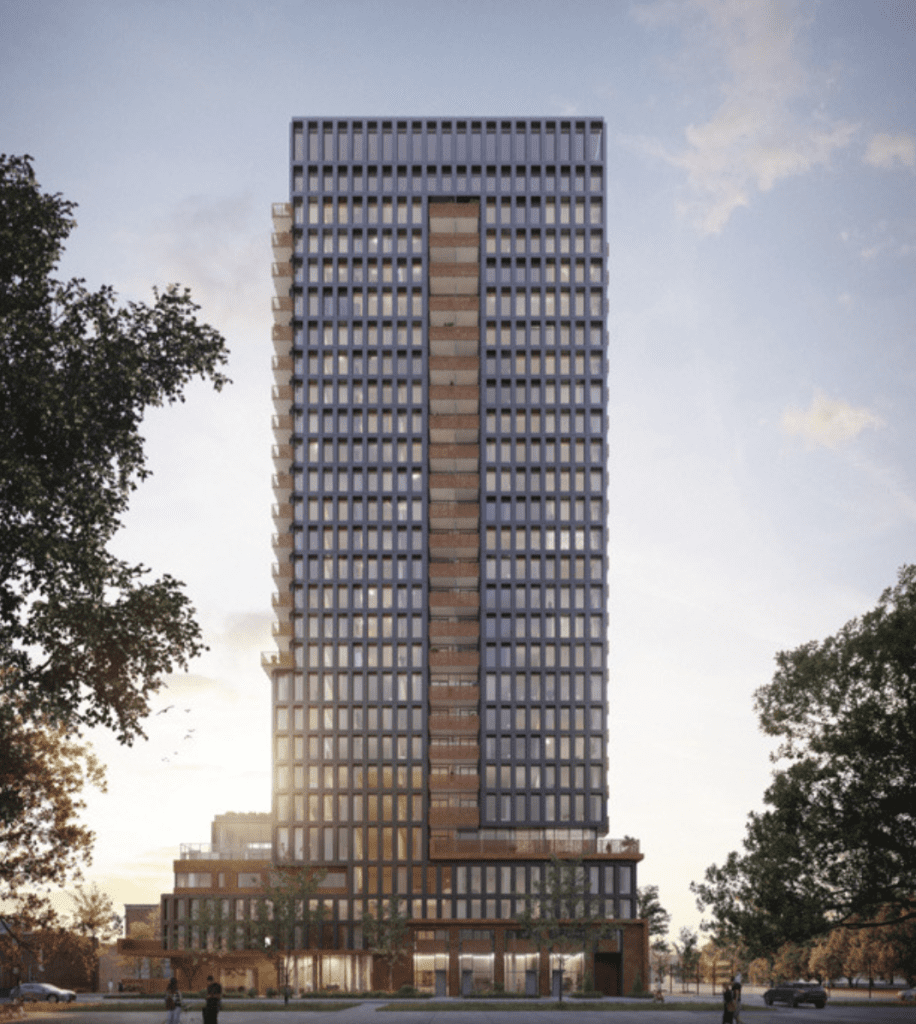 Project Address: 316 Campbell Avenue, Toronto, Ontario, M6P 3V9
Neighbourhood: Junction Triangle, West Toronto
Developers: Marlin Spring
Launch Date: 2023
Completed Date: 2027 (est.)
Toronto's West End is gentrifying at a rapid pace with Junction Triangle as its epicenter. According to me, Junction Triangle is an awesome neighbourhood for both investors and home buyers. Investors are going to love it because it commands a premium price and is under-supplied by only condos in the vicinity. A resident is going to love all the life and convenience the neighbourhood brings to their doorstep. In fact, with about 20+ only condos slated for development over the next 5 years, I believe that getting your feet wet early is a good idea keeping rental investments and the future market value of the unit in mind.
Yes, other pre-construction projects offer better transit connectivity and if that's your "must-have", Dawes Condo & 8 Elm Condo might interest you more! 
Best Pre-Construction Condo For Sustainable Living: Daniels MPV2 Condos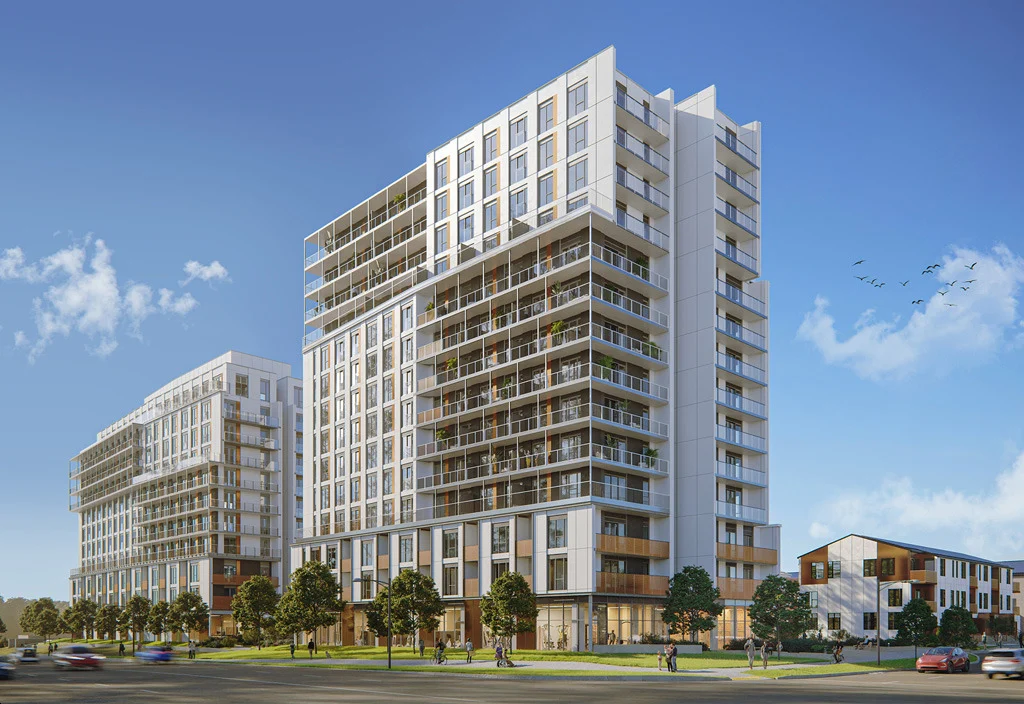 Project Address: 1700 Bovaird Drive West, Brampton, ON, Canada
Neighbourhood: Mt. Pleasant Village, Brampton
Developers: Daniel's & Choice Properties
Launch Date: 2023
Completed Date: TBD
Daniel's MPV 2 Condos is an early, first-phase pre-construction condo with a design that's deeply rooted in sustainable living. Located far away from downtown Toronto, it's a master-planned community self-sufficient in its own right with public transit lines & acres, and acres of greenery filling the neighbourhood. Remember: this is just the first phase of the master community plan. When it comes to phased pre-construction launches, it is often the early bird who gets the worm – the worm in this comparison being equity gains as future launches will undoubtedly launch at higher prices. Not to mention, when it comes to renting or selling your condo, there is substantially less competition. 
Best Pre-Construction Condo Near A Transit Line: 8 Elm Condos
Investing in pre-construction condos on a transit line obviously has its benefits but did you know that real estate values actually favor condos on transit lines, with a direct connection to the subway said to carry an 18% premium to property values? Now those are some stats we can get behind.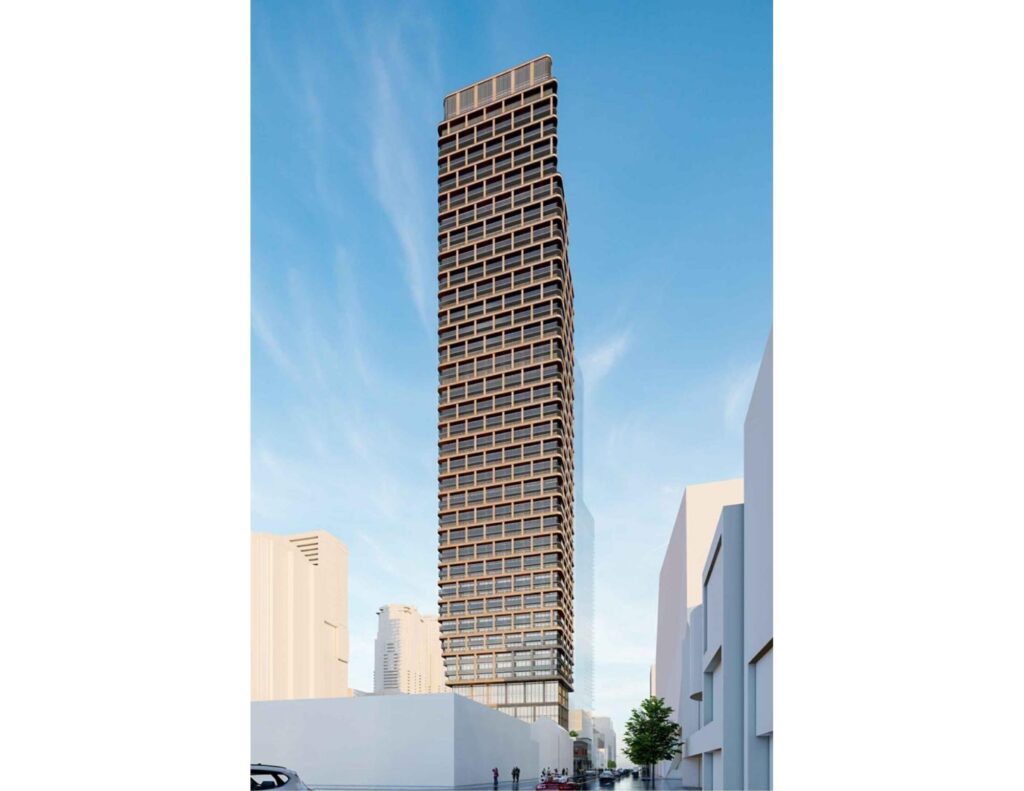 Project Address: 8 Elm St, Toronto, ON M5G 1G7
Developers: Reserve Properties & Capital Developments
Neighbourhood: Downtown, Toronto
Launch Date: 2022
Completion: 2027 (est.)
8 Elm Street is the newest addition to Downtown Toronto Skyline, located at Yonge St/ Gerrard st W. The proposal is highlighted by the slender design which creates a tall thin tower. The residents of 8 Elm Condos will be just steps from Dundas Square and the newly-renovated Eaton Centre, one of the city's major shopping destinations. Dundas Square is a major urban hub, lined with restaurants and office space, while the square offers festivals, live music and other attractions all year round.
Downtown areas like this command high rental rates and are unceasingly popular with some of the city's top tenants, thanks to their proximity to world-class shopping, dining, transit, and high-density employment districts. If you're looking for an investment property in one of the city's most buzzing pockets, this could be your ticket.
Best Pre-Construction Condo In Downtown Toronto: Forma Condos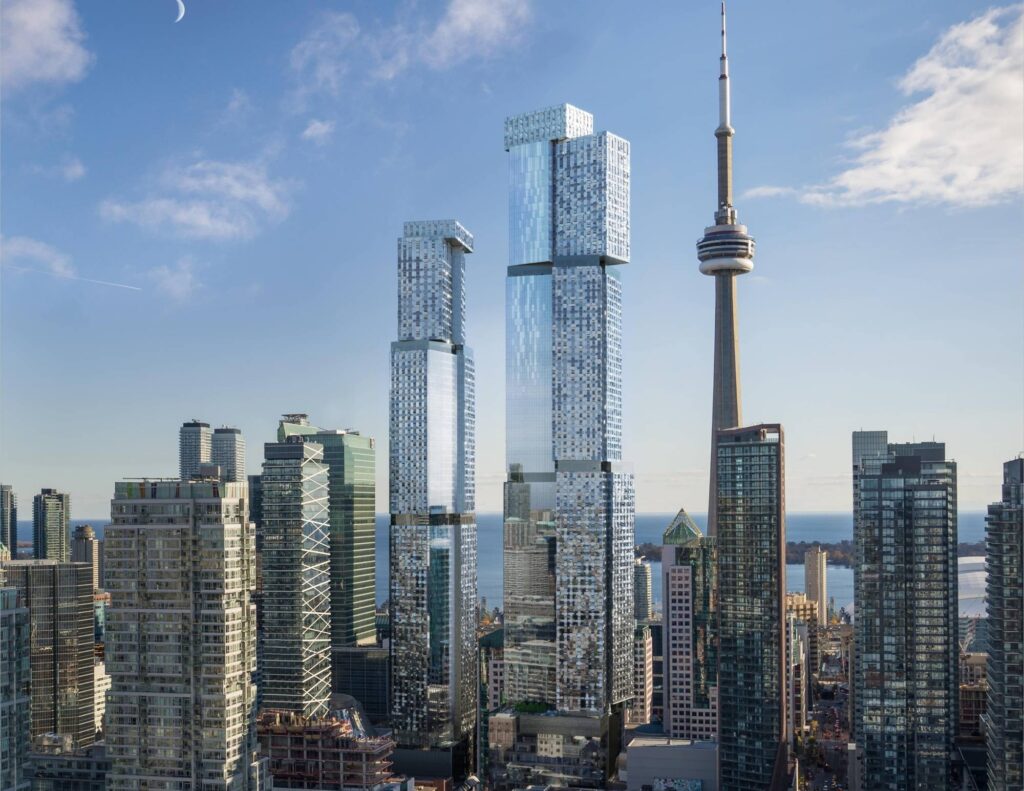 Project Address: 266 King St W, Toronto, ON M5V 1H8
Developers: Great Gulf Homes, Westdale Properties, Dream Unlimited Corporation
Neighbourhood: Entertainment District
Launch Date: 2023
Completion: TBD
REGISTER HERE
Location! Location! Location! It doesn't get any more Downtown or more exciting than The Forma Condos. This is the hottest and most architecturally significant project to launch since Bjarke Ingel's building on King. While you'll be paying a premium to own this historic Toronto building you'll own a piece of history. Plus, this project isn't set for completion for 8 years. That means you'll get a long runway to hold your investment (work and worry-free) while the market appreciates. Get in on the first phase of this master-planned community. Investment condos purchased in the early phases of masterplan communities are great for investors. Phased launches mean that future launches will set price-precedence, meaning you can only gain equity as future phases of the building launch.
Related: Condo Construction Timeline: From Sales To Occupancy
Best Pre-Construction Condo For A Family: Station 3 Condos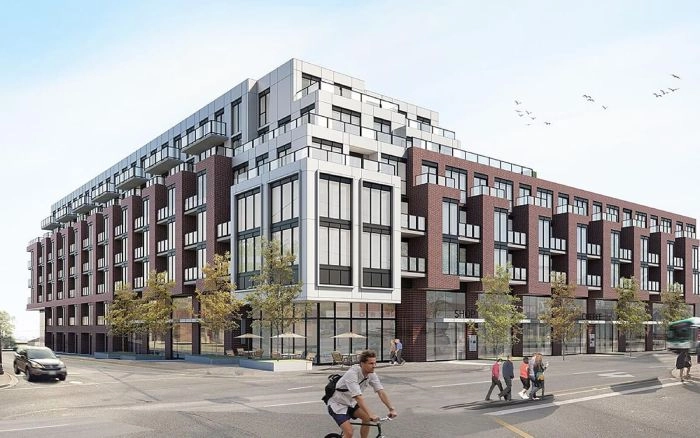 Project Address: 105 Colborne St, Whitby, Ontario
Developers: Brookfield Residential
Neighbourhood: Whitby, Durham 
Launch Date: 2023
Completion: TBD
REGISTER NOW!
Station 3 Condos developed by Brookfield Residential is located in downtown Whitby – an hour's drive away from downtown Toronto. Lake Ontario, Highways 401, 402 & 407 & Go Transit – and public schools, are all within a 10-minute radius. Whitby is a burgeoning neighbourhood in the Durham region. Job opportunities – among other developments in Durham – are attracting many new residents every year. As per the region's projections, by 2031, Durham expects to face a shortage of 20,000+ homes. If you've been reading our blogs or are a keen investor yourself, you know what this means: high demand + low supply = investment opportunity! This project greatly appeals to families because of the multiple schools, colleges, parks and trials, the waterfront, and entertainment options nearby.
Best Pre-Construction Condo Near Downtown Toronto: Motto Condos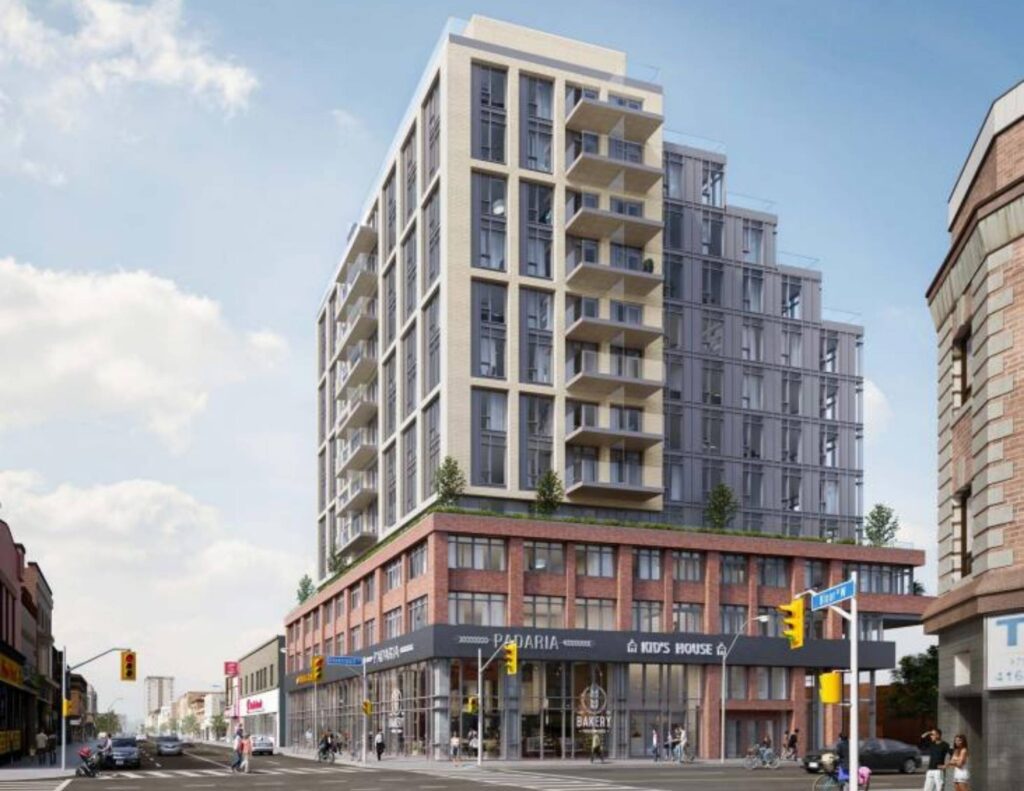 Address: 990 Bloor St, Toronto
Developers: Sierra Communities
Neighbourhood: Dovencourt Park, Toronto
Pre-Construction Launch Date: 2023
Completion: TBD
Motto Condos is a great opportunity to be part of a west-end stretch of Toronto's downtown that's seeing some dynamic transformations right now. This particular pocket – known as Dovercourt Park – is an excellent spot, home to shops, cafes, and community resources that are popular with young professionals and growing families. This new condo project is a sophisticated midrise set to both complement and enhances its existing neighbourhood. 
Related: 12 Best Luxury Condos In Toronto: Pre-Construction & More
Best Pre-Construction Condo In East End: Residences At Bluffers Park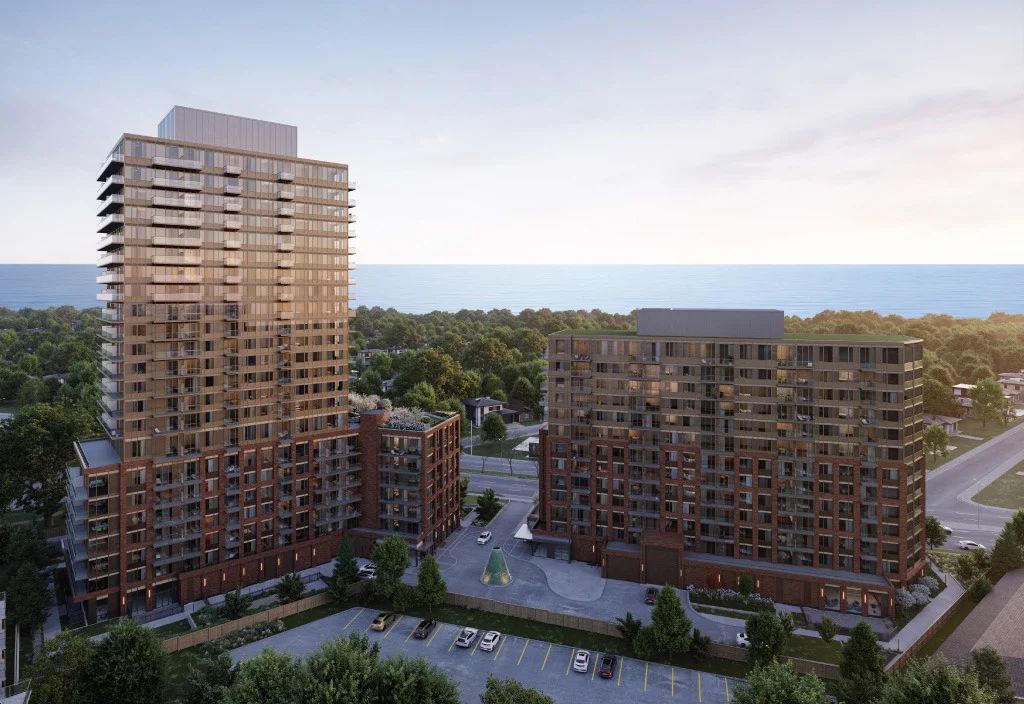 Project Address: 2800 Kingston Rd., Scarborough, ON M1M 1M7
Developers: Skale & Diamante
Launch Date: 2023
Completion Date: 2027 (est.)
If you've gone through our blog on the up-and-coming neighbourhoods in Toronto, you know that we're big on Scarborough Village on the east end of Toronto. This neighbourhood has been gentrifying at a rapid pace and I don't think it has reached its peak just yet. 
I recently learned that the neighbourhood surrounding the Residences at Bluffers Park is expected to see 12,000 new units in the next couple of years! What's really interesting though is how these projects have been appreciating in value in the past 5 years. Based on my research, the average sale price of units sold in this neighbourhood has gone up by nearly 30% – 40% in the last 5 years. Whether you're a real estate investor or a potential home buyer, I'm sure that's music to your ears. If history is to repeat itself, the Residences at Bluffers Park is a project that's primed for profit. 
One of the developers' promises to the residents of this project is easy and fast connectivity to downtown Toronto – and its location ensures that it delivers on this promise! Today, there are a couple of Go Stations close by (Kennedy & Scarborough) that make traveling to downtown extremely accessible! It's truly a visionary project that guarantees its residents accessibility, luxury, and convenience along with the unique opportunity to destress by the Bluffers Park & Beach on hot sunny days!
Quick 101 On Buying Pre Construction Condos In Toronto 
Is Buying A Pre-Construction Condo A Good Idea? 
Historically, condos in Toronto have been gaining roughly 6% equity year on year. But when it comes to pre-construction condos in Toronto, not all projects or even Platinum launches are equal. If you can afford to, I believe that investing in Toronto's real estate market can yield much higher returns when done strategically. See my client's above-average returns here. From an opportunity cost perspective, I believe that buying a pre-construction condo in Toronto is a good idea for those who first, can afford to and second, for those who want to leverage their funds and make their money work for them.
How To Buy Pre-Construction Condos In Toronto? 
Buying a pre-construction condo is different from buying a rental or resale condo in Toronto. Here's a condensed 10-step process laying down how to buy a pre-construction condo in Toronto:
1. Choose a location: Identify the right location for you. Toronto is a big city. Condos in downtown Toronto are very, very expensive delivering on all counts of luxury. As you move towards the east and west, away from the center, (we love the East End!), condos start becoming more affordable. With that being said, the average price per square foot of a condo in Toronto has now exceeded $1400. But there are always deals to be found. Ask us about our exclusive off-book discount that we've negotiated on behalf of our buyers. We can't share this one publicly so book a call with my team here.
2. Pick a good realtor: Next step is to pick a good Realtor – a partner – to help you with all the other steps in the process. We have a whole blog on "how to choose a real estate agent" but the gist of it is – do your research, interview many different Realtors (not just references from family and friends), and pick one that aligns with your values and investment objectives. Just as important though, pick a Realtor that has Platinum Access to the best pre-construction launches in Toronto and one who is an avid investor.
3. Inspect the list of launches for the year: Every year, as new pre-construction projects are planned, developers share their plans with the top VIP & Platinum brokers of the city. Some brokers analyze this list for you and share their recommendations directly with their clients. If they don't, you need to analyze this list and identify properties with the potential to generate high returns. (P.S: I'm constantly analyzing the Toronto real estate market on the lookout for the best pre-construction condos in Toronto for my clients. In 2021, my investors realized equity gains of 8% to 28% on their 2018 Toronto pre-construction condo investments.)
4. Pick your investment opportunity: In addition to analyzing the overall project, real estate brokers, such as me look at some of the finer details relating to the unit: floor plans, amenities, square footage etc. Some brokers give you expected returns for each opportunity to help you make a better decision. Your job is to now pick the best opportunity that you feel aligns with your investment goals. Typically, my investors come to me as they would their financial advisor and I analyze their unique financial situation and make recommendations accordingly.
5. Secure your unit: Once you have decided and conveyed your decision to your real estate agent, you will need to send a few documents to finalize and secure your unit. (Eg: Identity proof like driver's license, SIN etc.). It's important to note that with popular Platinum stage launches that you'll need a Realtor with Platinum Access and that just because you submit a Suite Request Worksheet for a specific unit doesn't mean it's yours. Find a Platinum Agent who has the pull with the developer and sales team as they will be your best bet at securing that highly competitive unit.
6. Sign the 'Agreement Of Sale' & pay your deposits: Next step for you is to sign the 'Agreement of Sale' that will be prepared by your developer. On signing the agreement, you will have 10 days to present your mortgage pre-approval letter to the developer. In case you need help getting this letter, some real estate agents help. (we do!)
7. Wait for one year prior to project completion: About a year before the project gets completed, you will be contacted by the developer to determine the nitty-gritties of your unit/suite. This is the pre-construction stage where you select your suite finishes. 
8. Prepare for interim occupancy period and closing costs: As the project nears completion, you will be notified of your interim occupancy date: the date from when you can begin living or leasing out your condo unit. Also, on interim occupancy buyers are expected to pay up the final installment of the deposit – in addition to other closing costs such as legal fees and Land Transfer Tax. 
9. You're now a homeowner: Congratulations to you and your team – you made it, and you're now a proud homeowner.  
Bonus: Hottest Exclusive Off-Book Discount
Our exclusive off-book discounts aren't something we can advertise publicly. We harness the buying power of our Toronto Real Estate investors and our connections with Toronto developers to get our clients discounts that simply put aren't publicly available. These discounts are structured to help you make your money work for you and dramatically increase your return on investment. Our last exclusive off-book discount saved our buyers on average $40,000 per unit and was so popular among investors that we sold nearly half of the building!
Ready to secure an off-book discount of your own? Book an investor consultation with me today for all of the details we can't share publicly. 
Final Words
Hopefully, this little listicle on the best pre-construction condos launching in Toronto in 2023 introduced you to some new condo developments while giving you a small glimpse of how I think about real estate investments in Toronto.
Remember: these are just the top 6 pre-construction launches for 2023 – not the only ones. Check out our pre-constructions page for all of Pierre's Top Picks. For more information on any of these pre-construction launches, the process, or anything Toronto real estate, book a call and I'd be happy to help!