You see it all the time on HGTV, property owners being blown away by their home's potential once it's been staged. When it comes to selling your home, professional home staging is the best way to boost your property's value and reduce the time it takes to have your home sold.
HOME STAGING TORONTO PROPERTIES BENEFIT THE SELLER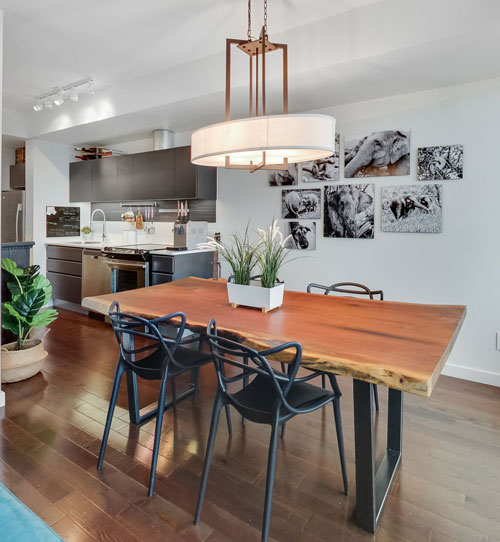 If you're selling your home in a competitive market, staging your home increases your property's appeal from the minute it's listed on MLS. Home staging is the hook to attract buyers to choose to see your home over the many other homes for sale in Toronto.
Ask any real estate agent in Toronto, I think you'll find they all agree, home staging increases the dollar value of your home and will reduce the number of days it spends on the market. According to stagedhomes.com 88% of staged homes sell at or above list price and, on average, sell in 10 days versus 85 days for non-staged houses.
An empty space may offer a clean slate to potential buyers, but it neglects to fully create the space and present it in its best possible light. Not everyone can visualize a room's potential but by home staging, you're providing potential buyers with a space that they can imagine living in.
Just look at these two identical condo units that were for sale in the same building. Ask yourself, if you were given these two options to buy, wouldn't you offer more for the staged property? (Our staged property ended up selling for $87,500 more than the comparable unit!)

HOME STAGING TIPS
While you may love your design aesthetic, trust your Realtor to know what will and won't work when showing your property to potential buyers. Swapping your very cozy, but very worn, sofa for something more contemporary can drastically improve your living room's appeal — and that's just the beginning. 
Think about it, the longer you live in a space, the more stuff you start to accumulate. One of the basic principles to effective home staging, "less is more". Reducing clutter and selecting furniture that is sized for the space will make any room feel much larger. Less clutter = more space = more value.
Check out our Staging Before & Afters to experience the undeniable value of staging for yourself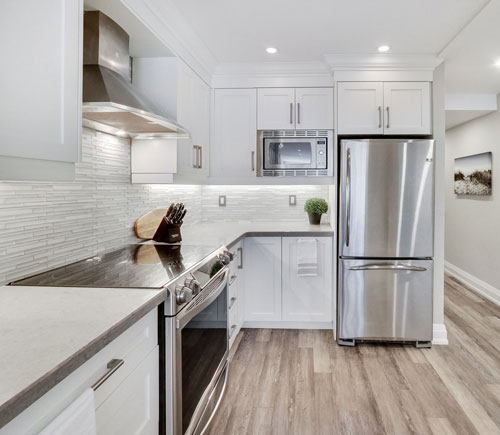 Once you've decluttered and removed non-essentials, designing the space in a way that optimizes traffic flow is when the skilled eye of a staging designer comes in handy. Arranging furniture to designate spaces provides potential buyers with the best ways to maximize the layout of your home.
Buyers are drawn to properties with lots of natural light. Open all of the blinds, remove anything that may be obstructing the sun's rays, and add light to dim areas of your home. You won't believe how much bigger a space will feel when it's properly illuminated.
Home staging is more than just adding modern furniture to a space, it's a full undertaking and a chance to give your space a refresh. Home staging, when done well, should start with a deep clean of the property. From bathrooms to windows and everything in between, a deep clean of your lived-in home is one of the services that shouldn't be overlooked.
HOME STAGING COST BREAKDOWN
Most luxury real estate brokerages will offer home staging services as a benefit to listing with them. They know the value it provides for you as their client. Not only does it reduce the days spent on the market — and the ongoing hassle of prospective buyers visiting your property — but the value is seen in the subsequent offers buyers make.
So how much does it cost to stage a house or condo? Depending on the size of your property, the cost to stage can range from $3,000 to over $6,000.
For those brokerages, like ourselves, that offer staging as a value-add service, this is how the cost for staging can break down:
• storage space rental fee
• overhead of staging furniture, artwork, lighting and upkeep
• cost of movers for delivery
• designer fees and install
• cleaning costs
• cost for any repairs in unit
TO STAGE OR NOT TO STAGE
Let's recap the benefits you get by staging your home for sale in Toronto:
• attract buyers through MLS with attractively staged listing photographs
• maximize your home's layout through proper design
• ability to enhance and highlight the best features of your home
• allow you to illuminate areas that are otherwise dim
• offer buyers a move-in ready home they can imagine living in
• reduce the time it takes to sell your home
• add value to your property and see high, competitive offers
Nearly every time we have the opportunity to stage a property for a client, we end up selling it for more than the last comparable sale. Our listing at Musee Condos was picked up by Toronto Life after we sold our client's condo for $32,000 over-asking in just one day!
Find out how much your Toronto home could sell for through professional staging here or book a call to discuss your options.