One of the things I love about Toronto is that there are neighbourhoods for everyone. Even within neighbourhoods, each nook and cranny has its own personality and charm and no matter what you seek, you're sure to find a hood that suits your needs. This week, we're putting the spotlight on the thriving community surrounding Queen and Broadview.
NEW LIFE FOR QUEEN AND BROADVIEW
The corner of Queen and Broadview has seen a lot of change over the last year. While we were sad to see Dangerous Dan's close its doors, we were thrilled to see two new hot spots open theirs. Eastbound Brewery, the area's first microbrewery, offers a selection of Ontario craft beers, ciders, and wine, as well as their own brews made on site. Sit at the bar and you can watch the chefs work their magic, creating mouth-watering eats to pair with your bevy of choice. Next door, the highly anticipated Broadview Hotel has finally opened. The transformation of the former Jilly's strip club to this stunning designer hotel is nothing short of amazing. DesignAgency [who also designed Momofuko and Soho House Toronto] really hit the nail on the head with this project, giving the 126-year old former strip club the chic heritage vibe it so deserves.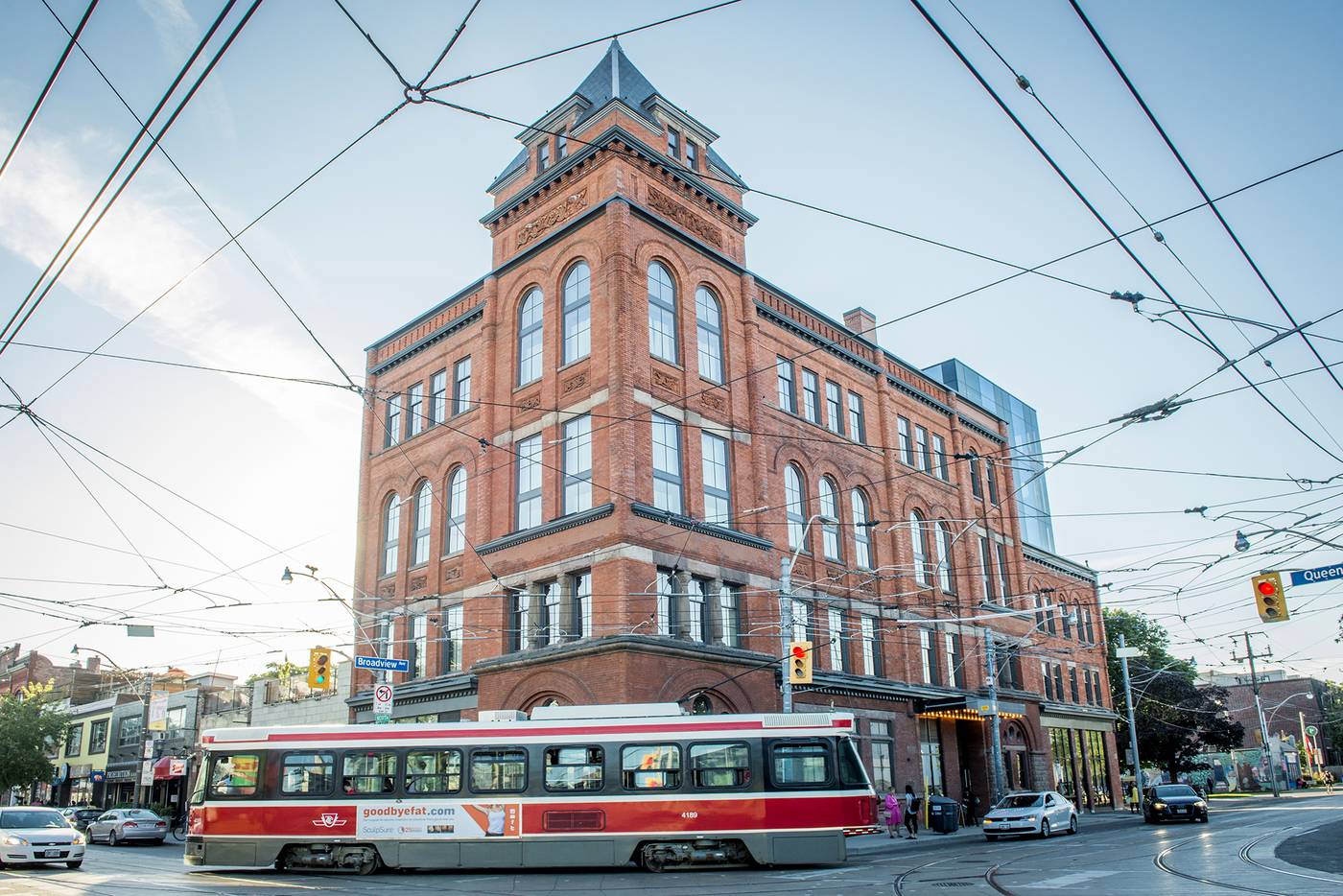 image courtesy of BlogTO
SOME OF THE BEST IN TORONTO RESIDE ALONG QUEEN ST E.
The addition of the Broadview Hotel has certainly put the intersection of Queen and Broadview on everyone's radar but this area is no stranger to popular attractions. In fact, some of the city's best are right here on Queen Street East. Want to get the city's best breakfast? Oh, that's down the street at Lady Marmalade. Why not treat yourself to a new do at Lone&Co, voted Toronto's Best Hair Salon this year. You'll find many of NOW Magazine's Readers' Choice Best of Toronto all steps away from each other along Queen East. Here are a few other #1s in the hood:
• Best Unique Gift Store: Arts Market
• Best Beauty Spa: The Ten Spot
• Best Fish: Hooked
• Best Ice Cream: Ed's Real Scoop
• Best Mexican Restaurant: La Carnita
• Best Middle Eastern AND Best Falafel: Tabule
And these are just the best of the best…on paper. There is an abundance of trendy shops, cafes, restaurants, and bars that even west-enders journey east for. If you've got an appetite and aren't sure where to go, start at Queen and Broadview and just start walking east. Though you may end up halfway to the beaches before you've made a decision because for each restaurant you pass, there's another great alternative just beyond it.
QUEEN AND BROADVIEW RESTAURANTS THAT RECENTLY OPENED
These newly opened restaurants near Queen and Broadview will definitely excite your taste buds.
THE BEST NEIGHBOURHOOD ACTIVITIES AND GYMS TO KEEP YOU ACTIVE
Don't worry though, if you've been dining to your heart's content, there are plenty of ways to stay active. Your new gym can be found in Riverdale Park; Trekfit just installed one of their incredible fitness circuits to the park just a few feet away from the park's running track. This is one gym that won't break the bank.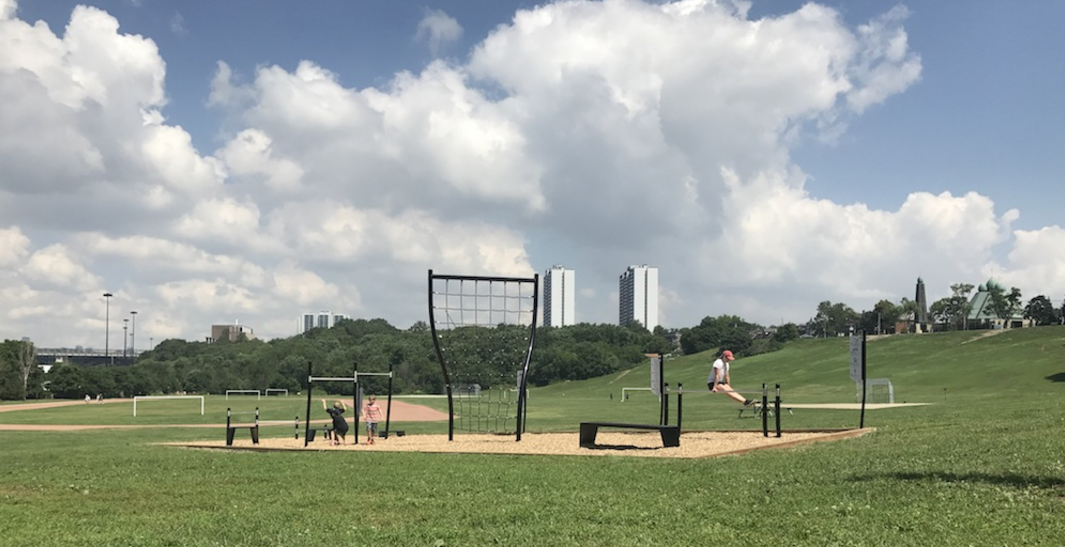 image courtesy of Daily Hive[/caption]
NEW TO THE NEIGHBOURHOOD
The area is also super bike-friendly. During the morning commute, it's not unusual to see a string of cyclists occupying the bike lanes coming across Dundas East. If getting sweaty before work isn't your thing, try the Lower Don River Trail for fun. This beautiful 4.7km multi-use trail follows the Don River from Pottery Road to Corktown Commons and the city's been carefully restoring the Lower Don Valley's natural habitat. Just south-east of Queen and Broadview you can jump on the Lower Don Recreational Trail that follows Lake Shore Boulevard. Hang a Larry for the beaches or a Roger to downtown.
If you're familiar with the Queen and Broadview area you'll know that Broadview is cut short at Eastern Avenue, south of which is the old Unilever industrial site. This 60-acre lot is the future home of East Harbour, a massive new mixed use space. Those bike trails I mentioned — there are going to be more of them here, connecting through East Harbour along with a promenade following the GO train rail tracks. This is actually going to be one of the city's biggest transit hubs connecting GO Transit, two additional subway stops, and the Broadview LRT extension all under one roof — one beautiful glass roof. And let me tell you, if you've ever been to Union Station at rush hour, you'll understand the significance of this interconnected transit hub. Along with an extensive transit plan, East Harbour is also bringing with it 70,000 new tech jobs, 2 million square feet of retail space, restaurants and several parks.
Read Why You Should Invest in Toronto Real Estate: the 20 Year Transit Plan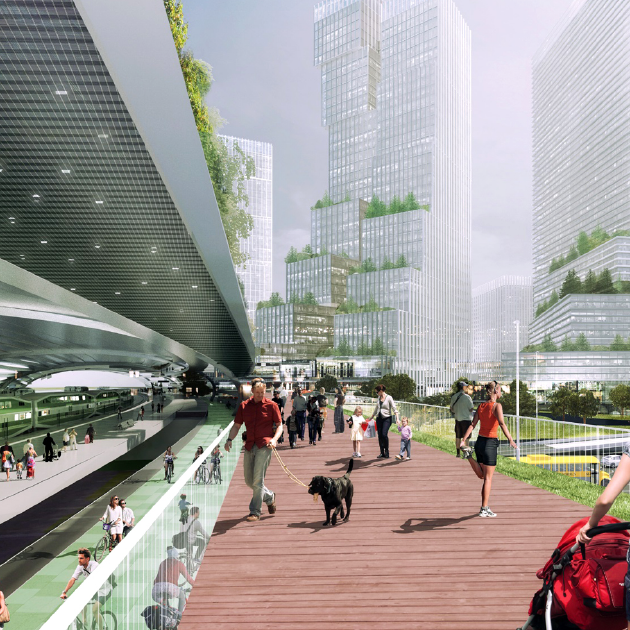 image courtesy of Urban Toronto
CONDOS AND LOFTS AT QUEEN AND BROADVIEW
The development of East Harbour is big news for Toronto and even bigger news for the east end. With a development like this on the horizon, the benefits this will bring to the residents around Queen and Broadview are countless. The area's been growing in popularity steadily and with that, so have property values. Five years ago, the average house price in Leslieville was $555,325. Today, the average home is selling for $913,837. That's good growth — scratch that — that's incredible growth! With the development of East Harbour and its additional subway stops, I can't imagine the positive impact this will have for home owners in the area. As an example, just south of the Broadview Hotel are two killer properties: The Ninety [90 Broadview] and The Broadview Lofts [68 Broadview]. These neighbours have seen tremendous growth and between the two, their average growth is 26% year-over-year. In fact, one of my listings at The Broadview Lofts set a record this year and subsequently spiked sales that month for the area. People understand the worth of properties here and they're willing to pay top dollar for them.
QUEEN AND BROADVIEW CONDOS AND NEW DEVELOPMENT
What's appealing property-wise in this Toronto neighbourhood is that developers seem to respect the humble charm that the area boasts. Both the Ninety and the Broadview Lofts are under 9 storeys. With the addition of Riverside Square, the heights are beginning to climb, but only ever-so-slightly. Riverside Square itself is a promising new community development within the neighbourhood adding small parks and a main plaza notably named Baseball Place, where the city's first baseball stadium once existed. This neighbourhood hub will bring retail, restaurants and even a grocery store for its new residents.
PRE-CONSTRUCTION CONDOS NEAR QUEEN AND BROADVIEW
If you've been thinking about investing in pre-construction, we've got a few lucrative options on the horizon coming to Leslieville. Register here to become an Insider, receive Platinum Access and get all of our hottest pre-construction opportunities right in your inbox. Register today!