While an interior designer will definitely help – you don't need one to avoid some common mistakes that make your home look cheap. Believe me – as a real estate professional who's been in this industry for about 15 years, I have sold a lot of homes, and setting up a beautiful space definitely makes the process a lot easier. 
Just for a minute – imagine you're a prospective buyer. You're in the living room of the property that you're interested in buying. But the white wall isn't white and you have no space to move around the house because cramped furniture sets have transformed the living space into an obstacle course. 
Would you still buy this property?
Most people wouldn't which is why – if you're looking to sell your home in Toronto, it's important that your house doesn't 'look poor'. Irrespective of whether it's something small like an oversized or tiny piece of furniture obstructing floor space or something big like broken kitchen cabinets – it's important to do your due diligence before inviting potential buyers for a tour or open house. 
While this blog is no architectural digest covering all the bold aspects and innovations of interior design – it's the perfect starting place for anybody who's looking to beautify their home on the cheap!
10 Reasons Why Your Home Looks Cheap + [How To Fix Them]
Why Is It Important To Make Sure That Your Home Doesn't Look Cheap?
First impressions count: Your home reflects you and sets a tone for how people see you. A cheap-looking home can suggest you don't value your living space. When potential buyers see that you don't value your space, they turn into hounds driven by the scent of fresh blood – desperate to cut a bargain and purchase the property at a steal.

Quality design adds value: Investing in improving your interior decor can increase your home's value, whether you plan to sell or stay long-term. People pay more for a high-end look and feel. It's as simple as that.

Creates a comfortable environment that can facilitate a real estate transaction: A cluttered, disorganized home can cause stress and discomfort. You don't want potential buyers to be stressed or uncomfortable during the open house or private tour. You want to show the potential buyer that your home can help them improve their productivity and overall quality of life. A beautifully designed space has the potential to attract multiple offers and other offers higher than other properties that don't look or feel as desirable.
Staged properties don't just sell about 2x – 10x times faster but they also end up commanding at least 4% – 20% more than other properties that aren't staged. No wonder so many home sellers opt to stage their homes before selling.
Home staging in Toronto can cost you anywhere between $2000 – $10,000 but if you're listing your house with us, as luxury real estate brokers, we offer free home staging services worth at least $5000!
How To Fix 10 Things That Make Your Home Look Cheap 
Replace all interior decor that doesn't match your property dimensions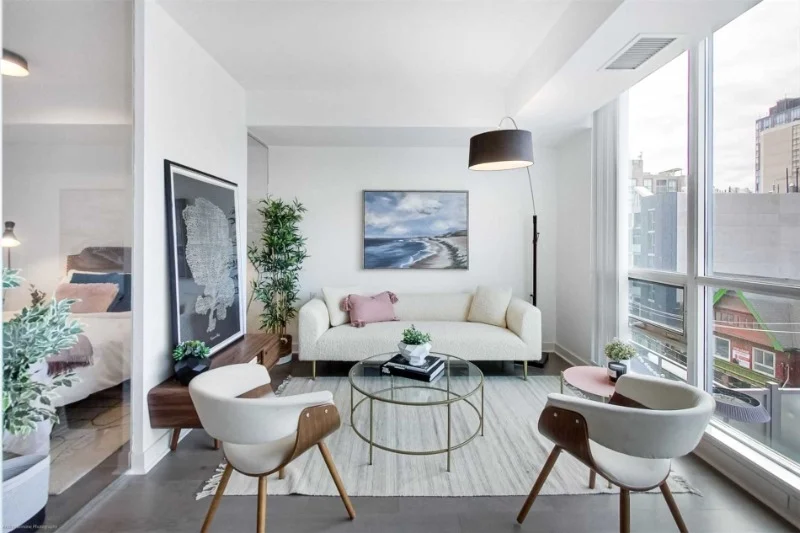 From hanging your photos too high to buying oversized or tiny furniture, if a guest feels like they just walked into a scene from Alice in Wonderland you are doing something wrong. Home decor items that are proportioned incorrectly to the property can create a disorienting effect for the viewer. Create a cohesive design plan that considers the size and layout of your space to achieve a harmonious environment.  if necessary – discard old furniture to invest in something that fits your layout. Taking the time to consider your interior design choices can transform your home into a stylish and sophisticated space that's sure to impress.
Bonus Tip: Check out this guide for hanging pictures by The Property Brothers or this one for proper rug placement and size.
Related: Top 5 Home Decor Stores In Toronto
Avoid using cheap and colourful decor that doesn't match the interior design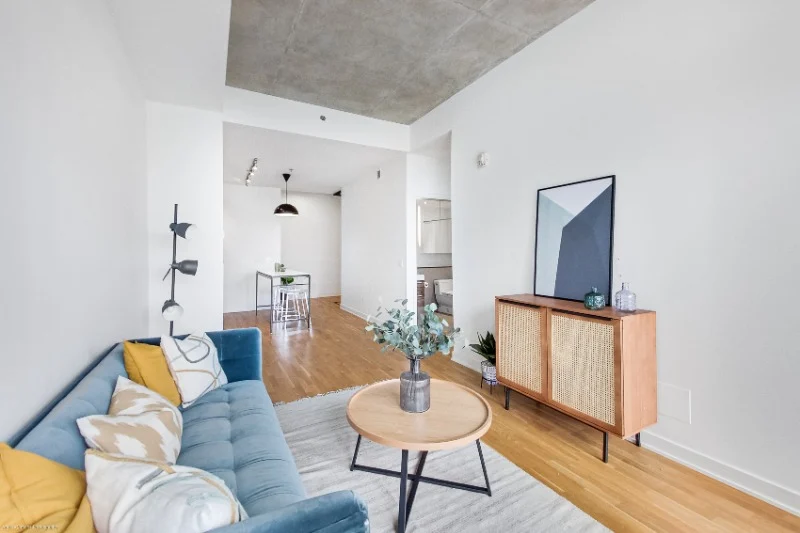 Bold colors on low-quality items can give away the fact that you've chosen inexpensive options. Instead, choose neutral finishes, matching furniture, and decor that complement your interior design. This is the trick if you're going for a sophistical and timeless look with your interior design. Part of this includes dressing your windows. You don't want to have a tasteful, neutral living space and then stick up brash or unsightly colors on your windows. Instead, add roller blinds in a subtle colour that can be used to add more light or decrease light when needed.
Related: 9 Clever Condo Den Design Ideas
Less is more, declutter to increase space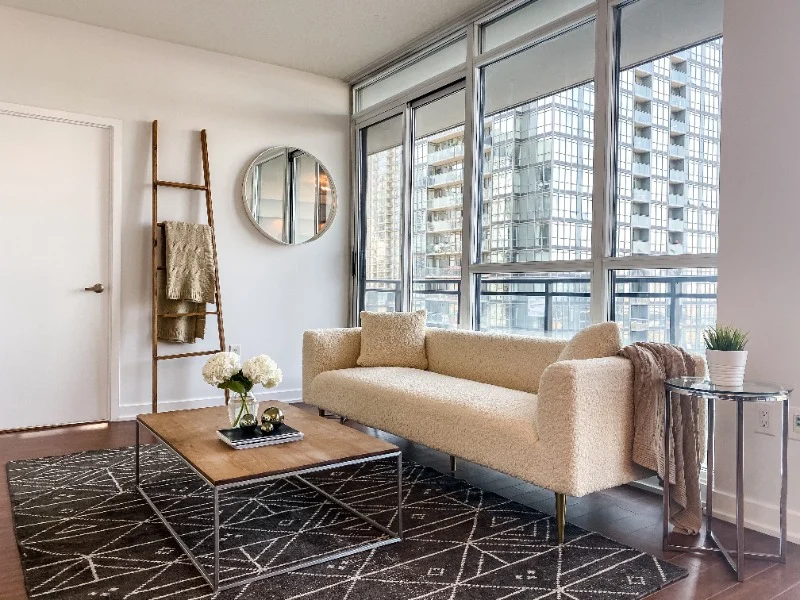 By reducing clutter, you can create a clean, organized space that feels more open and inviting. This not only enhances the aesthetic appeal of your home, but also makes it more functional and livable. Even curated collections can be overwhelming. If I can't put my cup down on your coffee table without accidentally knocking something over — you've got too much crap. Try peeling it back and swapping a few items out seasonally. If you've got collections that can be easily grouped, try arranging them together on a shelf for a dramatic effect.
DIY with caution
DIY projects can be a tempting way to save money. HGTV has some of us thinking we're the new Martha Stewart but if you're not super handy, taking on a large project, like tiling your backsplash, can be overwhelming and can often end up looking sloppy. Opt to hire instead and save your DIY prowess for smaller projects like wall art, hand-sewn pillows, or updating finishes. Not only will you end up with a better-looking finished product, but you'll also save yourself the stress and hassle of trying to tackle something beyond your skill level.
Fake flowers fool nobody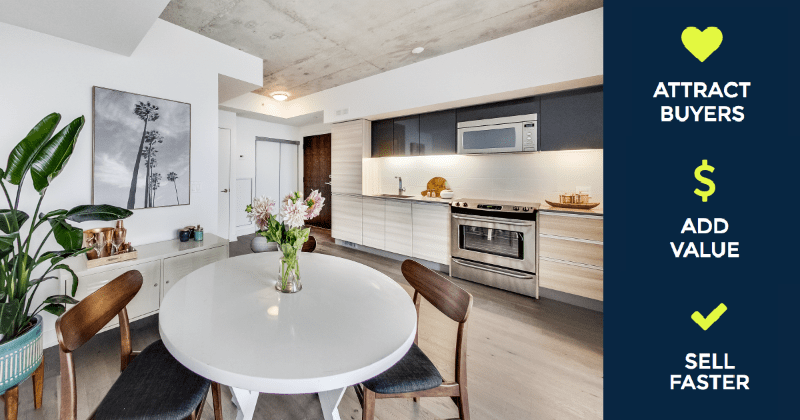 Although there are beautiful fake flowers that look tasteful, finding them can be difficult and often they require a hefty investment. Instead of choosing the cheap and not-so-cheerful option, opt for fresh flowers instead. Choose something inexpensive and high-impact. Hydrangeas have big beautiful blooms and look great on every coffee table. Try grouping three or five smaller vases for maximum impact. Don't have vases? Mason jars or stemless wine glasses will do the trick too.
Dead plants are a turn-off for all
Also included are wilting or soon-to-be dead flowers. This might seem like a given but even the best of us are susceptible to thinking our green thumb has the power to resurrect the dead. Dead plants and wilted flowers can make a home look neglected and cheap. Not everyone has the time or resources to care for plants regularly. If you struggle to take care of your plants, opt for low-maintenance plants like succulents, air plants, or snake plants. These plants require minimal watering and can thrive in low-light environments.
Facilitate easy movement, don't block it with poor spacing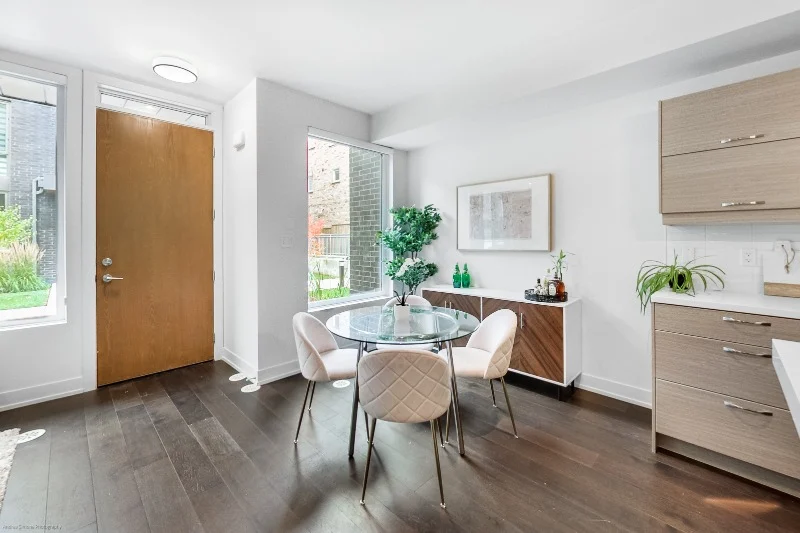 Some call it Feng Shui but when it comes to your home, it's really just common sense. If I'm scraping a knee trying to get by your couch it's either too big or inappropriately placed. Play with your layout or perhaps consider embodying the less is more philosophy by removing a few items. Poor spacing can make a home look cluttered, cramped, and cheap, while proper spacing can make a room feel open, airy, and luxurious. Another cheat code is to incorporate multi-functional furniture that can serve multiple purposes. This can help you make the most of your space without having to sacrifice style or comfort.
Update or redo your finishes to breathe new life into any room
Finishes can easily take your room from drab to fab. Worn-out paint, outdated flooring, and old countertops can make your home appear cheap and uninviting. Refreshing these finishes is a simple and cost-effective way to give your home a much-needed facelift.
Start with a fresh coat of paint on your walls, trim, or cabinets to give your space a clean and modern look. New light fixtures can add a touch of elegance and sophistication, while hardwood or laminate flooring can replace outdated carpets and make a room look more upscale.
In your kitchen and bathroom, updating countertops, faucets, and hardware can also make a big impact. Choose classic and timeless finishes such as marble or granite countertops and brushed nickel hardware for a sleek and sophisticated look.
Related: Best Home Decor Design Ideas
Let there be natural light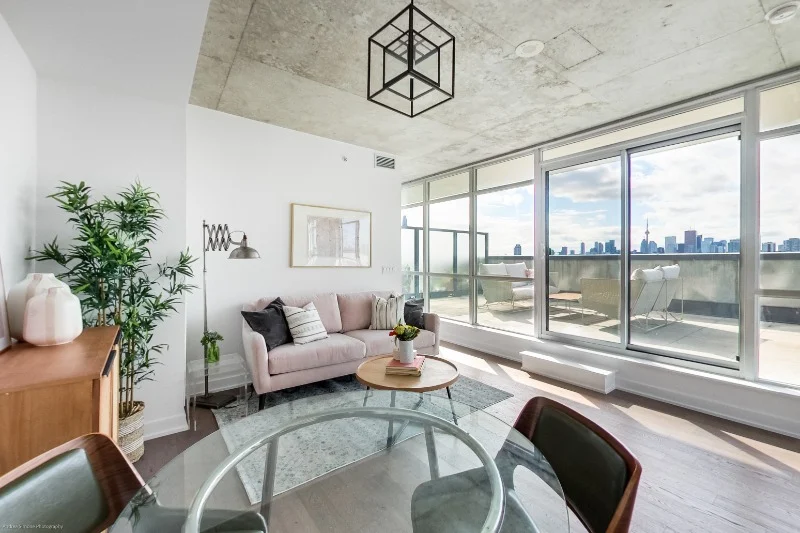 Embracing natural light is an easy and cost-effective way to elevate your home's style and create a more luxurious and comfortable atmosphere. To maximize natural light, remove heavy window coverings that block light and invest in light-filtering window treatments. Mirrors can also help reflect light and make your space feel more open and bright.
Consider adding windows or skylights to bring more natural light into your home, creating a modern and sophisticated atmosphere. These updates may require a bigger investment, but they will transform your living space and create a warm and inviting environment. 
Don't ignore the ceilings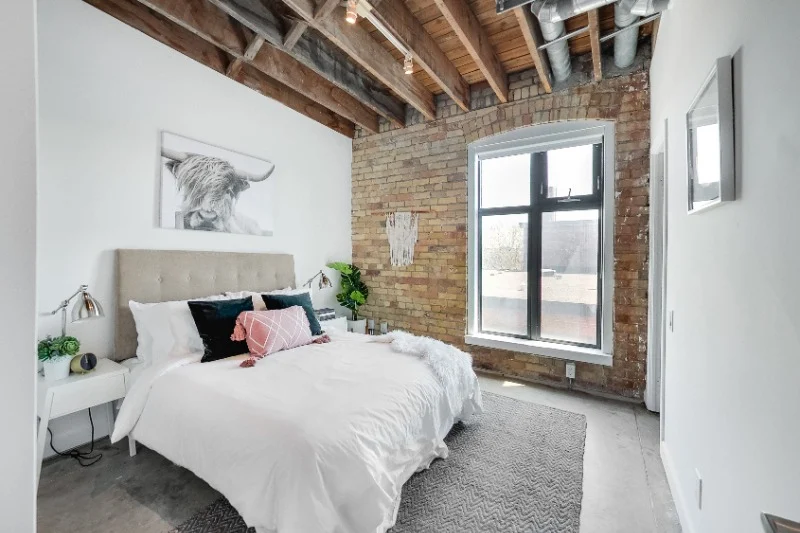 As you spruce up the rest of your property, don't ignore the ceiling. A damaged or discolored ceiling can make your home look outdated and neglected. Adding decorative features like crown molding or ceiling medallions can add character and elegance to your home. Lighting is also crucial for your ceiling; consider adding an accent light or a chandelier to draw attention to this often-overlooked part of your living space.
By taking the time to update your ceilings, you can give your home a more polished and expensive look without spending a fortune. So don't forget to look up and make the most of your ceiling space!
Final Words
When you're trying to sell your home in Toronto's competitive market – it's best to check all your boxes prior to listing! Prioritize fixing any factors that make your property look cheap. Your goal is to ensure that your home stands out to potential buyers and fetches the best possible sale price.
Your goal is also our goal. Book a call with me or somebody from my team and we will help you put your home's best foot forward – before you list it on the market. Remember, first impressions matter, and investing in your home's appearance literally pays dividends here!