Having an expansive waterfront is a gift — except in Toronto, our beautiful waterfront is segmented by an expressway and a rail corridor. As our city grows taller and denser, developers are looking for those last remaining areas in the downtown core to build.
In the case of Oxford Properties, their proposal for Union Park Toronto is a mixed-use development over the rail corridor between John Street and Blue Jays Way; a development that will also serve as a connection between the downtown and our city's waterfront.
RAIL DECK PARKS TORONTO: WILL THEY/WON'T THEY?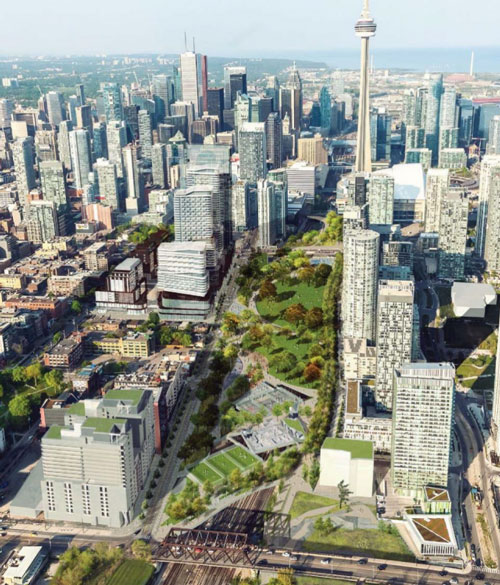 There has been much talk over the past several years of building a rail deck park in Toronto. There are many challenges that come with these types of projects. For the rail deck park proposal that would span west of Blue Jays Way to Bathurst Street, the main hurdles revolve around air rights and ownership.
The first glimpse of any type of Toronto rail deck park we'll get to see is at CIBC Square over the rail corridor at Bay Street. The first of two office towers is already far along in construction and there will be a one acre elevated park over the rail corridor that's expected to be complete by 2023.
If all goes well for the Union Park plans, they'll only be breaking ground starting in 2023.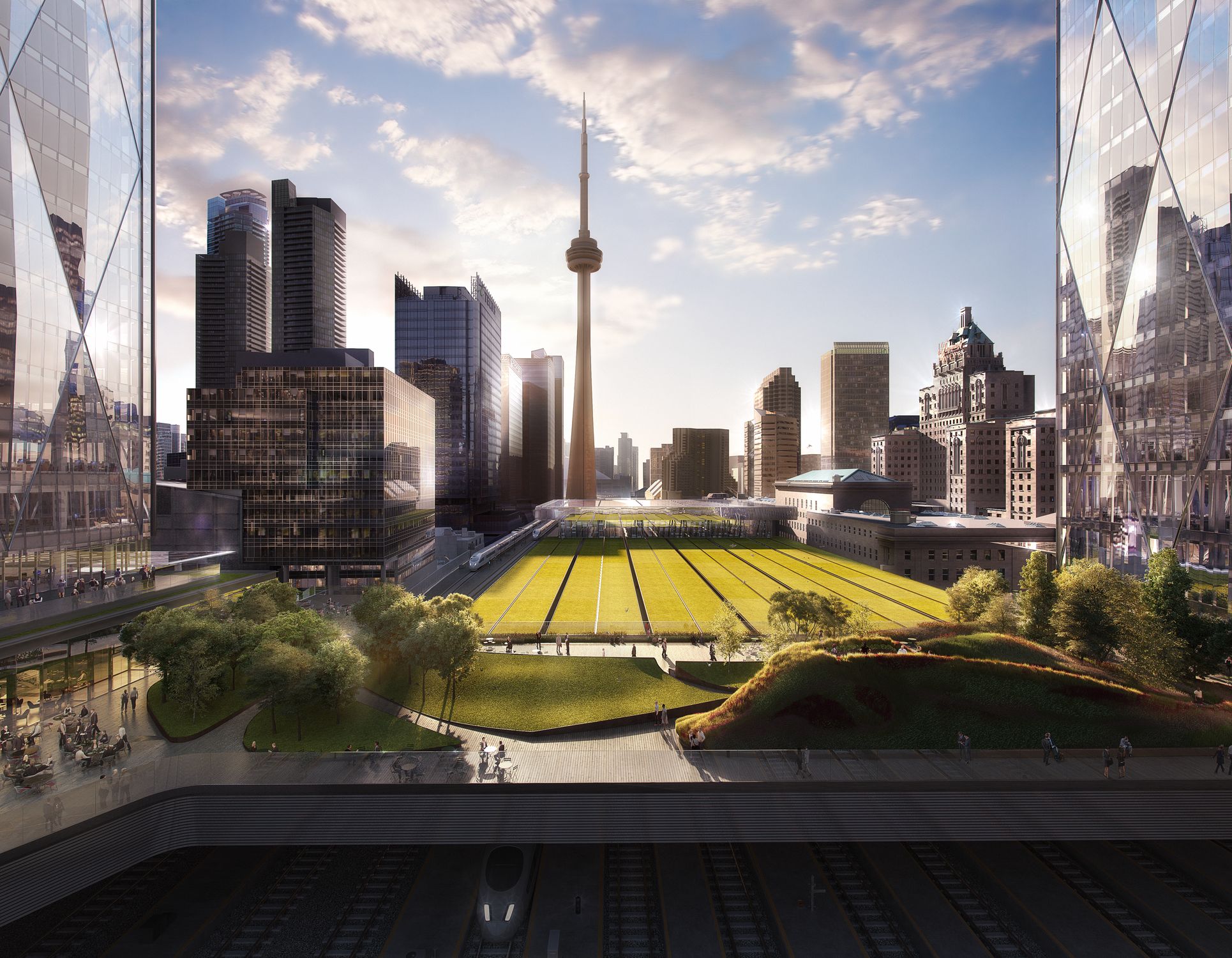 WHAT'S INCLUDED IN THE UNION PARK PROPOSAL
Union Park, according to Oxford Properties website, is set to be Toronto's largest ever mixed-used development. The development includes both residential and office towers, new retail, a large rail deck park and some improvements to Isabella Valancy Crawford Park.
Toronto Union Park Towers
Toronto's iconic skyline represented often with the tall CN Tower and round Rogers Centre could evolve to include three towers standing behind the Rogers Centre, ascending towards the CN Tower.
Designed by Pelli Clark Pelli Architects, the two residential towers are to be on the west side of Union Park along Blue Jays Way. The proposal has them standing at 44 and 54 storeys respectively for a total of about 800 residential units.
With an ever-increasing urban family population, the plans include an integrated 8,500 square foot daycare in one of the condo towers. Probably wouldn't hurt to try and get on the waitlist as soon as this project gets the green light.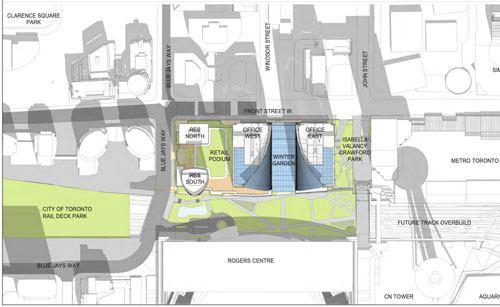 The two office towers, standing at 58 and 48 storeys, would align with Front Street on the eastern side of the park. The two towers are expected to house 3.3 million square feet of new and much needed office space. Oxford Properties says "Oxford's Toronto office tenants employ over 50,000 workers which represents 15% of the total workforce in the City of Toronto's downtown core."
Striving for Sustainability
Sustainability is important to the developers. They're striving for LEED Platinum Certification and putting a large emphasis on renewable energy. Additionally, Union Park will support and encourage Toronto's cycling community by adding bicycle facilities, including 80 showers so even on those extra muggy days you can still bike to work and feel fresh!
Connecting the two office towers will be the Winter Garden, a glass encased pavilion. The Winter Garden will be the main corridor through which Torontonians can move from Front Street through to the park itself and on to Toronto's exciting waterfront.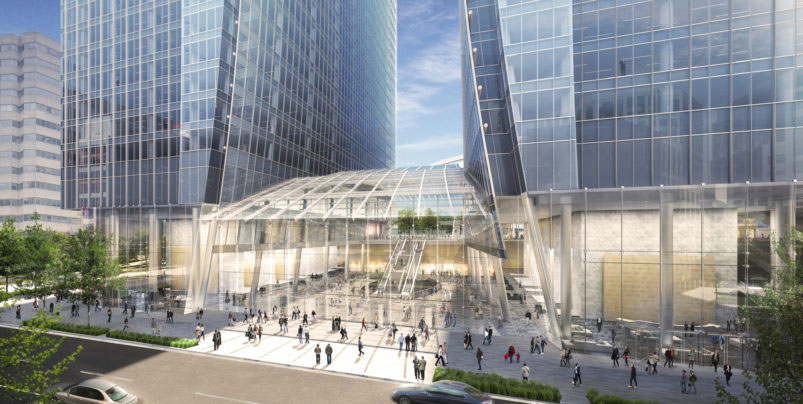 New Essential Retail
The development would also be adding 200,000 square feet of new retail. Understanding the need for essentials in Toronto's downtown core with so many condo residents, they'll prioritize a grocer and pharmacy to provide the essentials.
The Union Park Green Space
Union Park development will span four acres between the Rogers Centre and Front Street from Blue Jays Way to John Street. Two of the four acres will be a rail deck park designed by OJB Architects.
OJB Architects are no stranger to Deck Parks, having designed the Klyde Warren Park over an active freeway in Dallas, Texas and are in the works to build similar deck parks in Kansas City and a second one in Dallas.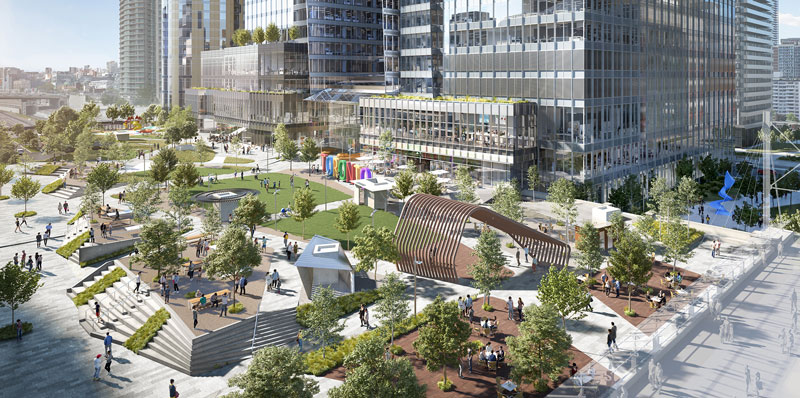 The goal of the park is to bring additional park space to the downtown core and connect the Toronto waterfront with the downtown core. It is also directly connected with the Rogers Centre, which would be a great pre- and post-game park area to relax in. There really isn't too much nearby — aside from very quickly filled bars — for attendees of the various Rogers Centre events to retreat to afterwards.
All in all, the proposal would be a great use of an otherwise under-utilized section of the downtown core. It would bring green space, new rental inventory, and is said to bring 18,000 new jobs to the 3.3 million square feet of office space.
The proposal is still in the early stages of development but is scheduled to go before City Council in 2020. Sign up as an Insider to get all of the latest Toronto real estate development highlights!