Spring is in full swing and now is as good a time as any to start thinking about your goals for 2021 — right? For those who have been dreaming of moving from Lifelong Renter to Homeowner or those move-up buyers looking to leave the condo life for a house in Toronto, let's look at a few ways to make buying a house in 2021 a reality.
Buying a Home for the First Time
Move-Up Buyers: Steps to Buy a House
THINGS TO KNOW ABOUT BUYING A HOME IN TORONTO
Let's cover some of the basics of buying a home in Toronto's thriving real estate market. First and foremost it's important to know what your budget is and which neighbourhood you'll most likely be able to afford.
Different neighbourhoods maintain different price points but it seems more often than not Toronto's east end housing market wins on affordability.
As of March 2021 the average price for a Toronto semi-detached home is $1,684,073. Using this as a benchmark for what you may pay, here are some details to help frame your purchase:
Needed Down Payment:
$336,815
Closing Costs:
$60,313 (land transfer tax)
$2,000 (legal fees)
Total Cash to Close:
$399,128
It's worth noting that prices have been climbing month-to-month and year-over-year in Toronto. Talk to your realtor or look at the local neighbourhood stats to get an idea of which neighbourhoods suit your lifestyle as well as your budget.
Another thing to keep in mind is that the winter months can be an advantageous time to buy a home in Toronto. There are typically fewer homes listed for sale as many sellers wait until the spring market to take advantage of the inevitable price surge. If you're trying to be mindful of costs, consider buying in the winter.
Related: The Cost to Buy a Semi-Detached Home in Toronto by Neighbourhood
BUYING A HOME IN 2021 FOR THE FIRST TIME
While many first-time buyers turn to the condo market for their first big purchase, as condo prices continue to climb, it may make more sense financially for those who can afford to, to spend a bit extra and buy in the semi-detached market.
As a first time buyer, the best step to start with is to download our free First Time Home Buyer Guide. Below, we'll highlight some key things you should be acquainted with, starting with the mortgage Stress Test.
The Stress Test
Under the Stress Test guidelines homebuyers must qualify for a mortgage at a rate of 5.19% or 2% higher than the negotiated rate, whichever is larger. So the first thing you should do is get a mortgage pre-approval to get a better sense of what your budget will allow.
First Time Home Buyer Rebates and Incentives
One of the benefits to being a first-time home buyer in Canada are the grants in place to help alleviate some of the costs of buying a home. These include:
Land Transfer Tax Rebate

First Time Home Buyer Tax Credit
The government also has a few First Time Buyer Incentives in place, including the Home Buyers Plan and CMHC Shared Equity Mortgage. Learn more on First Time Home Buyer Rebates and Incentives.
First Time Home Buyer Tips
If your goal of buying a house in 2021 is top priority and you just need to save a bit more to achieve this dream, consider working your way backwards towards what you need.
For example, let's say you need an extra $50,000 for closing costs in order to buy a house next year. By working backwards you can figure out what you'll need to save each month, each week or each day. Breaking it down this way helps segment your savings approach.
Depending on your timeline to buy — let's use 12 months as an example — you will need to save:
$4,167 per month     |    $912 per week    |    $137 per day
By breaking it down this way, you can determine which goal is easier to set in order to save what you need when your closing costs are due.
THE MOVE-UP BUYER: STEPS TO BUY A HOUSE
For those who already own property and are looking to upgrade from a condo to buying a house in 2021, the first question you need answered is how much could you sell your property for today?
Have your Realtor do a home valuation on your current property. You'll want to know what they believe you'll realistically get for your property when you go to sell. With this number in mind, start calculating all of the costs affiliated with selling your current property. These costs will include:
Commission to sell

Outstanding mortgage balance

Legal fees

Calculating thoroughly will help give you a realistic expectation of what you'll have for a down payment when buying a house. As an example, let's say you're able to sell your condo for around $700,000. After you deduct commissions ($35,000), legal fees ($2,000), and your remaining mortgage balance ($338,000) you're left with $325,000 to put towards your move-up home.
Why You Need a Home Appraisal
In our blog Buying Your Next Toronto Home we talk about the important of getting an accurate home appraisal on your purchase property as another important step in determining your financial situation.
Lenders will only lend you up to 80% of a property's appraised value. So if you offer on a house with a million dollar price tag but the bank appraises it at $750K, you'll want to ensure you have enough monies to account for that $200K difference.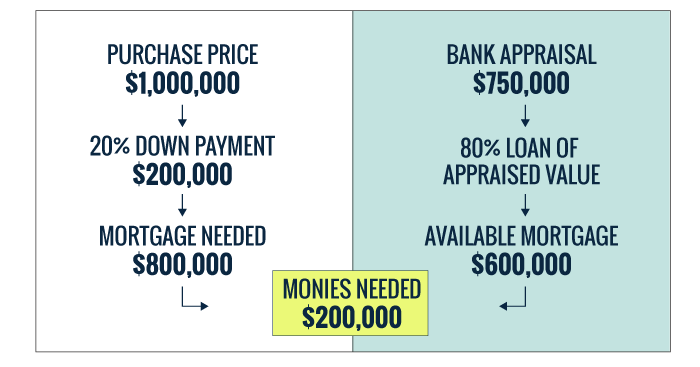 An experienced Realtor will be able to give their professional opinion on the property's real value despite what the listed price may be. Have them guide you towards properties that they believe are less likely to be undervalued by the bank.
Looking to create an action plan to buy make buying a home in 2021 a reality? Book a call with us to get started!