When it comes to buying a pre-construction investment property in Toronto, we encourage our clients to hold their investment for at least six years. The appeal of investing in pre-construction condos (beyond ROI) is that they require very little effort compared to other investments. Initial money down is followed by minimal involvement for three to four years.
Before we tell you about our condo investment strategy, steps to purchase, and reasons for a six year holding period we thought we should start by answering a common question: is it a good time to buy a condo in Toronto?
Is a Condo a Good Investment?
What You Need to Find the Best Condo Investment
Steps to Buy Investment Property in Toronto
Six Year Case Study
Why Your Agent Matters
IS A CONDO A GOOD INVESTMENT IN TORONTO 2019?
Investing in condos in Toronto can be very profitable, so long as you invest in the right product. There are many pre-construction investment properties for sale in Toronto and your number one asset in choosing the right product is having a real estate agent who specializes in pre-construction investments, hopefully in part by being an investor themselves.
You can read all of the many reasons why it's still a good time to invest in the Toronto condo market here, but let's highlight a few points:
Condo Price Growth is Outpacing Historical Average
The historical average for Toronto condo prices has been 5% growth per year but in the last few years downtown condo prices have consistently outpaced this historical average.
It's important to note that you should always pay attention to your local market stats, avoid lump-sum statistics that skew the data. When you're investing in condos in downtown Toronto (C01, C08, and E01 municipalities) the average condo prices in the last two years have increased 9% and 10% respectively.
Record High Rental Prices
Beyond your equity gains, you're also buying an investment property in a market where rental prices are at an all time high. With Toronto's low vacancy rate and a fast-growing population, when you lease your investment property you will be able to earn a high rental income compared to other cities in Ontario.
New Builds Exempt From Rent Control
New buildings, including pre-construction condos, that are being leased for the first time are now exempt from rent control. By lifting rent control on new units, investors can rest assured they are protected against rising interest rates and have the ability to offset the increase in carrying costs, should they need to.
Read "Toronto Neighbourhoods to Watch 2019" for the best places to invest in real estate
WHAT YOU NEED TO FIND THE BEST CONDO INVESTMENT TORONTO
Use the Right Real Estate Agent
Ensure you're working with a real estate agent who has your best interests at heart and doesn't see you as a single transaction. There will always be "hyped" about pre-construction investment properties for sale in Toronto, but that doesn't mean they're going to yield you great returns.
Condo Investment Strategy
Having a condo investment strategy is important. I'm sure you've heard about the negatives of "flipping pre-construction condos". Not to worry, when you invest with us, Pierre will guide you towards a property that's right for you while also providing you with a roadmap on how to make the most money with what you already have. The partnerships he has built with developers means he is given preferential access, choice of the best layouts and suites, and the best terms.
Whether you're after a cash-flow positive investment, equity gains or just a great ROI, Pierre has the experience and proven track record to generate high returns.
Investment Property Outlook
When you're trying to find the right investment property for you, it's important to have all of the information surrounding your investment. From an income property standpoint: knowing rental prices and the competition for rentals in that area are extremely important factors.
From an investment standpoint: understanding what comparable units are trading for today and what the expected current market value will be on occupancy. These elements help provide you with a full scope on how your investment will perform in both the short and long-term.
Related: How to Spot a Profitable Investment Property in Toronto
STEPS TO BUY INVESTMENT PROPERTY IN TORONTO
Once you've decided which investment is right for you, you'll need a mortgage pre-approval letter, despite not needing to arrange your mortgage for another three to four years. Here is a quick overview of the steps to purchase an investment property in Toronto.
Deposit Structure
Your typical deposit structure on a pre-construction investment property in Toronto will be $5,000 on signing. After which, most developments require:
5% of balance in 30 days

5% in 60 to 90 days

5% in 180 to 270 days

Final 5% on occupancy three to four years later
Building Your Investment Property and Equity
After your initial deposits, you are hands-off while your pre-construction investment property is being built. From your original signing date, this build time can be three to four years. You can see the full construction phase break down on our Phases of Pre-Construction blog.
While you sit and await its completion, the value of your investment property in Toronto will increase with the market. The equity gains will vary, but, with the right product you can see promising returns before your investment property is complete. So while you have put 15% down over the first year, you may easily earn a good portion of that money back in equity during the next three years.
Our clients who invested in 2018 are already seeing equity gains of 8% to 28%.
Leasing Your Income Property
Interim occupancy is when you are able to start leasing your property. Your real estate agent will help determine the best rental rate for your investment property so you can start earning rental income. Click here for a full breakdown of what you need to start paying at interim occupancy.
Shortly after interim occupancy, the building will officially register with the city, it's at this time that your mortgage will kick in and you will have to pay your closing expenses. With pre-construction condos this includes:
Land Transfer Tax (LTT)

Development Charges

Legal Fees

HST (rebatable up to $24,000 when you have a one year lease in place)
SIX YEAR CASE STUDY: PROVEN RESULTS
The six year holding period we recommend when investing in condos at the pre-construction phase is the minimum time you should expect to hold. Truthfully, investing in real estate should be a long-term investment; the longer you hold, the better your gains.
We recently helped one of our investors sell their investment property at Musee Condos within the six year timeframe. They purchased a one bedroom plus den condo at the pre-construction phase in November 2013 for $385,000.
In 2017, they were able to begin leasing their property and did so until deciding to sell in March 2019. We were able to sell their investment condo in one day for $705,000. That's an 83% return in just under six years.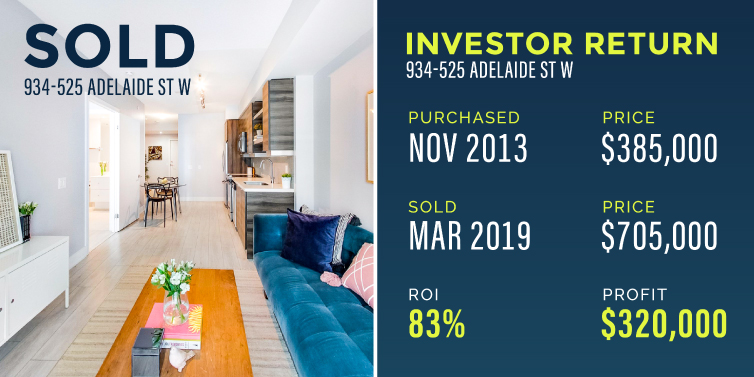 Keep in mind, this return does not factor in capital gains tax you pay when selling an investment, the operating expenses you're able to deduct from those gains, nor does it factor in any rental income achieved from 2017 to 2019.
WHY YOUR AGENT MATTERS
When it comes time to sell your investment, it's not just about cashing in, it's about making the most from your investment. This is why you need the best real estate agent Toronto has to offer — one who professionally stages, photographs, and markets your investment property for sale.
We listed our investor's income property for sale at $699,000 and it sold in one day for $705,000. On the same day, an identical unit was listed that had converted their den into a second bedroom and was five floors higher. Both of these elements should contribute to a higher sale price.
"They should have gotten more than me because they have a bigger terrace, so it showed how staging, pricing something properly and knowing your market, is important." Pierre said regarding the sale in this interview with the Globe and Mail.
THEIR RESULTS
List price: $708,888 | Sale Price: $700,888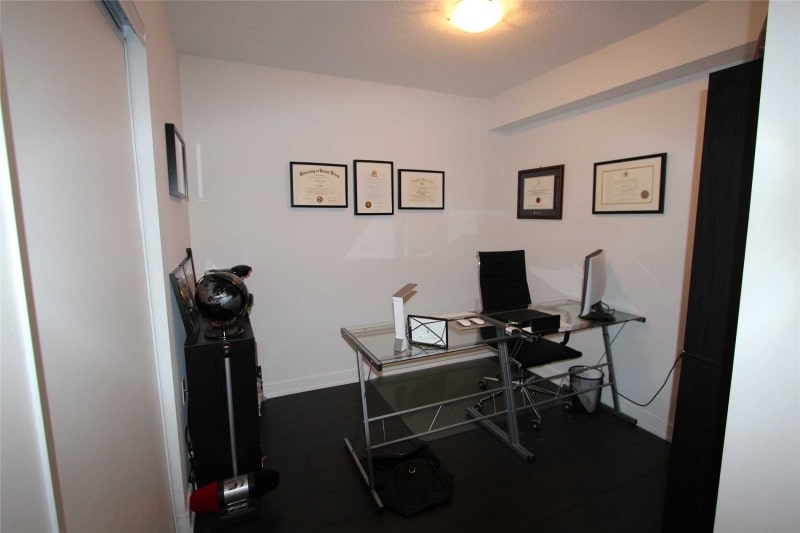 OUR RESULTS
List price: $699,000 | Sale Price: $705,000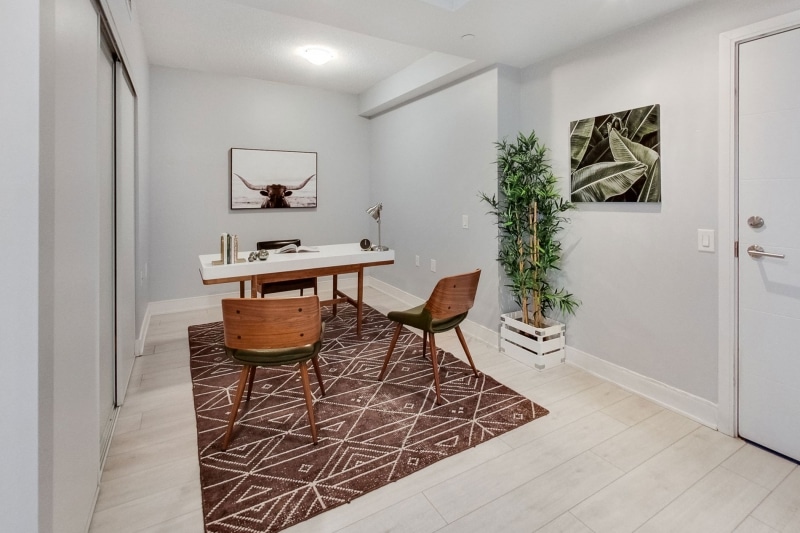 Comparable unit (top) listed their den as a second bedroom. Our unit (bottom) professionally staged and marketed.
Another comparable unit had also been listed, this one with a 217 square foot terrace and seven floors higher than our own. The terrace alone should add $20,000 to $50,000 to a condo's sale price. After six days on market, this comparable unit sold for only $688,000. That's $17,000 less than we were able to earn our client.
When you're in the market for an investment property in Toronto, there's more to consider than just the property itself. Who you work with helps align you with investment opportunities, those which are are primed for profit, and come resale, will use a proven pricing strategy to ensure you always earn the most from your investment.
If you're ready to start investing in Toronto's condo market, book a call with us today to find the best investment property in Toronto for you.