It's 2012 and you've bought your first ever condo in Toronto. You're feeling great to have had the wherewithal to pull this venture off. Fast forward seven years: you've since met the partner of your dreams and that condo is no longer big enough for the two of you. When you're ready to move up and you're faced with selling vs renting out your first property, what should you do?
RENTING VS SELLING ANALYZE YOUR SITUATION
As with any real estate scenario, it's never a one size fits all answer. Before you decide between selling your condo versus renting out your condo as an investment, ask yourself a few questions:
How much do you still owe on your mortgage?

How much equity has your property generated?

Are you prepared to be a landlord?

How much could you likely rent your condo out for?

What type of move-up home are you in the market for?
These are just a few questions that will help you frame the selling vs renting comparison.
As an example, let's say you bought a one bedroom Toronto condo in 2012 for $400,000. Since then, you've manage to pay down your mortgage to the current balance of $252,800.
All the while the equity your condo has earned over those seven years has increased your property's current market value (CMV) to $650,000.
In this example, the average year-over-year equity gains are 9%. While Toronto's historic average is 5% per year, the 9% y-o-y gain is very on par with how the downtown Toronto condo market has performed these last several years.
See how downtown Toronto home prices have out-paced the historic average.
SELLING VS RENTING: HOW TO LEVERAGE YOUR EQUITY
One of the reasons why so many people are able to build wealth through real estate is the magical power of leverage. When you own a home, you're able to borrow up to 80% of your home's equity for a low interest rate, known as a Home Equity Line of Credit or HELOC.
So if your condo's CMV is $650,000 (the bank will determine the value), you're able to borrow 80% of that value minus your outstanding mortgage. That leaves you with $267,200 to put towards a downpayment on your move-up home.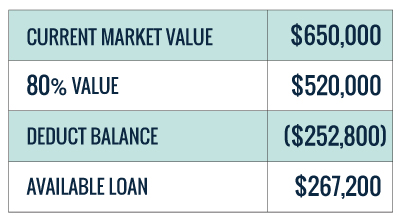 By borrowing the equity you could buy a home upwards of $1,300,000.
By using home equity to buy a second home, you are able to upgrade your living situation and have two properties generating equity for you.
The question you need to answer is this: now that you've earned a good amount of equity, can you do more with your equity by selling and reinvesting the funds or by holding the property and leveraging the equity? This is where the expertise and guidance of a professional real estate investor can help you.
Let's have a look at the pros and cons of renting vs selling your home.
Related: Turn Your Toronto Property Into a High-Grossing Real Estate Portfolio 2019
SELLING VS RENTING PROS AND CONS
When faced with the sell or rent my condo conundrum, you have three possible outcomes:
1-Keep your condo as a rental property and leverage the equity to buy a move-up property.
2-Sell your condo outright and use the profits to buy the move-up home of your dreams.
3-Sell your condo to buy a move-up home and use a portion of your profits to invest in a pre-construction condo.
1. Rent Out Your Home and Leverage Your Equity
As we discussed above, you can use the equity you've earned in your first home to put towards your move-up property and keep your condo as an investment property. Renting it out means you can take advantage of Toronto's competitive rental market and high rental rates, however you miss out on the tax break you are entitled to when selling a principal residence.

PROS:
-You will have two properties generating equity.
-You have a tenant helping to pay down your mortgage.
CONS:
-You're financially responsible for two properties.
-By turning your principal residence into an investment, you lose out on the tax breaks of selling your principal residence.
2. Sell Your Home and Buy Your Dream Home
If you decide to sell your condo at its current market value of $650,000 you would profit about $397,200 ($650K – mortgage balance of $252,800). An important advantage here is that when you sell your principal residence your profits are completely tax free! So if you're looking to go big or go home, choosing to cash in and sell your condo in this example means you can buy a home up to $1,800,000.
PROS:
-With that kind of cash, you can make a hefty downpayment on your move-up home.
-You don't have to deal with the responsibilities of being a landlord.
CONS:
-You miss out on the equity gains and rental income of holding onto your condo.
3. Sell Your Condo to Buy and Invest
If you have earned enough equity, it may be more valuable to sell your home and buy a move-up home that isn't at the absolute top of your budget. This way you can use the remaining profits to reinvest into the pre-construction market, allowing you to generate equity right away without needing a mortgage for that property for a few years.
PROS:
-You get full tax free profits from selling your principal residence.
-You can build equity in your home and the pre-construction market.
-Your pre-construction investment will be exempt from rent control .
CONS:
-You may need to lower your budget for your move-up home to allow for funds to reinvest.
-You won't have any rental income for three to four years
Download our FREE Guide to Investing in Pre-Construction Toronto Condos
RENTING VS SELLING 2019
The best piece of advice we can give is to ask yourself what your long-term goals are. It's wise to start looking at homes for sale in Toronto to give you a sense of what the average price is for the type of homes you like.
You may find that what you really want in your move-up home does require you to sell your condo in order to have more for a downpayment. If owning your dream home in 2019 is your top priority, then go for it!
Alternatively, if you're able to find a home that suits your lifestyle now that also allows you to have enough left over to reinvest, finding that balance is a great way to build serious wealth in real estate.
Do you own a Toronto condo that's earned significant equity? If you want to discuss your financial situation, book a call with us and we can help create a customized action plan for your unique goals.
Disclaimer:

Pierre Carapetian Group Realty makes no warranty, express or implied, nor assumes any legal liability or responsibility for the accuracy, correctness, completeness or use of the information provided. Opinions are based on our own calculations and fair market value is as determined by us.