There's a myriad of reasons why people love living in Toronto. For those looking to buy their first home here, the high cost of semi-detached and detached homes has buyers turning to the condo market. The average price of a condo in Toronto last month was $615,582. Don't let that phase you, there are still lots of incredible condos hitting the Toronto market for under $500K but the competition is fierce. Follow these key steps on how to buy a condo in Toronto so you're fully prepared and can stay on budget.
Know Your Budget
Get a Mortgage Pre-Approval
Setting Your Expectations When Buying on a Budget
Look for Savings Where You Can
Be Prepared to Move Quickly
Consider Buying Pre-Construction Condos
FIRST TIME BUYING A CONDO: KNOW YOUR BUDGET
Before you even begin your home search, you need to know what you can afford. The first thing you need to know is how much you have available for a down payment. For properties below $500,000 the minimum down payment required is 5% but you also have to factor in the added cost of mortgage insurance.
You can read more on mortgage insurance in "Toronto Condos: Why 5% Down Today is Better Than 20% Tomorrow"
You also need to factor in how much cash you'll need to have put aside for closing costs. Closing costs include Land Transfer Tax and legal expenses. You'll want to budget around $15,000 for a property that's $500,000. Use our Land Transfer Tax Calculator to see just how much you'll owe and how much you can earn back as a First Time Buyer.
GET A MORTGAGE PRE-APPROVAL
Once you have a good idea of your budget, the next of your steps to buying a condo is getting a mortgage pre-approval. This will determine how much you'll potentially qualify for when seeking a mortgage. Keep in mind, a pre-approval can often be a bit more generous than what you'll actually be approved for when push comes to shove.
You'll also have to pass a stress test which means you have to qualify at a rate of 5.19% or 2% higher than the negotiated rate. Read more on the stress test here
If you're a first-time buyer, find yourself a good mortgage broker and set up a meeting. They'll help advise you on the best steps to take to optimize your finances ahead of applying for a mortgage.
SETTING YOUR EXPECTATIONS WHEN BUYING FIRST CONDO
When you're buying a condo on a budget, expect to see a lot of properties. And truthfully, understand that you may need to adjust some of your wish-list items.
SPACE
When you're buying on a budget, you may need to sacrifice some square footage. The average price in Toronto is hovering around $1,400 per square foot (not factoring in extras like parking). So know that if your budget is around $500K, you'll be looking at condos with a 500-600 square foot floor plan.
Learn how to maximize your space: "Living Large in a Small Space: The Key to Downtown Condo Living"
PARKING
If parking is a must-have, know that you may have a harder time finding a condo with parking that's within your budget. Let's say there are two identical units listed in the same condo but one comes with parking and one doesn't. You can expect the unit with parking to be listed about $50,000 more than the other.
If you can ditch the car, look for properties along the subway line. This way your dollar will go further and, as a long-term investment, condos on transit lines appreciate faster than those which aren't.
LOCATION
Be flexible with your location. If you have your heart set on a particular neighbourhood but nothing decent within your budget is hitting the market, be open to looking in other neighbourhoods.
If you can get into an area that shows signs of gentrification, you can typically find properties at a more favourable price point and see great returns in the years to come. Leslieville, for instance, has seen incredible price growth over the last few years and many east end neighbourhoods are seeing similar trends.
AMENITIES
One of the many perks to buying a condo vs a house is the amenities — but know that the more amenities your condo has, the more you'll pay in monthly maintenance fees. You can also expect to pay higher maintenance fees in older condos and smaller boutique condos.
However, if you can find a condo with a gym, you can forgo your gym membership and save some dough on your monthly expenses.
Related: Understanding Maintenance Fees for Toronto Condos and Townhomes
BIDDING WARS
The demand for a well priced condo in Toronto is high. Condos listed between $400,000 and $500,000 get tons of interest and the competition is palpable. If the price seems too good to be true, it might just be.
Desirable condos with an attractive price tag will typically generate higher-than-list offers. Bidding wars are not unusual and you need to go in knowing that you will likely lose out on a few condos you offer on before your offer is accepted.
ADVICE ON BUYING A CONDO: LOOK FOR SAVINGS WHERE YOU CAN
There are always opportunities, even in popular buildings, to look for savings. Interior units —i.e. those that face an interior courtyard — or those with an obstructed or soon-to-be obstructed view will typically be discounted in price. The same goes for those units located nearest the garbage chute.
Similarly, if you can live without your own private outdoor space, you can save a little on your purchase price by resorting to your building's common outdoor space instead. These are some of the elements you should decide if you'd be willing to live with or without that can save you money upfront.
Remember, buying your first condo is about getting your foot in the real estate door. You'll be able to earn significant equity in Toronto's condo market and after a few years you can sell and upgrade to a condo that checks more of your boxes.
BE PREPARED TO MOVE QUICKLY
Toronto's condo market is highly competitive and that means when you've found a property you want to offer on, expect the process to move very quickly. There are two things you can do ahead of time so that you're ready to pounce when the perfect property comes along.
ASK QUESTIONS
If it's your first time buying a condo you'll likely have a lot of questions about the process. First, download our free First-Time Buyers Guide which covers most of them.
It's important to feel ready and well-informed. Ask your realtor to send you an Agreement of Purchase and Sale to look over in your own time. This may spark more questions to ask when buying a condominium but it will help give you a sense of the paperwork involved well ahead of making an offer.
HAVE YOUR DEPOSIT MONEY AVAILABLE
Ensure ahead of time that the money you'll need for a deposit is all in one place. If you need to pull funds from different accounts, having it ready to go and accessible can be the difference between getting a condo and losing out.
CONSIDER PRE-CONSTRUCTION CONDOS
Another avenue of buying a condo worth mentioning is the pre-construction condo market. The process is a bit different but depending on your situation, can have some serious benefits.
While you may be expected to pay a bit more upfront — typically 15% over the first year — you won't have to make any additional payments until the building is ready for occupancy three to four years later. No mortgage, no interest, no closing expenses at all until occupancy.
If you're diligent and plan ahead, you'll have over three years to save in preparation for your mortgage, all the while earning equity on your condo as it's being built. Learn more on the process to buying in Toronto's pre-construction condo market by downloading our free guide.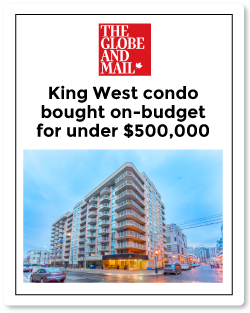 If you're ready to stop paying rent in 2019, let's chat. We've been able to help our clients buy their first homes within their budget and we know we can do the same for you. Read our feature in the Globe and Mail "King West condo bought on-budget for under $500,000" then give us a call and we'll get started!!!