First time buyers who've been struggling to buy their first home, especially in pricey markets like Toronto and Vancouver, received some good news Wednesday. Announced as part of the 2019 Federal Budget are two First Time Home Buyer Incentive programs that could help Canadians overcome some of the financial hurdles of landing their first home. But will they really?
THE HOME BUYERS PLAN 2019
Canada's Home Buyers' Plan has been in place to help buyers with down payments by allowing them to withdraw up to $25,000 from any RRSP account in the form of an interest-free loan.
As part of the federal government's new first time home buyer incentive program, any eligible home buyers can now withdraw up to $35,000 from their RRSPs after March 19, 2019 as an interest-free loan. Couples buying together can withdraw up to $70,000.
I want to pause here and say, what the government is doing is a nice gesture but it's out of touch with what the needs of Canadians actually are. People who fall in the first-time buyer age brackets — those 25 to 44 — are contributing less and less to their RRSPs.
The 2016 census showed people aged 25 to 34 fell to 11% of contributors from 14% in 2005, while those 35 to 44 fell from 26% to 19%. The point is, they simply don't have the money for RRSPs so allowing them to take out an additional $10,000 of their own savings in order to buy is a moot solution.
The Home Buyers Plan 2019 will follow the existing repayment rules, which require the loan to start being repaid two years after the year of withdrawal, with a total of 15 years to repay the amount that was withdrawn.
CMHC FIRST TIME HOME BUYER INCENTIVE 2019
The government also announced they will dedicate $1.25 billion dollars over the next three years through the introduction of the CMHC Shared Equity Mortgage.
What this means is that home buyers earning $120,000 or less per year who are applying for an uninsured mortgage (anything less than a 20% down payment) may be eligible for an interest-free loan from the Canadian Mortgage Housing Corporation (CMHC) of up to 10% of the purchase price.
In a nutshell, the details of the incentive are:
• Buyers must have a minimum down payment of 5%
• Uninsured mortgages on resale properties can get a loan of 5% of the purchase price
• Uninsured mortgages on new build properties can get a loan of 10% of the purchase price
• The total mortgage amount can't exceed four times the household income which is capped at $480,000
The loan itself will reduce the overall mortgage and make the monthly carrying costs slightly more affordable for buyers. With a maximum mortgage amount capped at $480,000 buyers at the very top of the eligible income bracket would have to buy a resale property that was no more than $512,000. Let's break down the numbers: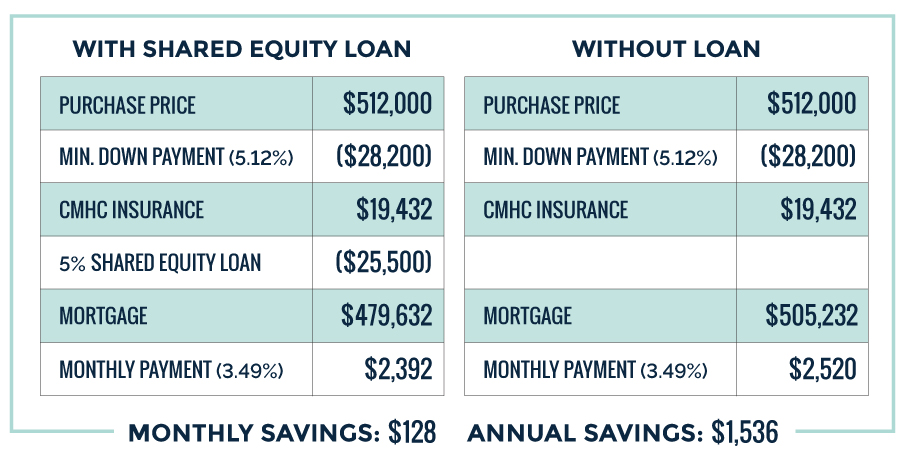 REPAYING THE CMHC FIRST TIME HOME BUYER INCENTIVE
What's still unclear regarding the CMHC loan is how and when it gets repaid. The loan is being called a "shared equity mortgage", which could yield some interesting rules around repayment.
It seems unlikely that CMHC would simply want the five or ten percent loan back with no financial benefit to them. If it's an "equitable loan", it could mean that they would be owed five or ten percent of the profits earned when the buyer sells their property.
There are still many unanswered questions with the specifications and rules around the repayment of the loan and we'll have to wait patiently for the answers. The First Time Home Buyer Incentive loan program isn't expected to begin until September.
Related: Search the Latest Toronto properties hitting the market Under $500,000
STRESS TEST STILL AFFECTING HOME BUYERS
One hot topic surrounding first time home buyers that wasn't mentioned during the government's plans to help buyers get into the housing market is the stress test. With the stress test impacting first time home buyers the hardest, many are asking for the government to ease the rules of Canada's stress test in an effort to increase slowing sales.
Despite the roll out of the First Time Home Buyer Incentive program, buyers are still required to qualify under the stress test to ensure that they would be able to handle their mortgage payments should interest rates continue to rise.
The stress test requires buyers to qualify for a mortgage based on the Bank of Canada's benchmark rate, currently 5.19% (July 2019), or 2% higher than the negotiated rate (whichever is larger).
EXISTING FIRST TIME BUYER REBATES
Every little bit helps and there are existing first time home buyer benefits in place in the way of rebates. Canadians buying their first home may be eligible for the First Time Home Buyer Tax Credit and First Time Home Buyer Land Transfer Tax Rebate.
Head over to our First Time Buyer Rebates page to find out if you're eligible for these first time buyer rebates and how to get them.
With the increase to the Home Buyers' Plan to help fund your down payment (supposing you have some funds in your RRSP to withdraw from in the first place) and a shot at reducing your mortgage by 5-10%, we appreciate the efforts of the government to help struggling first time buyers but there are better more logical solutions that would actually help. Like say, extending the amortization period for first-time buyers only. But that's a topic for another day.
For now, we'll live in suspense on how the shared equity loan program will work in full and just hope that there are enough condos for sale under $500,000 available for buyers when the First Time Home Buyer Incentive program kicks into gear this fall.