Although a cliché, one of the best-known but timeless principles of real estate is "location, location, location". With a new decade upon us, this remains true. Whether you're looking for the best place to invest in real estate in Canada in 2023 or the best place to invest in real estate in Ontario for 2023 — we have one answer for you, Toronto!
Choosing to invest in Canadian real estate continues to be one of the best investment decisions anyone can make – whether you're an adult, a retiree, or somebody in your 20s who's looking to buy a condo.  In recent years, due to its continuous success, it has gained a reputation as a tried and tested investment strategy to protect and provide for you and your family's future. 
Because investing is a long-term game, I know it's important to look at what is happening now. But to me, what's more important, is to think about the impact of today's trends – 20 years from now. When you choose to invest with us, whether that's in – North York or the Niagara region – we give you access to localized data to help you make the best decision about your next investment property.
As a real estate agent representing both – buyers & sellers in the housing market, I often get asked "Where is the best place to invest in real estate in Ontario?"  Over 50% of our clients are investors who are looking to make money by investing in the Canadian real estate market. Although the exact location differs on an ongoing basis, my answer always remains the same – Toronto is a great place to invest in real estate in not just Ontario but the whole of Canada.
Despite my obvious bias towards 'The Six' (that's Toronto), for the benefit of real estate investors around the world, I'll be sharing my top 5 places or cities to invest in real estate in Ontario. I also give a detailed breakdown – like a true Torontonian – on why I think Toronto is the best place to invest in real estate in Ontario! 
5 Best Places To Invest In Real Estate In Ontario
Your average real estate investor would not know how to navigate today's housing market that's rocked by uncertainty. My advice to you is to start with numbers. Looking at data and analytics can help you understand what's really happening in the housing market today. If you're not confident doing this yourself or would just appreciate some help, you can book a call with me or somebody from my team and we'd be happy to serve you! 
A very simplified example of how I use numbers to inform my investing decisions: according to some market outlook reports, the average price of real estate is expected to drop by at least 2% in 2023. As long as the source is credible (which it is) – this is useful information for me. Because if you're already a strong believer in the long-term game – which I am – you know that when asset prices drop – be it real estate or stocks – you buy! 
1. Greater Toronto Area (Toronto)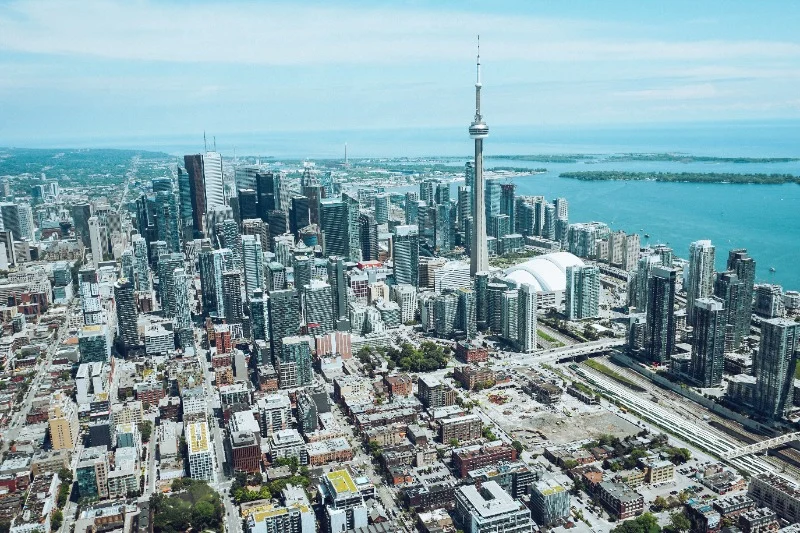 Average price 2023: $1.1Million, down 17% from 2022
5-YearGrowth % (from 2021): 72%
3-YearGrowth % (from 2021): 56%
Despite plummeting real estate prices in 2022-2023 defined by weak numbers and rising interest – I still believe that Toronto is a stable real estate market to invest in for the long term. The Downtown Toronto's quick 'bounce back' for a lack of better words is a great example of all of the below factors, so while real estate prices are down we don't expect this to last long in the big scheme of things. The key here is – long-term. Stringent lending guidelines, low delinquency levels, record immigration, and a growing population – are all signs of a healthy and stable real estate market primed for growth and profitability! Trust me, I have been doing this for nearly twenty years now facilitating over 1 billion dollars in real estate transactions. I study Toronto's real estate market like it's the only book in the world. So far, my passion has helped me reap rewards not just for myself but for my clients too!
Related: Best Condo Investment In Toronto [Pre-Construction]
Why Is Toronto One Of The Best Cities To Invest In Real Estate In 2023?
When it comes to the Toronto market there is no better place to invest if you're looking for both high growth and stability. Toronto is just more isolated from the strains of outside factors, already bouncing back from the most recent price drops, especially when compared to other areas of Canada. Here's why Toronto is just that much more stable;
1. Stringent Lending Guidelines
One of the biggest reasons why Toronto is an attractive market for a real estate investor is because Toronto property owners have a reputation for being extremely well-funded. Unlike some other markets in North America, Canada's stringent lending guidelines only allow very qualified people to purchase property. Prospective homebuyers are made to jump through many safeguards before a bank will lend them money to purchase that residential property. A stress test is just one more precaution the government has added to ensure buyers can afford the homes they purchase should interest rates rise.
The stress test started in 2017 as a way to cool down the market over time while acting as a minimum threshold for those who were considering applying for a home in Canada. Today, the stress test is reducing purchasing power by an average of five percent. James Laird, co-founder of rate comparison website Ratehub.ca., shared his views on the current state of the market and how the stress test looks in real estate today :
"What the policy-makers had in mind was to slow down the rapid appreciation of home values that we're seeing across the country," he told CBC News. "In the long run, it actually makes it possibly easier for first-time homebuyers to enter, [so] maybe you could call it neutral."
2. Extremely Low Delinquency Levels
When it comes to buying a home, Torontonians are extremely well-funded. Delinquency levels — mortgages left unpaid for 60 days or more — are considerably low. This means there are very few people defaulting on their mortgages. It is unlikely that changes in rates or the market will cause buyers to have to dump their assets and take a loss. Well-funded means they have a backup plan and they are in the property game for the long haul.
3. Immigration in Toronto
Already having a reputation as one of the most multicultural urban areas in the world, the Greater Toronto Area's population base in particular, is one of the fastest growing in Canada as newcomers from around the globe choose Toronto as their new home each year. In 2022, the Greater Toronto Area welcomed around 160,000 new immigrants up 103% from the last census.
Immigrants remind us how good we native Torontonians have it and that we should appreciate our city more than we do. We have the opportunity of living in a residential area near the big city, a low crime rate, an amazingly multicultural population, a strong economic hub, great cuisine and entertainment, government stability, and an abundant amount of job opportunities.
With immigration continuing to rise and highly paid skilled labour jobs being added to the workforce, it is easy to understand why immigrants choose Toronto and overall, why it is the best place to invest in real estate in Canada.
4. Growing Population
Canada is the fastest-growing country in the G7 and Toronto has more than twice the proportion of recent immigrants (8.4%) as Canada (3.5%) with approximately two hundred thousand more expected by 2023. Adding to the trend is Canada's low dollar and high quality of living (8th in the world). Toronto is an ideal home for migrating foreigners — and your dollars — as one of the top Canadian cities to invest in real estate.
READ: Why It's Actually A Good Time To Invest In The Toronto Condo Market
5. Toronto is a World Class City & Major Tech Hub
Toronto is one of the fastest-growing real estate markets in Canada because simply put – it's a world-class city. Toronto has been recognized as Canada's "tech hub" and has been called the Silicon Valley of the North. The city continues to grow and establish its dominance on a worldwide scale.
According to Robert Half Technology, the tech employment rate is growing four times faster than the overall employment rate in Canada. This tech job growth is most prevalent here in Toronto which recently ranked highest in Canada for tech jobs. Toronto's commercial real estate market has attracted several high-profile tech companies in the past year including Uber, LG Electronics, and Microsoft.
READ: Big Tech Companies Are Investing in the Future of Canada
Big tech companies are investing highly in Toronto's future and hiring very skilled workers that are specialized in their field. One of the major developments coming to Toronto's east end — and bringing with it 70,000 tech jobs — is the East Harbour development. In turn, this adds to the demand for real estate in the city. There's a need now more than ever for real estate investors to bring condo rentals to the market.
READ: East Harbour Toronto To Become New Employment District
6. Toronto's Transit Plan Expansion Will Lead To Continued Price Growth
Strong public transit systems help the real estate industry as they make properties more accessible and thereby convenient to live in. Toronto's public transit system has a lot of room to improve when compared to other North American cities like Vancouver, New York etc. It currently ranks 34th in the world. The future however looks bright!
Four new projects have been announced in the last decade. I strongly believe that the impact of their development is going to cascade through to the rest of the real estate market – with some real estate investors making huge profits.
Of course, real estate prices will favour locations near transit lines, so the value in those areas where the upcoming major transit projects will rise, is to be expected. The areas set to become more accessible by transit have already begun to see higher resale price growth.
Here are the 4 major transit projects the city of Toronto is looking forward to:
1. Eglinton Crosstown LRT
The Eglinton Crosstown LRT Transit line is currently under construction with 2023 being its expected completion date. The 19-kilometre stretch along Eglinton between Weston Road and Kennedy Station will have 25 stops, ten of which will be underground.
2. SmartTrac
With an estimated completion date of 2025, SmartTrack will utilize the current Metrolinx Go network for more frequent service. The six new stops will be at:
St. Clair & Old Weston
King & Liberty
East Harbour
Gerrard & Carlaw
Lawrence & Kennedy
Finch & Kennedy
3. Relief Line South
The Subway Relief Line South is a 7.5-kilometre subway addition connecting Line 2's Pape Station and will run through Leslieville before heading west to connect to Line 1's Queen and Osgoode Stations.
The new proposed stations will be at Gerrard and Carlaw, Carlaw and Queen, East Harbour, Sumach and King, Sherbourne, and Queen before passing through Line 1 along Queen.
4. Waterfront Transit Line
The city has been working on reconnecting Toronto with its waterfront by rerouting the Gardiner Expressway and opening up the waterfront area to allow for better use of the land below. There will also be a four-phase transit reset which will connect Woodbine Beach to Long Branch servicing the waterfront area that is home to so many cultural and recreational events.
The Waterfront Transit Line is still in the early stages but the improved waterfront LRT system will connect to Woodbine Beach, East Harbour, Union Station, Exhibition Place, and Long Branch.
For a more detailed description of each of these projects check out our post "Why You Should Invest in Toronto Real Estate: The 20 Year Transit Plan."
Average price 2023: $410,538, down 14.2% from 2022
5-YearGrowth % (from 2021): 88%
3-YearGrowth % (from 2021):  87%
North Bay, otherwise known as the ' Gateway to the North ', is a small city with a little more than 50,000 residents. In a study conducted by Moneysense in 2022, North Bay placed 2nd as being of the most affordable housing markets in Canada. Like many other small cities in Canada, North Bay greatly benefited from the pandemic's work-from-anywhere culture. Many professionals from big cities like Toronto moved to North Bay enticed by its housing affordability and old-world cultural charm! The city has world-class health care and post-secondary learning & research institutions. It's a hybrid city that's not too big and busy but still has all the modern amenities that you'd need to survive in 2023.
What benefits North Bay again is its location. It's not too far from big cities like Toronto (350 km away) & Sudbury (150 km away). Even cities in the USA are not out completely of reach – with Buffalo being 450 km away and Detroit 600 km away. If you're thinking of moving to North Bay, just remember, winters get pretty cold with temperatures dropping as low as -15C.
3. Tillsonburg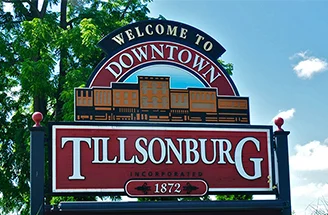 Average price 2023: $626,373, down 20% from 2022
5-YearGrowth % (from 2021): 166%
3-YearGrowth % (from 2021): 89%
Tillsonburg is another one of the small cities that benefited greatly from the pandemic. By offering affordable housing and having lesser living costs – it was able to attract many remote workers seeking to escape the exorbitant living expenses of big city life.
Despite being a small city in Southwest Ontario bordering bigger or more popular places like London, Kitchener-Waterloo, and Guelph – it's Canada's third fastest-growing community led by the high-tech, manufacturing, and food processing industries. It's well-connected and has about 20+ educational institutions within a 2-hour radius. Its population has been growing steadily and between 2106-2021 it grew by 17%. Judging by how rapidly things are progressing in Tillsonburg, it just looks like the city is going to continue to grow in the future which is great news if you're planning on investing here today!
4. Quinte West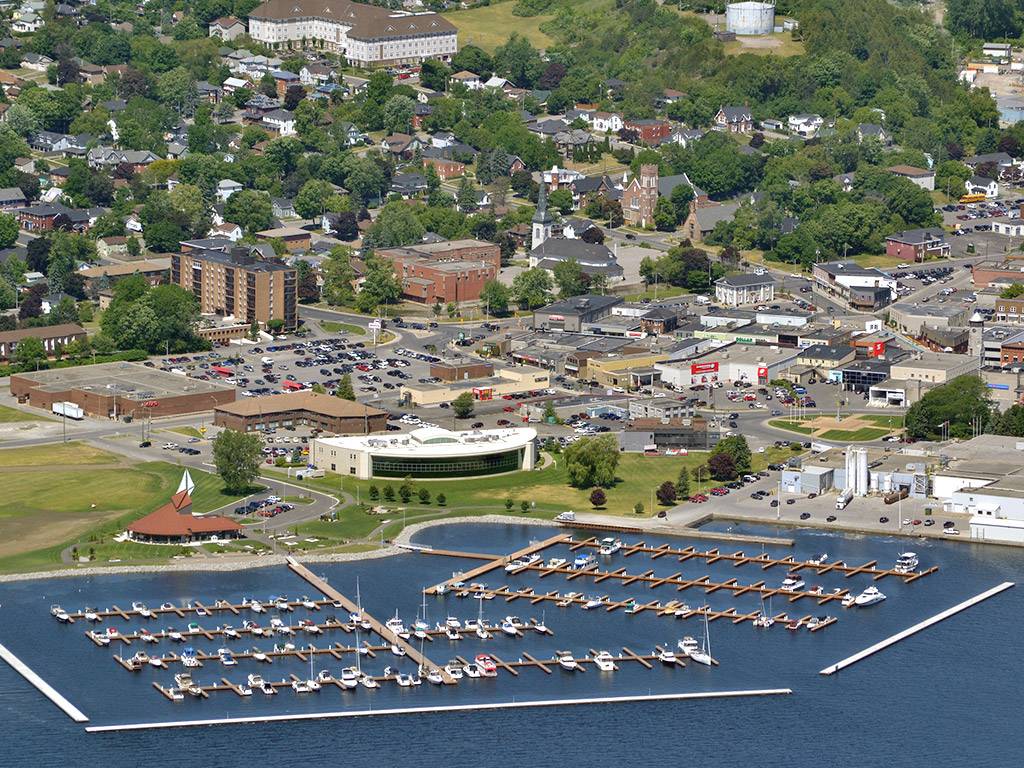 Average price 2023: $602,291, down 21% from 2022
5-YearGrowth % (from 2021): 143%
3-YearGrowth % (from 2021): 96%
Quinte West is beautiful. It doesn't hurt that its real estate prices don't reflect the inherent beauty of this place. If you're looking to live a quality suburban lifestyle somewhere in Ontario – look no further because this is the spot! Located on Quinte Bay, the town has a population of around 45,000 and is a combination of four former municipalities.
Apart from the beauty, what also helps Quinte West is its location. Toronto is 2 hours away and Kingston is just an hour away. For your more immediate needs, there's Belleville, another small town with 50,000 residents that's just 20 minutes away by drive! Real estate prices here are not very different from Kingston but it's more affordable than staying in the capital, Ottawa. If you love the waterfront and want to live in a house with more open space – Quinte West is a great option for you!
5. London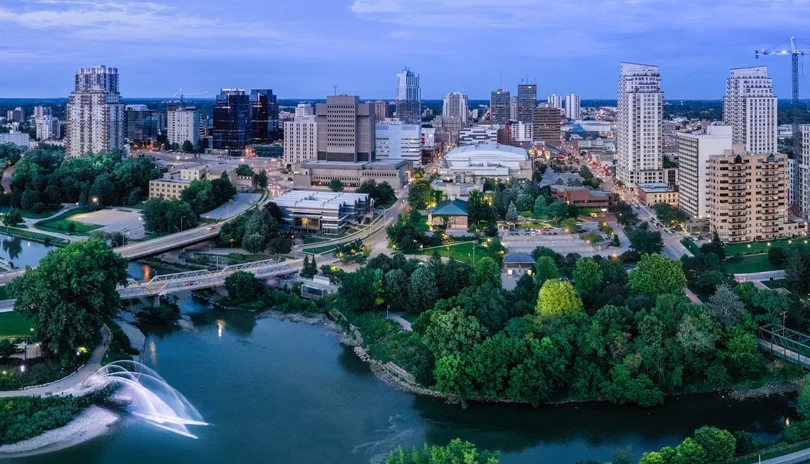 Average price 2023: $621,912, down 25% from 2022
5-YearGrowth % (from 2021): 170%
3-YearGrowth % (from 2021): 89%
London is the 5th largest city in Ontario and from the looks of things, it may soon jump into one of the top 3 spots. As per the latest census conducted in 2021, London's population grew at the fastest rate in Ontario. The city's population went up 10% since the last census conducted in 2016. What's notable though is that the population growth has been spurned by its local residents – not immigrants or temporary pandemic workers.
London has lots of opportunities for those seeking further education. The low costs of living make it more affordable than the big cities of Vancouver, Toronto etc. The people of London are younger than other Canadians by 2 years. It's another city in Canada that's making inroads in the tech industry which helps it attracts its fair share of young professionals!
According to the housing statistics available on StatsCan, real estate investors own more than 31% of all real estate property in London. On digging into the report – the more alarming statistic is that 86% of the condos in London are owned by real estate investors. These numbers exceed the provincial averages and are almost double than that of Toronto.
Final Words
To conclude, I ask you,
Do you think it is a good time to be investing in Canadian real estate in 2023?
Here's my answer: Absolutely, yes – especially if you're thinking about investing in Toronto's real estate market — because that's where I and my team can help!
I hold my stance – as a world-class city with so many future developments in the works – Toronto is a great place to start investing in real estate in Ontario. Of course, as you've read in this blog, you have other options too. Ultimately, it all depends on what your goal is! I greatly prefer Downtown Toronto over the GTA and other areas because of its stability – no other area is as isolated from strain as Toronto.
Remember, if you're looking for the 'perfect' time for buying an investment property in Toronto, it's never going to come. But if you're looking for a healthy, stable market to invest in with great growth potential then Toronto's real estate market is yours for the taking – ready, steady, and primed for profit!