WHY SHOULD I INVEST IN TORONTO REAL ESTATE?
The Equity Gains Are Real When Buying An Investment Property In Toronto
Investing in Toronto real estate, when done wisely, can be very fruitful. Since 2015, condo prices in the 416 (Toronto Proper) have risen 52% according to TREB data. To put that in perspective, if you had purchased a condo in 2015 for $400,000, you would have made over $200,000 (or $50,000 per year) just by living there. These high equity gains when investing in Toronto real estate is one of the reasons why Toronto is one of the best places in Canada to invest in real estate.
And that's just the Toronto average price. When you have a proper condo investment strategy, you can make better returns, faster. Some of my real estate investors have already earned between 10% and 25% on their 2018 investments. Have a look at some of my client returns here.
There's a Huge Demand for Rental Inventory
Investing in Toronto real estate is still very profitable and with Toronto's growing population, the demand for rentals is at an all time high, and has been for some time. Both immigration and our growing tech industry are bringing a surplus of qualified residents to the city.
The Huffington Post recently published that Toronto is the fastest growing city in the U.S and Canada with an increase of 77,435 new residents between July 2017 and July 2018. With major developments like East Harbour and several high-profile tech companies choosing to set up shop in Toronto (Uber, Pinterest, and Microsoft to name a few), the demand for available rentals will continue to climb.
Pair that with Toronto's record high rental rates — one bedroom condos currently rent for about $2,225 per month — and your tenant can help pay down your mortgage.
It's also worth noting that the Ford government has lifted rent control on new units, including pre-construction condos, that are being leased for the first time. You can read more about the rent control amendment here.
Canada's Stringent Lending Practices Keep You Protected
Buying investment property in Canada is a safe investment because of the many guidelines they've introduced, including the Stress Test at the beginning of 2018. We're also VERY WELL FUNDED. This recent article in the Toronto Star boasts about our extremely low delinquency rate: "We may be mortgaged to the hilt, but Canada's loan default rate is still tiny: Just 0.3 per cent. We'll do anything to ensure we don't miss those payments."
IS REAL ESTATE THE BEST INVESTMENT?
When it comes to investing your hard-earned money, is investing in Toronto real estate better than investing in the stock market? The short answer is yes — if you can afford it.
The real estate market in Toronto has proven time and time again to produce far more steady growth and be more stable than the stock market. Ask yourself, how much have your traditional investments made you over the past decade compared to your home?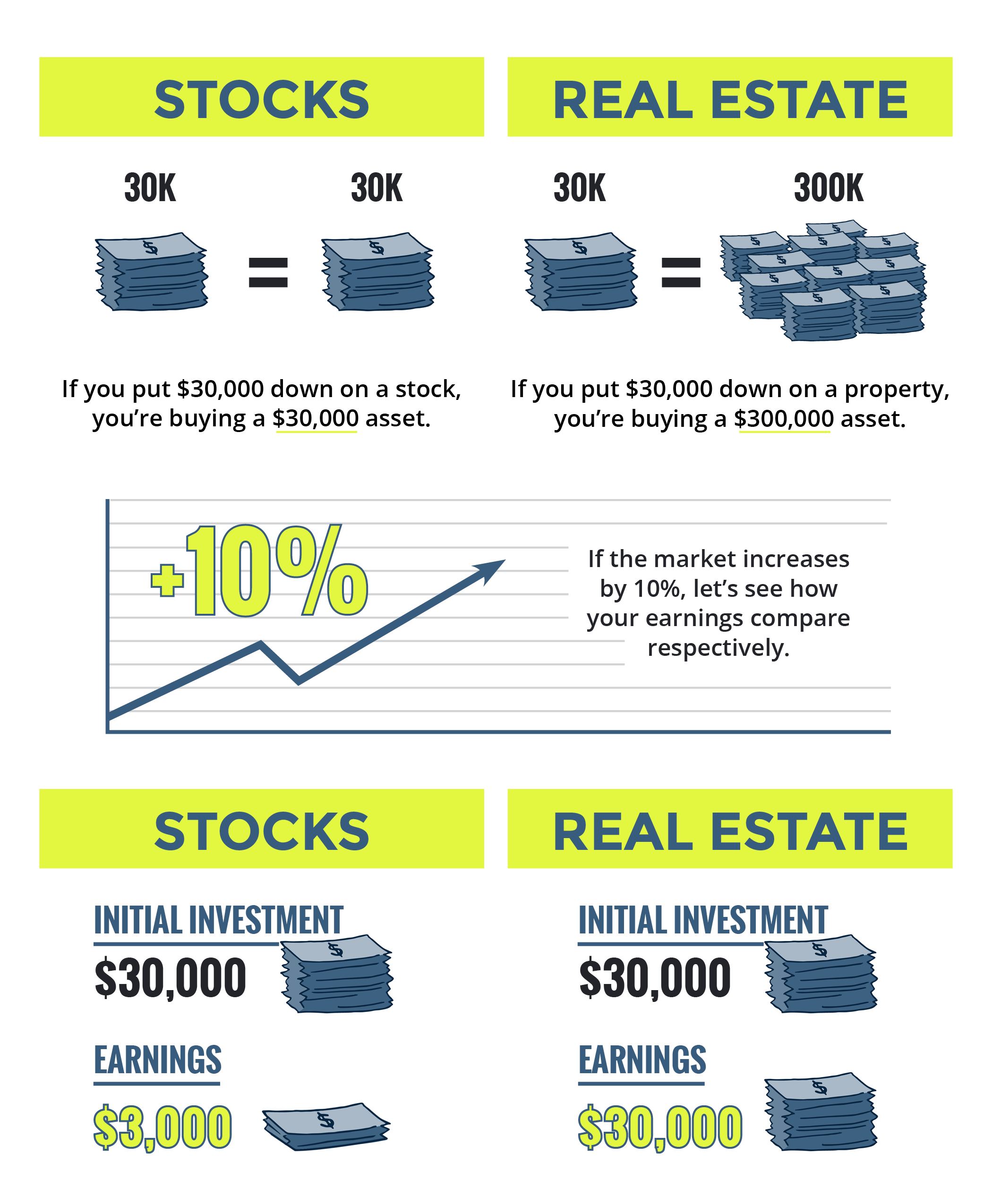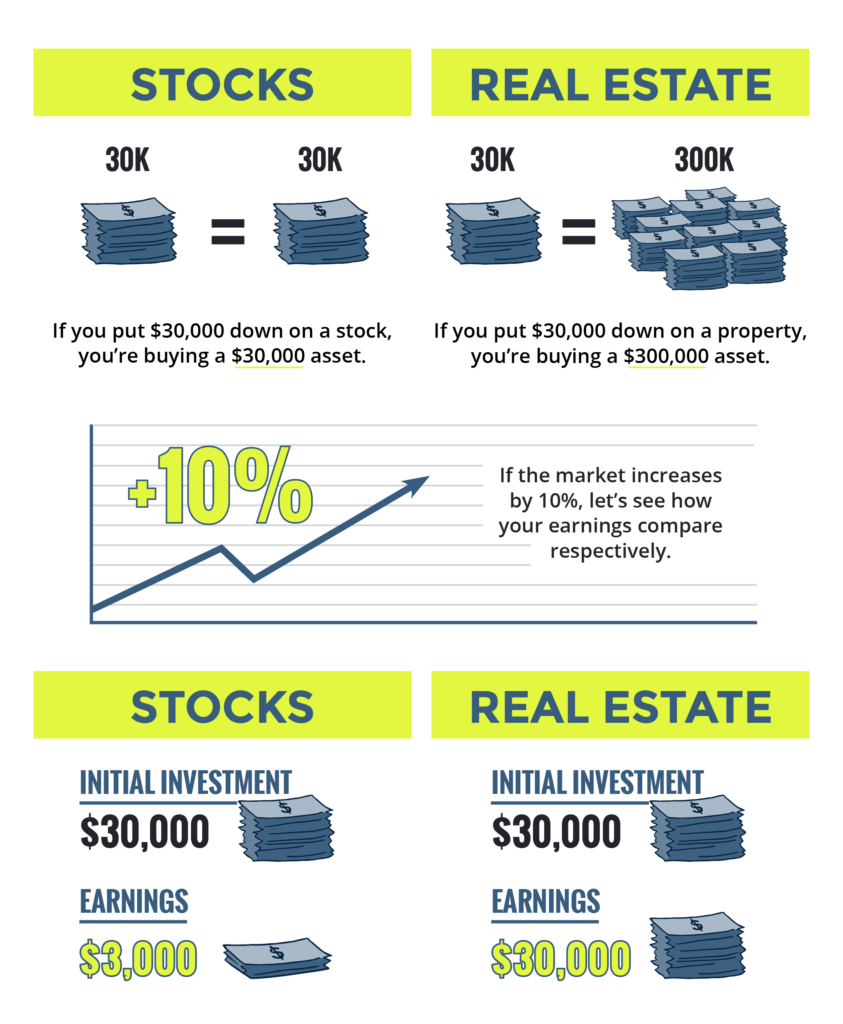 When you buy an investment property in Toronto you are investing in real estate — a tangible asset, not the shares of a company that could take a nose dive due to a bad PR crisis. It's also a long-term investment; so even if the market takes a minor drop, it will continue to climb over the long term.
When you get into the numbers of it all, investing in Toronto real estate has the potential to earn you ten times the amount of traditional stocks and bonds because when you invest in real estate, you're leveraging your money into a much larger asset.
For instance, if you buy $30,000 in stocks and the market goes up 10%, you've made $3,000.
However, if you put $30,000 down on a property that's worth $300,000 and the market goes up 10%, you've made $30,000.
Investing in real estate is a low risk, high return investment. Since your gains are made on the full value of the asset, your dollar goes much further.
For a more comprehensive breakdown read Pierre's Take on Stock VS Real Estate
IS A CONDO A GOOD INVESTMENT IN TORONTO 2020?
When it comes to investing in Toronto real estate, the condo market is where the biggest gains are. Toronto condo prices have gone up an average of 13% per year since 2015. And when you pay attention to the local data, you'll quickly realize that different areas perform better than others.
With Toronto's average 10 year historical growth rate of 5% a year and the most recent years averaging over 10% a year, investing in the Toronto condo market in 2020 means you'll get in at today's rates. Toronto's international profile is joining the likes of major cities like New York City and San Francisco but with property values still far below their markets. While we may think our condo prices are high, they've still got a long way to climb before they reach the prices of these other major cities.
We like to say that the best time to buy real estate is yesterday because the longer you wait, the less your money is actually worth. This is all a result of the Toronto condo market's success.
Let's say both you and a friend had $100,000 to invest. You decide to invest in a $500,000 condo while your friend decided to wait a year in hopes of a market drop. Instead, the market goes up 10%, earning you $50,000 while your friend's $100,000 is now only worth $90,000. All of which is to say, prices in 2020 will be higher than they are today. Investing in a Toronto condo this year means your money can start working for you today.
HOW TO INVEST IN TORONTO REAL ESTATE
Work with an Agent Who's also an Investor
Investing in Toronto real estate is best done with a real estate broker who is also an investor. Pierre became a real estate agent because of the amount of money he had made from his first condo. Recognizing the value in real estate, he taught himself everything he knows about the Toronto market so that he can duplicate the same success for his own clients.
Finding the Best Condo Deals in Toronto
When buying a condo in Toronto as investment, it's important to buy strategically. Don't be misguided by condo developments that seem juicy because they're along the waterfront. You're looking for condos with the best margins and they can be found both in the resale condo market as well as the pre-construction market.
Spotting the best condo deal in Toronto can be approached in several different ways:
Look for condos that are priced below what other properties in the area are trading for.

Look to gentrifying neighbourhoods where prices are low but are on the rise.

Look for future developments or transit infrastructure will add value in the years to come.

Look to resale condos that are known to perform well in the market.

These are just some of the ways you can find a good condo investment. The real value is with the real estate agent you work with. When it comes to the resale market, having an agent who knows which buildings and floor plans yield the better ROI.
With regards to pre-construction, you need an agent who has Platinum Access to projects throughout the city. This gives you preferential access to the best floor plans and the lowest pricing available. When Toronto buildings launch sales the best inventory is always snatched up during the Platinum phases by seasoned real estate agents and their clients. The best inventory typically never hits the open market.
Read: From East to West-Toronto Neighbourhoods to Watch in 2019
The Power of Leverage
Investing in real estate is one of the few things that you can buy without having to pay the full purchase price. Typically, purchasing a property requires 20% down, meaning when you have $100,000 to spend you can purchase a property worth $500,000. The equity growth is based on the full value of the asset.
One of the reasons why so many people are able to build wealth through real estate is the magical power of leverage. When you own a home, you're able to borrow up to 80% of your home's equity for a low interest rate, known as a Home Equity Line of Credit or HELOC.
If you can leverage a portion of your home equity into a second condo investment, you'll begin to build your portfolio, now providing you with two properties generating equity in the market.
Learn the specifics of using the equity in your home to invest in real estate.
THE IMPORTANCE OF A GOOD CONDO INVESTMENT STRATEGY
Investing in Toronto real estate isn't a one size fits all strategy. Having an experienced realtor who understands the investment process is a great way to ensure you're making smart investment decisions. They'll be able to give you guidance on how to maximize your return and equity beyond the expected market growth.
Their advice and guidance in building your portfolio will depend on what you have at your disposal and will largely depend on trends in the market. They should actively be looking for margins and opportunities in the market that match your individual needs and ability. It's not about buying one thing, it's about buying the right thing.
The New Real Estate Investor
When starting out, you should build your investment portfolio at a pace that is conducive to your own means. Not everyone will be able to purchase one or more $500,000 properties right off the bat, however, the goal remains the same: setting up a channel that will help you build equity and amass wealth.
Even if buying a modest studio condo for $350,000 is what your budget will allow, that's a great way to get your money to start working for you and will set you on the path to being able to afford larger investments in the future.
The Home Owner
If you already own a property and are wondering whether to sell or leverage your equity, you need to determine if reinvesting the money from the sale will make more money than if you held the asset?
Just remember that investing in Toronto real estate is a long-term investment plan. With strong equity gains and a tenant paying down your mortgage, it won't be long before your investment is generating equity.
Related: Your Real Estate Investment Toronto Strategy Dos and Don'ts
BEST CONDOS IN TORONTO TO BUY
Right now we have three incredible condo deals that can't be ignored.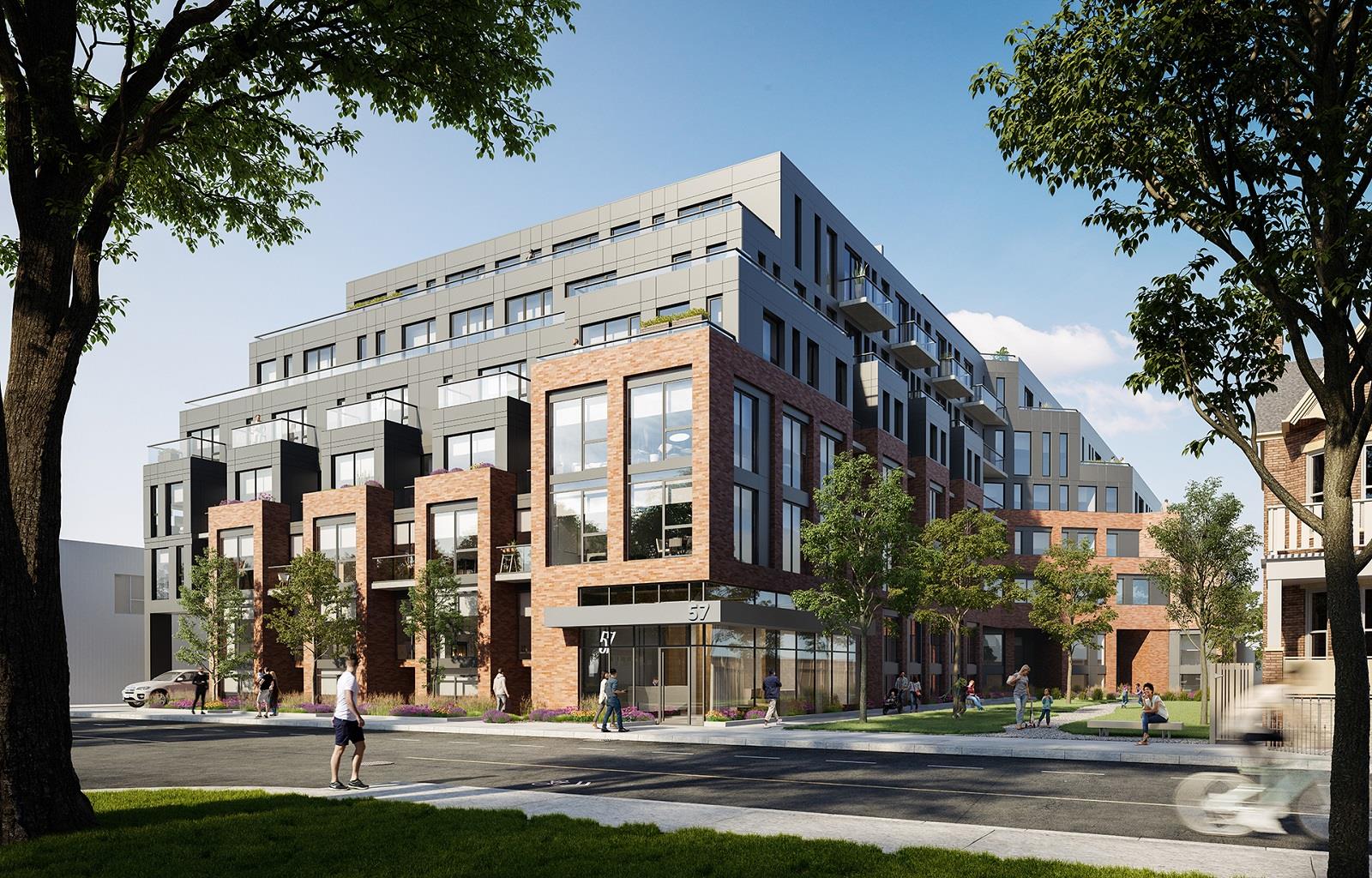 57 BROCK CONDOS
57 Brock Street
57 Brock is a condo and townhome development coming to Queen West and is our pick for the best priced project in downtown Toronto. Pierre has been able to secure our clients additional discounts and incentives that are not available to the public. When you couple this up and coming neighbourhood, Parkdale, with a lack of available inventory and an unbeatable price you've got yourself a great pre-construction condo investment in Toronto.
When you purchase with us you'll get access to 57 Brock Condos at a per square foot price between $920 and $950. Comparable and competing buildings in the neighbourhood are selling their live inventory between $1100 and $1300 per square foot with inferior, pre-existing re-sale buildings in the area selling for over $1000 a foot.
Register here for access to live inventory and our Platinum Broker pricing.

WEST BEACH CONDOMINIUMS
1630 Queen Street East
For those looking for an investment property that they can rent out sooner than later, consider West Beach Condominiums near the Beach. This modern boutique condo takes occupancy this fall and is in an area that has little to no rental inventory. The best part is they're only asking for 5% down this year, compared to the typical 15%.
Register here for remaining inventory at West Beach Condominiums

CLONMORE URBAN TOWNS
168 Clonmore Dr
For those seeking larger family-sized condos, Clonmore Towns in the up-and-coming neighbourhood of Birch Cliff has a lot to offer without breaking the bank. These stacked floor plans offer contemporary open-concept layouts and all three bedroom and four bedroom townhomes come with generous sized terraces.
With three bedroom, two bedroom towns starting at $610 per square foot, you just won't find this price anywhere else. These pre-construction urban towns are perfect for those planning ahead or thinking about starting a family, they're expected to be ready by summer 2021. That means you can take advantage of the low purchase price and still have two years to save for your mortgage while simultaneously building equity.
Register here for access to live inventory and our Platinum Broker pricing.
A market is called a market because, well, it fluctuates — forever. If you're looking for the 'perfect' time to start investing in Toronto real estate, it's never going to come. But if you're looking for a healthy, stable market to invest in with great growth potential then the Toronto condo market is yours for the investing — and primed for profit.
Book a call with us to get started on creating an investment plan that works for you. Building wealth through real estate, it's what we do.