RIVER & FIFTH CONDOS RISING TO THE TOP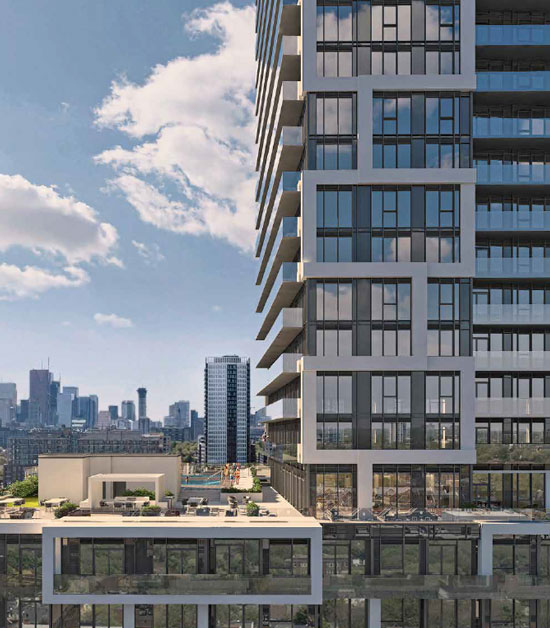 The areas surrounding the parcel of land at 5 Defries Street — southeast of Dundas and River Streets — have all seen major transformations over the last decade. Leslieville to the east has earned its reputation as one of Toronto's most sought after neighbourhoods.
Just west, the revitalization of Regent Park has brought countless new condos and amenities to the area, while simultaneously building a community. The stunning Pam MacConnell Aquatic Centre is matched by the more recent addition of the Cooper Koo Family YMCA in Toronto's Corktown neighbourhood just to the south.
The area, being dubbed Toronto's Lower East Side, has become an attractive destination for young families and professionals alike. River & Fifth Condos Toronto will rise 37-storeys and  become the tallest tower in the area when it takes occupancy in 2022.
THE RIVER FIFTH CONDO FAMILY
When it came to planning River and Fifth Broccolini knew that designing for families was important. Not only is the neighbourhood increasingly more family-friendly, but Toronto developers know that more urban families are choosing to raise their families in condos.
There will be condos for sale ranging in size from studios to three bedroom family-sized floor plans. Whether a two bedroom is all you need or you're looking to buy a condo at River & Fifth Toronto that feels like a larger home, the family-sized three bedroom floor plans will have large terraces or come as two-storey penthouses.
Designing for families is more than just providing more square footage, it means offering more kid-friendly amenities. When you're living in a condo with small children, it becomes far easier to live in a smaller space when there's a kid zone that they can run off to.
River & Fifth Condo amenities will include a Hobby Room and a Kids Room. Cozy couches will line the video game area while the large tables are perfect for game nights and even, dare I say, homework. A kitchenette is also nearby so you can always have snacks on hand.
Register for Platinum Access, Pricing & Floor Plans for River & Fifth Condos, Toronto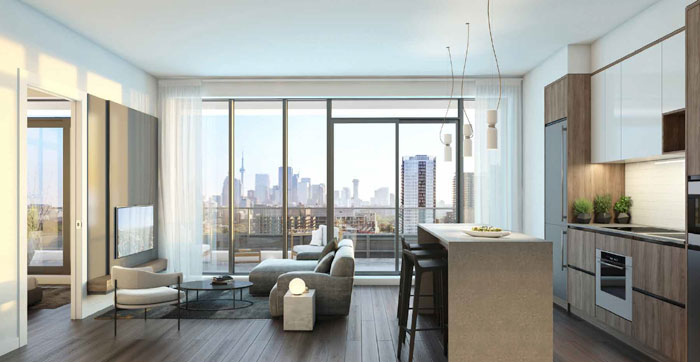 RIVER & FIFTH CONDOS DESIGNED WITH INTENTION
Every inch of River & Fifth Condos is designed with intention. From the natural elements used throughout to the amenities that you'll actually want to use. For River & Fifth Broccolini collaborated with U31 Design, a high-demand Toronto design firm with a reputable portfolio that includes Peter & Adelaide, RUSH, and Line 5 Condos to name a few.
The use of high-quality natural materials creates a living space that is modern but livable. The harmonious blend of wood, white stone, lush greenery and lots of natural light bring the tranquility of the natural world into River & Fifth Condos.
The River & Fifth amenities have been thoughtfully designed, offering spaces you'll actually use. An open co-working space that has a coffee bar, phone booths, and proper meeting rooms — perfect for those who need an office nearby.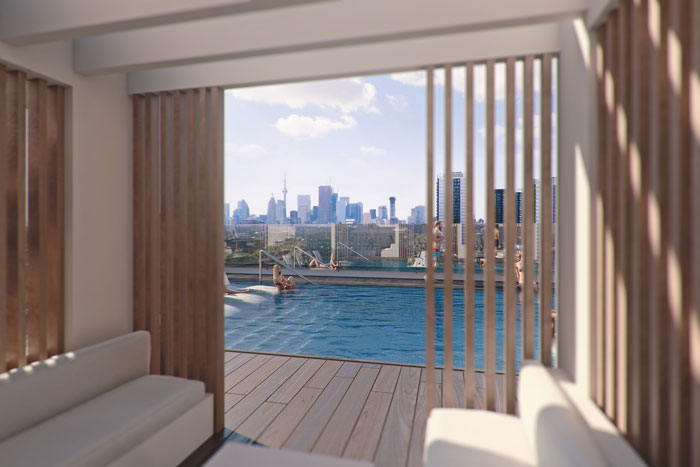 The sports fans will love the sports lounge, equipped with a flat screen TV, wet bar, pool table, comfy couches and a fireplace to boot. You provide the space., have your friends bring the drinks.
The rooftop terrace and its beach style baja pool is a huge selling feature. With unobstructed views, see the sunrise, see the sunset, and take an evening dip with the city lights glistening just beyond. You'll be living your best life at River & Fifth Condos overlooking Toronto.
"River & Fifth Condos are where nature and city meet."
EXPLORING THE NEIGHBOURHOOD AT RIVER AND FIFTH
As we mentioned earlier, there are tons of family-friendly amenities in the neighbourhood, the Aquatic Centre, Cooper Koo, and there's no shortage of parks, trails, and outdoor amenities either.
To the north of River & Fifth Condos is Riverdale Farm — with all of your favourite barn yard animals — and Riverdale Park which is connected through a footbridge across the DVP.  Riverdale Park has some of the most incredible city views, as well as a few baseball diamonds, a running track and a Trekfit fitness circuit.
South of River and Fifth Condos, just past Toronto's Underpass Park, you'll find yourself in Corktown Commons. This beautiful park is designed in a way that makes you feel like you're no longer in the city. Equipped with splash pads, washrooms and tons of green space for picnicking, residents of River & Fifth Condos can walk to Corktown Commons in just ten minutes.
Living at River and Fifth means you're connected to nature and the city. Alongside the Don Valley River are several biking and walking trails. The Lower Don River Trail can get you to Evergreen Brick Works, the Distillery District and even the Toronto Harbourfront in no time. Or change paths to the Martin Goodman Trail and cycle to the Beaches. 
Register for Platinum Access, Pricing & Floor Plans for River & Fifth Condos, Toronto
FUTURE DEVELOPMENTS THAT MAKE RIVER & FIFTH CONDOS A WORTHY INVESTMENT
The timing of the River and Fifth Toronto launch is ideal for those looking for a good condo investment. This area of Toronto is on the verge of some MAJOR transformation in the way of future developments that will benefit both buyers and investors alike.
East Harbour to Increase Demand for Investor Rentals
Currently the largest commercial development in Canada, East Harbour is bringing new life to the old Unilever site southeast of River & Fifth Condos. The East Harbour development could become Toronto's new Employment District as it is promising to bring 50,000+ jobs to the 60 acre site. In fact, the development is four times the size of The Well currently under construction at Front and Spadina.
What this means for investors: with new job opportunities flooding the area there will be a huge demand for rentals from high quality professionals. Keeping in mind that rent control is exempt on all new builds, keeping you and your investment protected.
Toronto's record low vacancy rate has rents at an all time high. In the past five years, the average rent for a one bedroom apartment in this area has increased 27% while two bedroom rentals have increased 17%.* With the addition of East Harbour and new transit infrastructure, rentals will continue to command high rental rates while adding serious value to residential properties.
Register for Platinum Access, Pricing & Floor Plans for River & Fifth Condos, Toronto
Connecting the East End – Toronto's New Transit Plans
East Harbour is also going to become one of Toronto's largest transit hubs, connecting multiple transit lines including the new Ontario Line. The Ontario Line will add a subway stop to Sumach and Queen, just a seven minute walk from River & Fifth Condos. If there's one thing we know for sure, it's that property values favour transit.
Read more on this in The Starbucks Effect: Gentrification and the Best Investment.
Toronto's Getting a New Island
Residents of River & Fifth Condos will eventually have a new island added to their already stunning views. To protect the West Don Lands from floods, there are plans to reconstruct the mouth of the Don River from its current artificial channel into a new river valley that will cut out a new Toronto island in the process.
Villiers Island will be an ecological masterpiece with wetlands, parks, and trails. You can read all of the details on Toronto's new island here.
Needless to say, there's some serious buzz in the air surrounding the River & Fifth Condo launch. As a Platinum Broker for River and Fifth Condos Toronto we will have first access to the best suites. Register today to preview Floor Plans!
* based on TREB's rental reports comparing rental averages for C08 from Q1 2014 to Q1 2019.